We get it. Choosing a television service provider is no easy task. With so many options on the market, it's crucial to do a little research. 
You've likely heard of Spectrum, and you obviously know about DIRECTV if you're here. But how are these providers different, and what would make you choose one over the other? 
It's all in the details. 
Below, we'll compare DIRECTV and Spectrum and introduce you to the main differences between these providers. Once we're done, you'll know which option is the best fit for you. 
Spectrum TV vs. DIRECTV Comparison
The most basic difference between DIRECTV and Spectrum is how TV gets to your home. Spectrum delivers TV via cable alone, but DIRECTV lets you choose between DIRECTV via satellite or DIRECTV via internet.  
Wondering what this means? Basically, DIRECTV connected via satellite provides an amazing channel lineup and features available through satellite. DIRECTV connected via internet is similar to streaming and gives you great content online with no satellite dish required.  
When it comes to DIRECTV vs Spectrum, here's a quick comparison of the main factors you should know: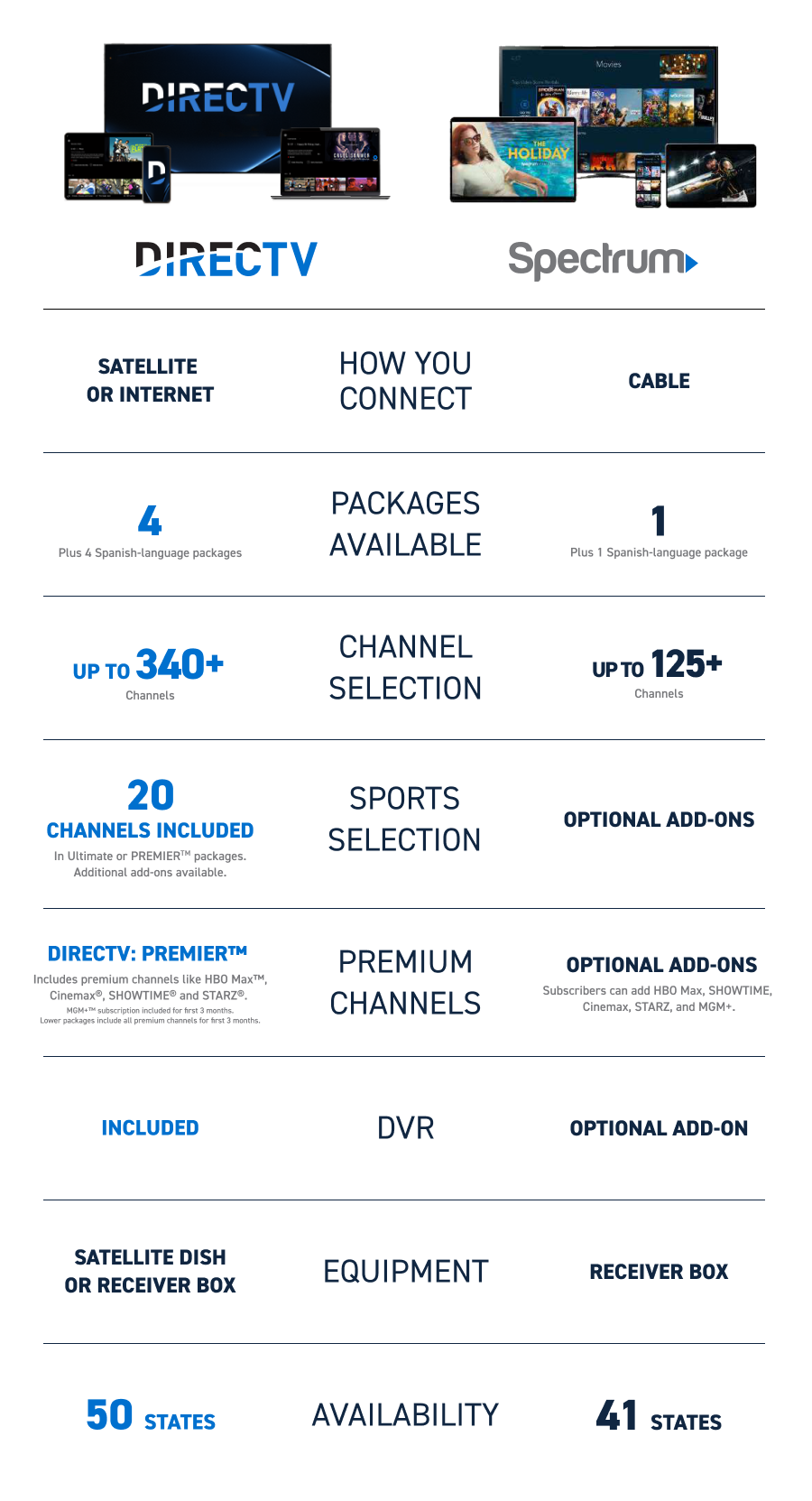 DIRECTV vs. Spectrum prices
To make the right decision about your home entertainment services, it makes sense that you'd need to see if it fits into your budget. Let's compare DIRECTV and Spectrum prices. 
Package

DIRECTV ENTERTAINMENT (via satellite)

DIRECTV ENTERTAINMENT (via internet)

Spectrum TV Select

Price

$64.99/month

$64.99/month

$59.99/month

Feature Highlights

165+ channels 
Included Genie HD DVR 
First 3 months of premium channels included 
Premium sports add-on option 

75+ channels 
Unlimited Cloud DVR storage (free when ordering online) 
Unlimited in-home device streaming 
First 3 months of premium channels included 
Premium sports add-on option 

125+ channels 
DVR (with extra charge) 
Premium channels add-on option 
4 sports networks 
Sports View channels add-on option 
Want more content? No problem. DIRECTV has additional package tiers whether you connect using satellite or internet if you need additional channels. Choose from these packages to get everything you want: 
DIRECTV vs. Spectrum Spanish-language channels
DIRECTV via satellite offers four Spanish-language TV packages. They range from $54.99 to $154.99 per month, with 120+ channels. The base package has 55+ Spanish channels.  
Prefer to connect online? DIRECTV via internet also includes a Spanish-language package. 
Plus, if you want extras, DIRECTV has you covered with optional add-ons if you connect through satellite or internet. Here's what we have that other providers don't starting at only $4.99/month more: 
DIRECTV® Deportes: An extra 5 Spanish-language channels for international sports like soccer, baseball and more 
México Plus: 20+ Spanish-language channels with the hottest shows from Mexico 
Américas Plus: 30+ Spanish-language channels with shows from Puerto Rico, Argentina and more 
En Español: 60+ Spanish-language channels (includes the other three add-on packages) 
You can even get these add-ons with an English base package to make the TV experience all your own. Add as many regular, Spanish, sports and premium channels as you'd like. We won't judge.  
As an alternative, Spectrum has one Spanish-language TV package called Mi Plan Latino. It's $39.99 per month with 145+ channels (75+ Spanish-language channels). 
DIRECTV vs. Spectrum channel breakdown
Choosing a TV service with all the channels you want is crucial. We know you want to pay for content you enjoy instead of channels or programs you don't care about. Let's look at the channels DIRECTV vs. Spectrum offer. 
Whether you choose to get DIRECTV via satellite or internet, you'll enjoy great shows, sports and movies. In our base ENTERTAINMENT package, DIRECTV via satellite offers 165+ channels. You can add extra sports and premium channels to this package, too. If you're a movie lover or a sports buff, you can make even our least expensive package chock full of the content you know you'll love. 
If you choose to get DIRECTV via internet, our base ENTERTAINMENT package comes with 75+ channels, including sports channels, and you can always add more premium networks if you want. It's up to you. 
Spectrum's cable TV package includes 125+ channels, only four of which are sports-specific. With their service, you can add premium channels and additional sports as well. 
DIRECTV vs. Spectrum sports channels and add-ons
A huge reason that customers turn to DIRECTV is our commitment to sports. Keep tabs on your teams with access to national, college, regional and league-specific networks. Some of the most important highlights we offer no matter how you connect include: 
Live regional sports (CHOICE™ level or higher)  
Essential sports channels like ESPN, FS1 and NBCSN included in ENTERTAINMENT package.
12 channels included in CHOICE™ package  
20 channels included in ULTIMATE or PREMIER™ packages   
League-specific networks available  
Sports add-ons available 
Not a sports buff? We also offer plenty of content for movie lovers. If you like SHOWTIME®, STARZ®, Cinemax® and HBO Max™, our PREMIER™ packages (or premium channel add-ons) are perfect for you. 
Spectrum has 4 sports channels in its cable package, but you can add their sports add-on to your plan for an extra monthly fee. Additionally, you won't get premium channels in the base plan, but you can add their premium channel add-on for an additional monthly cost to access more movies. 
DIRECTV vs. Spectrum equipment
DIRECTV wants you to watch your favorite movies, sports and shows in the way that works best for you. If you want to watch via satellite, we can do that. If you'd rather watch over internet, we can do that, too. 
DIRECTV via satellite allows you to watch TV at home (with a satellite and receiver) or on the go. With our DIRECTV App, you can easily view all your DIRECTV package content, including live sports or On Demand content, wherever you are. As long as you have a high-speed internet connection, you're good to go. 
And if you choose to connect to DIRECTV over internet, you'll enjoy an enhanced viewing experience with our exclusive GeminiTM receiver box. You'll be able to view all content included in your package, plus access the Google Play Store to add additional streaming apps to your device. And self-installation is fast and easy, so you can connect right away. 
For Spectrum, you need a TV and a receiver. Spectrum offers cable TV, which means you won't need a satellite dish, but you'll still need a cable connection to view content through your TV system without their app. The Spectrum TV App comes free with a Spectrum TV package, so you can also use a supported device to stream live and On Demand content.  
DIRECTV vs. Spectrum streaming capabilities
No matter how you connect to DIRECTV, you can watch anytime on all your favorite screens. If you choose to connect via internet or via satellite, the content you love and enjoy will still be available. That's the magic of having plenty of choices.  
With the DIRECTV Gemini receiver, you have access to all your favorite apps to stream your favorite shows and movies.  
The Spectrum TV App gives you the option to watch on unlimited devices in your home (or 2 away from home). This app also works with many different devices. 
DIRECTV and Spectrum Internet Comparison
DIRECTV doesn't offer internet services outright, but we do partner with preferred internet providers if you're looking to bundle. For example, you can get our ENTERTAINMENT package at $64.99/month or our CHOICE™ package at $84.99/month connected via satellite and bundled with AT&T Fiber (300 Mbps) at $55/month.  
Spectrum offers a bundle for TV, internet and home phone services. Their internet starts at $49.99/month and their home phone services are $19.99/month. 
It's apparent that DIRECTV and Spectrum share some qualities, but in the end, DIRECTV television content is top-notch whether you watch with satellite or over the internet. Film buffs, sports lovers and families will get the high-quality content they want with our package and add-on options.  
Want to catch up on the latest and greatest in premium channels? We make it easy to catch the most popular shows, like The Last of Us on HBO Max™, with our top-tiered packages. 
Does your family live for major sports games? We have all the channels you need (and more) so you never miss a move your favorite teams make. 
Whether connecting via satellite or internet, you get the unmatched entertainment that only DIRECTV can deliver. Let's upgrade your home entertainment experience today.  
How to Select the Perfect TV Provider
Explore the comprehensive guide to discover the best way to select a TV provider. 
Frequently Asked Questions
Can I have Spectrum internet and DIRECTV?
This question is essentially asking, "Can I have DIRECTV and Spectrum at the same time?" Yes, you can pair DIRECTV with whatever internet service you like best. As long as you have high-speed internet access, you can use the DIRECTV Gemini receiver to watch all your favorite channels. And, if you'd rather not worry about internet, our DIRECTV SATELLITE packages will work on your TV without any internet connection required.
How much is DIRECTV monthly?
The price of DIRECTV each month depends on the plan you choose. We have four plan options via satellite or internet: ENTERTAINMENT, CHOICE™, ULTIMATE and PREMIER™. Depending on which you choose, you'll pay between $64.99 and $154.99 per month (not including add-on channel fees).