The way we watch TV is more advanced now than ever before, resulting in several alternatives to traditional cable. DIRECTV offers two such alternatives to viewers: satellite and TV over internet.  
While both have their own benefits and drawbacks, every household has different needs. And, whether you're looking for your next best way to watch TV or you simply want to learn more, exploring the similarities and differences is a smart move. 
With so many ways to watch content, you may wonder which option is best for your home. We're going to compare satellite TV vs. TV over internet to help you understand the differences between these two choices. 
What Is Satellite TV?
Satellite TV is a television service that uses communication satellites to transmit signals from broadcasters to your home. Broadcaster stations transmit the signal to satellites in geostationary orbit, and then those satellites relay the signal to your satellite dish. 
With DIRECTV connected via SATELLITE, you can get up to 340+ channels from anywhere in all 50 states and the District of Columbia. We have a range of packages, including Spanish-language packages, depending on the type of entertainment you want.  
Equipment Needed for Satellite TV 
Often, professional installation is necessary to properly install and configure the equipment. For satellite TV, a provider will equip you with the following: 
A satellite dish: This is an outdoor antenna that receives the signals from orbiting satellites. Most people put this on the roof to get the best, unobstructed view of the sky. 
A low-noise block (LNB) downconverter: This device attaches to the end of the satellite dish arm and converts the signal so the receiver can understand it. 
A coaxial cable: This is what carries the TV signal from the satellite to the receiver.  
Satellite receiver: Your satellite receiver is a set-top box, which connects to the TV, decodes the signals and displays content on your TV screen. 
Connecting multiple TVs may require additional equipment, like signal amplifiers or multi-switches.  
Satellite TV Benefits
Satellite TV has a lot of advantages over other home entertainment options. For example, people in remote locations may find satellite TV is their best option for accessing top-notch entertainment at home without worrying about cable infrastructure or a high-speed internet package.  
Here are a few of the other top benefits DIRECTV, connected via satellite, offers that you'll want to consider: 
At least 14 essential sports channels included in CHOICE™ package and above, including ESPN, FS1 and NBA TV 
National, regional, local, college and league-specific channels (all the sports you love, plus optional add-ons if you want even more) 
Multiple packages with channel lineups to suit your interests and budget 
Niche, premium and international channel offerings, like DIRECTV HD SPORTSMIX®2 or SHOWTIME® 
Most dependable satellite choice due to DIRECTV's 99% signal reliability and SignalSaver™ technology (letting you continue to watch TV even in the worst weather) 
High-quality picture and sound for an enhanced viewing experience 
Available almost anywhere, even with slow internet (or no internet at all) 
Satellite TV Drawbacks
Even though satellite TV has been around for years, it still faces some issues. There are potential downsides to choosing a satellite TV service that you'll want to consider. 
Some of the drawbacks to think about include: 
Satellite dish must be added to your home or roof (which requires authorization if you live in an apartment or dorm room) 
Having to attach a box to your TV, limiting how many TVs you can use for satellite viewing 
Potential signal interruptions from harsh weather conditions (but remember, DIRECTV's SignalSaver™ technology can help) 
Equipment and activation fees 
Satellite TV Pricing
Compared to some TV options, satellite may seem more expensive, but you get an extensive number of channels for the price. Every satellite TV provider is a little different, but we like to think we give you the best of the best (because we do).  
Here are the packages we offer, so you can see just how much you get with satellite: 
With DIRECTV, you pay for the channels you want — simple as that. Choose from our tiered plans to get the shows, movies and sports you enjoy most.  
What Is TV Over Internet?
TV over the internet is what people use to watch TV using their internet connection rather than through traditional broadcast or cable channels. It uses internet protocol (IP) networks to transmit channels, including live and On Demand TV, straight to your devices.  
Equipment Needed for TV Over Internet
To gain access to TV over internet, you first need to subscribe to a specific service that offers this option. We let you watch TV anytime (and practically anywhere) when you subscribe to DIRECTV connected over internet.  
Sound confusing? Don't worry because it's actually really simple. TV over internet requires only three key pieces of equipment:  
Before you can start streaming your TV over internet, you'll need a good internet connection. We recommend testing your internet speed to make sure your content will stream without lagging or buffering. 
TV Over Internet Benefits
TV over internet offers a lot of benefits, especially if you want a wide range of content. Whether you prefer to watch a show or movie you missed that aired yesterday, or you want to watch something that's on right now, TV over internet gives you that choice.  
A few other important benefits of DIRECTV over internet include: 
Access TV on various devices 
Ability to watch on different devices simultaneously (TV hogs can rejoice) 
High-quality video, including HD or 4K, with compatible TV and a high-speed internet connection 
A more personalized, customizable viewing experience 
Ability to start watching right away with fast and easy self-installation 
Access to over 7,000 apps (with top apps preloaded to make things easy breezy) 
Access to On Demand, pay-per-view (PPV) and live TV 
Full-featured, backlit voice remote for everything (volume, on/off, input, etc. all in one spot) 
Ongoing support for troubleshooting or replacement while under warranty 
TV Over Internet Drawbacks 
Nothing is perfect, right? Even though TV over internet has a lot of advantages over other viewing options, there are drawbacks to consider. 
The biggest potential drawback with TV over internet is the video quality relies on your internet speed and dependability. If you don't have a stable, high-speed internet connection, you won't have a smooth viewing experience. 
Another drawback is that the devices you prefer to use may not be compatible with DIRECTV's TV over internet service. Some devices only work with specific streaming internet services, so it's important to check if your devices will support TV over internet before choosing this option.  
TV Over Internet Pricing
The cost of TV over internet varies based on the provider you choose.  
Most of the time, TV over internet is less expensive than other home TV entertainment options, but it depends on how many services you need to access all the content you want. For example, if your usual shows come from multiple different providers (such as Netflix, Paramount+, or Peacock), this can quickly become complex (and the opposite of cost-effective) compared to more traditional viewing options. 
But you don't have to worry about that if you choose us. 
A great thing about DIRECTV's TV over internet is you can pay for the package that works best for your entertainment needs. We have four package tiers offering hundreds of channels, but you can add-on essential channels you want, like sports, premium or international channels. 
Our TV over internet packages start at $64.99/month. Just set up your device, connect to your TV and start watching. It's honestly that simple.  
TV Over Internet vs. Satellite TV Side by Side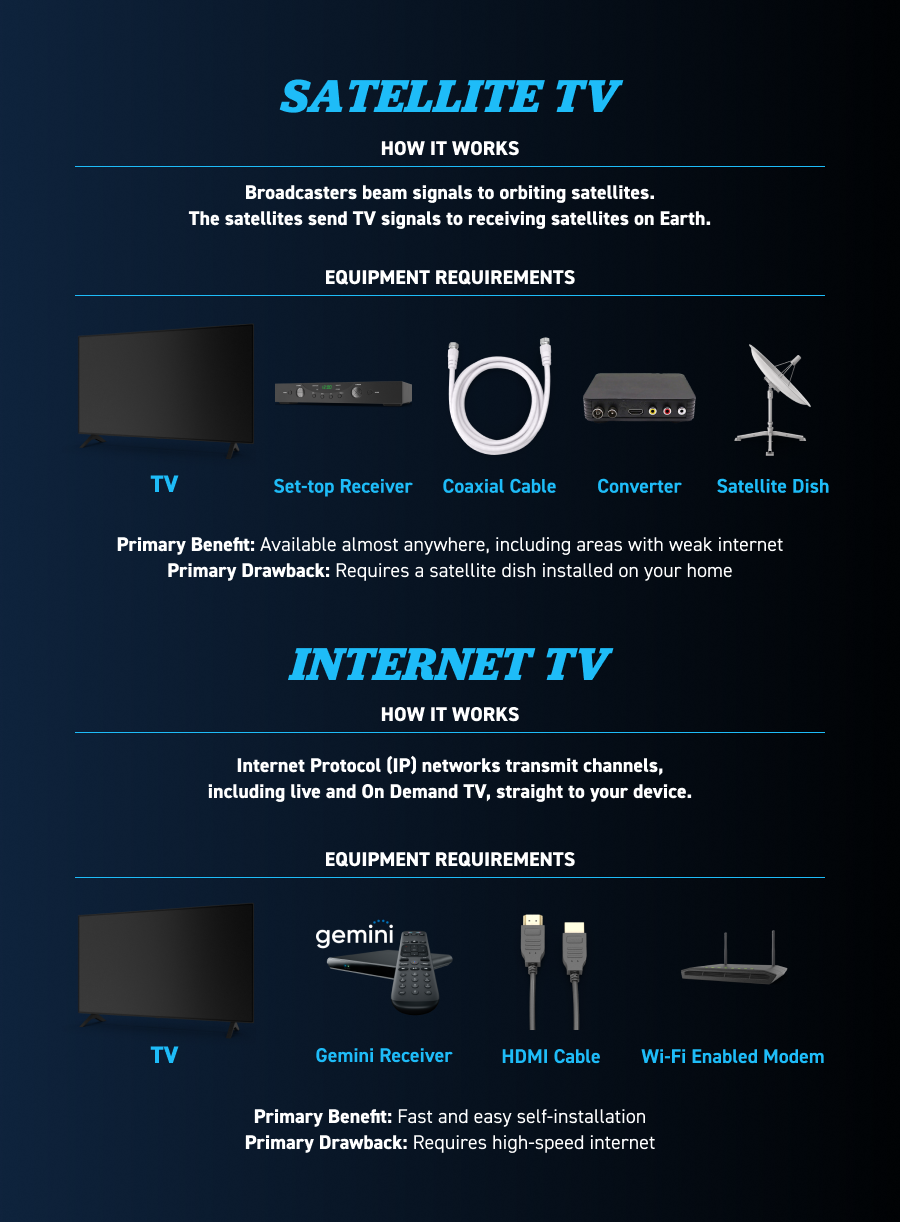 Finding the Right Fit for Your TV Needs 
There isn't a one-size-fits-all option for every person because we all have unique TV needs. How you watch, what you like to watch and when you watch all play into whether TV via satellite or internet is the better fit. 
However you connect to DIRECTV, you'll have hundreds of the channels you love, from sports to reality TV to classic movies to the hottest sitcoms. And with live TV, On Demand and PPV options, you'll find exactly what you want when you want it. So, what are you waiting for?  
With DIRECTV, you can get the best of both worlds with premium features and benefits. Choose between satellite or internet to get great TV your way. 
How to Select the Perfect TV Provider
Explore the comprehensive guide to discover the best way to select a TV provider.