If you're talking about satellite TV service providers, the names DIRECTV and DISH likely come up. As two of the biggest names in the game, both have a lot to offer TV, sports and movie lovers.  
But, when you set DIRECTV vs. DISH side by side, which one comes out on top? 
Let's compare DISH and DIRECTV so you come to your own conclusion. Here's the most important info you should know to choose the right television service for your home. 
DISH vs. DIRECTV comparison
DIRECTV and DISH both offer satellite TV, which means communications satellites relay TV programming straight to your home.  
But DIRECTV is different. If you go with one of DIRECTV's top-notch satellite packages, we offer exceptional signal reliability. Plus, with our exclusive SignalSaver™ technology, you can keep watching over the internet even in the worst weather conditions. No more worrying about your signal cutting out when you're in the middle of a captivating movie or sports game. 
DIRECTV also offers TV via internet, so you get all the great channels you love without relying on a satellite dish. 
Not into satellite? Find out how to get DIRECTV via internet.
You have the option with DIRECTV to choose how you want to get our incredible channel lineup. Watch what you want, how you want, even in bad weather. 
To explain this and other essential information in more detail, here's some quick facts to consider between DIRECTV vs. DISH: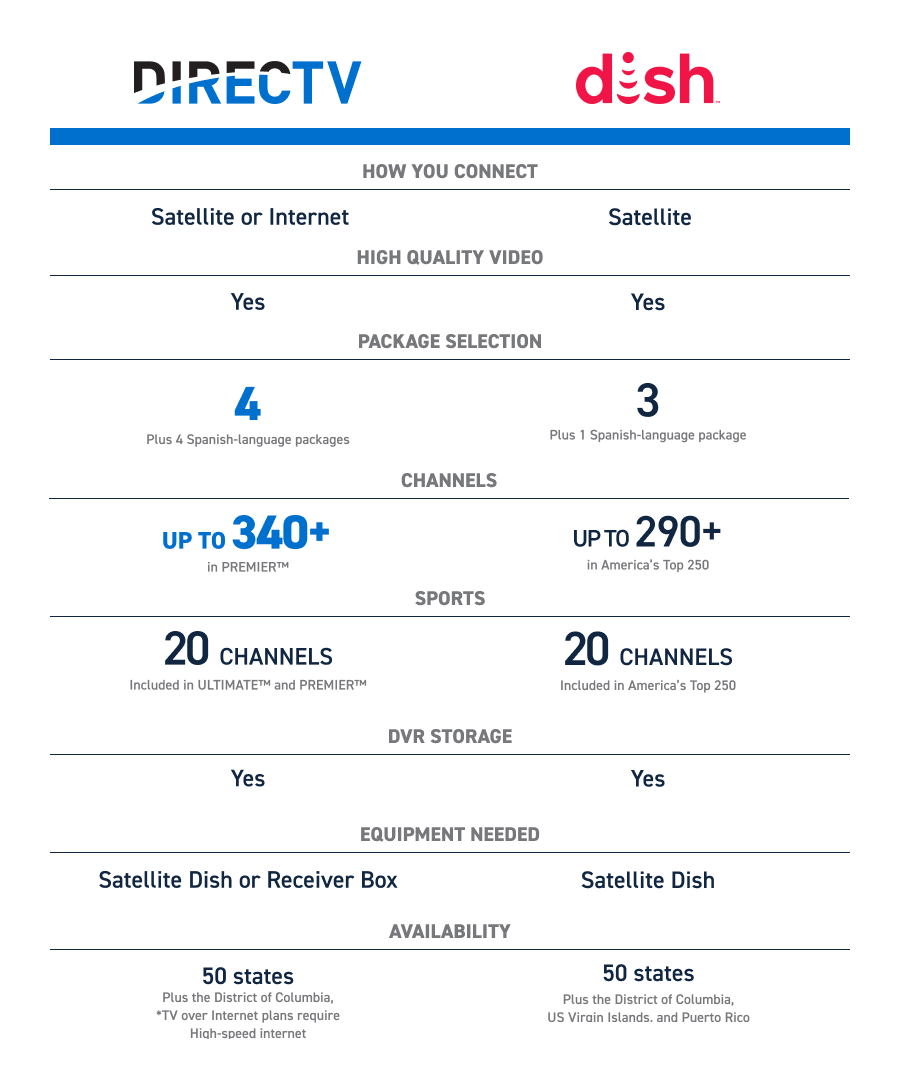 DIRECTV vs. DISH prices
We know it's practical to compare DISH and DIRECTV prices before making a decision about TV services. Let's take a look at prices for comparable satellite packages. 
Package

DIRECTV CHOICE™ 

DISH America's Top 120+ 

Price  

$99.99/month  

$94.99/month  

Feature Highlights  

165+ channels  
Regional sports networks 
Included Genie HD DVR  
First 3 months of HBO / Max™, SHOWTIME®, STARZ®, Cinemax® and MGM+™ included  
Premium sports add-on option  

190+ channels 
Optional Hopper DVR 
First 3 months of SHOWTIME® and DISH Movie Pack add-on included 
Premium sports add-on option  
If you want more than the base package, it's easy when you connect with satellite or internet through DIRECTV. We have four packages so you can get all the content you want: 
ENTERTAINMENT: $84.99/month 
CHOICE™: $99.99/month  
ULTIMATE: $129.99/month  
PREMIER™: $174.99/month  
DISH offers four main package tiers for their satellite service: 
America's Top 120: $79.99/month 
America's Top 120+: $94.99/month 
America's Top 200: $99/99/month 
America's Top 250: $109.99/month 
Compare DISH and DIRECTV channels
You shouldn't have to choose a TV service that doesn't offer the channels you know you like. Don't compromise — get the On Demand and live TV that you actually want.  
We curate our satellite TV selection at DIRECTV to offer popular channels (including local channels) you want to see at each tiered package level. In other words, you pay for the package with the channels you want, whether that's a basic package (ENTERTAINMENT with 165+ channels) or a premium package (PREMIER™ with 340+ channels). And, if you want even more, you can add it to your plan with our optional add-ons. Easy peasy. 
DISH's base satellite package, America's Top 120, includes 190 channels, including local channels and free On Demand titles. Their highest-tiered package, called America's Top 250, has 290+ channels and includes free SHOWTIME® and DISH Movie Pack. With any DISH package, you can also choose additional sports, premium or international channel add-ons. 
DIRECTV vs. DISH sports
We know you love sports as much as we love sports. And that's why DIRECTV offers all the sports channels you could want or need, either as part of our packages or as an optional add-on. Easily access national, regional, college or league-specific networks to keep up with your favorite teams right from your living room with one of our plans. 
DIRECTV (via satellite or internet)  

DISH 

Includes live regional sports (CHOICE™ level or higher)  
Essential sports channels like ESPN, FS1 and NBCSN included in ENTERTAINMENT package  
12 channels included in CHOICE™ package  
20 channels included in ULTIMATE or PREMIER™ packages   
League-specific and college level networks available  
Sports add-ons available  

Includes 6 sports channels in base America's Top 120 package 
Includes 20 sports channels in America's Top 250 package 
League-specific and college level networks available 
Sports add-on available (DISH Multi-Sport Pack) 
DISH vs. DIRECTV premium channels 
Sometimes, you just want more (and there's nothing wrong with that). If you enjoy award-nominated movies, coveted TV shows and exclusive sports access, premium channels are where it's at. 
DIRECTV offers a PREMIER™ package that includes premium channels like HBO™, Cinemax®, SHOWTIME® and STARZ®. In our lower package tiers, you'll get these same channels included for three months on us. If you decide you'd like to keep them for longer, you always have the option to add premium channels to an existing or new package plan. 
With DISH, you'll have three free months of premium channels, but you can also upgrade with add-ons to get those channels all the time. If you want more premium options, you can choose from their various add-ons for specific channels you enjoy, such as HBO or Cinemax. 
DISH Network vs. DIRECTV equipment and fees
DIRECTV wants to make it easier for you to access the movies and shows you want as part of our packages. If you want to connect via satellite or internet, we can make that happen. 
DIRECTV via satellite brings TV into your home using a satellite and receiver. You can also watch TV wherever you go, including 90,000+ On Demand movies and shows or live sports, using the DIRECTV app. 
Rather connect over internet? No problem. With our DIRECTV packages via internet, you'll use our Gemini receiver to view all your favorite shows. And you'll get to access the Google Play Store with over 7,000 streaming apps for a well-rounded, personalized TV experience. 
While DIRECTV SATELLITE provides professional installation at no extra cost, DIRECTV via internet is fast and easy to install yourself instantly at home with your high-speed internet connection.  
DISH provides a satellite and set-top box for your home with the option to upgrade for an extra charge to access additional features. Some of the extra features you'd get with an upgrade include additional storage, access to thousands of Google Play apps and easier connections to your smart devices. The DISH Anywhere app access is free if you want to watch away from home, and customers would log into the app to access their TV package.  
DIRECTV vs. DISH streaming capabilities
Whether you connect to DIRECTV via satellite or internet, you can stream content wherever you go. At your house. On vacation. Even at your local coffee shop. If you're connected to the internet, you can watch TV — simple as that. Plus, with the DIRECTV Gemini receiver, you can access all your favorite apps and channels to stream shows, sports and movies (all the good stuff) at home. 
Through DISH, you can use the Dish Anywhere app to stream live, On Demand and recorded content. Additionally, DISH Anywhere lets you download and watch recorded content offline with compatible devices. 
While DISH has some excellent capabilities as a TV provider, we think DIRECTV has an advantage. Whether you connect via satellite or internet, we give you more freedom to choose how you get your TV content.  
Whether you connect online or via satellite, our goal is to make your home viewing experience the best it can be. Choose DIRECTV to make your TV viewing better than ever. 
How to Select the Perfect TV Provider
Explore the comprehensive guide to discover the best way to select a TV provider. 
Frequently Asked Questions
Which is better: DISH or DIRECTV?
DISH has a lot of great features, but we believe DIRECTV takes the gold in a direct comparison. DIRECTV offers a greater channel selection and is the industry leader in sports. Get the shows and movies you want without all the fuss. And unlike DISH, DIRECTV is more than a satellite provider — you have the option to skip the satellite dish and connect to your TV via internet.
What are the three biggest advantages DIRECTV has over DISH?
The three biggest advantages DIRECTV has over DISH include more access to sports, more channel selections and greater signal reliability. Our exclusive SignalSaver™ technology enables you to automatically keep watching via your internet connection when bad weather or something else interrupts your satellite connection. And with up to 340+ channels, you can personalize your DIRECTV plan to make sure you're getting content you know your household will enjoy. As a leader in sports, DIRECTV also has a leg up over DISH with better sports packages and sports channel access across the board, so you can catch the sports you love anytime.
Does DIRECTV have On Demand programming
Absolutely! DIRECTV has over 90,000 On demand movies and TV shows available to watch at home or on the go. You can watch 100% of your TV programming anywhere you have an internet connection and where you can download the DIRECTV App. You can even rent or buy the newest blockbuster movies to watch right from your TV screen.
Is DIRECTV more reliable than DISH TV service?
DIRECTV delivers 99% reliability. * And DIRECTV has something Dish doesn't. Satellite customers covered during signal loss due to weather or other events. If signal degradation or signal loss occurs, DIRECTV SignalSaver™ takes over. SignalSaver allows you to switch your programming on 160+ most watched channels and connect your TV through an existing home internet connection. Continue watching your TV programs until the satellite signal is restored.
Can I access my favorite TV streaming apps like Hulu, Netflix, Prime or Apple TV if I am a DIRECTV Satellite customer?
YES! As a DIRECTV Satellite customer, you will have access to apps like Netflix, Prime Video, Apple TV and MaxTM all within your TV channel menu.
The content is featured on https://www.directv.com/insider/ is editorial content brought to you by DIRECTV. While some of the programming discussed may now or in the future be available affiliates distribution services, the companies and persons discussed and depicted, and the authors and publishers of licensed content, are not necessarily associated with and do not necessarily endorse DIRECTV. When you click on ads on this site you may be taken to DIRECTV marketing pages that display advertising content. Content sponsored or co-created by programmers is identified as "Sponsored Content" or "Promoted Content."