It's tough to choose the right TV provider, especially with such a wide variety of options offering unique features, price points and channel selections. Picking the perfect option may seem like a real head-scratcher, but it doesn't have to be difficult. 
Understanding the difference between providers through research will help you make a smart choice. 
We're here to compare DIRECTV vs. Comcast Xfinity, two of the biggest names in the game. With our helpful comparison in tow, you can make an informed decision on which option is best for your household. 
Comcast vs. DIRECTV Comparison
The most fundamental difference between DIRECTV and Comcast Xfinity is how TV makes its way to your home. While Comcast Xfinity uses a cable connection to deliver TV, DIRECTV lets you pick between satellite TV or internet TV.  
What does this mean for you? If you choose DIRECTV, you'll get an incredible channel lineup using your internet connection or a professionally installed satellite dish. No need to compromise, as you have plenty of choices to make your TV experience better than ever. 
To help you make an educated decision between DIRECTV and Xfinity, take a look at this simple, side-by-side comparison: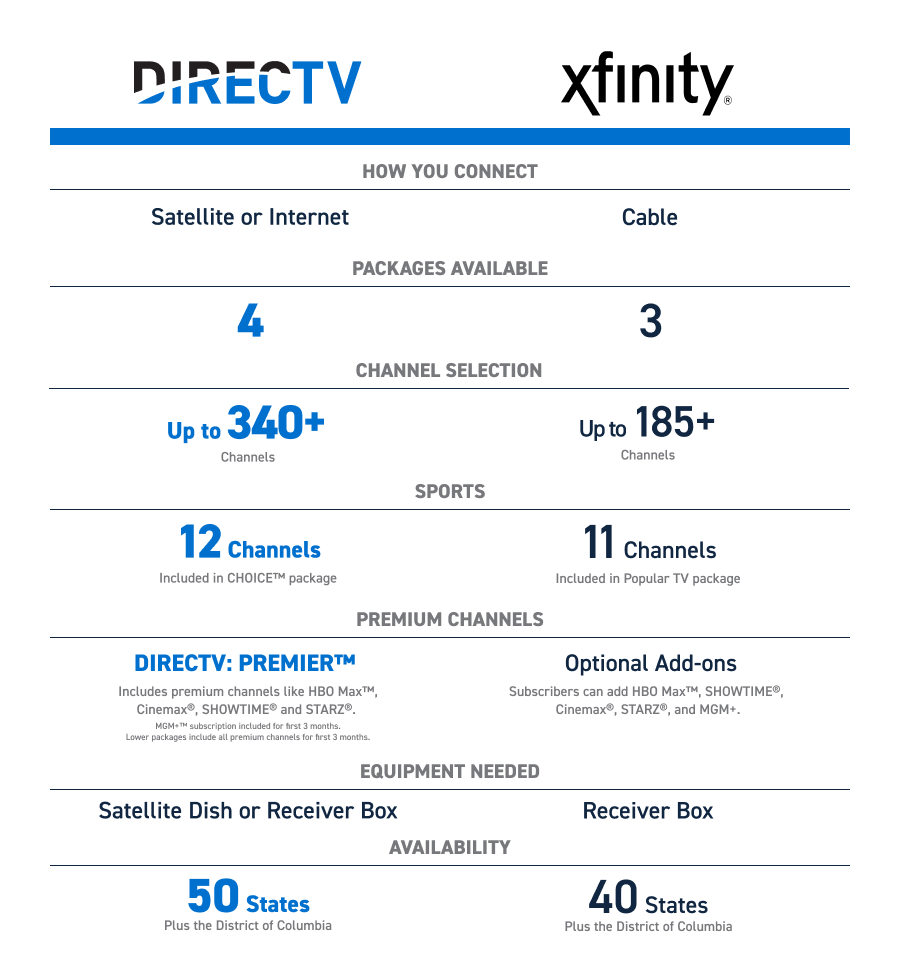 Comcast vs. DIRECTV Price Comparison
Comparing prices is essential if you want to make a smart decision about home entertainment. You have to know how much you're going to spend before you make a commitment.  
Here's a quick comparison of Comcast cable vs. DIRECTV prices: 
Package   

DIRECTV CHOICE™ (via satellite)   

DIRECTV CHOICE™ (via internet)   

Comcast Xfinity Popular TV  

Price   

$84.99/month   

$84.99/month   

$60/month  (may vary based on geographic location) 

Feature Highlights   

75+ channels   
Regional sports networks  
Unlimited Cloud DVR storage (included when ordering online)  
Unlimited in-home device streaming   
First 3 months of HBO Max™, SHOWTIME®, STARZ®, Cinemax® and MGM+™ included  
Premium sports add-on option   

125+ channels  
Cloud DVR with 20 hours of storage 
Regional sports networks  
Premium sports add-on option  
No matter how you connect through DIRECTV, we offer plenty of options so you can choose the package and pricing tier that makes sense for your lifestyle. We have four packages to consider via satellite or internet:  
ENTERTAINMENT: $64.99/month (for 165+ channels) 
CHOICE™: $84.99/month (for 200+ channels) 
ULTIMATE: $109.99/month (for 270+ channels) 
PREMIER™: $154.99/month (for 340+ channels) 
Comcast Xfinity TV offers three packages at the following price points (prices may vary based on geographic location): 
Limited Basic/Choice TV: $20/month (for 10+ channels) 
Popular TV: $60/month (for 125+ channels) 
Ultimate TV: $80/month (for 185+ channels) 
Compare DIRECTV to Comcast Channels
Being able to access the channels you love and enjoy is what great TV is all about. After all, if you don't get the channels you actually want to watch, what's the point?  
We get it, and we want to give you the best of the best when it comes to channel selection. DIRECTV connects you to the content you love using a satellite or internet connection. Either way, you get an extensive channel lineup.  
Our top-tiered PREMIER™ package includes 340+ channels. No matter which plan you choose, you can expand your lineup with our premium, sports and international channel add-ons to your heart's desire. 
Don't settle for a subpar channel selection. Build your package exactly as you want it (or leave it as is) — no compromising necessary. 
Comcast Xfinity offers three cable TV plan options, with the top-tiered package featuring 185+ channels. If you want more, you can add additional channels for extra monthly costs, including premium, sports and international networks. 
Comcast vs. DIRECTV Sports Channels and Add-ons
At DIRECTV, we live and breathe sports. We know you're not just "watching the game" — you're experiencing the thrill and excitement of watching your favorite teams in real time. That's why we offer a comprehensive lineup of sports channels. You'll never miss a moment of the action. 
Whether you connect via satellite or internet, you can access everything from national and regional networks to college and league-specific channels. We cater our TV packages to meet your needs with features like: 
Live regional sports starting (with CHOICE™ packages or higher) 
Essential sports channels like ESPN and NBCSN (starting in the ENTERTAINMENT package) 
12 sports channels in the CHOICE™ package 
20 sports channels in the ULTIMATE or PREMIER™ packages 
Optional sports add-ons 
Comcast Xfinity also offers regional sports in their cable packages, including 11 channels in their Popular TV package. And you can include additional sports on any of their plans with added fees. 
Not a big sports fan? We have plenty of other content for people who love movies, popular TV shows, international channels and much more.  
If you love SHOWTIME®, STARZ®, Cinemax® and HBO Max™, our PREMIER™ package (or premium channel add-ons) gives you even more of the stuff you like. And, even if you choose a different package, the first 3 months of these channels are totally free. 
Although Comcast Xfinity's plans don't offer premium channels, you can purchase them as an add-on for an extra cost if you want channels like STARZ® or SHOWTIME®. 
Comcast vs. DIRECTV Equipment
Let's look at the equipment needed for both providers, as well as any fees associated with them.  
Are you tired of being limited to one way of watching your favorite movies, sports and shows? DIRECTV is here to save the day. We let you enjoy your entertainment via satellite or internet, but the option you choose impacts what equipment you'll need. 
If you want to watch via satellite, you can connect with a satellite and receiver. If you're on the go, you can also watch TV with the DIRECTV app, giving you access to over 70,000 On Demand movies and shows or live sports (based on your package). 
With our DIRECTV packages via internet, all you need is a screen (doesn't have to be your TV) and our Gemini™ receiver. You'll gain access to the Google Play Store, which has 7,000+ apps so you can personalize your TV time whenever you sit down to watch. With all your preferred streaming apps in one place, you won't be scrambling for different remotes to watch your favorite shows. 
You can get DIRECTV SATELLITE installed at no extra cost, or you can connect via internet for a fast and easy self-install right away with your internet connection. 
Comcast Xfinity offers cable TV, so you need a TV and receiver (no satellite). But you will need a professional to check or install a cable line. 
DIRECTV and Comcast Streaming Capabilities
DIRECTV makes it easy to enjoy your favorite shows and movies. And, no matter how you connect, you get to choose the screens you want to watch on with our streaming capabilities. 
Want another perk of connecting via internet? You can take your streaming experience up a notch with the DIRECTV Gemini receiver. This little gem gives you access to all your preferred apps, so you can watch basically anything and everything you've signed up for all in one spot. No more messing around with different devices — it's all there at your fingertips. 
With Xfinity, you can stream your TV through the Xfinity Stream app or the Xfinity Stream portal. However, you may not have access to all live or On Demand content if you're not an Xfinity internet customer. 
It doesn't matter if you choose to connect via satellite or internet. When you go with DIRECTV, you'll experience top-notch TV service. Check out our package options at DIRECTV today. 
How to Select the Perfect TV Provider
Explore the comprehensive guide to discover the best way to select a TV provider. 
Frequently Asked Questions
What is the difference between DIRECTV and Comcast?
When comparing DIRECTV vs. Comcast, the initial difference is that DIRECTV offers TV via satellite or internet, while Comcast offers cable TV. Other differences include pricing, channel selection, add-on channel options and equipment required.
Which is better: Comcast, DISH or DIRECTV?
DIRECTV gives you two ways to connect: satellite or internet. Comcast lets you connect through cable, while DISH offers satellite TV. Additionally, DIRECTV offers more channels to give you all the TV you want — whether it be movies, shows or sports. No matter the type of TV you like or how you prefer to connect, DIRECTV has everything you need.
Is it worth getting DIRECTV?
In our opinion, it's worth it to get DIRECTV if you love TV and movies. DIRECTV has more sports, package selections and ways to connect to TV than other providers. Plus, with our extensive features and add-ons, you can customize how you watch to make your home viewing experience everything you want it to be.
The content is featured on https://www.directv.com/insider/ is editorial content brought to you by DIRECTV. While some of the programming discussed may now or in the future be available affiliates distribution services, the companies and persons discussed and depicted, and the authors and publishers of licensed content, are not necessarily associated with and do not necessarily endorse DIRECTV. When you click on ads on this site you may be taken to DIRECTV marketing pages that display advertising content. Content sponsored or co-created by programmers is identified as "Sponsored Content" or "Promoted Content."