The World Baseball Classic was a whirlwind of country pride, unmatched excitement and of course, rock solid baseball talent. Far excelling expectations, the two-week event garnered record-breaking crowds in the ballparks as well as unsurpassed TV viewership in homes all across the globe.
The WBC may have concluded with the unprecedented battle of Los Angeles Angels teammates, Mike Trout (of Team USA) vs. Shohei Ohtani (Team Japan) – which ended with the Team Japan sweeping the entire tournament – but the event's excitement will live on for quite some time within the minds of baseball fans.
 

 

View this post on Instagram

 
Still not clear how the World Baseball Classic works? Check out our guide, which breaks it all down for baseball fans and novices alike.
DIRECTV, who served as the sponsor of Team USA, went all out to not only support this event, but also to document it through the eyes (and phones) of Influencers, fans and former players.
DIRECTV X @WBCBaseball ⚾️@DIRECTV is proud to sponsor the US Baseball Team in the 2023 World Baseball Classic. All of the jerseys will be adorned exclusively with a DIRECTV patch on the left sleeve throughout the event.

Read more: https://t.co/PseAWpGfLi pic.twitter.com/5dpbDpLdCX

— DIRECTV News (@DIRECTVnews) March 2, 2023
 

 

View this post on Instagram

 
On-Site With The D-Train
Dontrelle Willis, aka The D-Train, is a regular baseball personality as a member of the Los Angeles Dodgers broadcast team, as well as an analyst for FS1. But his wealth of knowledge of the game stems from his own MLB career as a left-handed pitcher (LHP) for the Florida Marlins, Detroit Tigers, Arizona Diamondbacks and Cincinnati Reds. This former Rookie of the Year and World Series Champion hit the ground at the World Baseball Classic in Phoenix, Arizona to capture some of the excitement firsthand.
 

 

View this post on Instagram

 
This included rubbing shoulders with fans young and old alike.
Team USA is loaded with star power but who's the fan favorite? @DTrainMLB went to the @WBCBaseball to find out #WorldBaseballClassic

— DIRECTV (@DIRECTV) March 16, 2023
And he even met with some of the greats – and his former peers.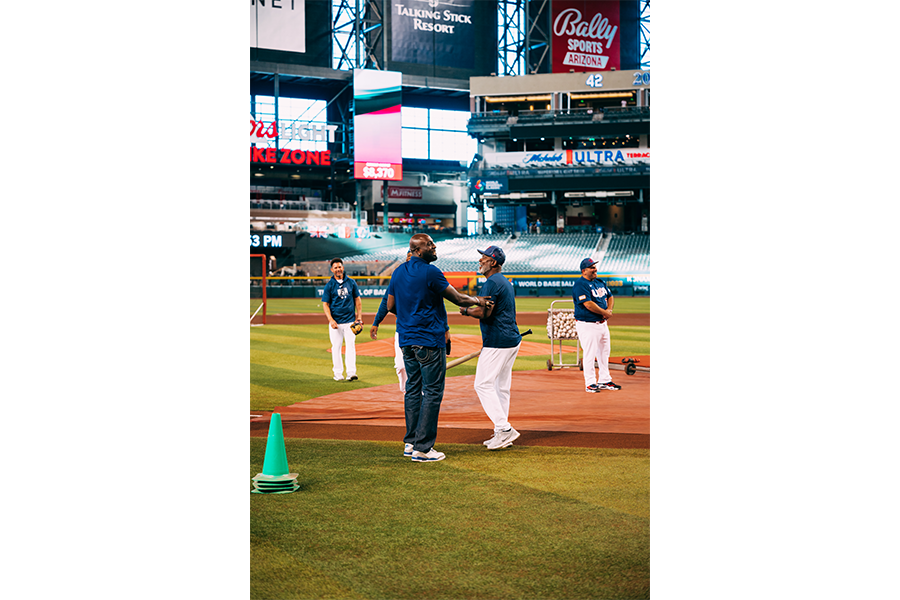 Other Players, Personalities and Fans Sounded Off
The D-Train wasn't the only key personality who jumped on the WBC bandwagon, plenty of others had thoughts on the proper baseball season kickoff. 
Jerry Hairstone Jr. made predictions
Who's winning the #WorldBaseballClassic semifinal tonight, Mexico or Japan? We know who @TheRealJHair will be rooting for. pic.twitter.com/IblnzF9KLj

— DIRECTV (@DIRECTV) March 20, 2023
David Ogleton had dad jokes
Chewbacca's 1st year as an MLB player was so successful…

They named him Wookie of the year.

Don't forget the World Baseball Classic is back and @DIRECTV is sponsoring team USA!  Watch your favorite players on demand here! #ad https://t.co/je1cf5DdDa

— alexa, tell me a dad joke👨‍👧‍👦 1 to go 🦅 (@fitdadceo) March 8, 2023
Three-time Cy Young winner, Pedro Martinez brought the style
Mis Amigos! Baseball season is here and the World Baseball Classic is back, and @DIRECTV is sponsoring team USA! ⚾️YEAHHH! Catch your favorite players and all the WBC action here: #ad https://t.co/xfw1FgkFZs pic.twitter.com/K1iKkUgNin

— Pedro Martinez (@45PedroMartinez) March 19, 2023
And there were many more mentions by the likes of Collin McHugh, Annie Sabo, Jay Mendoza, Lauren "Lo" Chamberlain and more.
The WBC Stories that Will Carry On
The WBC 2023 itself bubbled up many fascinating storylines, including Ohtani being struck out by a Czech Republic electrician and New York Mets, Edwin Díaz' celebratory injury that may end his season before it starts. Although the event is over, these stories will be told for years to come.
One such story is that of Vince Torres, DIRECTV Chief Marketing Officer, and his family as captured by USA Today in Miami while they attended the event.
"We all are very close to our Cuban culture, and we are definitely Cuban American,'' Vince Torres said, "but the loyalty and patriotism that my grandfather had for the United States was second to none. There's a lot of folks that sacrificed a lot to come to this country, and if the story is told right, people will appreciate that, and appreciate the personal conflicts that exist as to why this is different for a Cuban fan in America than others that have immigrated into this country.''
Read the whole USA Today story.
Additional Media Coverage
Overall, pretty much everything about the WBC (including DIRECTV's involvement), "exceeded expectations." Read some of the additional coverage that came up over the last few weeks.
The Show is About to Start
The World Baseball Classic may have come to a close, but MLB 2023 season is about to begin. Opening Day 2023 is on March 30, and fittingly, will feature all 30 MLB teams facing off in 15 games. Keep up with the MLB schedules, news and updates in our MLB 2023 Guide, follow along with our Insider coverage and to be sure you never miss your favorite games, get MLB EXTRA INNINGS or watch in your local bar or restaurant. 
Follow your teams, catch your games and so much more with DIRECTV.