There are more options for watching the live TV shows, movies and sports you love than ever before. But how can you be sure you're choosing the right option for your needs?
That's where we come in to help. Here, we'll talk about the differences between satellite and cable television, as well as the pros and cons of each. In the end, you'll have the insight you need to answer the question: satellite vs cable – which is right for you?
CABLE VS. SATELLITE OVERVIEW
People sometimes confuse Cable TV as a blanket term for all paid television services, but that certainly isn't the case. Cable is the method by which video delivered to consumers via a coaxial cable or fiber optic cable. The infrastructure of cable television is all underground.
On the other end, satellite TV signals are transmitted from satellites in space to a receiver dish connected to your home.
SATELLITE VS. CABLE: WHICH IS BETTER?
Apart from how the signal is delivered, cable and satellite TV providers share a similar mission: providing entertainment to consumers. And that's true, but there are key differences that will be more or less important depending on your preferences.
Here, we'll go over the top five considerations when choosing between the two services.
1. PRICE
One of the first things people look at when deciding on a product or service is the cost – and how that cost compares to competitors. When you look at the average monthly cost of satellite vs. cable, satellite will appear to be more expensive.
Yet, when you take a closer look, the price per channel is actually lower for satellite than for cable. Because satellite providers offer a wider range of channels to customers, you end up paying less for each channel than you would for cable.
Satellite providers typically require a 2-year contract, which may lead to hesitation from some consumers. There is an added benefit to a contract, though: price lock. While many cable providers will forgo a contract, they are also more likely to increase prices after the first year.
And depending on what channels you're looking for, cable customers will have to pay more to get the same number of channels as satellite provides.
2. ACCESSIBILITY & AVAILABILITY
The way cable and satellite deliver content to customers is one of the main differences between the services. And depending on where you live, this may be a make-or-break factor. Why?
Since cable depends on fiber optic and coaxial cables to deliver services, providers can only serve areas with existing infrastructure. Building out into other areas is possible, but it costs providers additional capital and resources. This makes it unlikely that every area – especially rural ones – in the US will have the ability to purchase cable.
Satellite, however, can reach even the most rural areas – provided the satellite is facing the southern sky. If there is interference (trees, buildings, rain, snow, etc.) service may be interrupted, which may lead to consumer frustration.
If you're located in an area with both cable and satellite services, check out the rest of these factors to decide which option fits best for you.
3. CHANNEL AVAILABILITY
When thinking about cable vs satellite, channel access is a top consideration. As mentioned above, customers with satellite typically have access to more channels than cable customers. 
For those looking for relatively basic channels with access to local news and popular primetime shows, cable may be enough for you. For people looking for higher quality viewing, more channels (especially sports and international channels) and the ability to customize TV packages, satellite is the way to go.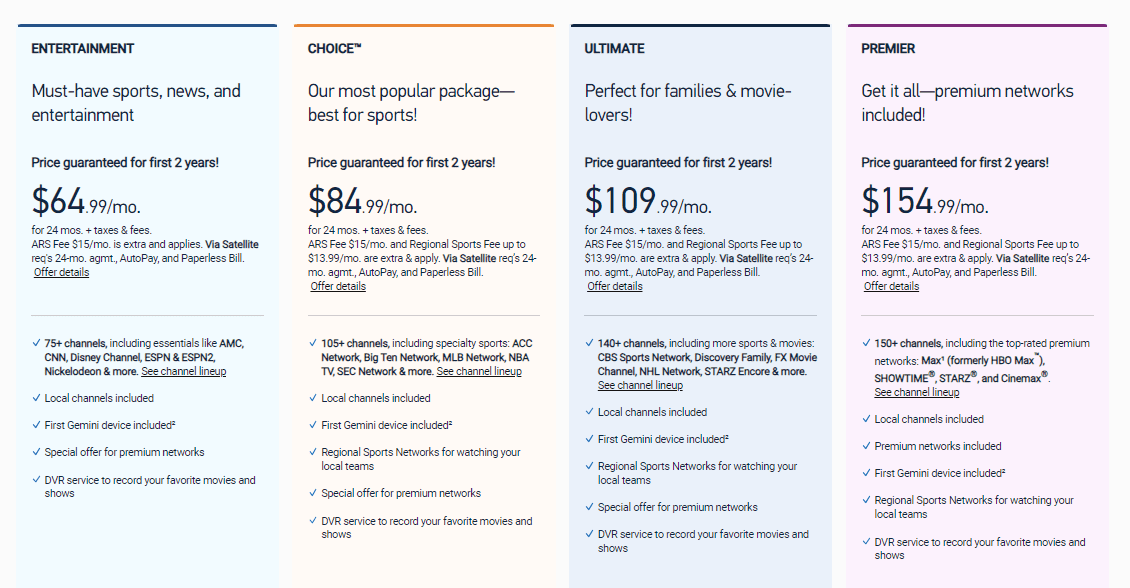 As an example, DIRECTV allows customers to choose from four packages ranging in price and features. Not to mention there are countless add-on channels for customers to complement their TV experience.
4. DVR AND PLAYBACK
Being able to watch live TV is a bare minimum requirement for consumers choosing between satellite and cable. These consumers likely also want to utilize a DVR (digital video recorder) for the times they can't watch their favorite show live.
Both options give consumers the ability to get a DVR, but the extra cost and storage capabilities differ widely between providers.
Some providers, including DIRECTV, also offer the ability to access shows that aired in the last three days. If you ever forget to record a show, the 72 Hour Lookback feature lets you immediately watch shows on applicable networks, so you'll never miss a moment of your favorite shows.
5. USER EXPERIENCE
Above all, the TV watching experience should be a stress-free one (unless thrillers are your thing) which means the platform should be user-friendly. Usability can be difficult to gauge before purchasing, so here are a few considerations to keep top of mind.
With satellite TV, there is the possibility of interrupted service due to bad weather or other receiver blockers. This can be frustrating but should no longer be a deal breaker because of a new DIRECTV feature, Signal Saver.
Signal Saver from DIRECTV does just that – so if your satellite connection is interrupted, your device automatically connects to the household's internet service, creating a seamless watching experience.
With cable, you'll likely have an easier time installing the equipment necessary than with a satellite dish, but you may also have a harder time with customer support. The American Customer Satisfaction Index found that both satellite providers rank higher than most cable companies in terms of satisfaction.
HOW TO DECIDE BETWEEN SATELLITE AND CABLE?
With these considerations, there's a lot to think about when deciding between satellite vs. cable. To break it down in simple terms:
Cable is right for you if you are looking for lower prices, easy installation and shorter contracts.
Satellite is right for you if you are looking for a wider range of channels, better picture quality and the ability to customize your packages.
With this information, you're ready to decide which is right for you. And if you do go with satellite TV, do it with DIRECTV. With four package options, premium add-on channels and a two-year price lock guarantee, you'll get best-in-class TV service the way you want it.
Not sure what package is right for you? Take this quiz to get started.
The content is featured on https://www.directv.com/insider/ is editorial content brought to you by DIRECTV. While some of the programming discussed may now or in the future be available affiliates distribution services, the companies and persons discussed and depicted, and the authors and publishers of licensed content, are not necessarily associated with and do not necessarily endorse DIRECTV. When you click on ads on this site you may be taken to DIRECTV marketing pages that display advertising content. Content sponsored or co-created by programmers is identified as "Sponsored Content" or "Promoted Content."