The final race in the 2023 NASCAR Cup Series Round of 12 is coming up on October 8, 2023 at 2:00 p.m. ET, and you don't want to miss it. Find out which of the remaining 12 racers will make it to the coveted Round of 8, and which 4 drivers will be eliminated. Watch the Bank of American ROVAL 400 on the Charlotte Motor Speedway Road Course this weekend on NBC with DIRECTV (Channel 12).
NASCAR RACE INFORMATION
RACE: Bank of America ROVAL 400
DATE: Sunday, October 8, 2023
TIME: 2:00 p.m. ET
LOCATION: Charlotte Motor Speedway Road Course, Concord, North Carolina
WHERE TO WATCH: NBC (Channel 12)
CHARLOTTE MOTOR SPEEDWAY ROAD COURSE SPECS
What should fans – and drivers – expect for the upcoming Bank of America ROVAL 400? Here are the main specifications to keep in mind:
Track Length: 2.32 miles
Track Type: Road course consisting of 17 turns
Track Surface: Paved Track
Banking: 17 degrees on turns, 5-degree banking on the backstretch and tri-oval
Caution Speed: 45 MPH
The race will finish out with 109 laps for a total of 252.88 miles.
Other important things to keep in mind about this particular race course are the tight lanes, cautions and race restarts.
The design of the ROVAL is different than other road courses, and don't leave racers with much room to veer off the course in case of a problem. Since NASCAR started racing the ROVAL 400 in 2018, there have been a handful of wrecks caused by this layout.
In the 2023 season, NASCAR had decided to omit stage break cautions for road courses in an effort to make the race run more smoothly. The association decided to bring the cautions back for this race, NASCAR SVP of Competition, Elton Sawyer, explained, because:
"Probably the most important part of this decision-making was, if you look back at our five previous road course races, although they were competitive, there were some that felt like that were some things we could do differently — obviously going back to the caution stage breaks — that would potentially make our races better…So we had the option to pull that lever."
As for restarts, NASCAR recently announced a change to spread racers out more before reaching the first turn. They moved the restart zone to the exit of the frontstretch chicane, as can be seen in the Charlotte ROVAL map below.
CHARLOTTE MOTOR SPEEDWAY LAYOUT & ROVAL MAP
Check out Charlotte Motor Speedway Road Course map to see what the 2023 NASCAR Cup Series playoff racers will be up against this weekend.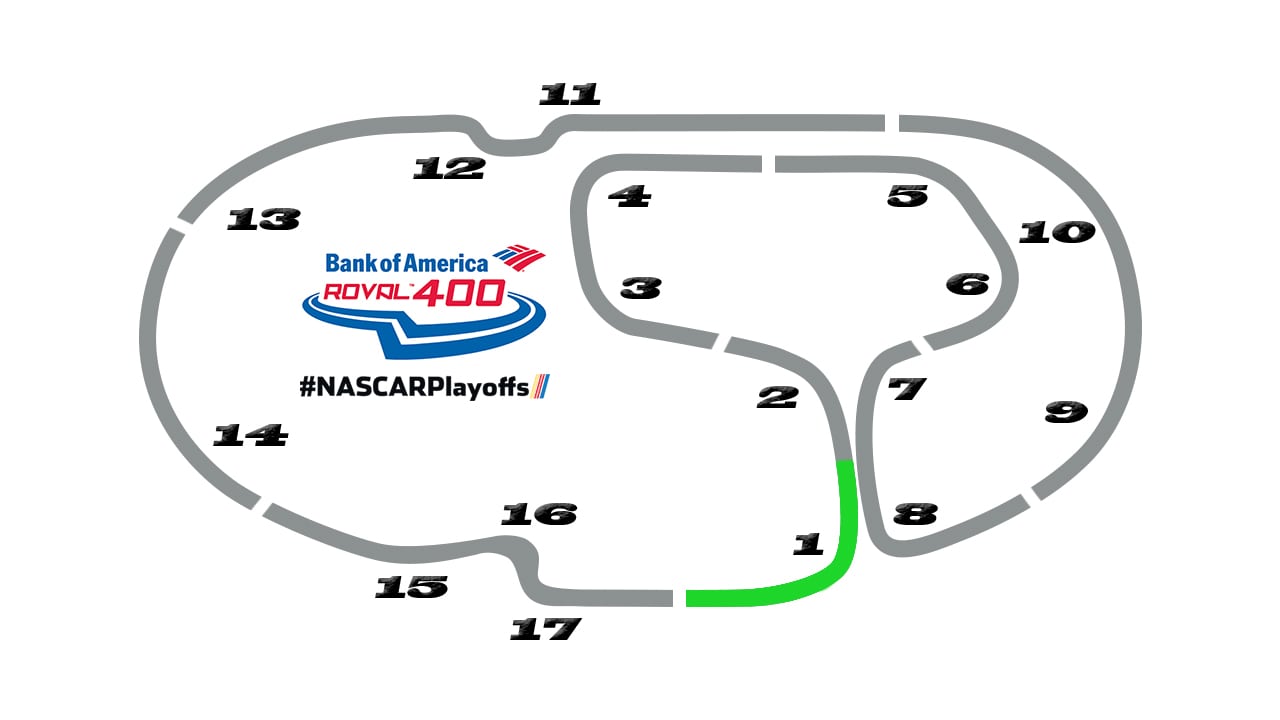 Source: NASCAR
As seen from the Charlotte ROVAL track map above, this road course will certainly test the skills of the remaining drivers in the playoffs. With 17 turns around a 2.32-mile course, there is no room for error for drivers.
Plus, the drivers will need to rework their strategies for this race considering they haven't competed on a road course since the August Verizon 200 at the Brickyard.
How will the Charlotte Motor Speedway layout impact the current NASCAR Cup Series playoff standings? There are a few ways things could go, which will be laid out below.
CURRENT CUP SERIES PLAYOFF PICTURE
After Ryan Blaney's exciting victory at the YellaWood 500 race at Talladega just ahead of No. 4 Kevin Harvick, the playoff competition is seriously heating up. The Bank of America ROVAL 400 will be the final race before four more drivers are eliminated from the playoffs.
Despite Kevin Harvick finishing the race just one foot behind Blaney, his car was disqualified in post-race inspection due to a windshield violation. Playoff contenders William Byron and Denny Hamlin were then declared second and third place.
The current playoff picture looks like this:
No. 24 William Byron (3,136 points)*
No. 12 Ryan Blaney (3,078 points)*
No. 11 Denny Hamlin (3,108 points)
No. 20 Christopher Bell (3,080 points)
No. 17 Chris Buescher (3,077 points)
No. 19 Martin Truex Jr. (3,075 points)
No. 5 Kyle Larson (3,075 points)
No. 6 Brad Keselowski (3,060 points)
No. 45 Tyler Reddick (3,058 points)
No. 23 Bubba Wallace (3,051 points)
No. 1 Ross Chastain (3,050 points)
No. 8 Kyle Busch (3,034 points)
*Drivers with this mark have made it to the next round by winning a playoff race in the Round of 12.
The bolded names in spots 9-12 are on the bubble and will be facing elimination after the ROVAL 400.
BANK OF AMERICA ROVAL 400 RACE PREDICTIONS & EXPECTIONS
No. 20 Christopher Bell won the Bank of America ROVAL 400 in 2022, and with his strong performance so far this round, it's possible he could win it again. Other racers to keep an eye on include William Byron, Tyler Reddick and Chase Elliott.
Although Elliott isn't in the playoff running, he has been performing extremely well in the last few races (top 10 finishes in the last six of eight races) and could take the coveted win away from a playoff racer in need.
Byron is standing at first place currently, and with his excellent performance this season, he's a favorite for many. Tyler Reddick is one of the most skilled road course drivers in the playoff picture, and the Charlotte Motor Speedway map should be no problem for him. And he could certainly use the win, as he's at risk of elimination.
WHERE TO WATCH BANK OF AMERICA ROVAL 400 AT CHARLOTTE MOTOR SPEEDWAY
You can catch the NASCAR Cup Series race at Charlotte Motor Speedway on Sunday, October 8, 2023 at 2:00 p.m. ET.
Watch it live on NBC through DIRECTV on channel 12 or record it to your DIRECTV DVR to watch later. With expansive NASCAR coverage and even more premium sports to watch, DIRECTV is the expert in all things sports.
And remember, you can watch every Cup Series race of the season with DIRECTV, so now's the time to get started.

Frequently Asked Questions
When is the Bank of America ROVAL 400?
The Bank of America ROVAL 400 at Charlotte Motor Speedway Road Course is on Sunday, October 8, 2023, at 2:00 p.m. ET.
Where can I watch the Bank of America ROVAL 400?
Watch the Bank of America ROVAL 400 live on NBC, channel 12 on DIRECTV.
The content is featured on https://www.directv.com/insider/ is editorial content brought to you by DIRECTV. While some of the programming discussed may now or in the future be available affiliates distribution services, the companies and persons discussed and depicted, and the authors and publishers of licensed content, are not necessarily associated with and do not necessarily endorse DIRECTV. When you click on ads on this site you may be taken to DIRECTV marketing pages that display advertising content. Content sponsored or co-created by programmers is identified as "Sponsored Content" or "Promoted Content."