Beloved horse race, Preakness Stakes 2023 will take place over the weekend of May 19-20, 2023 at Pimlico Race Course in Baltimore, Maryland. The 148th annual Triple Crown event comes quickly after the Kentucky Derby and is followed by Belmont Stakes in June.
Whether you are lucky enough to attend in person or are watching at home (or in your favorite bar) find the Preakness Stakes schedule, frequently asked questions and fun facts below.
How to Watch Preakness 2023
Watch as much of the action as possible on NBC and Peacock.
About Preakness Stakes
The historic American thoroughbred horse race is known as the Middle Jewel – or second race – in the iconic Triple Crown horse racing series. Preakness Stakes' first race was on May 27, 1873 – and 100 years later, in 1973, the famed Secretariat ran the fastest race at 1:53.
Beyond the big race, there is also the Black Eyed Susan and Preakness Live, featuring performances by Bruno Mars and Sofi Tukker.
Get DIRECTV today to make sure you can watch Preakness Stakes and many of your favorite sporting events, year round!
The Horses Racing In Preakness
The Kentucky Derby has a set 20 horses competing while the number of horses in Preakness Stakes varies (up to 14 maximum).  Check back to see who is running in 2023.
Preakness Stakes Traditions
Much like the Kentucky Derby, there are some tried and true traditions associated with the long-running Preakness Stakes.
Painting of the Horse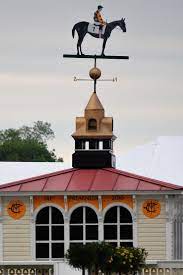 Once a winner is declared, the weathervane atop the Old Clubhouse cupola (replica) at Pimlico is painted the colors of the victorious jockey and horses' silks.
Art is celebrated throughout the Preakness event, with a new official artist selected each year.
Presenting the Yellow Flower Blanket
The winner of Preakness will be presented with a blanket constructed of yellow flowers by draping it around the horse's neck. Learn more about the intricate process involved in making the blanket.
Singing of 'Maryland, My Maryland'
In past years, as soon as the horses were called to post, the audience will officially sing a part of Maryland, My Maryland, the official Maryland state song. This tradition has since ceased in 2020 due to the song's celebration of the Confederacy.
Top Preakness Stakes Questions
Who Won Preakness 2022?
Early Voting, ridden by Jockey Jose Ortiz won Preakness Stakes 2022. Relive the full race.  
When is the Preakness 2023?
Preakness 2023 will take place May 19-20, 2023.
What time is Preakness?
The times will be announced closer to the event.
Where is Preakness held?
The annual Preakness Stakes event is held at Pimlico Race Course in Baltimore, Maryland.
Latest Preakness Tweets