College basketball fandom: It's fun. It's fulfilling. It can even be beautiful. It brings you together with your fellow students and fans, binding you in the triumph of victory and the devastation of defeat. Its passion fuels a fire that for One Shining Moment can make life feel like truly living.
But it comes at a price. Unfortunately, there's a dark side to the cheering of the crowds, the free throw distractions, the throngs of fans waving intricate signs in the air. Fandom may be joyous to the fan and their cohort, but to the outsider its effects appear to take an otherwise normal, healthy, tolerable-to-be-around person and turn them into a ravenous, team-branded monster, rendered less than human by the screaming mob that they've willfully joined.
In short, college basketball fans can be annoying. And over the next two weeks, you, dear reader, will help us determine which ones constitute… The Most Annoying College Basketball Fanbase. Vote below.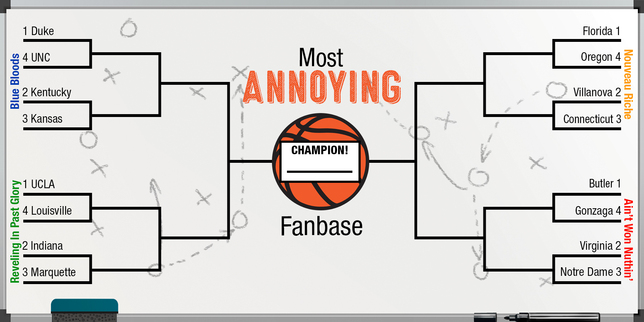 We've selected the sixteen fandoms that lead the pack, organized into four regions. Let's take a look at the candidates:
Blue Bloods Region
College basketball royalty. The undeniably historic programs who predictably win all the time and feed their fan base the nonstop high they crave…or else. If you're rooting for these guys, you'd better be an alum, and even then, it's objectionable.
1 seed: Duke
Name an annoying quality about a group of fans, and the Cameron Crazies are willing and able to express it. Do they win year after year, and do they let you know about it, constantly? Yes. Do they fancy themselves the One True Fandom, unsullied by the grime of the peasants that attend every other school? Oh, absolutely. Do they camp out in Krzyzewskiville in a bizarre homage to their head coach? Big time. Do they all know how to spell Krzyzewski, even though nobody knows how to spell Krzyzewski? Why yes, as a matter of fact, they do! It's hard to imagine they're not the favorite in this tournament.
2 seed: Kentucky
The archetype of the incredibly lucky fans that are nevertheless convinced the whole world is against them. The team is always one of the favorites to win the whole thing behind the bluest of blue-chip talent, though lately their inexperience has sunk them, year after year. But the Wildcats fan will lash out at anyone and everyone who might have inconvenienced them along the way to defeat. At least they have a somewhat healthy relationship with their coach.
3 seed: Kansas
Did you know James Naismith, THE INVENTOR OF BASKETBALL, coached at Kansas? If you didn't, a Jayhawk fan will be along shortly to remind you! He coached…pretty poorly, actually, a career 47% winner for the Jays, but hey, that doesn't stop these guys from tearing up at the mention of the beauty of the game, screaming to anyone that they're actually the true home of basketball, sir, and that you can never take that away from them.
4 seed: UNC
Ready for a conspiracy theory? UNC doesn't actually have fans. It's hard to believe, but the people cheering at the Dean Dome (ugh) are a combination of people rooting for Duke-failure-by-proxy (a noble cause, to be sure) and people on Jordan Brand's payroll, doing everything they can to make his Airness' squad appear vital. Stay woke.
Nouveau Riche Region
The new kids on the block, with the recent success to back up their bragging, who have yet to shed their boorish ways. If you count yourself among these fans, you probably like the Golden State Warriors, too. How original.
1 seed: Florida
Florida. The Sunshine State. Sweet, beautiful Florida, home to the only school that could recruit, educate, play, and embody the spirit of Joakim Noah, possible the single most irritating human being to ever awkwardly two-hand-heave a basketball at a rim. Noah was a hero to all Gator fans, by way of totally absorbing their chill-but-also-ready-to-fight energy. And honestly, the taciturn Al Horford was the better player. Also: Gator Chomp? C'mon guys. You'd run screaming if you set foot in a bayou.
2 seed: Villanova
Beating Patrick Ewing in the playoffs is only cool when Michael Jordan does it. 'Nova did it in 1985, and silence…until 2016, when they won on a buzzer-beater. They pulled it off again in 2018, lending more legitimacy to a fan base under the impression that they've been chosen by the basketball gods. Lucky wins turn you into a monster.
3 seed: Connecticut
Caring about the Huskies' men's team, even in the light of their recent success (and failures), while the women's team shreds year after year, is honestly a little gauche. True, the Connecticut men boast national championship wins over pedigreed teams like Duke and Kentucky. The Connecticut women didn't lose for 111 games. Celebrate their historical dominance with grace and dignity, without piling on the extra cheese of a few men's championships because you can never get enough.
4 seed: Oregon
OK, they DID win the whole thing in 1939, but that blip was followed by decades of nothingness… until now, somehow, when Ducks fans rode the coattails of their football program (who, ahem, have never won anything), and saw their basketball team become sorta good for no apparent reason. The fanbase now blathers on about how they're underrated, one little hit of pseudo-success driving them frothing mad. It's sad, really.
Reveling In Past Glory Region
Once upon a time, they were giants among lesser programs…but now, they're faded flowers, forever chasing the rush of the heights they once achieved. If you find yourself in one of these fandoms, take a break and go queue up some Turner Classic Movies.
1 seed: UCLA
John Wooden's absurd run of titles and second life as a Basketball Yoda with inspirational quotes you can stitch on pillows mean UCLA fans should have too much dignity to belong on this list. Much less follow a half-decent college team that plays in Los Angeles, where there's literally anything else to do on a given night. It's not even their fault, in a way. Huffing the fumes of Wooden's success has made them like the spoiled children of the Hollywood royalty that once owned homes in the hills of Westwood.
2 seed: Indiana
Indiana has an idea about itself as the true home of basketball, which it maintains even in the face of basketball's ongoing mutation into something that doesn't resemble that idea at all. Yes, you've got some titles, and the last perfect season in men's college hoops. Yes, you're the Hoosiers, as in, Hoosiers (1986). But let it go. Also, your state's all-time best player went to Indiana State because you gave him a nervous breakdown. Your madness stole Larry F. Bird from you. Think about that for a second.
3 seed: Marquette
Entirely too much pageantry and weeping for a team with one national title from 40 years ago and a couple years of Dwyane Wade. Go back to class.
4 seed: Louisville
Winning a title under former in-state nemesis Rick Pitino should be shameful. It should send you to a confessional, not back to the arena, ready to cheer. And stop doing the "L" sign with your hands at games, thinking it stands for Louisville. Have some self-respect.
Ain't Won Nuthin' Region
No titles. No glory. That won't stop their fans from being obnoxious. If you root for any of these teams, Lucy has a football she wants to show you, Charlie Brown.
1 seed: Butler
Gordon Hayward is an NBA player with a side gig as a Twitch streamer. This is your greatest player of all time. Your greatest moment of all time involves almost replicating Hoosiers (1986). Why would you even want to associate yourself with that? And we all know Butler the ball almost went in against Duke, but it didn't. You lost. Stop talking about it.
2 seed: Virginia
Joyless, technocratic basketball that exists more to be defended in seminars than watched by humans. Watching Gordon Hayward play Fortnite is more exciting. All you have to show for your fandom is memories of Ralph Sampson and the first ever incidence of a 1 seed losing to a 16. Next!
3 seed: Notre Dame
Honestly, the Notre Dame basketball fan is probably caught in the crossfire here, catching flak for their proximity to the bar-none worst college football fan base. But, consider this: most of those Fighting Irish basketball fans are ALSO Notre Dame football fans.
4 seed: Gonzaga
Coach Mark Few runs a brilliant operation. But when you come so close, the title's the title, and everything else is last place. The lack of true victory haunts you like a ghost, and we can all see it. Quit fronting and just have group cries mid-game.
Who will take home the championship? Vote away. We'll reveal our Egotistical Eight next week for you to vote on. In the meantime, keep up with all the teams vying for the NCAA title—and the fans who will become even more insufferable if they triumph—on DIRECTV.
Get your 2019 March Madness news, scores, schedule, bracket, highlights and more.