It was a wicked morning for fans of Panic! At The Disco at the Citi Concert Series on TODAY.
You might remember Panic! from their impactful debut single, "I Write Sins Not Tragedies." 12 years and 5 albums later, Panic! is yet again redefining their sound with their sixth studio album, "Pray for the Wicked." The 11-track album dropped on June 22nd – and it's already on track to debut at No. 1 on the Billboard 200 chart.
It comes as no surprise then, that at 5:45 a.m., fans were lined up for blocks around Rockefeller Plaza. Some had camped out since 5 p.m. on June 28th, whereas others had traveled to New York just for the performance. The fanbase made the whole morning a party, chatting amongst themselves about favorite tracks, what they were looking forward to during the show and which upcoming tour dates they'd be attending.
Brendon Urie, Panic!'s frontman, is nothing if not engaging. Oozing charisma and charm, he was full of smiles at his 6:30 a.m. soundcheck (setting himself apart from most rockstars, who are stereotypically night owls). He chatted a bit with the crowd, then was off with a grin just as quickly as he came.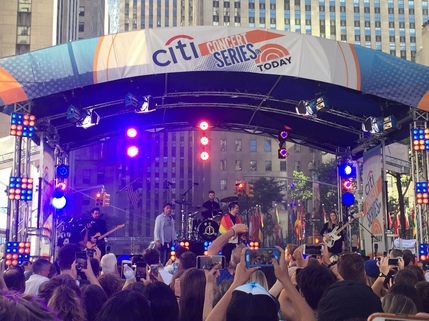 Advertisement
By 8:30 a.m., the crowd was more than ready to see Panic! in full performance mode. Walking out of the NBC building with the LGBTQ flag draped around his shoulders, Urie made his way to the stage – and toward the increasing screams from fans. Anchors Willie Geist, Savannah Guthrie, and Sheinelle Jones joined him and after a quick introduction, Urie was off to the races with the song that started it all: I Write Sins Not Tragedies.
One of the greatest aspects of live performances is knowing that the artist will add their own nuances to each song that might not be in the studio version. Urie is a master of this, showing off falsetto and bass vocal capabilities. (We're sure that his stint on Broadway in Kinky Boots no doubt helped strengthen these!)
Taking a quick break after I Write Sins to talk with Geist and Guthrie, Urie discussed his time on Broadway and how this sixth album came as a total surprise.
"I planned to take the rest of the year off and just kind of relax, spend some family time […] my heart, my inspiration, my brain—did not want to do that. So the second day into my sabbatical I just started working and came up with this album and it was a very pleasant surprise."
Urie also took the time to discuss the project he just launched yesterday, June 28th: A human rights organization called Highest Hopes Foundation.
"I started it, basically, to fight for human rights. That's what I believe. […] We've been funding GLSEN's mission to help kids create an environment that's safe at schools [and] communities for LGBTQ youth and it's more inclusive. Rather than shunning and shaming people, we'd like to include everyone."
Urie has already given $1 million to GLSEN.
The crowd's response to Urie's words was electric, sending shouts and cheers throughout the entire plaza. Geist and Morales then left the stage so Urie could launch into his next song, "High Hopes."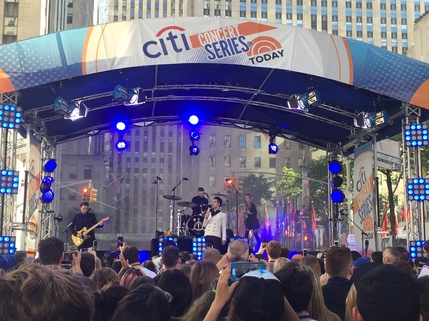 Playing both comedian and entertainer during the break in songs, Urie kept the crowd's energy up, signing photos, taking selfies and commenting on his surroundings. He signed off with "Say Amen (Saturday Night)", and gave sincere thanks to everyone who showed up.
If this performance was any indication, it's safe to say that Panic!'s Pray for the Wicked Tour will be the concert to be at this summer – falsettos, talent, heartfelt commentary, and all.
Advertisement