Originally announced in 2019, HBO's official Game of Thrones prequel series, House of the Dragon, will finally hit the small screen in the summer of 2022. 
While fans await the arrival of the GoT spin-off with bated, fiery breath, here's everything you need to know before watching House of the Dragon.   
When and How to Watch House of the Dragon
When: House of the Dragon will begin airing on HBO and streaming on Max on Sunday, August 21, 2022 at 9 p.m. ET. 
How to Watch: DIRECTV and DIRECTV STREAM customers with a Max subscription can watch via the below:
Watch LIVE
Watch HBO live on DIRECTV and DIRECTV STREAM based on your region:
Watch On Demand:
DIRECTV via Satellite
Go to Ch. 1501 or press MENU on your remote to access On Demand. 
Customers with a Voice Remote can use it to navigate directly to House of the Dragon.
Dive even deeper into the series with the Return to Westeros app, available to DIRECTV SATELLITE connected customers. 
DIRECTV via Internet
From your DIRECTV home screen, navigate to "On Demand". Search for House of the Dragon or select Networks > HBO > House of the Dragon.
Customers can use their Gemini Google Voice Remote to navigate directly to House of the Dragon.
Catch up on Game of Thrones and prepare for House of the Dragon with Max, included with your first 3 months of DIRECTV via Internet CHOICE Package or above. 
Watch on Apps
Download and access DIRECTV on your computer, mobile device or tablet. Search for House of the Dragon and start watching on demand
Get the DIRECTV app on iOS and Android.
Stay immersed in House of the Dragon with episode recaps each week. 
House of the Dragon Trailers:
Official Teaser Trailer 1
Official Teaser Trailer 2
Is House of the Dragon related to Game of Thrones?
Yes. House of the Dragon is a prequel series to Game of Thrones taking place centuries prior to the original HBO series and focuses on House Targaryen.
Is House of the Dragon based on a book?
House of the Dragon is based on George R.R. Martin's 2018 book titled Fire & Blood, which begins 300 years before Game of Thrones and chronicles the first 150 years of Targaryen history. It includes stories around the Doom of Valyria and the Targaryen Civil War, aka the "Dance of Dragons".
What is the plot of House of the Dragon?
From the Blood & Fire synopsis on Martin's site: "Centuries before the events of A Game of Thrones, House Targaryen — the only family of dragonlords to survive the Doom of Valyria — took up residence on Dragonstone. Fire & Blood begins their tale with the legendary Aegon the Conqueror, creator of the Iron Throne, and goes on to recount the generations of Targaryens who fought to hold that iconic seat, all the way up to the civil war that nearly tore their dynasty apart."
Based on the first trailer, we know the HBO series will start about 200 years before Game of Thrones during the reign of King Viserys. Aside from that, we won't know exactly which stories will be told in the House of the Dragon until it airs. 
Who is in House of the Dragon?: Cast and Character Guide
King Viserys Targaryen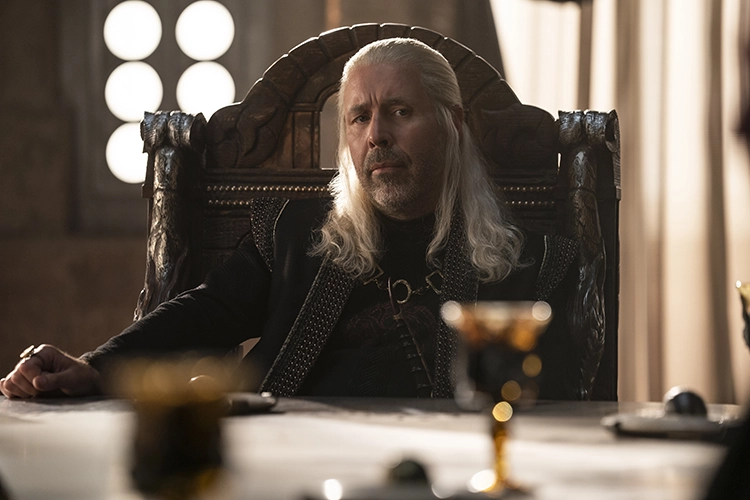 HBO/Paddy Considine as King Viserys Targaryen
By all accounts a decent man, Viserys was chosen as successor to the Old King, Jaehaerys Targaryen, by the lords of Westeros at the Great Council at Harrenhal. He looks only to keep the kingdom flourishing and to carry on the Targaryen legacy with a measured rule. That said, we will be surprised if he lasts the entire first season. Westeros gonna Westeros, after all. 
King Viserys Targaryen is played by Paddy Considine (The Outsider, The Bourne Ultimatum, Hot Fuzz). 
Alicent Hightower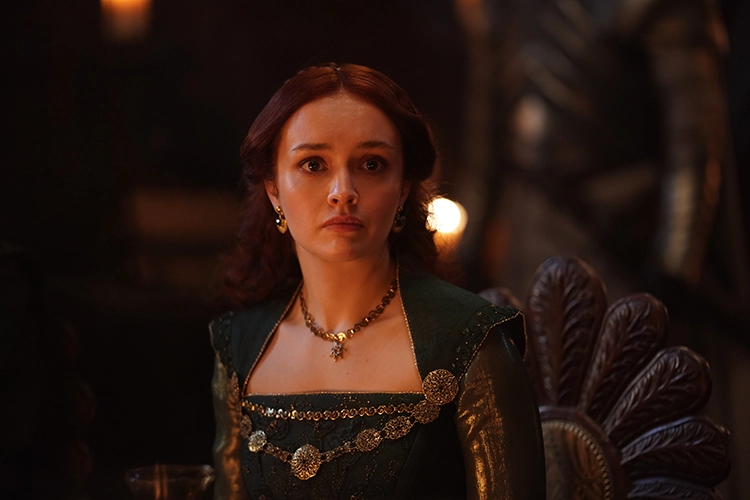 HBO/Olivia Cooke as Alicent Hightower
Second wife of King Viserys, Alicent is the daughter of the Hand of the King, Otto Hightower. Born and raised in King's Landing, she is known as one of the most beautiful women in the Seven Kingdoms as well as one it's sharpest political minds. 
Alicent Hightower is played by Olivia Cooke (Ready Player One, Sound of Metal).
Princess Rhaenyra Targaryen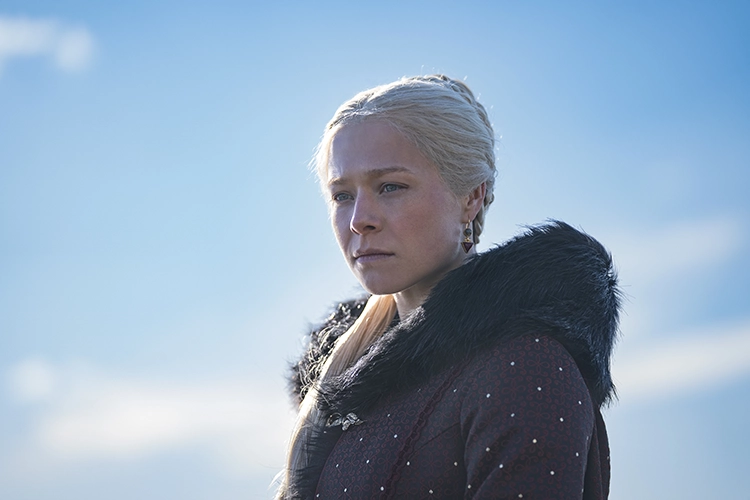 HBO/Emma D'Arcy as Princess Rhaenyra Targaryen
Rhaenyra is Viserys' first-born child from his marriage to Aemma Arryn, who later died giving birth to their second child, a son, who also perished. In her youth, she was so beloved by the kingdom that she was nicknamed "The Realm's Delight". Now a young woman, she has become an experienced dragonrider (Syrax) and developed a competitiveness with her stepmother, Alicent.
Princess Rhaenyra Targaryen is played by Emma D'Arcy (Hanna, Truth Seekers).
Young Princess Rhaenyra Targaryen and Young Alicent Hightower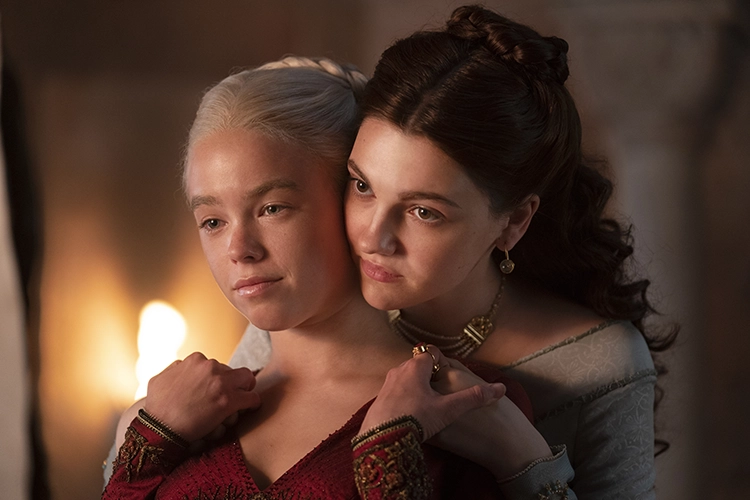 HBO/Milly Alcock and Emily Carey as Young Rhaenyra and Young Alicent
Milly Alcock (Upright) and Emily Carey (Wonder Woman, Tomb Raider) will play Young Rhaenyra and Young Alicent in flashback scenes.
Prince Daemon Targaryen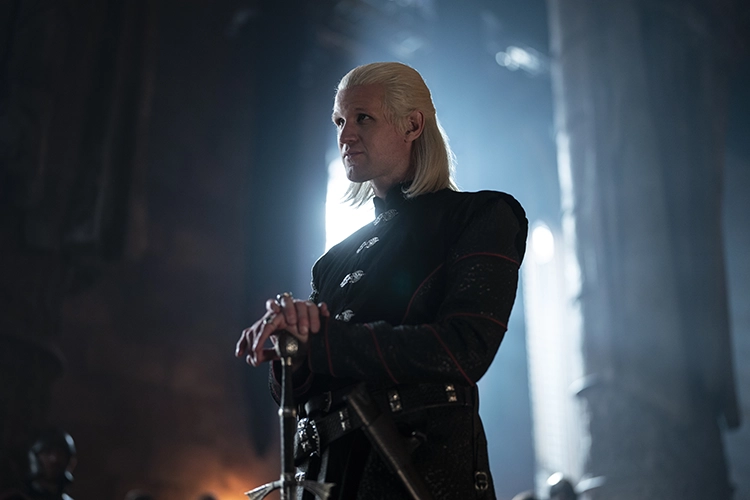 HBO/Matt Smith as Prince Daemon Targaryen
A hero to some and a villain to most, Prince Daemon Targaryen is the younger brother of King Viserys and heir to the throne. Wielding the legendary Valyrian steel sword, "Dark Sister", Daemon is a skilled warrior and dragonrider (Caraxes) of great renown. However, he was also well known for frequenting the brothels and gambling dens of Flea Bottom. He is rumored to have been…overly fond of, shall we say, his niece Rhaenyra.
Prince Daemon Targaryen is played by Matt Smith (Dr. Who, The Crown, Morbius).
Otto Hightower, the Hand of the King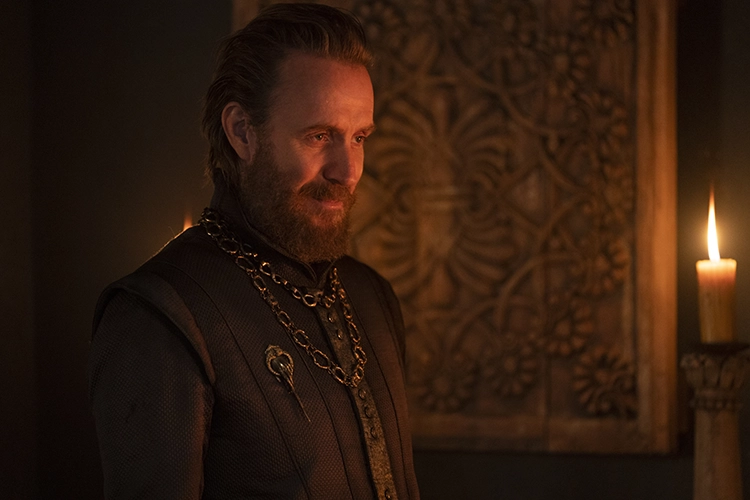 HBO/Rhys Ifans as Otto Hightower
A loyal servant to king and kingdom, Otto Hightower is Viserys' Hand of the King and father to Alicent. Hightower believes Prince Daemon to be quite dangerous and the two are often at odds.
Otto Hightower is played by Rhys Ifans (Spider-Man: No Way Home, The King's Man, Notting Hill).
Lord Corlys Velaryon aka "The Sea Snake" and Princess Rhaenys Velaryon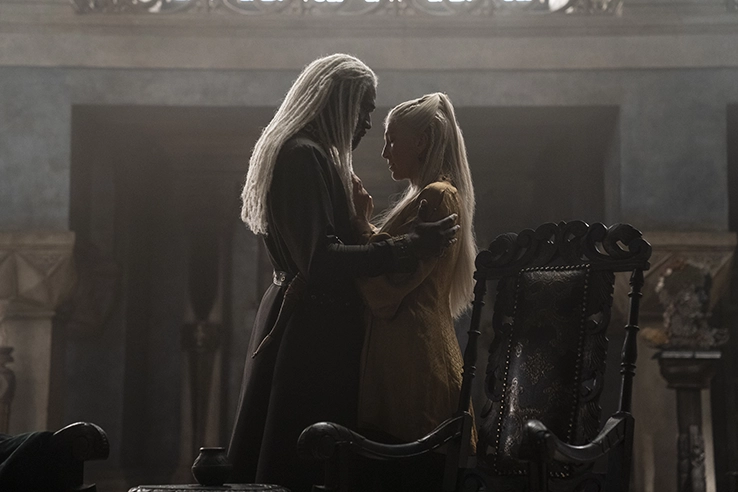 HBO/Steve Toussaint and Eve Best as Lord Corlys Velaryon and Princess Rhaenys Velaryon
The lord of House Velaryon, Corlys Velaryon has built a reputation as the fiercest sailor in the history of Westeros, earning him the name "The Sea Snake". A strong leader, he has acquired more riches than the Lannisters and possesses the largest fleet in Westeros. 
Born a Targaryen, Princess Rhaenys Velaryon is a dragonrider (Meleys) and wife to Lord Corlys Velaryon. Known as "The Queen Who Never Was", Rhaenys was overlooked as heir to the throne simply because she was a woman. Her cousin, Viserys, was chosen instead.
Lord Corlys Velaryon is played by Steve Toussaint (Dr. Who, Red, White and Blue).
Princess Rhaenys Velaryon is played by Eve Best (Nurse Jackie, The King's Speech).
Mysaria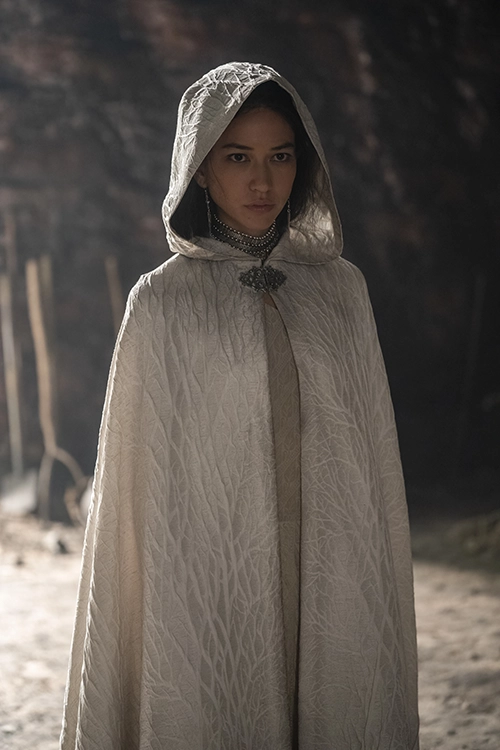 HBO/Sonoya Mizuno as Mysaria
A former prostitute, Mysaria is no stranger to the highest and lowest of Westeros, or their secrets. She is a trusted ally and paramour to Prince Daemon Targaryen.
Mysaria is played by Sonoya Mizuno (Ex Machina, Devs, Crazy Rich Asians).
Ser Criston Cole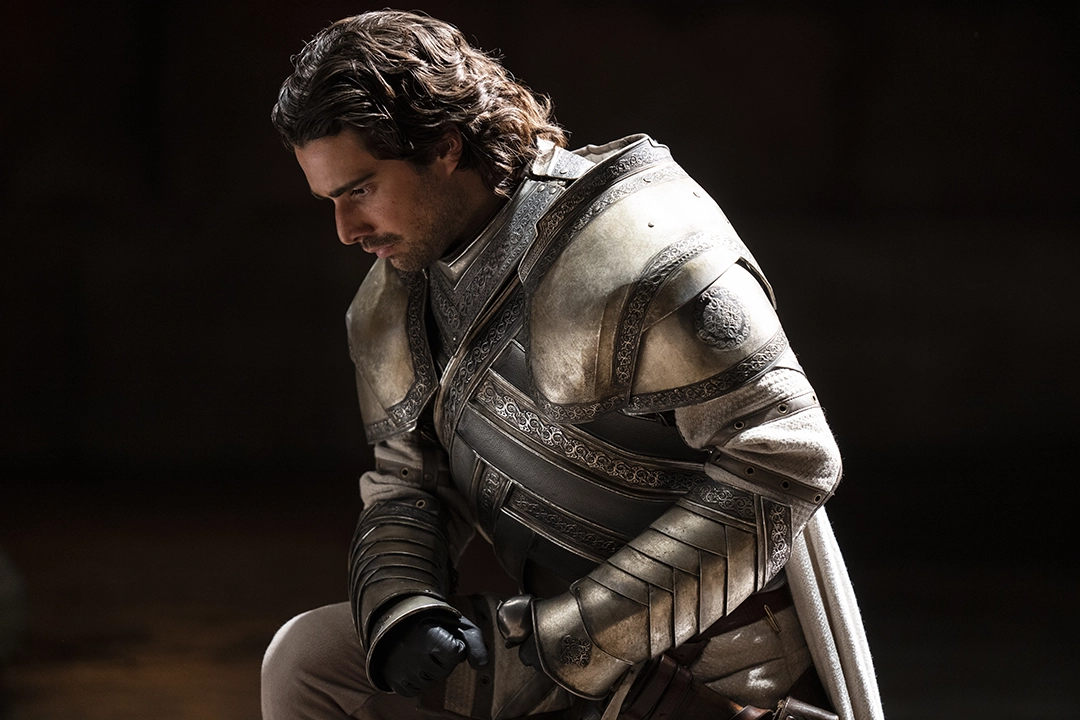 HBO/Fabien Frankel as Ser Criston Cole
A close friend to Princess Rhaenyra in her youth, Ser Criston is the common-born son of the steward to the Lord of Blackhaven. While he has no claims to lands or titles, he is a skilled fighter and has defeated many great knights in tournaments across Westeros.  
Ser Criston Cole is played by Fabien Frankel.
Ser Harwin 'Breakbones' Strong
Son of Lord Lyonel Strong and Heir to Harrenhal, Strong lives up to his name as he is said to be the mightiest man in the Seven Kingdoms.
Ser Harwin Strong is played by Ryan Corr.
Lord Lyonel Strong
Lord Lyonel Strong is Master of Laws to King Viserys and Lord of Harrenhal. He is also father to Harwin and Larys Strong. 
Lord Lyonel Strong is played by Gavin Spokes
Larys Strong
The younger son of Lyonel Strong and brother of Harold "Breakbones" Strong.
Larys Strong is played by Matthew Needham (Ritual, Sherlock) 
Lord Jason Lannister and Tyland Lannister
Jason Lannister is Lord of Casterly Rock while Tyland Lannister is a wily Westerosi politician.
Jason and Tyland Lannister are both played by Jefferson Hall (Tenet, Devs, Taboo)
Grand Maester Mellos
Grand Maester Mellos is a steady and trusted advisor to King Viserys.
Grand Maester Mellos is played by David Horovitch 
Ser Harrold Westerling
Lord Commander of the Kingsguard, Ser Harold is seen as the epitome of honor.
Ser Harrold Westerling is played by Graham McTavish (The Hobbit, The Witcher, Aquaman)
Lord Lyman Beesbury
Beesbury is the Lord of Honeyholt and Master of Coin for King Viserys.
Lord Lyman Beesbury is played by Bill Paterson (Good Omens, Fleabag, Outlander)
Will Daenerys Targaryen be in House of the Dragon?
House of the Dragon takes place hundreds of years before Daenerys Targaryen was born so unless time travel is involved, the answer is no.
Will Jon Snow be in House of the Dragon?
Again, highly unlikely. However, George R.R. Martin himself recently revealed that that there is a Jon Snow spin-off show in the works with Kit Harrington set to reprise his role as the Bastard of Winterfell. Tentatively called Snow, the show has apparently been in the works for years now but is still in the writing phase, so don't expect to see Longclaw gracing your screens any time soon. 
Will the Starks, Baratheons, or Lannisters be in House of the Dragon?
Yes. The latest trailer confirmed both Rickard Stark and Boremund Baratheon will be part of House of the Dragon. Jefferson Hall has been confirmed to play twins, Lord Jason Lannister and Tyland Lannister.
How much these characters and their Houses factor into the show is yet to be seen. 
What dragons are in House of the Dragon?
Martin claimed on a recent podcast that there could be up to 17(!) dragons in House of the Dragon. Here are some of the most likely candidates:
Balerion, the Black Dread, ridden by King Viserys Targaryen. 
Image: A Wiki of Ice and Fire
At one point, Viserys rode Balerion, aka the Black Dread, who King Aegon I Targaryen also rode previously during the Conquest of Westeros when he notably melted the stone towers of Harrenhal with his black fire. However, Balerion died at the ripe old age of 200 shortly after being acquired by Viserys so, depending on where the series starts in the timeline, he may not actually show up in House of the Dragon. Though we are certainly hoping the legendary, black-winged terror makes an appearance or two in a flashback if he isn't still living. 
Caraxes, the Blood Wyrm, ridden by Prince Daemon Targaryen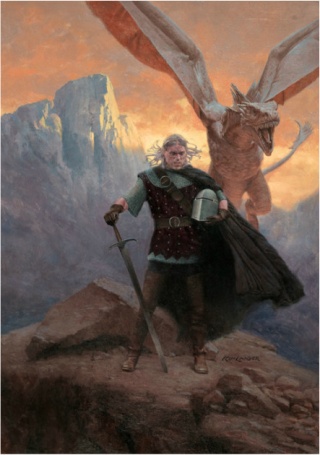 Image: Official Game of Thrones Facebook Page
Previously owned by his uncle, Aemon Targaryen, Prince Daemon took control of the crimson nightmare known as Caraxes after Aemon's death.
Meleys, the Red Queen, ridden by Princess Rhaenys Velaryon
Image: Official Game of Thrones Facebook Page
Meleys was once owned by Daemon's mother, Alyssa Targaryen, but after she died in childbirth, the dragon bonded with Princess Rhaenys Targaryen (later Velaryon). Known for her incredible speed, Meleys had scarlet scales with pink wings along with copper horns and claws. 
Syrax, ridden by Rhaenyra Targaryen
Image: A Wiki of Ice and Fire
A huge, young, yellow she-dragon given to Princess Rhaenyra at the age of 7. Named after a Valeryan goddess, Syrax was said to have produced "several" clutches of eggs during Viserys' reign.
Where does House of the Dragon take place?
From the trailers, we see a great deal of King's Landing and Dragonstone as well as a breif look at the Driftmark. However, based on what we know from Fire & Blood and it's many violent battles, as well as the various filming locations, the below are either confirmed or likely likely:
King's Landing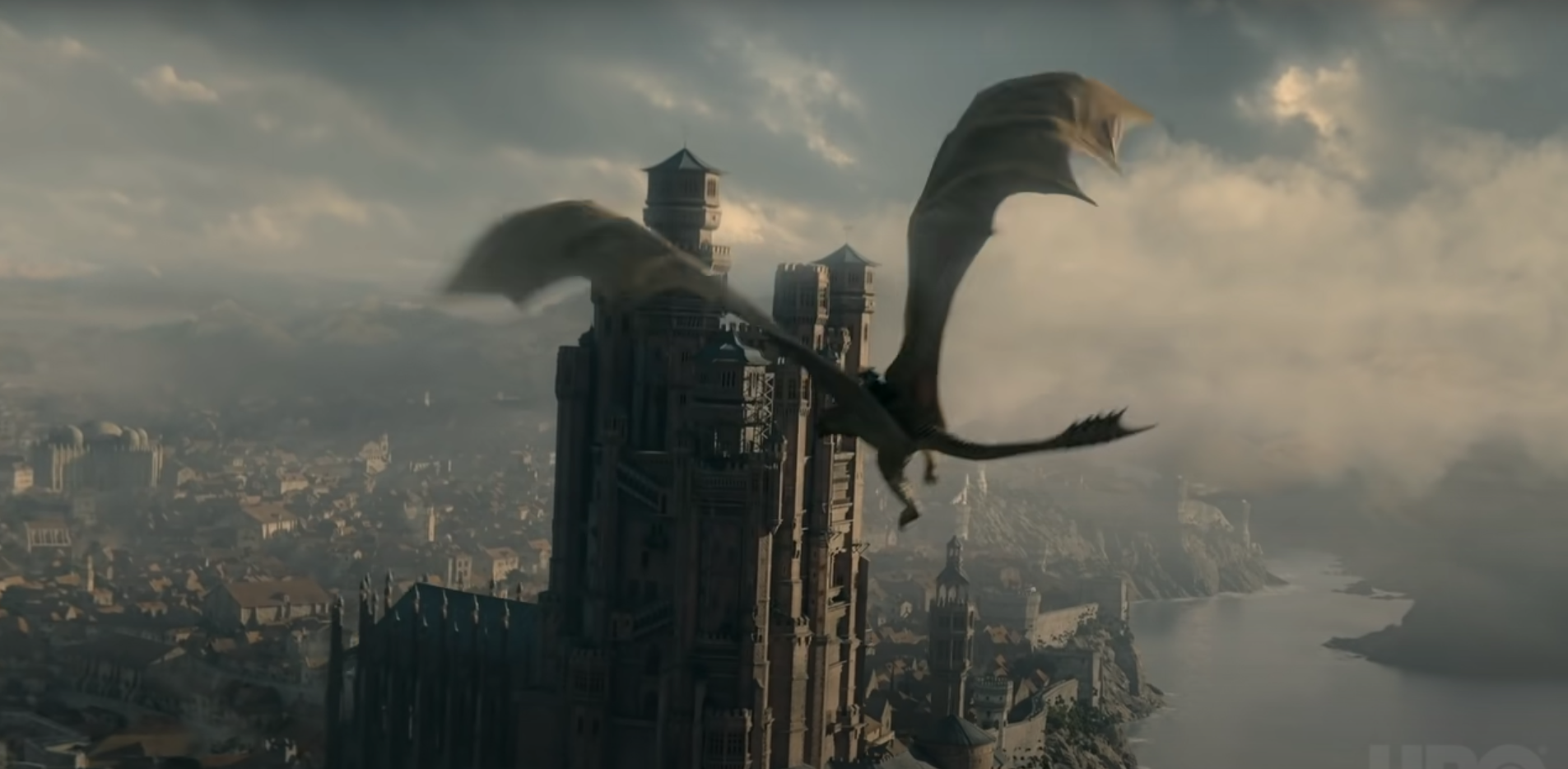 Seat of power in Westeros, King's Landing was first established as a southern base of operations by King Aegon I Targaryen aka Aegon the Conquerer during his conquest of Westeros 300 years before Game of Thrones. It soon blossomed into an important hub for the military, trade, politics and all that come with it, eventually becoming the capitol. It is also home to the Iron Throne, constructed from the swords of Aegon's defeated enemies.
Dragonstone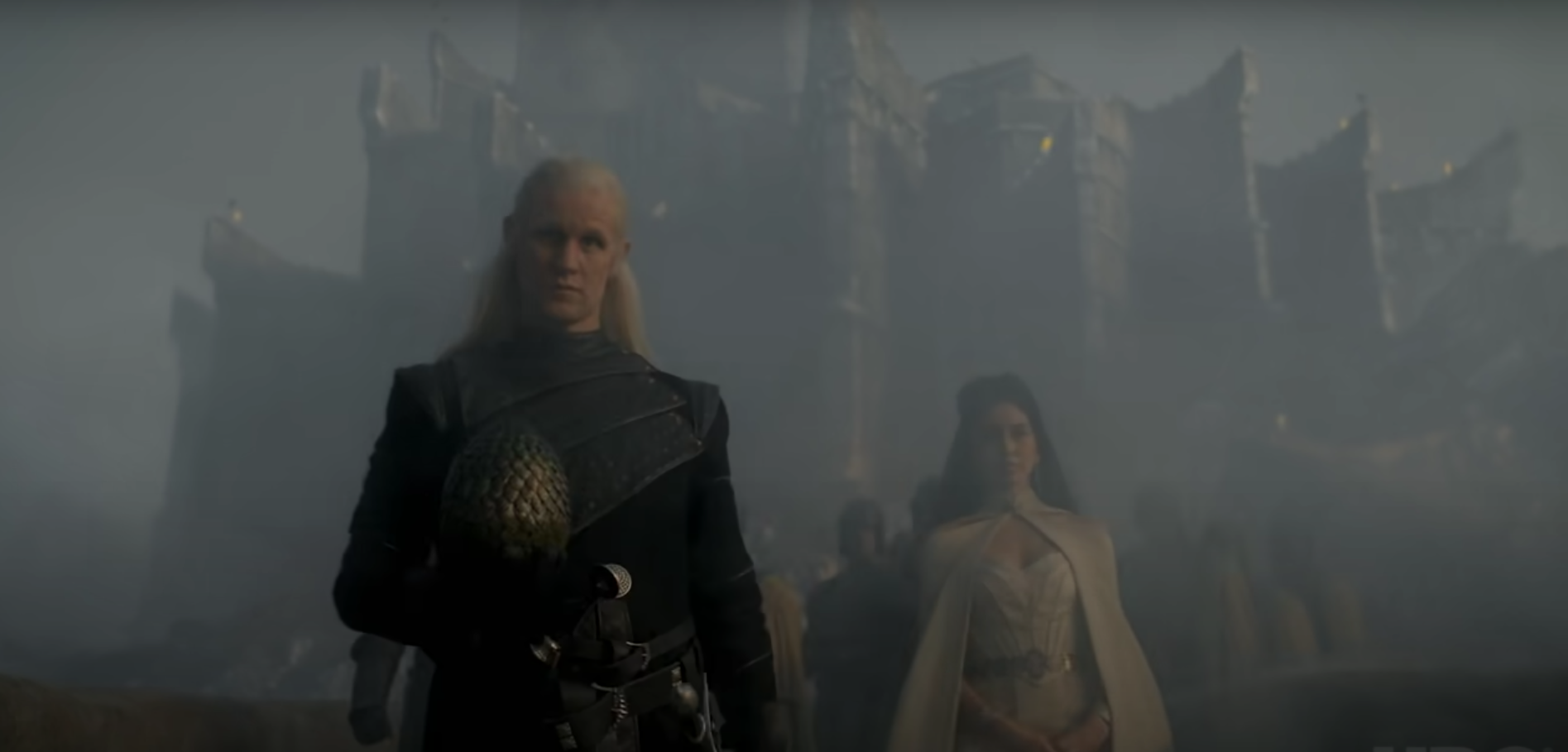 The original landing place of the Targaryens in Westeros after arriving from Essos, Dragonstone is a small island in Blackwater Bay featuring an imposing castle (also called Dragonstone) that became a refuge for Targaryens fleeing the Doom of Valyria.
The Riverlands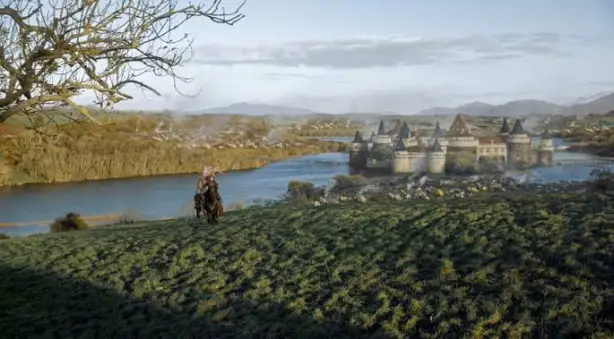 Home of House Tully at Riverrun. We saw the Riverlands throughout various episodes of Game of Thrones. Red Wedding anyone?
Harrenhal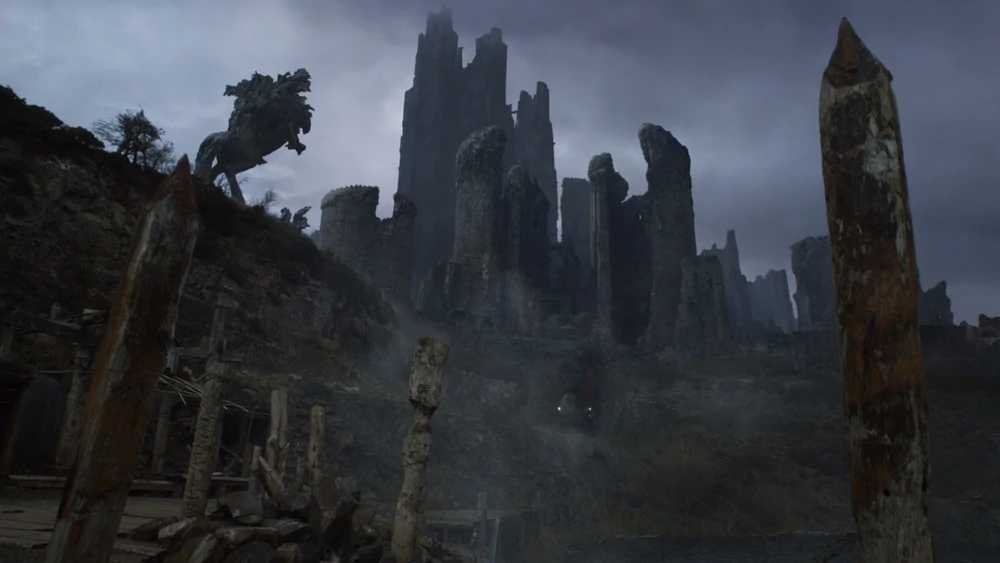 Fortress above God's Eye, a massive lake, and home of House Strong. Harrenhal was once melted by Balerion and is still in ruins for the most part. This is the same place Arya Stark served as cupbearer for Tywin Lannister in Game of Thrones.
Dorne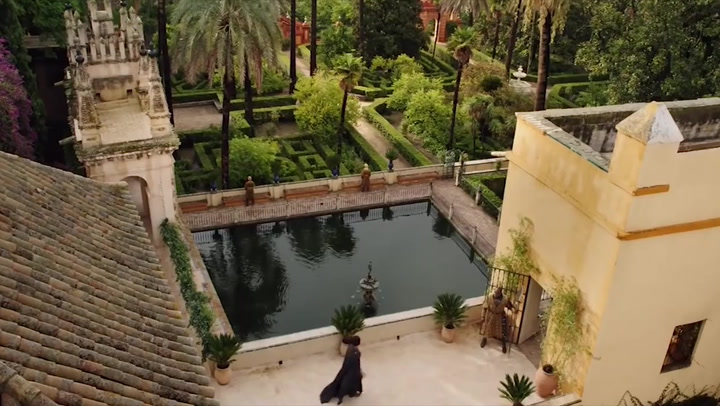 The southernmost kingdom in Westeros. Game of Thrones viewers will recall Dorne was home to Prince Oberyn Martell, though we did not see Dorne itself until later seasons, and even then we didn't see much.
Oldtown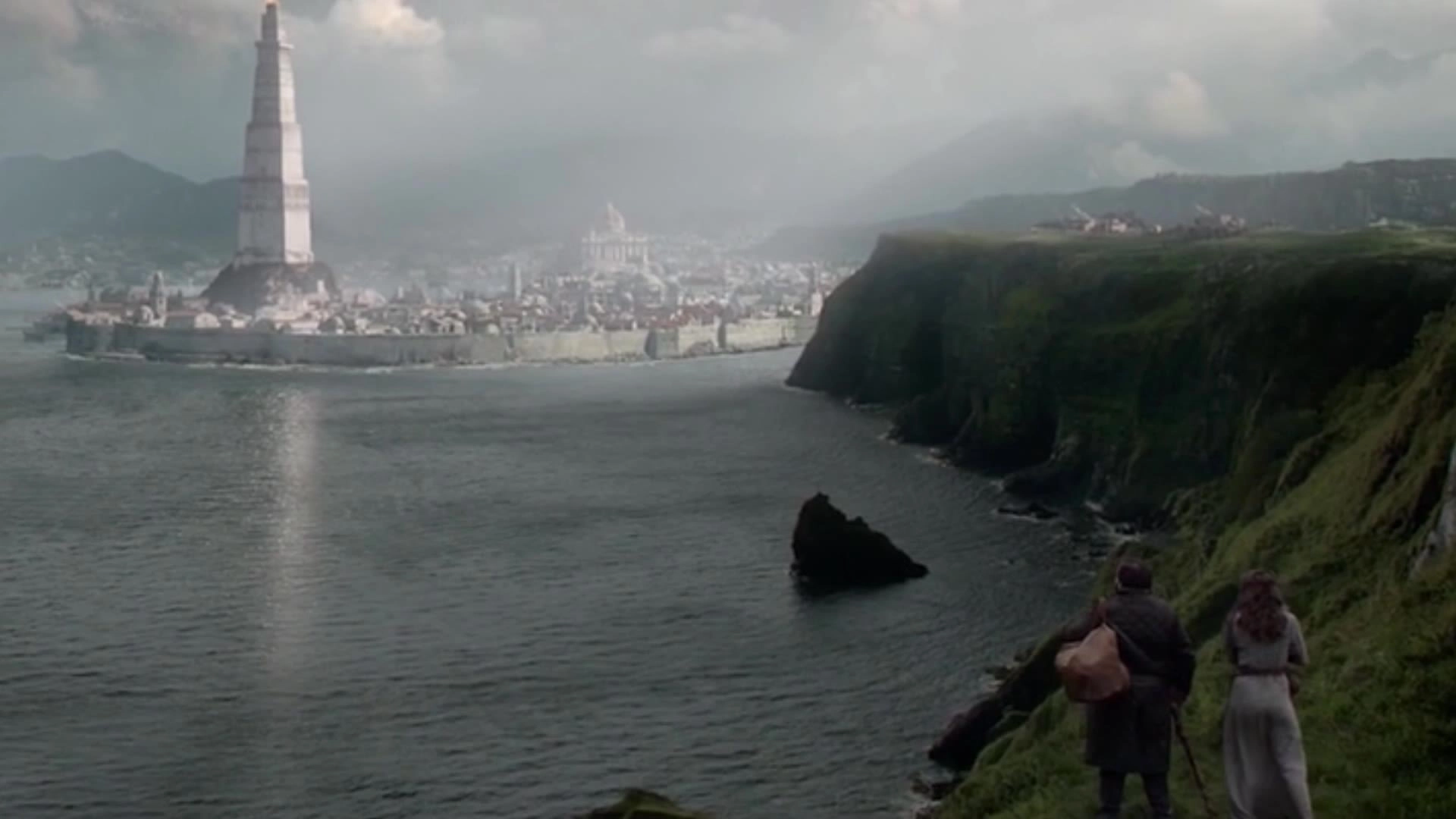 Oldtown is where the Targaryen's stored their riches during the Dance of the Dragons. We previously visited Oldtown when Samwell Tarley began his journey to Maester-dom in Game of Thrones. 
Driftmark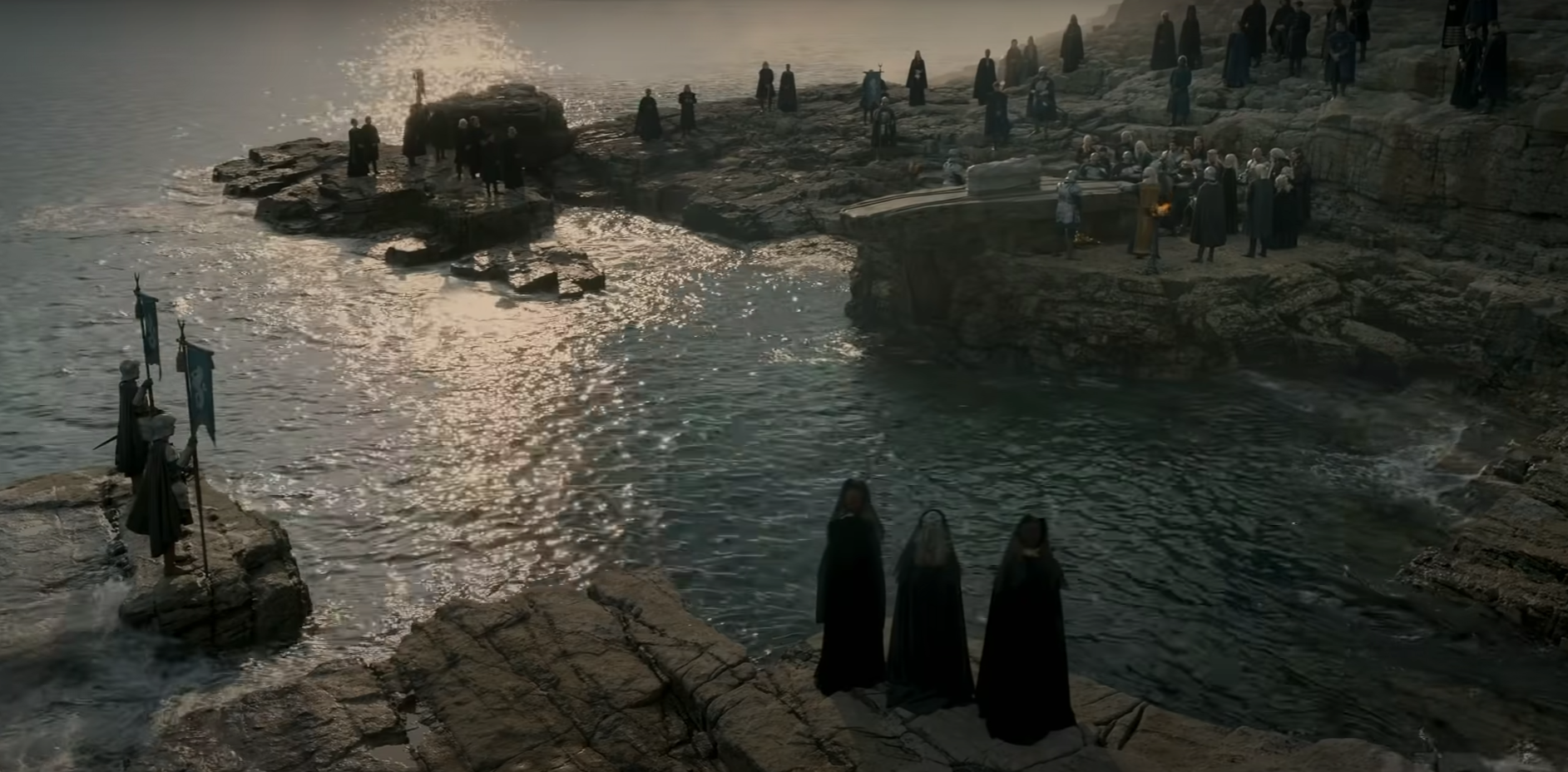 Home to House Velaryon. Only mentioned briefly in Season 1 of Game of Thrones, but never shown. However, we see a small glimpse of it in the latest trailer.
Lys
One of the Free Cities of Essos. Basically an extremely dangerous party town, we never saw Lys in Game of Thrones but it was mentioned several times. Most notably, the "Tears of Lys" was a poison used to kill Jon Arryn, which kicked off the first episode, and we later discovered that Lys was the hometown of "the Spider", Lord Varys.
The Stepstones
A broken land bridge spanning from Dorne to Essos. Neither mentioned or seen in Game of Thrones.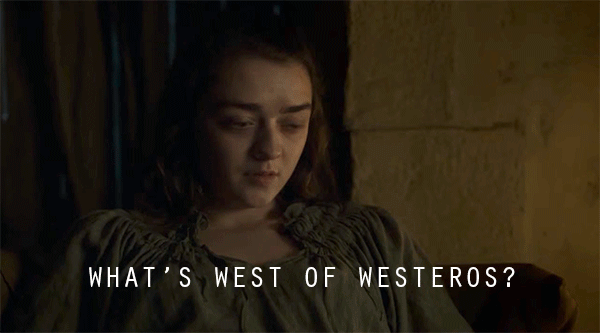 Is there a map of Westeros?
Of course! Click below for a full interactive map of Westeros and Essos.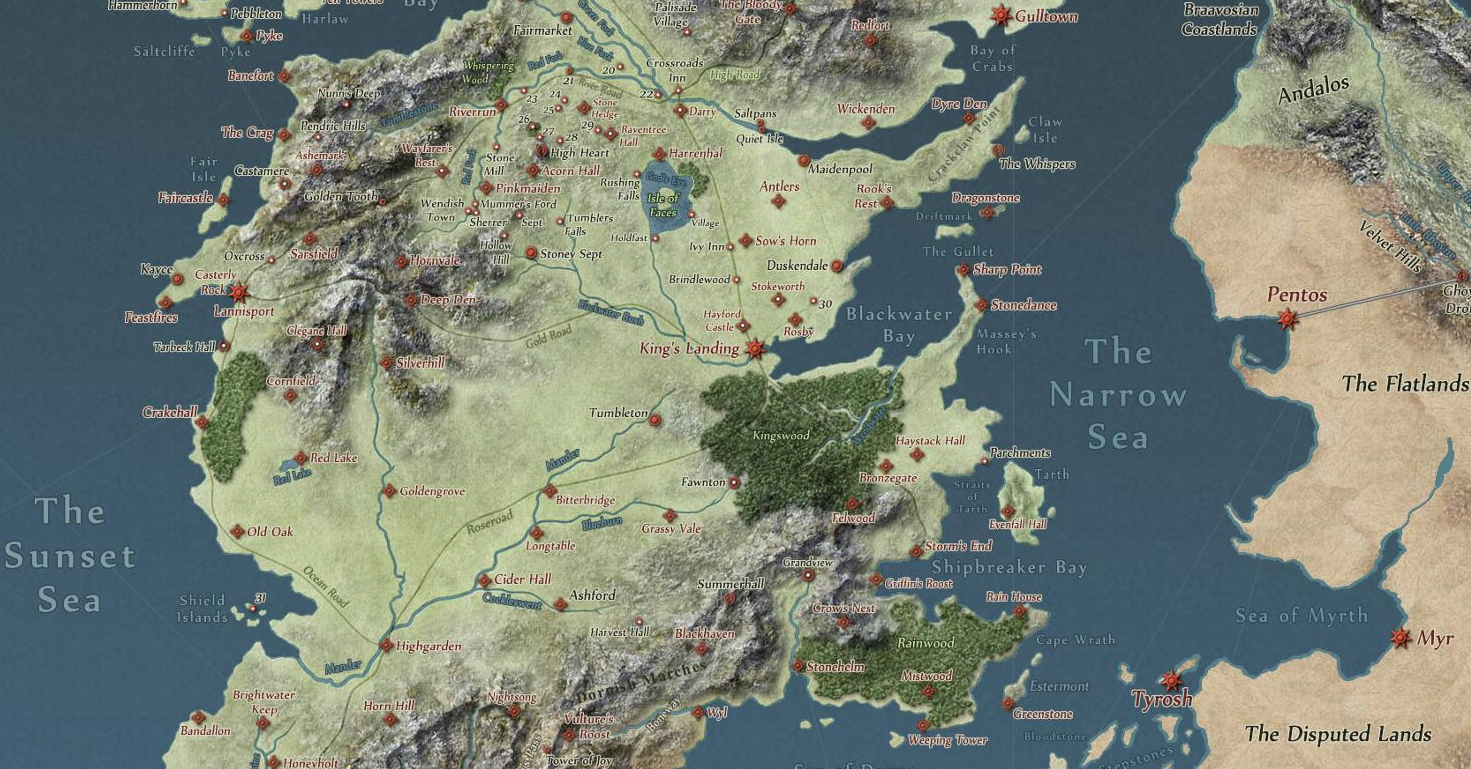 How many episodes will there be of House of the Dragon?
There will be 10 episodes of House of the Dragon's first season. 
Who is Directing House of the Dragon?
Miguel Sapochnik, who directed some of the most memorable Game of Thrones episodes like Hardhome and Battle of the Bastards will also direct several House of the Dragon episodes, including the pilot.
Other directors confirmed include:
Is George R.R. Martin Involved in House of the Dragon?
The series was co-created by George R. R. Martin and Ryan Condal (Colony). Condal wrote the script and is co-showrunner with Miguel Sapochnik.
Martin announced that he won't script any episodes for the show until he has finished Winds of Winter, the next chapter of his A Song of Ice and Fire series. So probably never.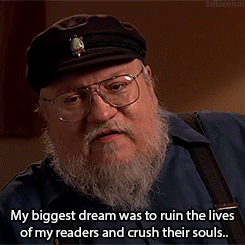 Are David Benioff and D.B. Weiss involved in House of the Dragon?
No. The original Game of Thrones showrunners are not involved in House of the Dragon. 
Who is doing the music for House of the Dragon?
Game of Thrones and Westworld composer Ramin Djawadi will score House of the Dragon.
Is House of the Dragon Suitable for Kids?
Almost certainly not. Game of Thrones was rated TV-MA (not suitable for children under 17) and we expect House of the Dragon will follow suit. 
When and where did House of the Dragon film?
Filming for House of the Dragon began in April 2021. Known filming locations include:
Cornwall, England
Peak District, England
Surrey, England
Cáceres, Spain
Trujillo, Spain
Monsanto, Portugal
While you wait for House of the Dragon with the patience of the Night King, read more about the Game of Thrones universe!
Explore Even More House of the Dragon Content