The scene on this sweltering ninety degree day was Gleason's Gym in Brooklyn, New York, perhaps the most famous such establishment in the country. Gleason's has existed, in one fashion or another, in one borough or another, for 81 years. It is, by its own measure, a 'cathedral of boxing.' Opened in 1937, Gleason's has trained a laundry list of the greatest fighters in the world. Muhammad Ali. Mike Tyson. Jake LaMotta. Larry Holmes. Roberto Duran. A mere 134 champions have worked its heavy bags and sparred in its rings since its doors first opened. Reflecting the modern expansion of the sport, the gym currently boasts six female champions, including Ronica Jeffries and Heather Hardy.
Photos courtesy of Pip Cowley for DIRECTV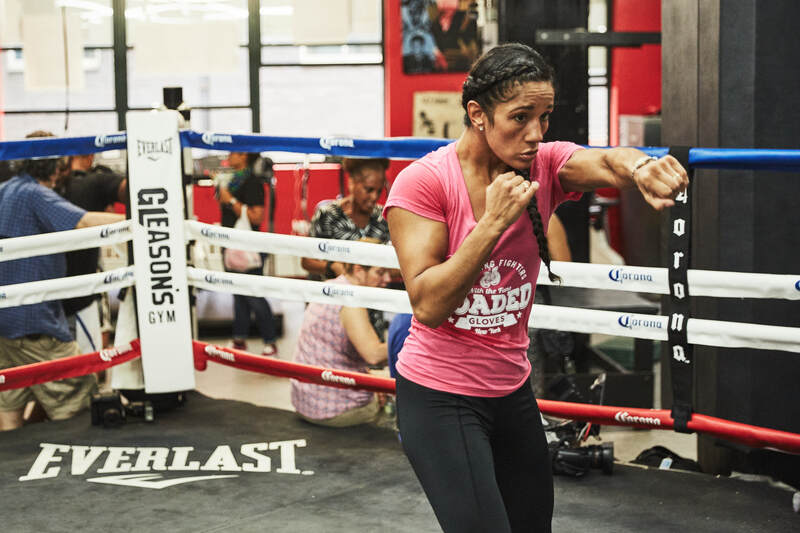 Today another female champion has graced the ring on the undercard of the WBC Welterweight title bout between Danny "Swift" Garcia and Shawn "Showtime" Porter. Puerto Rican star Amanda Serrano (34-1-1, 26 KOs) fights on Saturday for the vacant WBO Junior Welterweight World Championship against Yamila Esther Reynoso(11-4-3, 8 KOs).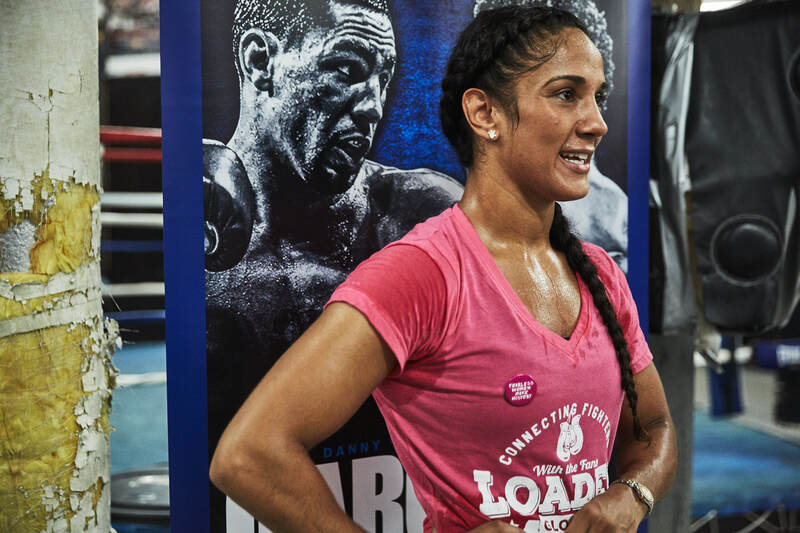 Serrano, gracious with the media, is a veteran of the fight game, as well as a legend. If she wins on Saturday, it will be her sixth title in six weight divisions, a feat only accomplished by Manny Pacquiao and Oscar De La Hoya. Fans can catch the five-division champ when she headlines the live-streamed SHOWTIME CHAMPIONSHIP BOXING COUNTDOWN on the SHOWTIME Boxing Facebook Page on Saturday beginning at 7pm ET.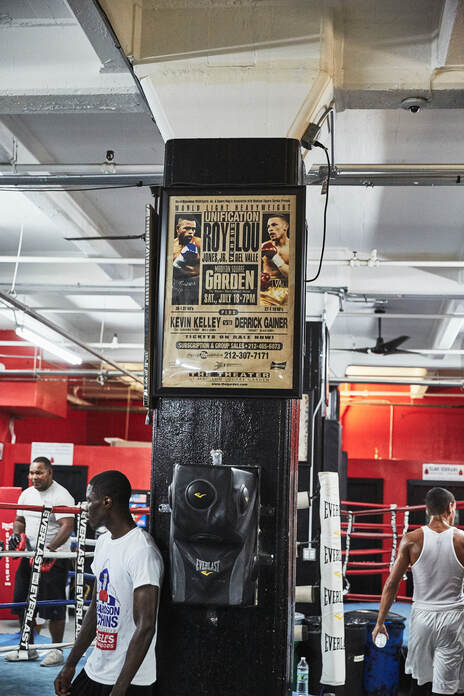 On the walls across the gym, beside the multiple rings, outside the shop and office, are the myriad photographs, posters, and illustrations of boxing's storied past. Above this post the glowering presence of Roy Jones, Jr. peers at an opponent. These talismanic images remind the gym's fighters of the tradition in which they work, and inspire in some the fledgling dreams of championship belts.
Shawn Porter walks on air in his training workout with his father and trainer Kenny Porter. Kenny explained to reporters that Shawn's exceptional footwork would allow him to evade Danny Garcia and attack from a variety of angles.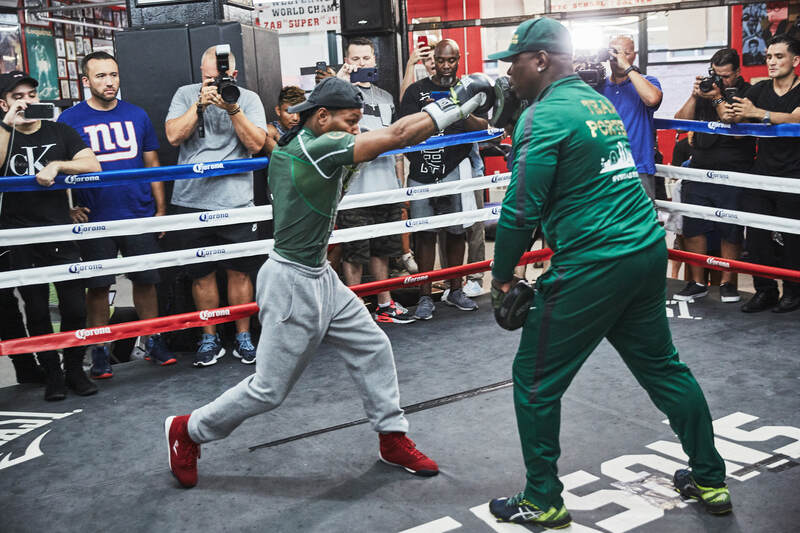 In the ring, Porter and Porter are serious in their work. The son fires powerful blows at his father's extended mitts, the thudding shots absorbed by the padded leather.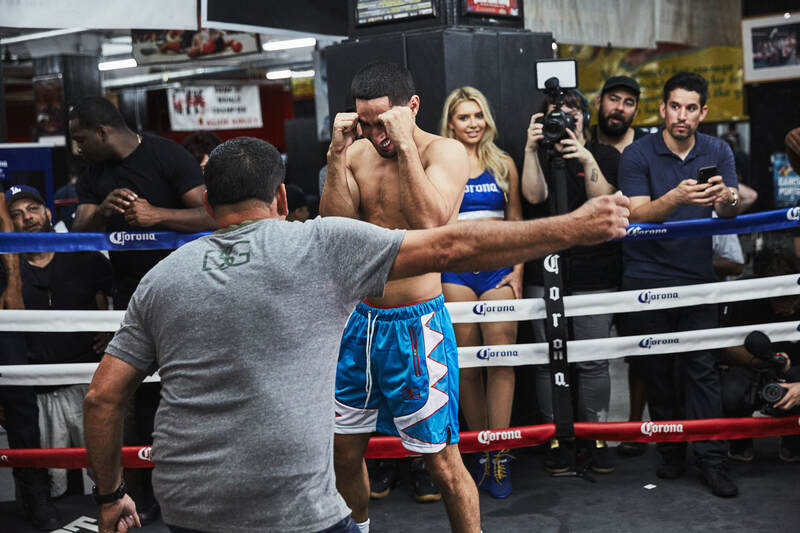 By contrast, Danny Garcia and his father/trainer Angel Garcia initially produce a more comic atmosphere in the ring. Angel throws loopy, long-armed mock punches at Danny, who laughs as he covers up.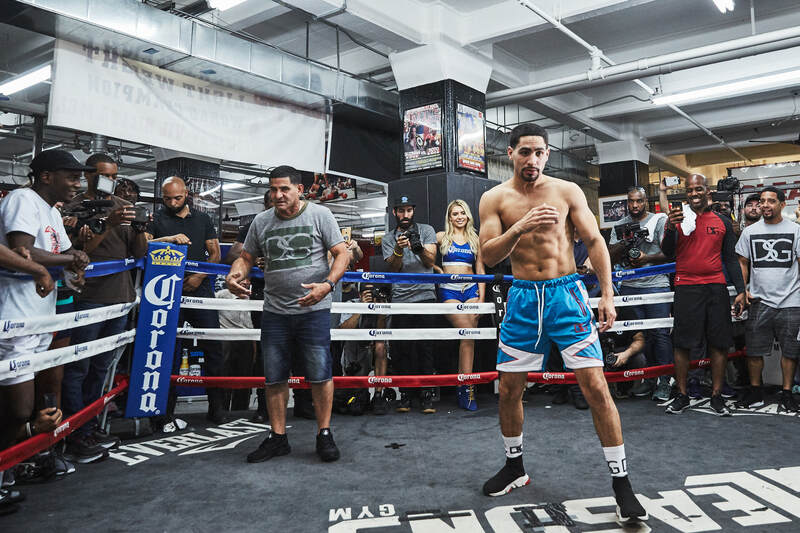 As Danny begins to shadow box, his father begins a conversation with the assembled boxing press. A colorful and opinionated personality, Angel will go on to discuss a wide range of topics with the media, including the punch (a straight right) that Danny will use to dispose of Shawn Porter. All the while, the younger Garcia works on his craft.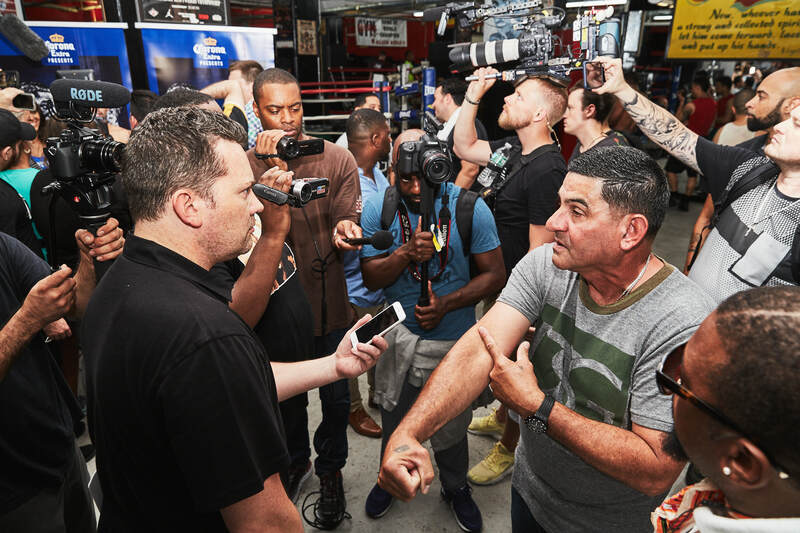 Angel continues dispensing wit and wisdom to the media, arguing Danny's only loss, to inactive Keith Thurman, was a politically motivated decision, and opining that Thurman was unlikely to fight again, after Danny broke his elbow in the late rounds of their fight, a difficult injury to fully recover from.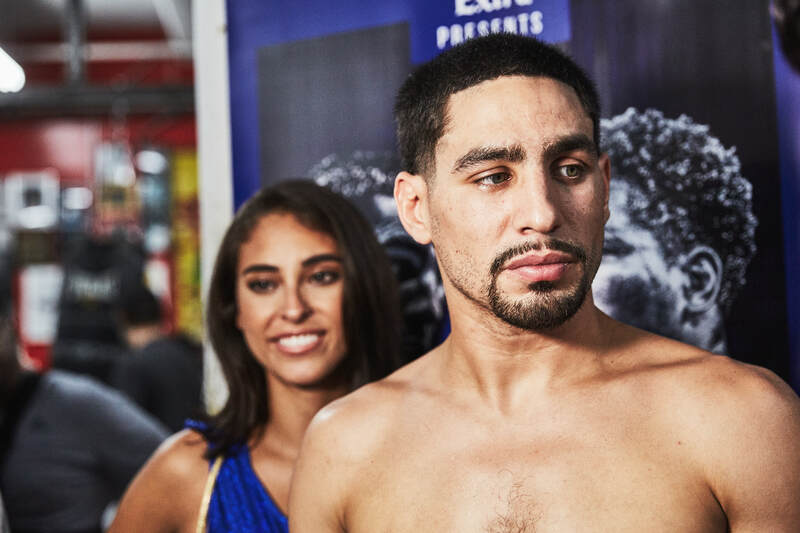 All fighters, finished with their workouts, are hustled out of the ring and in front of a makeshift fight poster, where they are descended upon by boxing media, wielding iPhones and microphones and cameras and video cameras. Still panting from the ring, the boxers must answer a slew of similar questions, most of them speculating on a future that none in the building can truly know. Here, Danny Garcia patiently listens to a reporter's question.

Advertisement
Behind him a Corona girl stands smiling. The ring girls appear throughout fight week, clad in their brand attire, and smiling unfailingly whenever a camera is on. They flank the fighters on media day, appear onstage during the press conference and weigh-in, and carry the ring cards on fight night.
Porter, here unspooling his hand wraps before entering the ring, integrates a variety of modern training techniques into his program, including yoga and swimming, with a focus on his heart rate. After workouts he dons a giant futuristic wristwatch, like an oversized Apple Watch, on which Kenny examines the digital readouts for markers of Shawn's health. Their goal, between rounds of a fight, is to bring Shawn's heart rate to a reasonably low resting state, standardizing his recuperative powers for maximum output during each three minutes of fighting.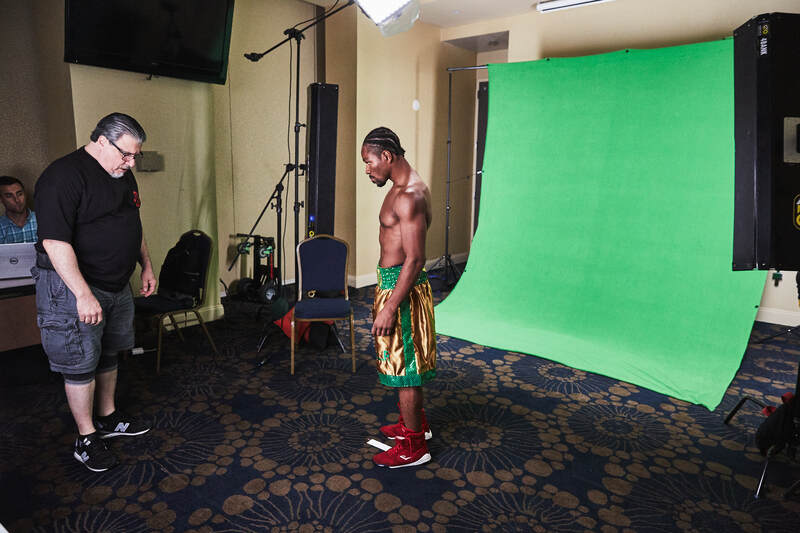 From the sweltering heat of an airless gym, the fighters are driven to a nearby hotel, where they come, one by one, into the chilled air of a corporate conference room. Here, standing not on a ring apron but the gaudy pile carpet of countless business meetings, they are coached by SHOWTIME producers into the poses that will appear in the television graphics on fight night. All fighters are required to bring their "fight night trunks" to the photo shoot.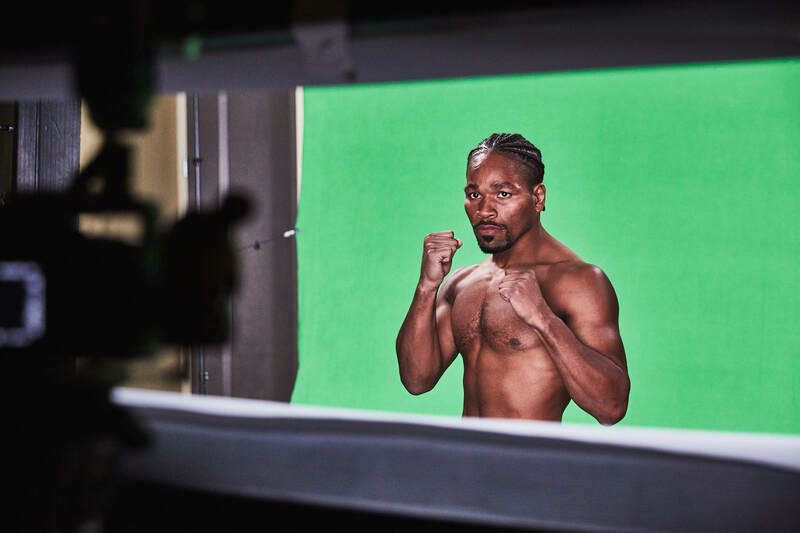 Shawn Porter gazes into the lens, giving the camera the look that will greet millions of viewers during Saturday night's broadcast.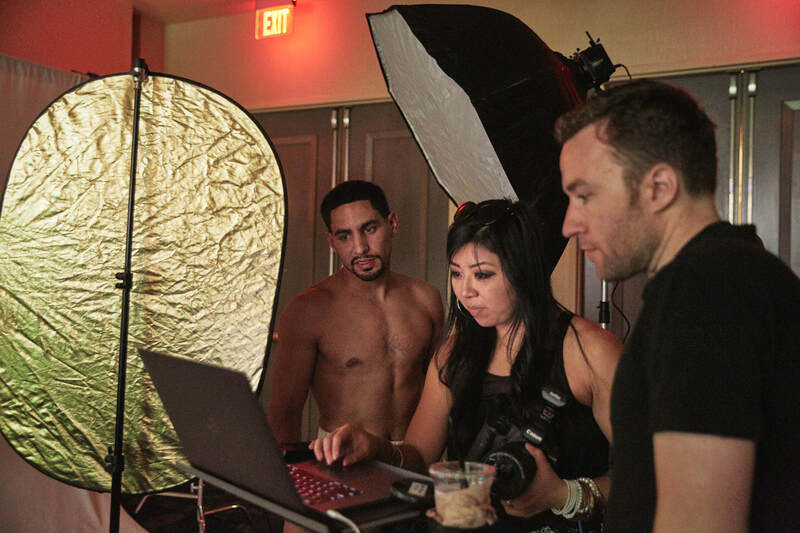 Danny Garcia, reviews photos with the SHOWTIME photography team. Self-promotion is an inescapable part of the journey from anonymous up-and-comer to champion and star. Fighters like Garcia and Porter understand the value of the promotional process, displaying the same tireless professionalism with which they approach their craft.
Don't miss this epic clash of welterweight rivals, September 8th at 9PM ET/6PM PT on SHOWTIME CHAMPIONSHIP BOXING and DIRECTV.
Don't have SHOWTIME? Upgrade today and get the best of SHOWTIME CHAMPIONSHIP BOXING, including Garcia vs. Porter!