Kazuhisa Hashimoto may not be a household name in the gaming community, but the Konami game developer is known for creating one of the most iconic parts of gaming culture. Hashimoto created the Konami code (Up, Up, Down, Down, Left, Right, Left, Right, B, A, Start), a cheat code featured in many early Konami titles to help players get infinite lives or easier settings, eventually became ingrained in gaming culture. Most old-school gamers know about the Konami code, and other companies pay homage to the code to this day.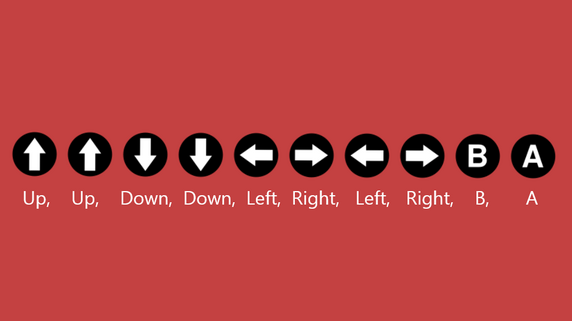 In February, Kazuhisa Hashimoto passed away at the age of 61, and although he was retired from the company for ten years, Konami still honored the developer's memory on Twitter. While Hashimoto's most well-known accomplishment may be the Konami Code, there is far more to his profile than the legendary cheat code.
Hashimoto first joined Konami in 1981, before the company was interested in the console gaming realm. Instead, the company was working on coin-operated games (like slot and pachinko machines), and the company eventually expanded into arcade machinery. Hashimoto was originally working on the circuit boards for these games when Konami realized the potential profit of porting games to the new-ish realm of home gaming consoles, and Hashimoto was subsequently moved into game development.
Hashimoto began developing titles for the Atari 2600, before moving on to the MSX and the Nintendo Entertainment System (NES). However, according to interviews, Konami was primarily concerned with porting their already existing arcade titles to the NES. Thus, Hashimoto's first title was Track & Field for the NES, and although he assisted with Atari and MSX titles, it doesn't seem he was credited for any of those. So, the developer's legacy truly begins with the NES.
At this time, the Konami Code wasn't invented; it wasn't until Hashimoto was developing the NES icon Gradius that the idea for a cheat code come up. "Gradius was something we were ordered to port, so we tried to be realistic about it," Hashimoto says in an interview translated by Siliconera. "That one's really tough. I hadn't played that much and obviously couldn't beat it myself, so I put in the Konami Code. […] Because I was the one who was going to be using it, I made sure it was easy to remember."
In an interview, Hashimoto mentions that Gradius didn't actually sell that well for Konami. "The company made almost 1,000,000 copies in anticipation of its release, but we were only able to sell 500,000 ~ 600,000." Nevertheless, Gradius for the NES now has a particular place in gaming history.
While Gradius was the first use of this Code, it wasn't until Contra on the NES, where the code gave players 30 lives, that gamers took notice of it. Since then, other Konami and non-Konami games and media have featured the code, to various effects. The code is in over 100 games to date, and sometimes it makes the game easier… while other times, it makes your character explode and die. Game developers can sometimes be a funny bunch.
But while the Konami Code rose to game culture fame, Kazuhisa Hashimoto quietly continued his work in the games industry. He is credited in a number of Konami titles throughout the 80's and 90's, including titles like "Ganbare Goemon" and "Snatcher".
Kazuhisa Hashimoto may not have been the most visible game developer, but that makes him no less of a legend. Not only did he help develop some of Konami's earliest and well-known titles, but he created—by accident!—a cheat code that endures to this day. Gaming will continue to honor his legacy for years to come, just by remembering his famous cheat code.