The air has cooled considerably. There's an easing of tension in the city as overnight rains swept away the oppressive heat. And as the weekend arrives, and the acolytes of fight week know they are on the cusp of the big event, namely Saturday night's WBC Welterweight title fight between rivals Danny Garcia (34-1, 20 KOs) Shawn Porter (28-2-1, 17 KOs) on SHOWTIME CHAMPIONSHIP BOXING on DIRECTV. Like a highly anticipated football game, the building drama of a fight week seems to transmute itself into a kind of giddy euphoria by game day. Today, hundreds of fans and media excitedly convene at Barclay's Center for the weigh-in, the last hurdle of the week. Very quickly the central concourse of the arena, where the stage has been set, becomes a who's who of the boxing world.
Photos courtesy of Pip Cowley for DIRECTV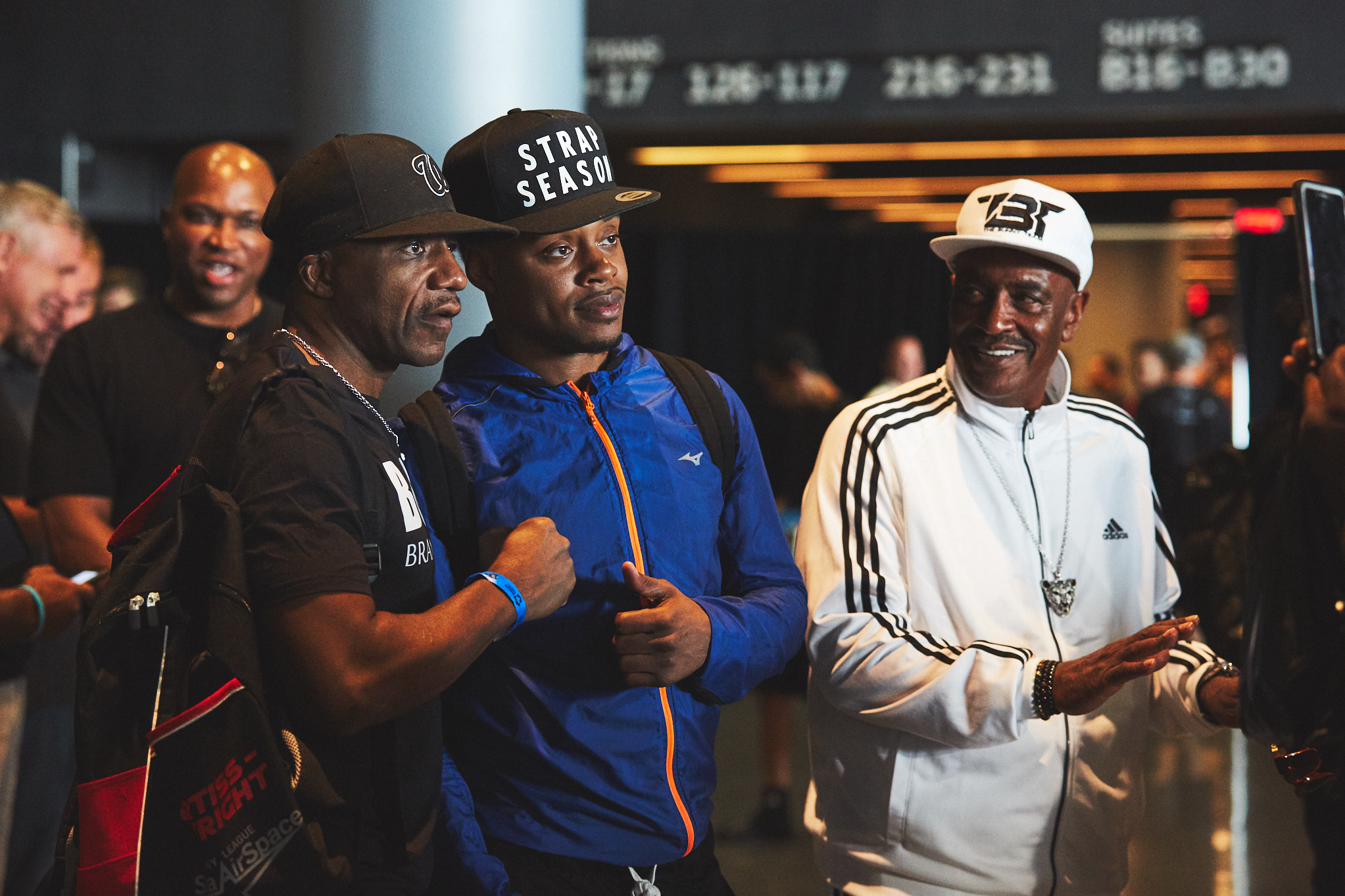 Errol Spence (24-0, 21 KOs), sporting a hat that reads, "Strap Season", greets various members of the boxing community. Rumored to be exploring a fight with lightweight champion Mikey Garcia (39-0, 30 KOs), Spence is also the man many think will fight the winner of Saturday's clash between Danny Garcia and Shawn Porter. Spence is a powerful body puncher and loves to attack the midsection of his opponents. He dropped his last opponent, undefeated Mexican Carlos Ocampo, with a vicious shot to the solar plexus in the first round.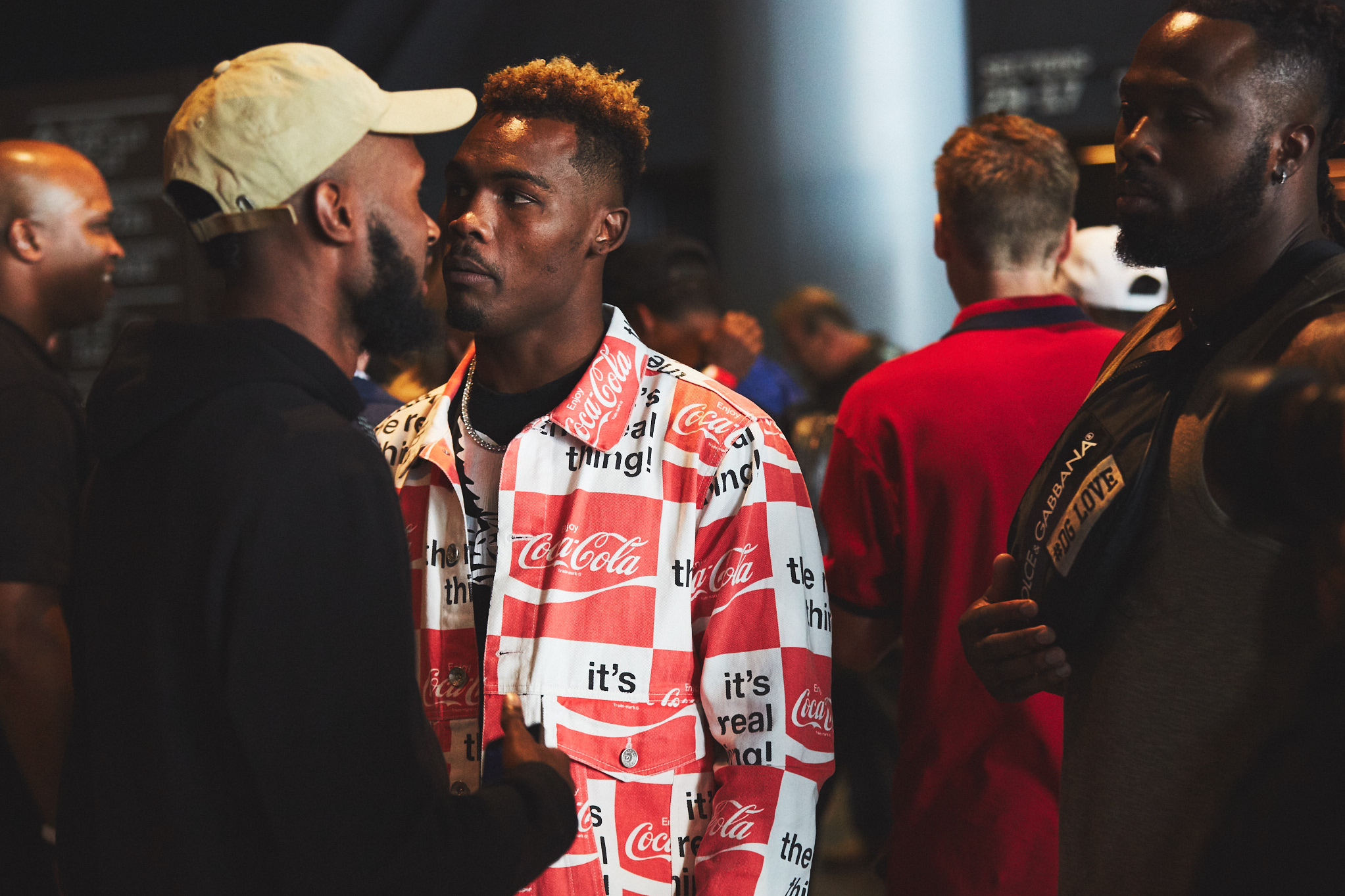 The Charlo twins are a popular attraction wherever they go. Here Jermell Charlo (31-0, 15 KOs) hangs backstage.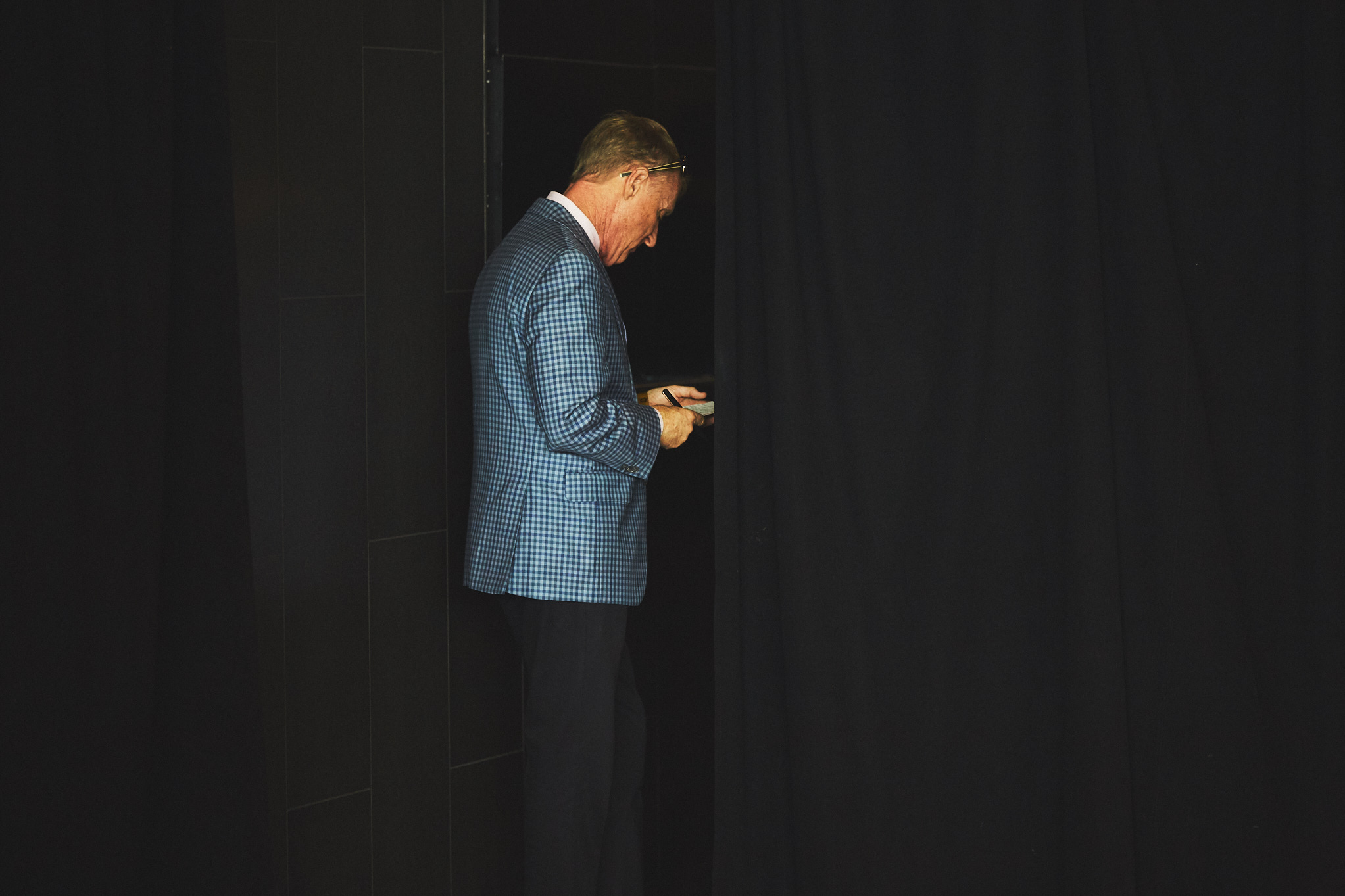 SHOWTIME ring announcer Jimmy Lennon, Jr., reviews his notes before taking the stage. Lennon guides the weigh-in, bringing the fighters onstage, where they step on the scale, and then calling them to meet each other for their final face-off. Lennon will also be in the ring to present the fight. He's trademark call is, "It's Showtime!"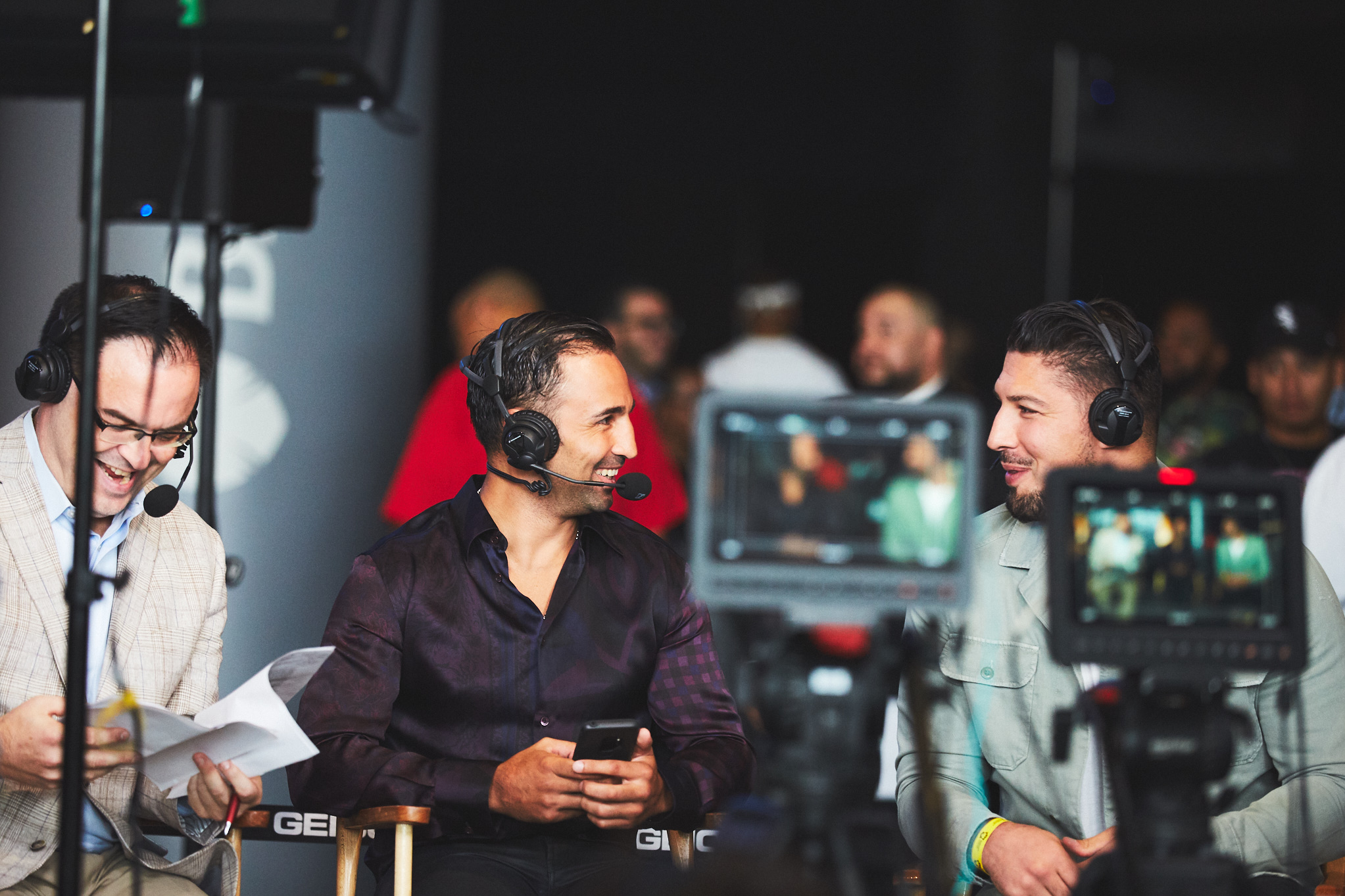 SHOWTIME announcer Mauro Ranallo and analysts Paulie Malignaggi and Brendan Schaub have a laugh before their on-air preview.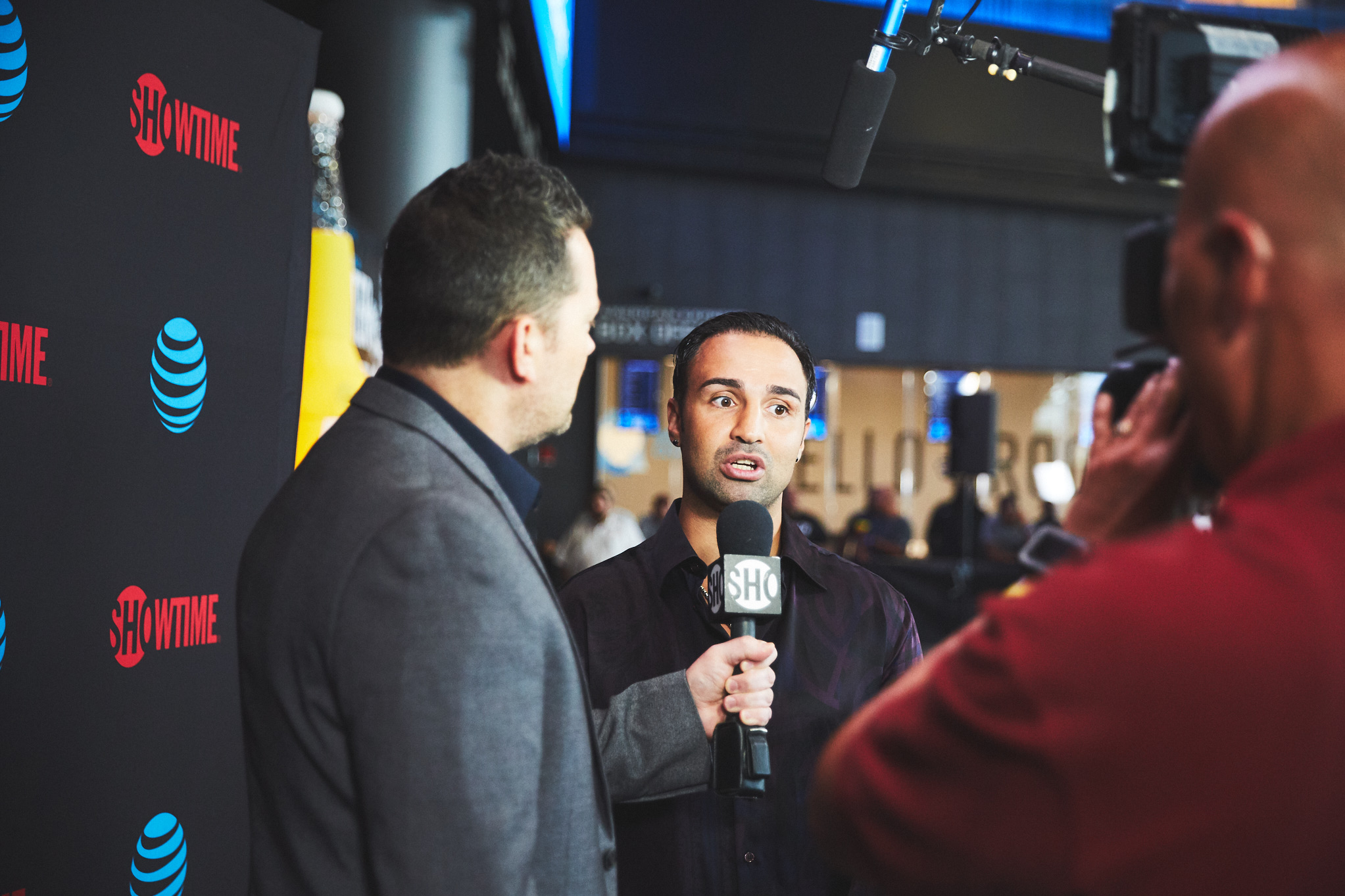 SHOWTIME analyst and former champion Paulie Malignaggi previews the fight. Malignaggi had the rare experience of fighting both men (perhaps not quite a privilege). Malignaggi discusses the Danny Garcia's ability to time oncoming fighters with hard counterpunches, and Porter's relentless aggression that makes it almost impossible for fighters to keep their distance from him. The combination of styles, he says, will create a fascinating fight.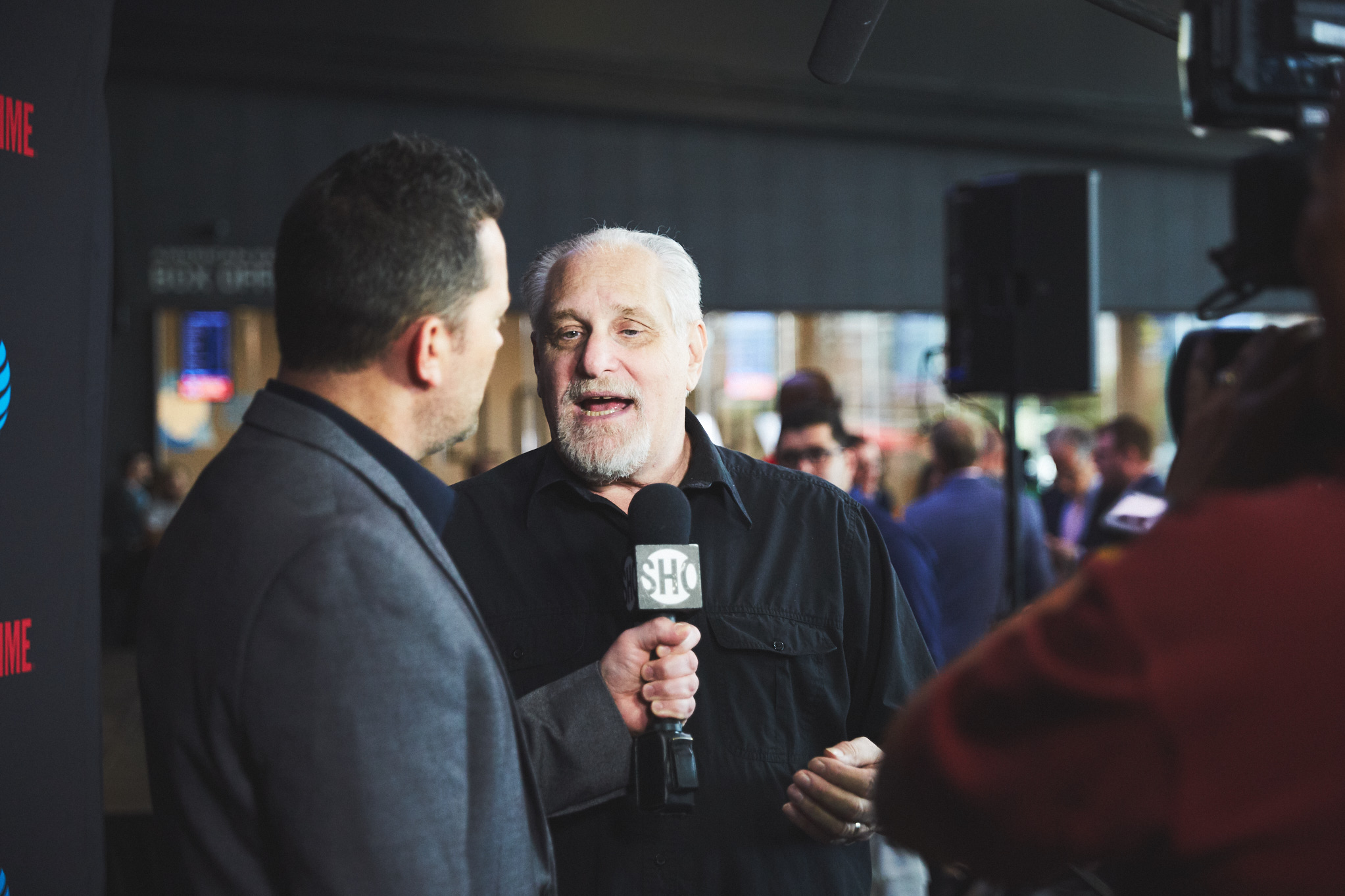 SHOWTIME analyst and member of the International Boxing Hall of Fame, Al Bernstein, remarks that if the current crop of welterweights—including Danny Garcia, Shawn Porter, Keith Thurman, Errol Spence, Terrence Crawford, among others—keep fighting each other, they have a chance to be remembered as one of the special eras in the division's storied history.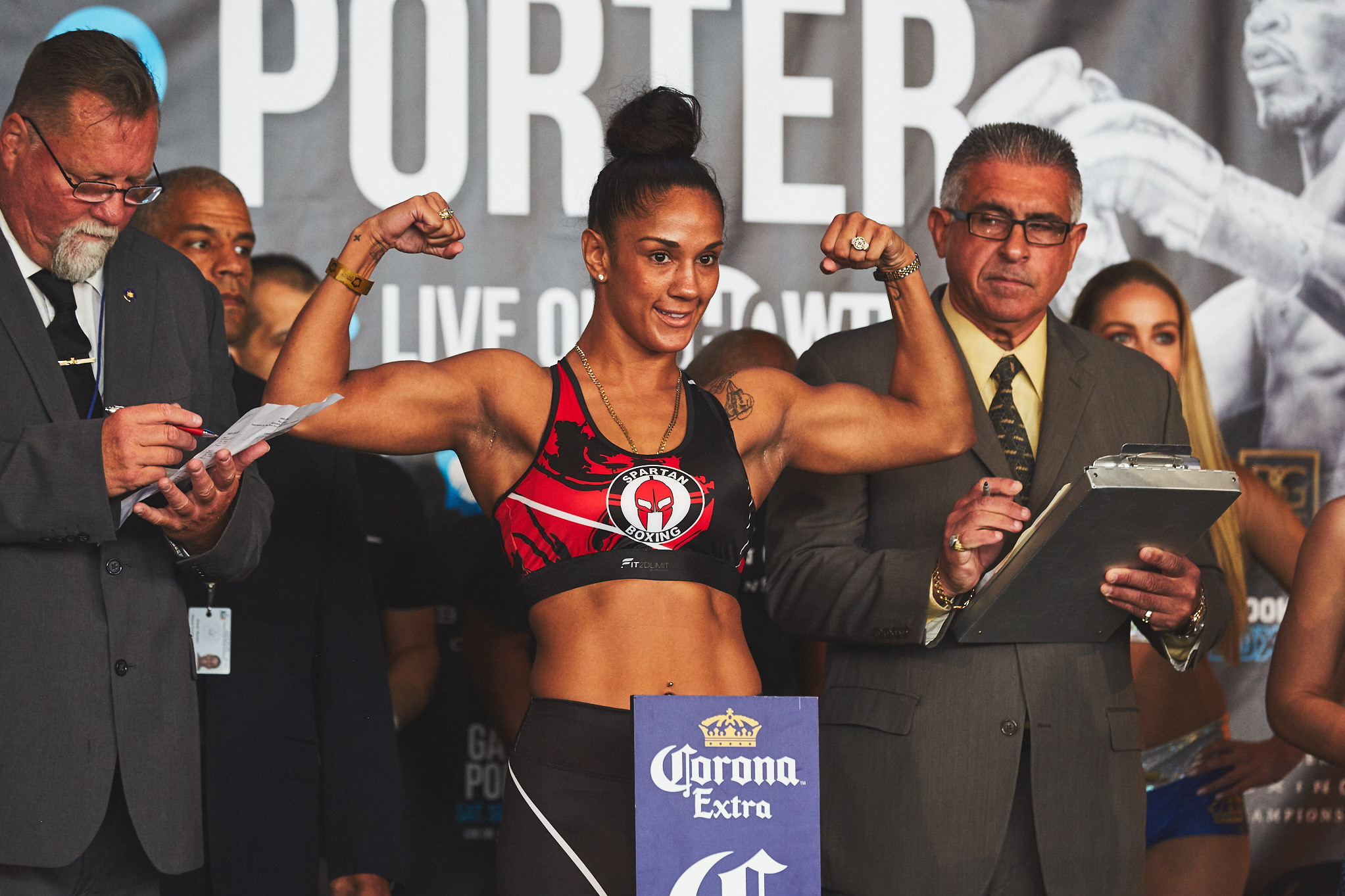 Puerto Rican star Amanda Serrano (34-1-1, 26 KOs) makes weight ahead of her fight on Saturday for the vacant WBO Junior Welterweight World Championship against Yamila Esther Reynoso (11-4-3, 8 KOs).Serrano will attempt to conquer a sixth weight division, a professional achievement only achieved by Manny Pacquiao and Oscar De La Hoya. Fans can catch the five-division champ when she headlines the live-streamed SHOWTIME CHAMPIONSHIP BOXING COUNTDOWN on the SHOWTIME Boxing Facebook Page on Saturday beginning at 7pm ET. 

Advertisement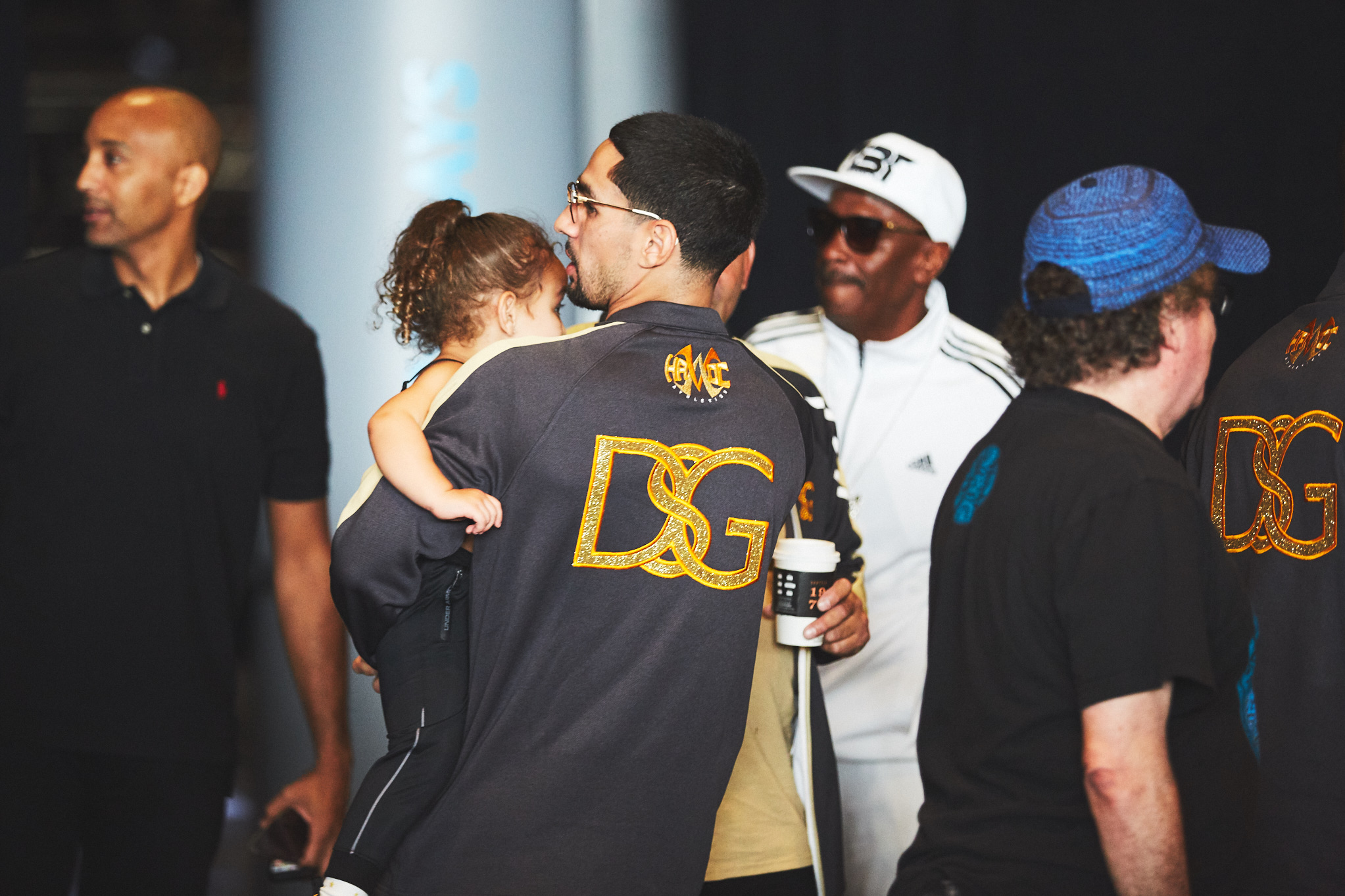 Danny Garcia, having finished his medical physical and blood test, holds his young daughter before being summoned onstage.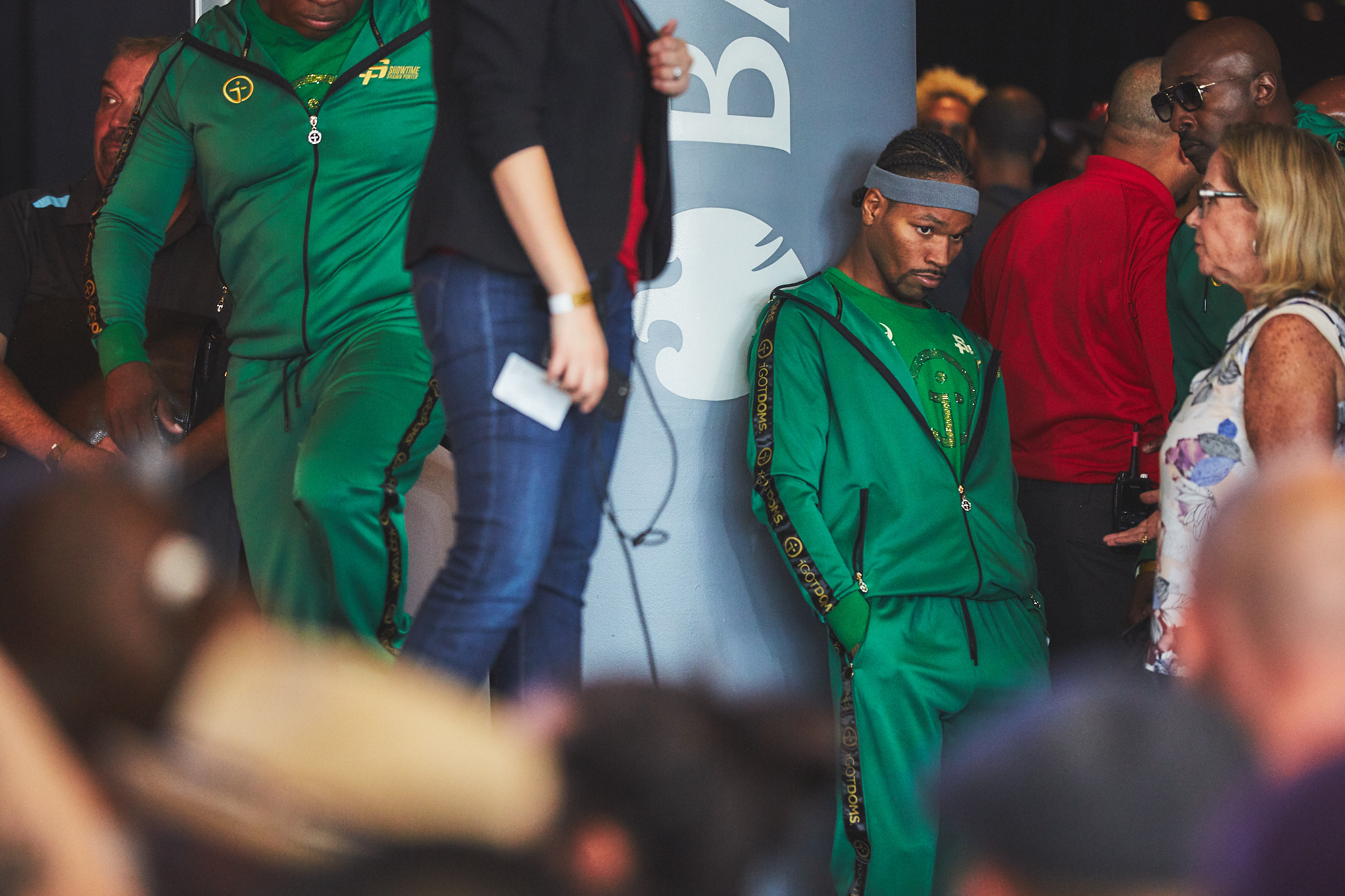 Shawn Porter, also finished with his medical tests, takes a moment to reflect on the challenge ahead, confident he'll make weight when called to the scale.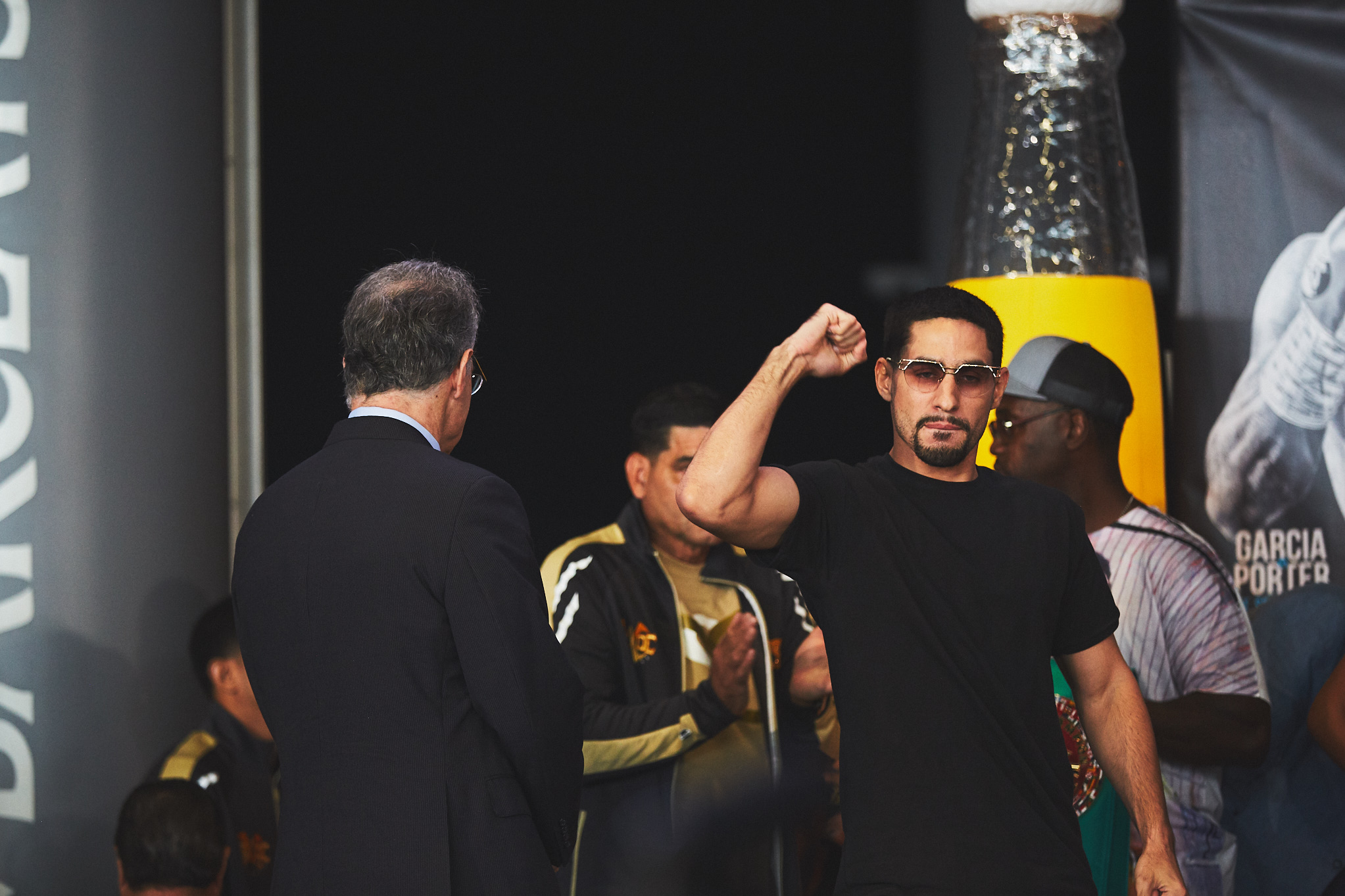 Garcia climbs the stage with his sunglasses on and fist raised, cool, calm, and confident.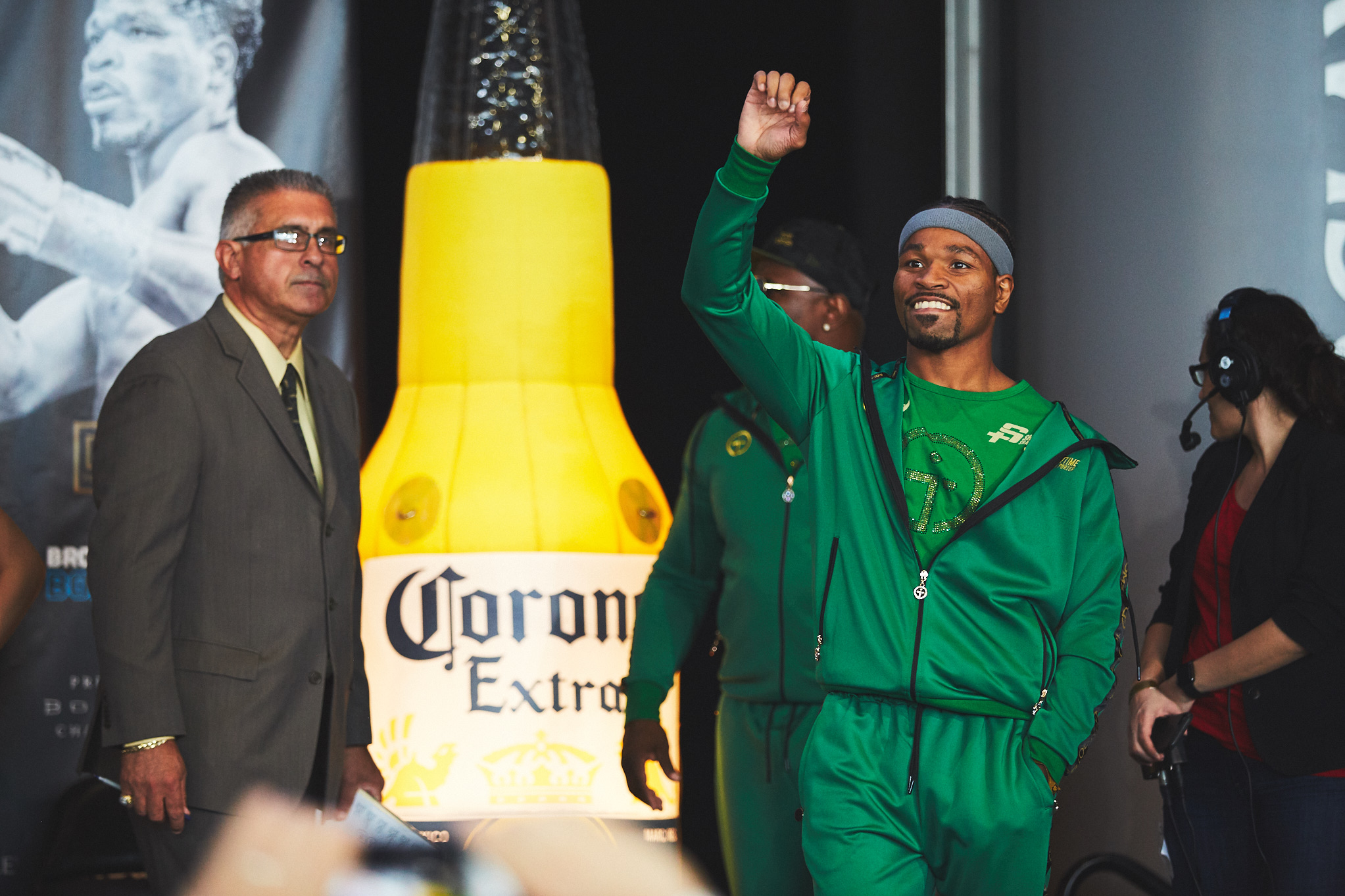 Shawn Porter greets his New York fans as he approaches the scale. Porter exudes positive energy.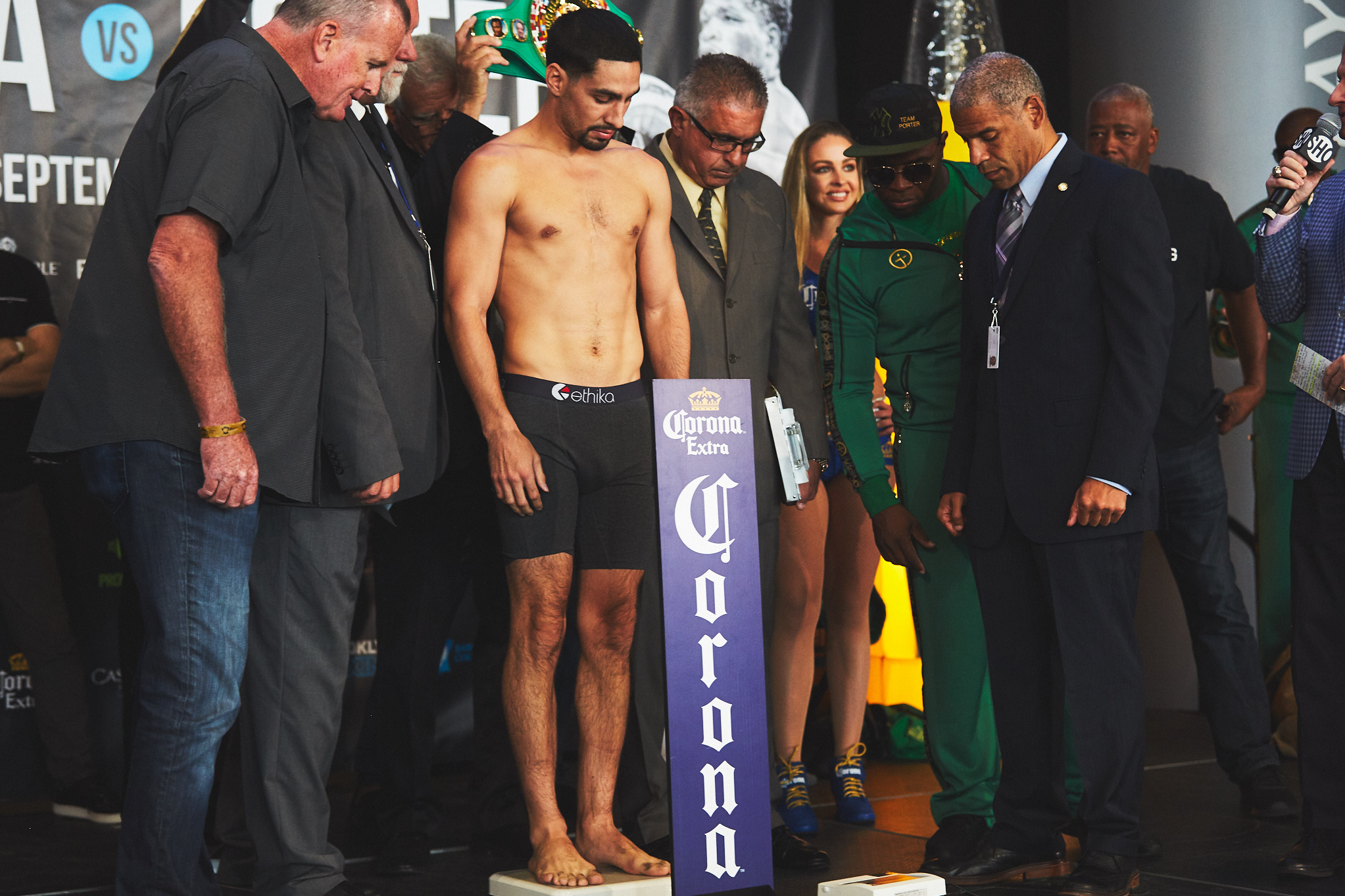 Danny Garcia weighs-in at 146. He has had little trouble making weight. He bangs repeatedly with his fist after confirming his weight, as if to signal his fitness to the crowd of onlookers.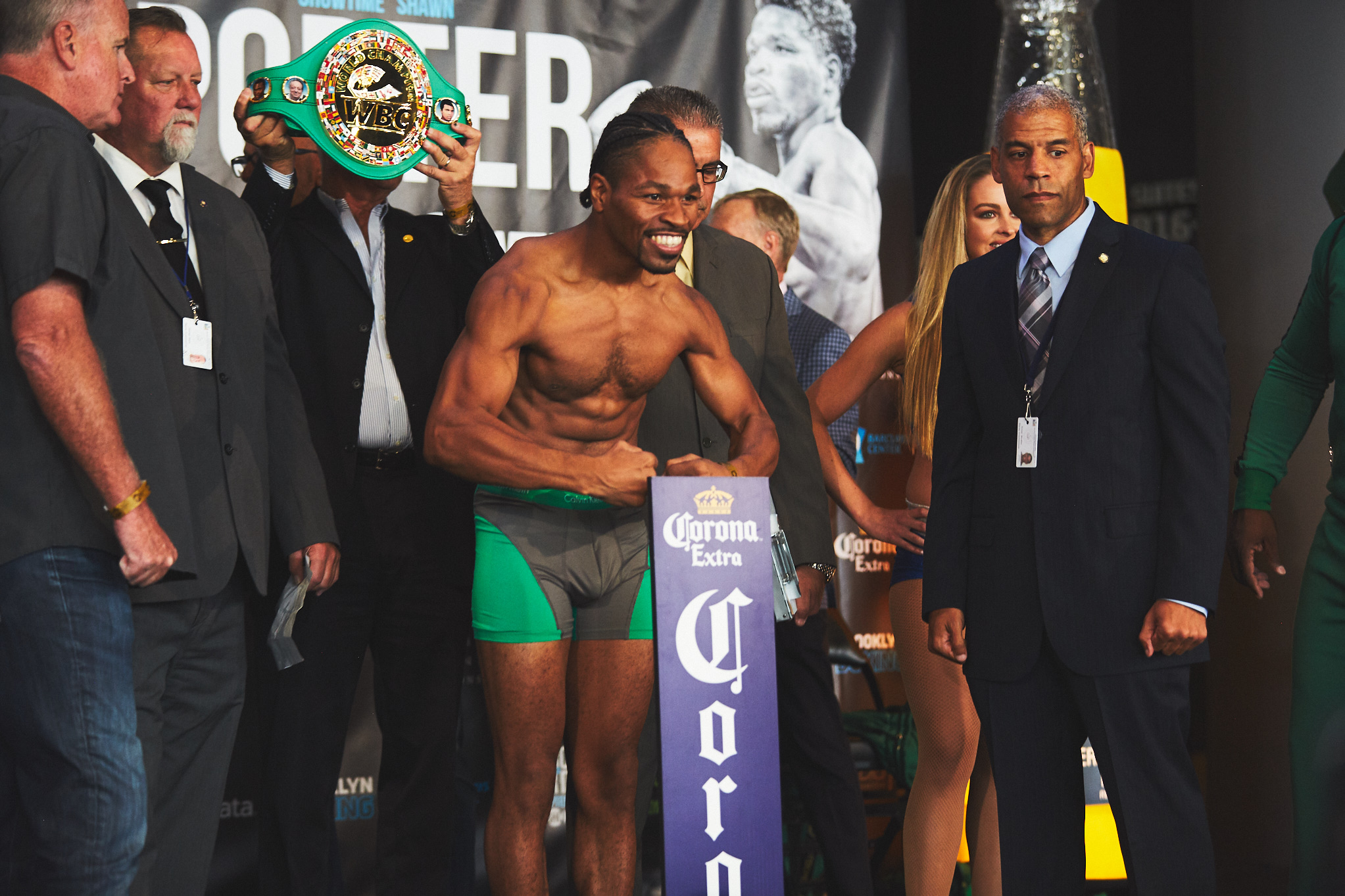 Shawn Porter, who once fought in the 160s, also presents a finely chiseled physique that betrays no fat. This is the media's first look at Porter's upper frame, and it is clear he has put in the gym work. He weighs-in at 147 pounds.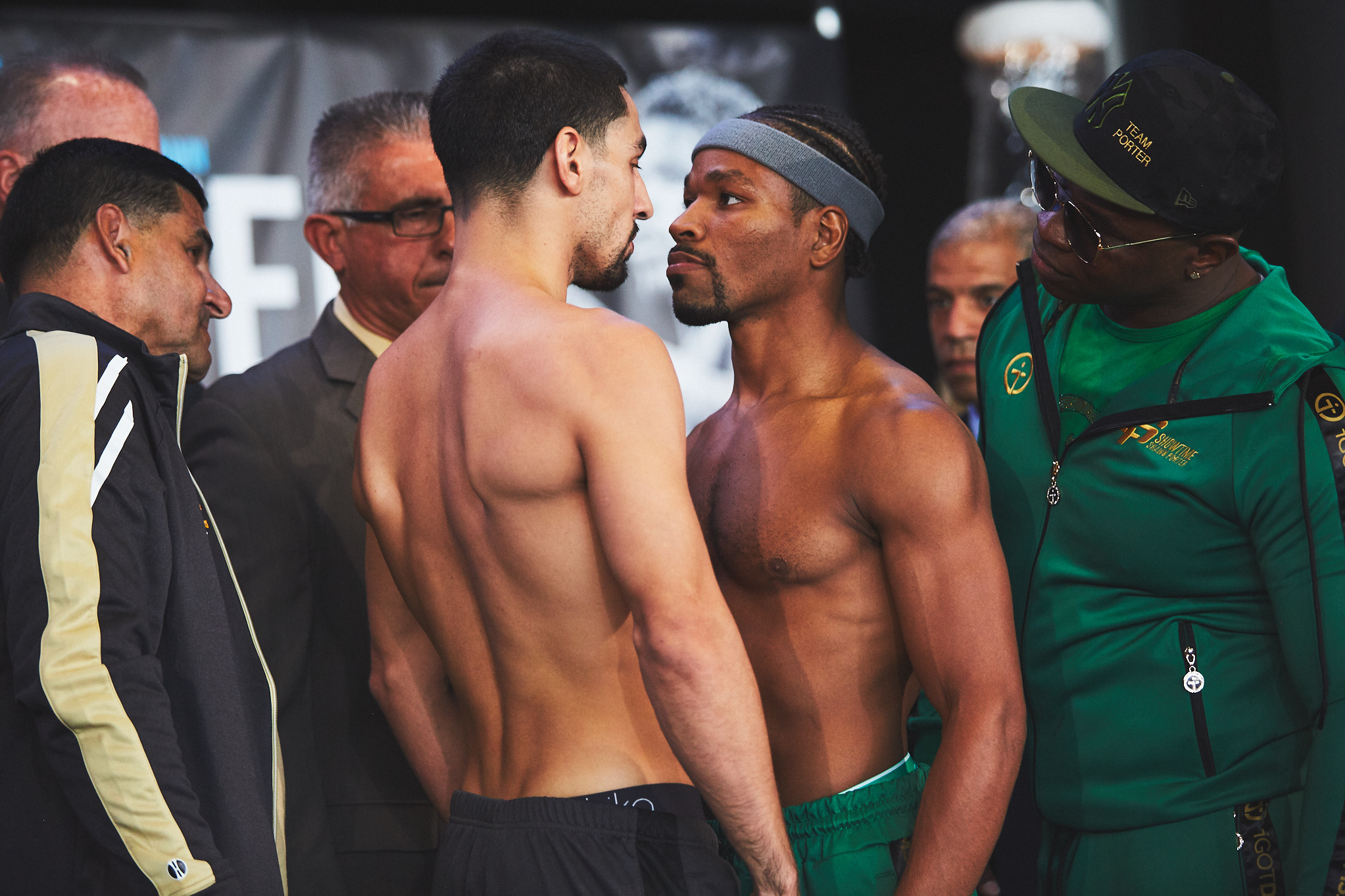 Garcia and Porter then are called by announcer Lennon to the face off. They are shadowed by their fathers and trainers, Angel and Kenny, respectively. The boxers gaze at each other with a newfound intensity, drawn perhaps from the proximity of the event. Their fathers lean over their shoulders to assess the stare down. Garcia has words with both Kenny and Shawn. Shawn, in an unusual but polite gesture, shakes Danny's hand. The Porters, fearsome fighters in the ring, are perfect gentlemen outside it.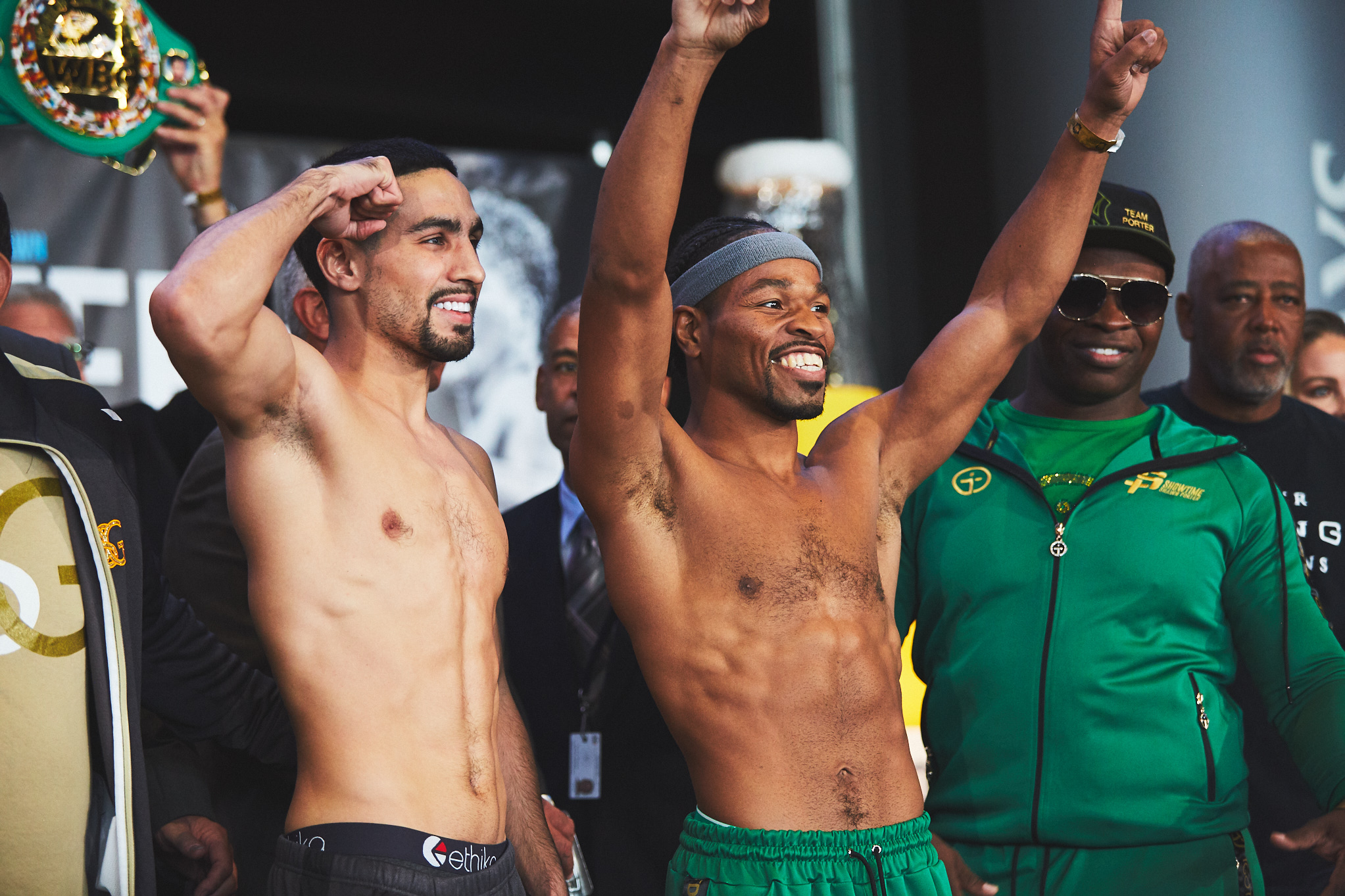 The two stars face the crowd and its clicking cameras, smiling and flexing for the filmmakers. They are proud of their physiques. They will need every muscle and sinew to work at maximum capacity on Saturday night, and their mental reactions must be swift and sure. A strap is at stake, and the ring is a harsh judge of weakness.
Don't miss this epic clash of welterweight rivals, September 8th at 9PM ET/6PM PT on SHOWTIME CHAMPIONSHIP BOXING and DIRECTV.
Don't have SHOWTIME? Upgrade today and get the best of SHOWTIME CHAMPIONSHIP BOXING, including Garcia vs. Porter!