It's been nearly four years since the season 4 release of critically acclaimed anthology series, Fargo, but the wait for something new is finally over. The fifth season of the dark comedy/crime drama/anthology series premieres on FX on November 21, 2023, and word on the street is that it's not a premiere you want to miss. Whether a longtime fan or first-time watcher, this post has all the information you need to be ready to watch Fargo season 5.
---
WHERE TO WATCH 'FARGO' SEASON 5
Considering the anticipation for the return of Fargo, you're going to want to watch it live as soon as it's available. With DIRECTV, you can watch the season premiere live on FX, channel 248 on November 21, 2023, at 10pm EST.
Customers can also stream the episodes online after they have aired. Episodes will also be available to stream on Hulu. The first two episodes of the season will be released on that Tuesday, with the remaining episodes coming out weekly.
Watch Fargo Season 5 online with DIRECTV
---
WHAT IS 'FARGO'?
Inspired by the 1996 Coen brothers' movie of the same name, Fargo the series is an anthology that tells the stories of various characters as they commit, witness or fall victim to a wide array of crimes.
While the TV series was created by Noah Hawley and not the Coen brothers, the Coen's have worked as executive producers on the show. The anthology series takes place within the same universe as the 1996 film, typically throughout the Midwest.
WHAT IS AN ANTHOLOGY?
For those who need a refresher, an anthology series is one that tells a unique story in each iteration, with new characters, settings and themes for each. While not always the case, TV anthologies often connect in a covert way. And this is no different for Fargo.
In addition to each season being set in the same universe and exploring similar themes, Noah Hawley and the other showrunners have included a number of easter eggs that connect the stories throughout the seasons and to the original movie.
One thing each of the seasons has in common is that the story always leads the characters to Fargo, North Dakota for some reason or another.
WHAT TO KNOW ABOUT SEASON 5 OF 'FARGO'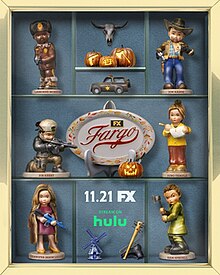 Fargo is back with its fifth installment this November, and anticipation continues to grow as more information about the season is revealed.
The season takes place primarily in North Dakota and Minnesota in the distant past (not really) of 2019, before the global pandemic altered life as we knew it. This will be the first time Fargo the TV series ventures so close to current day, as the other seasons take place between 1950 and 2010.
While much of the plot is still under wraps, we do know a few things about the characters and how things might play out.
Dorothy "Dot" Lyon is just a sweet, law-abiding housewife, that is until a series of events brings the past she would like to keep hidden into the light. Add in a seemingly naive husband and an unimpressed mother-in-law, and that seems like more than enough drama, but of course there's more.
The town Sherriff, Roy Tillman, wants to catch Dot, and is willing to do whatever it takes to get that done. What follows is a battle between right and wrong, good and evil, and all the nuance that comes along with it.
Hawley's season five is bound to be a treat for viewers who have been waiting so long for the show's return. Fans can expect it to be funny, dark, disturbing and thought-provoking, to say the least.
The official FX synopsis for season 5 is as follows:
"Fargo has traveled through decades, cities and families, and the fifth installment will be no different: Set in 2019, when is a kidnapping, not a kidnapping, and what if your wife isn't yours?"
SEASON 5 CAST
While the series has had some recurring characters, the actors in Fargo are almost always different season to season, which is one of the reasons the show has been so successful.
Over the years and many episodes of the show, stars including Martin Freeman, Ted Danson, Kirsten Dunst, Jean Smart and Chris Rock (among many others) have brought these stories to life.
This season will be no different, with some of the best and brightest stars of today. The Fargo season 5 cast includes:
Juno Temple: Dorothy "Dot" Lyon, the housewife with a secret past.
Jon Hamm: Sheriff Roy Tillman, the town Sherriff who believes himself to be above the law.
Jennifer Jason Leigh: Lorraine Lyon, CEO of the largest Debt Collection Agency in the country, and Dot's mother-in-law.
Joe Keery: Gator Tillman, son of the Sherriff, desperate for his father's approval.
Lamorne Morris: Witt Farr, a North Dakota Deputy known for his civility.
Sam Spruell: Ole Munch, an ever-present, mysterious citizen.
Richa Moorjani: Indira Olmstead, a Minnesota Police Deputy known for her practicality.
Dave Foley: Danish Graves, in-house counsel for "The Queen of Debt" herself.
David Rysdahl: Wayne Lyon, Son of Lorraine Lyon, husband of Dot.
SEASON 5 TRAILER
Check out these trailers for Fargo season 5 right here to get a glimpse of what's to come.
'FARGO': SEASON 5 RELEASE DATE
Season 5 of Fargo will premiere on November 21, 2023, on FX.
You can watch the premiere live on DIRECTV on channel 248. The first two episodes of the season will be released on that date, starting at 10pm EST.
The remaining episodes of the show will be released weekly.
HOW MANY EPISODES OF FARGO SEASON 5 WILL THERE BE?
It appears that there will be 10 episodes of Fargo season 5. This is similar to previous seasons, as seasons 1-3 all had 10 episodes, while season 4 had 11 episodes.
---
WHERE TO WATCH 'FARGO' SEASONS 1-4
It's not necessary to watch the previous four seasons of the show, but it does make watching more enjoyable. As mentioned earlier, there are several easter eggs placed throughout the show for viewers to find and connect the dots.
For those who want to start at the beginning, you can find the first through the fourth season available to stream on Hulu.
WHERE TO WATCH FARGO (1996) MOVIE
If you're curious where the inspiration for Noah Hawley's anthology series comes from, you can also watch the Coen brother's original film, Fargo, on DIRECTV, too!
Watch Fargo Full Movie on DIRECTV
The content is featured on https://www.directv.com/insider/ is editorial content brought to you by DIRECTV. While some of the programming discussed may now or in the future be available affiliates distribution services, the companies and persons discussed and depicted, and the authors and publishers of licensed content, are not necessarily associated with and do not necessarily endorse DIRECTV. When you click on ads on this site you may be taken to DIRECTV marketing pages that display advertising content. Content sponsored or co-created by programmers is identified as "Sponsored Content" or "Promoted Content."