During college football season fans of all kinds come together to share their opinions, spirit and loyal fandom over snacks. Maybe you're a rabid fan of your alma mater. Maybe you follow your hometown team, or maybe it's not up to you, maybe your kind of college football fan is laid out in the stars.
What kind of college football fan are you? See what your zodiac sign has to say about it.
Aries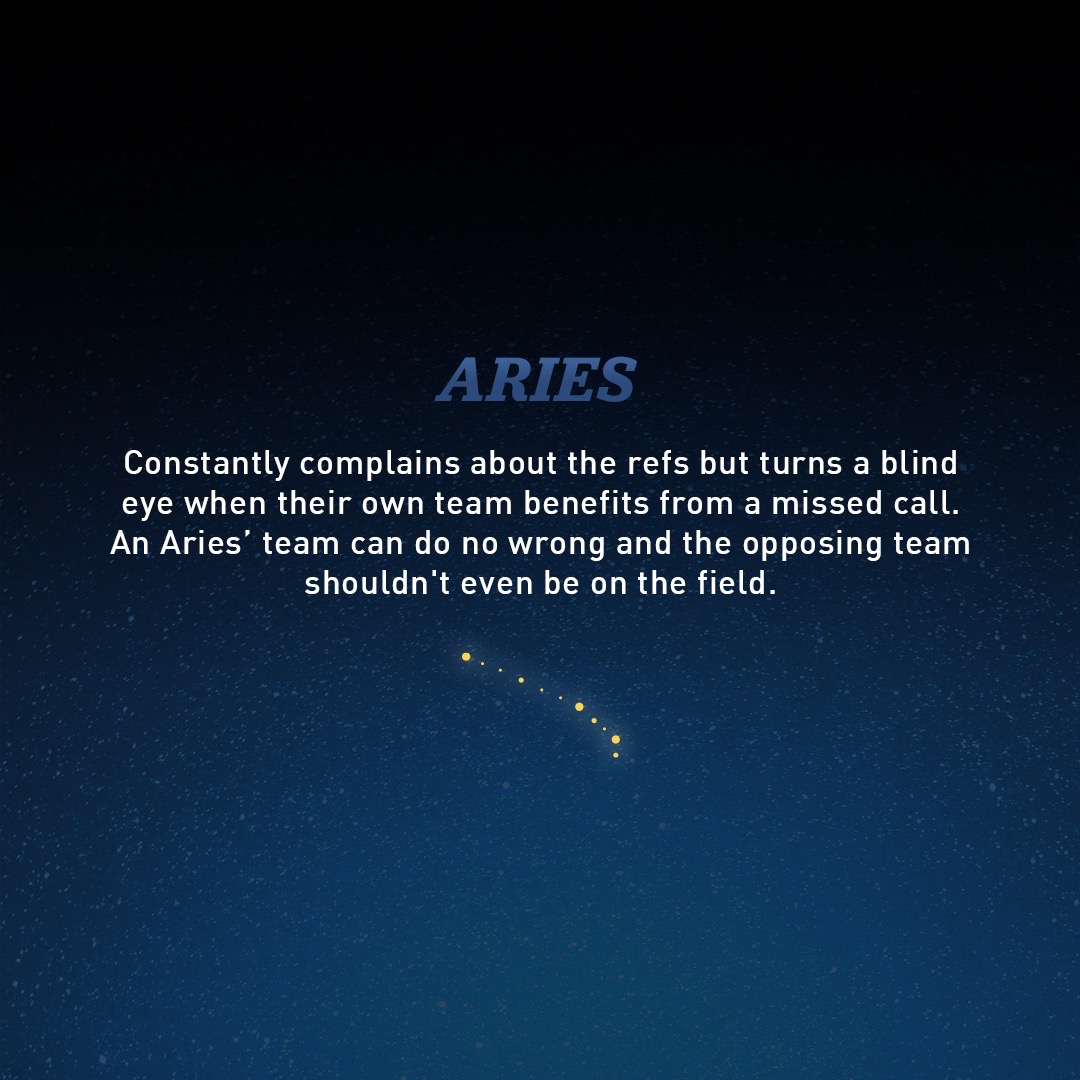 March 21 – April 19
Motto: "Are you blind, ref?!"
College football team to follow: Miami Hurricanes, Auburn Tigers or Notre Dame Fighting Irish
When you're an Aries, your team is the best of the best, no matter which team that is or how they're playing. It's the refs that are the problem, and the other team, and the fans…you get the point. 
Taurus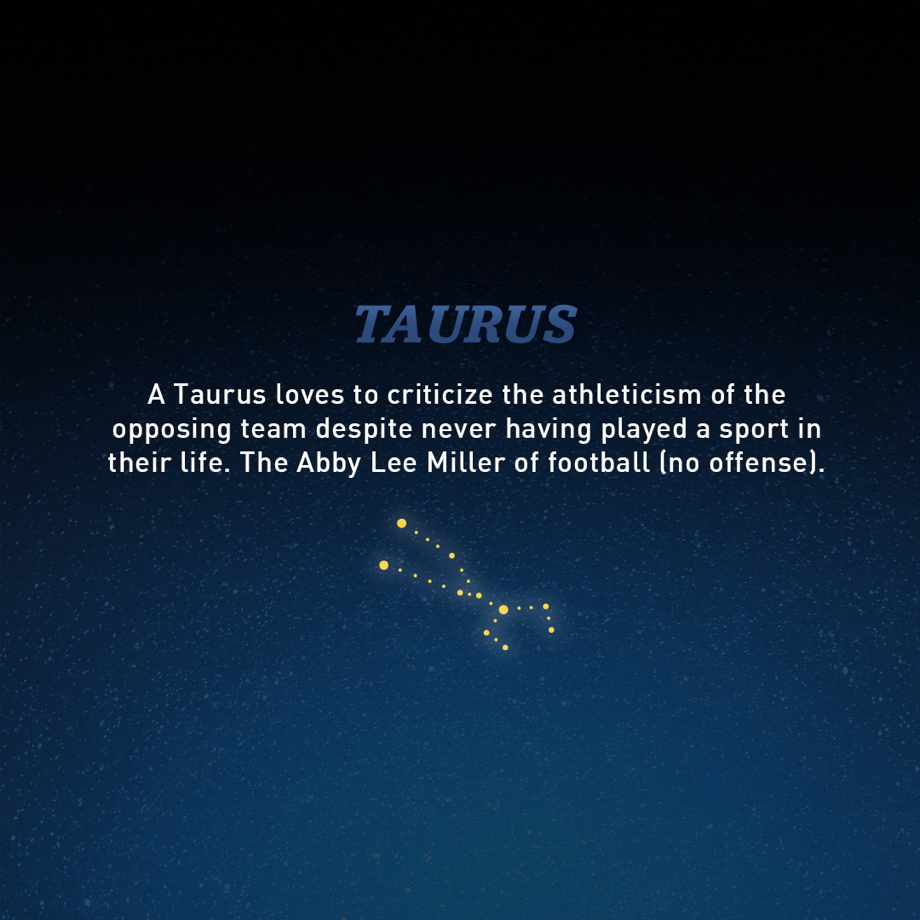 April 20–May 20
Motto: "Let's see some hustle!"
College football team to follow: Hawaii Rainbow Warriors
The bullheaded Taurus has a lot of critique to offer, but not much to back it up.  But when it comes to watching college football, they're the best athlete in the building.
Gemini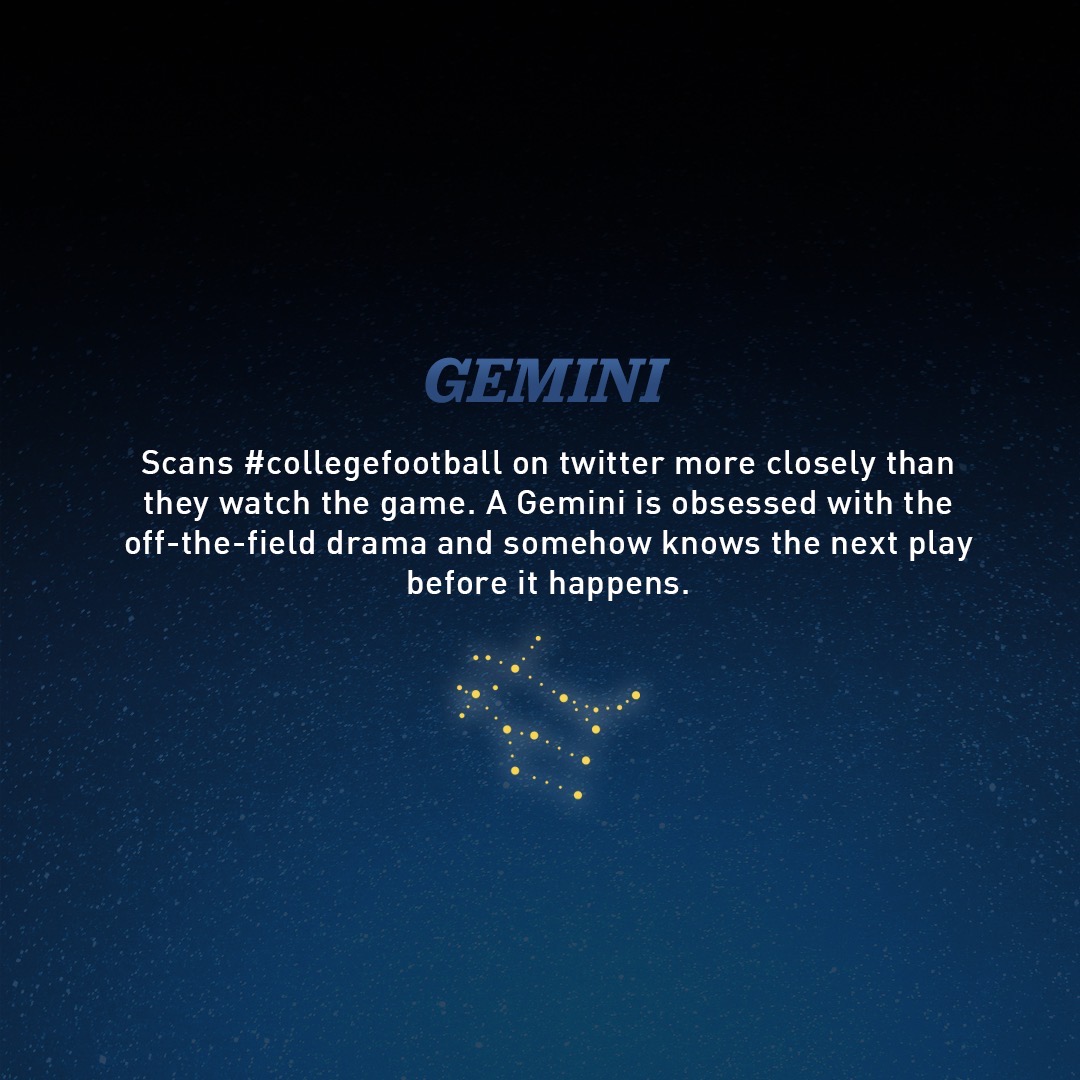 May 21–June 21
Motto: "Work hard, play hard."
College football team to follow: Auburn Tigers, SMU Mustangs, Oklahoma Sooners and Penn State Nittany Lions
The ultimate multi-tasker, a Gemini can watch the game and feverishly peruse Twitter at the same time. Want to know a player's backstory and hear a prediction about the game's conclusion? Look no further.
Cancer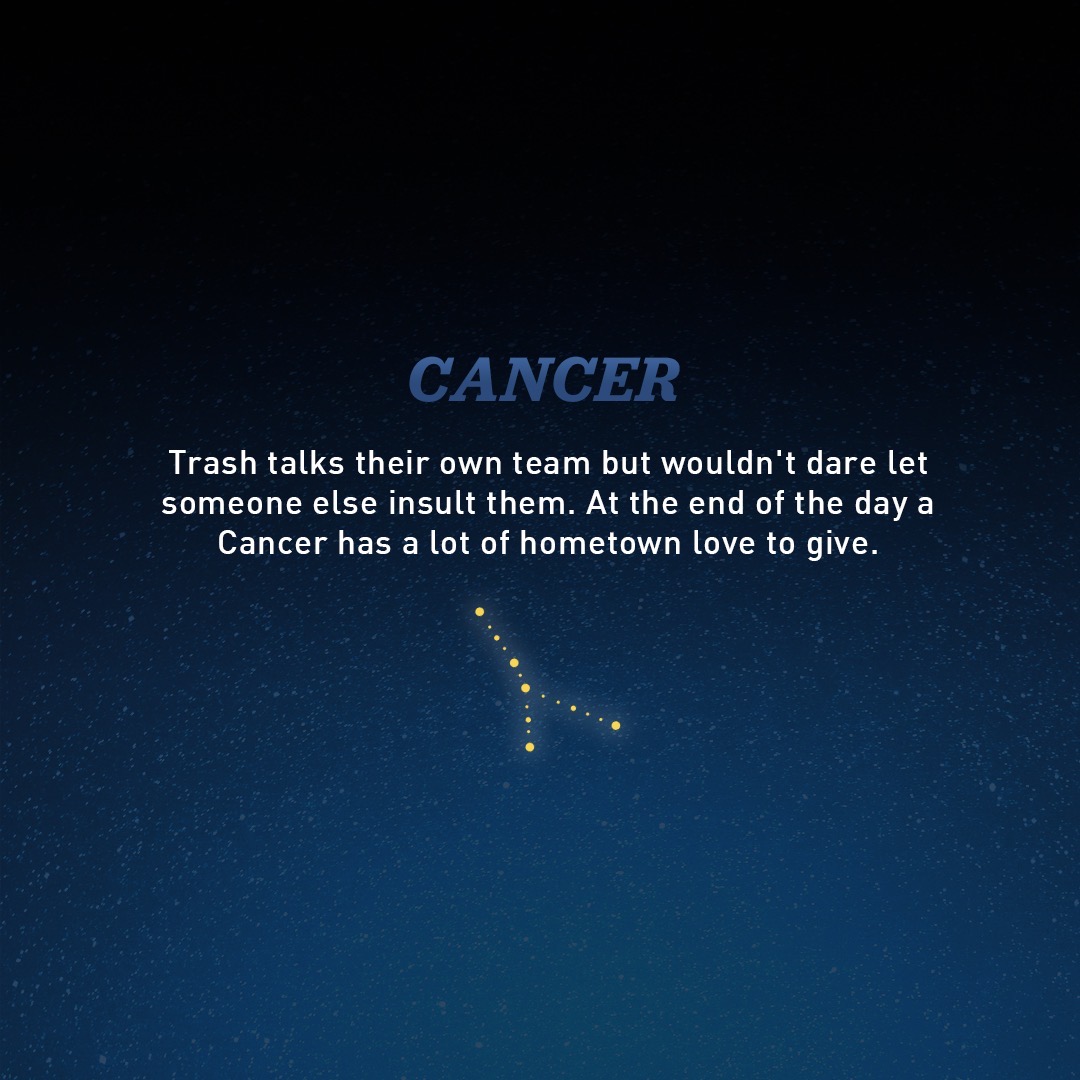 June 22 – July 22
Motto: "I bleed [insert team colors here]"
College football teams to follow: Northwestern Wildcats, Iowa Hawkeyes or Utah Utes
Cancer's know their favorite team may have some weaknesses, in fact, they'll tell you about all of them. But don't mistake that as an opening to air your opinion, because these loyal fans will set you straight quick.
Leo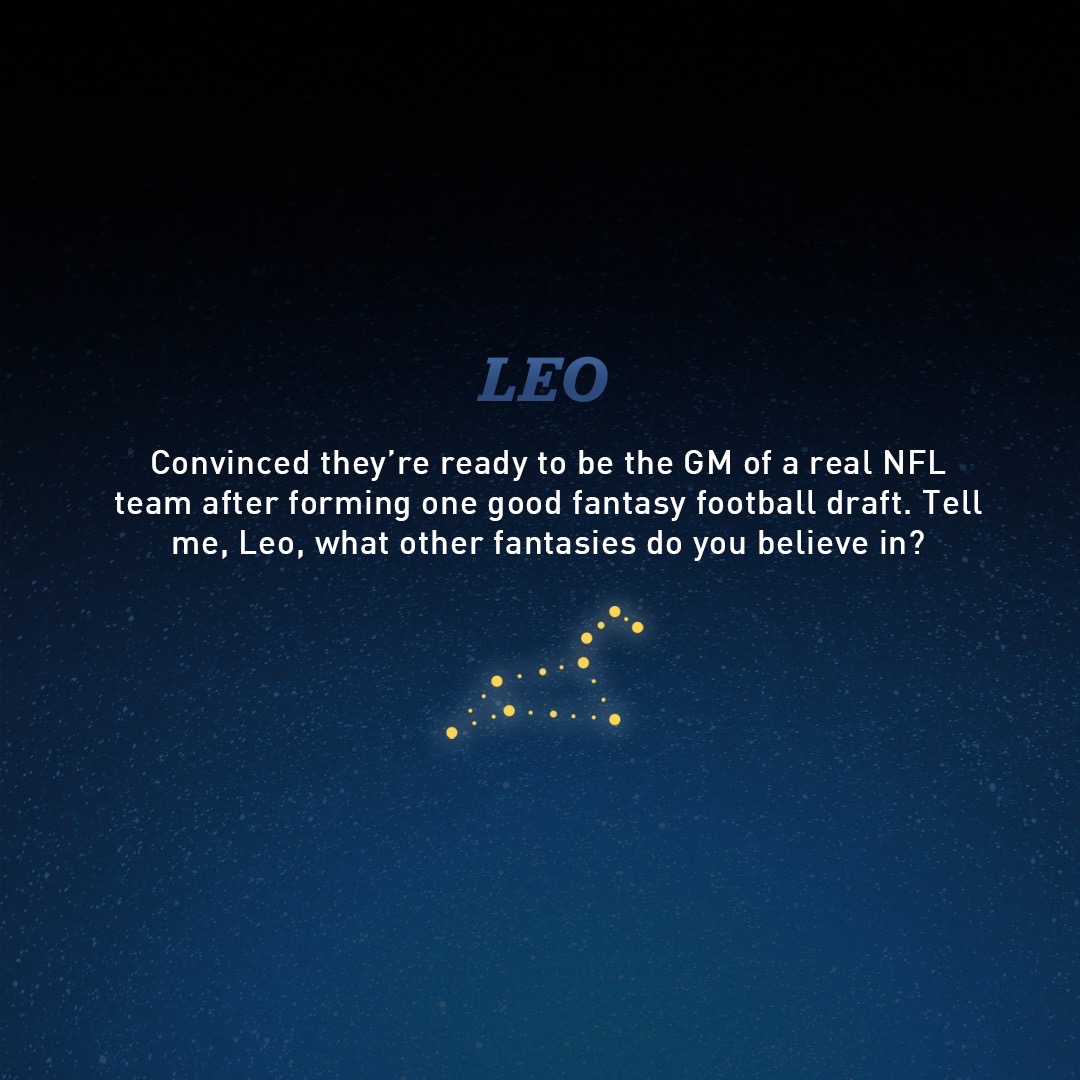 July 23 – August 22
Motto: "I got this."
College football team to follow: Georgia Bulldogs or Florida Gators 
Of course, Leo knows best about any topic, so college football is no different. All it takes is one winning fantasy season to convince a lion that they are ready to manage the next championship team.
 Keep your watch list strong with these recommendations based on zodiac signs.
Virgo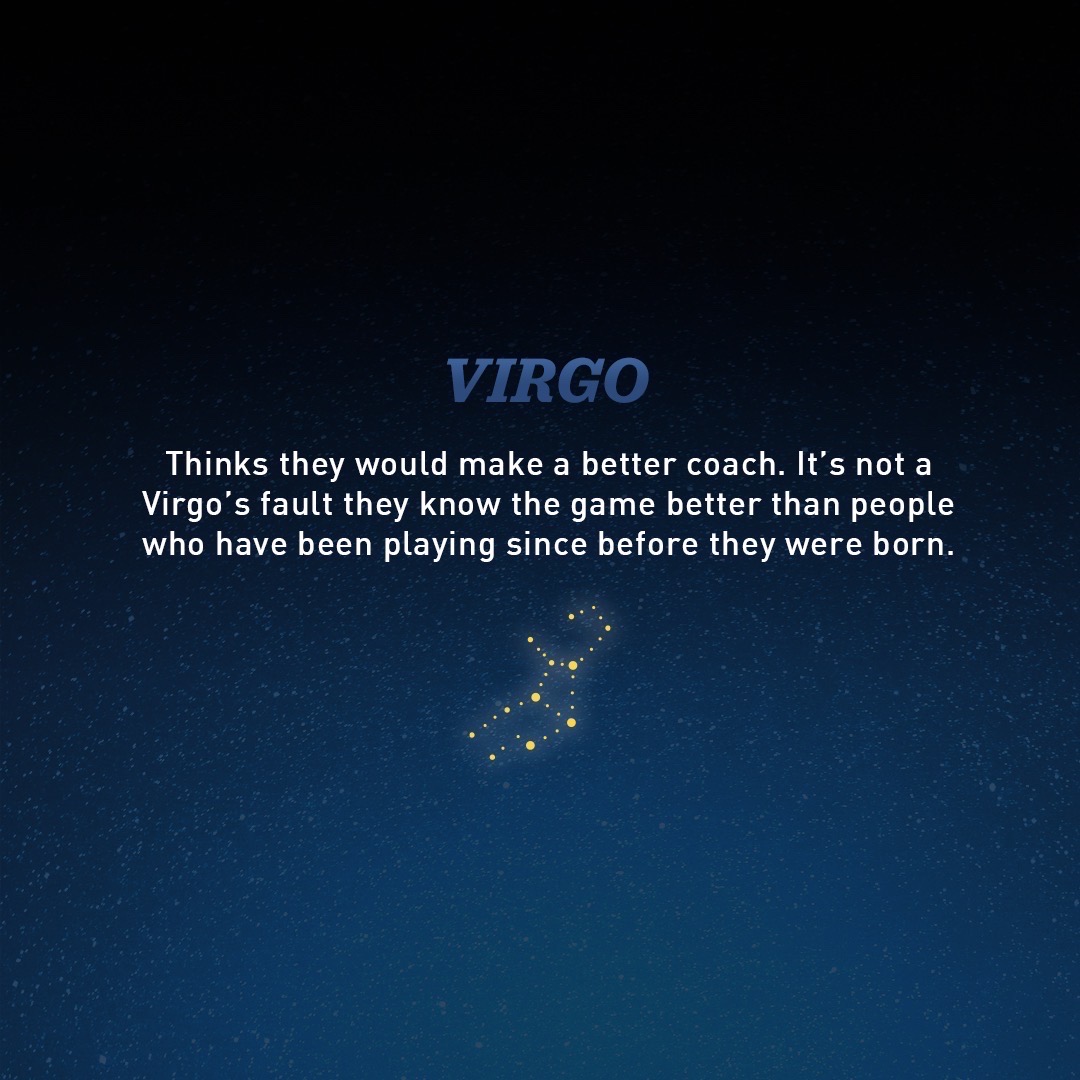 August 23–September 22
Motto: "Where's the flag?"
College football team to follow: Army Black Knights, Naval Academy and Cincinnati Bearcats
They may be an armchair coach, but Virgo's assessments are usually spot on, at least when you ask them.
Libra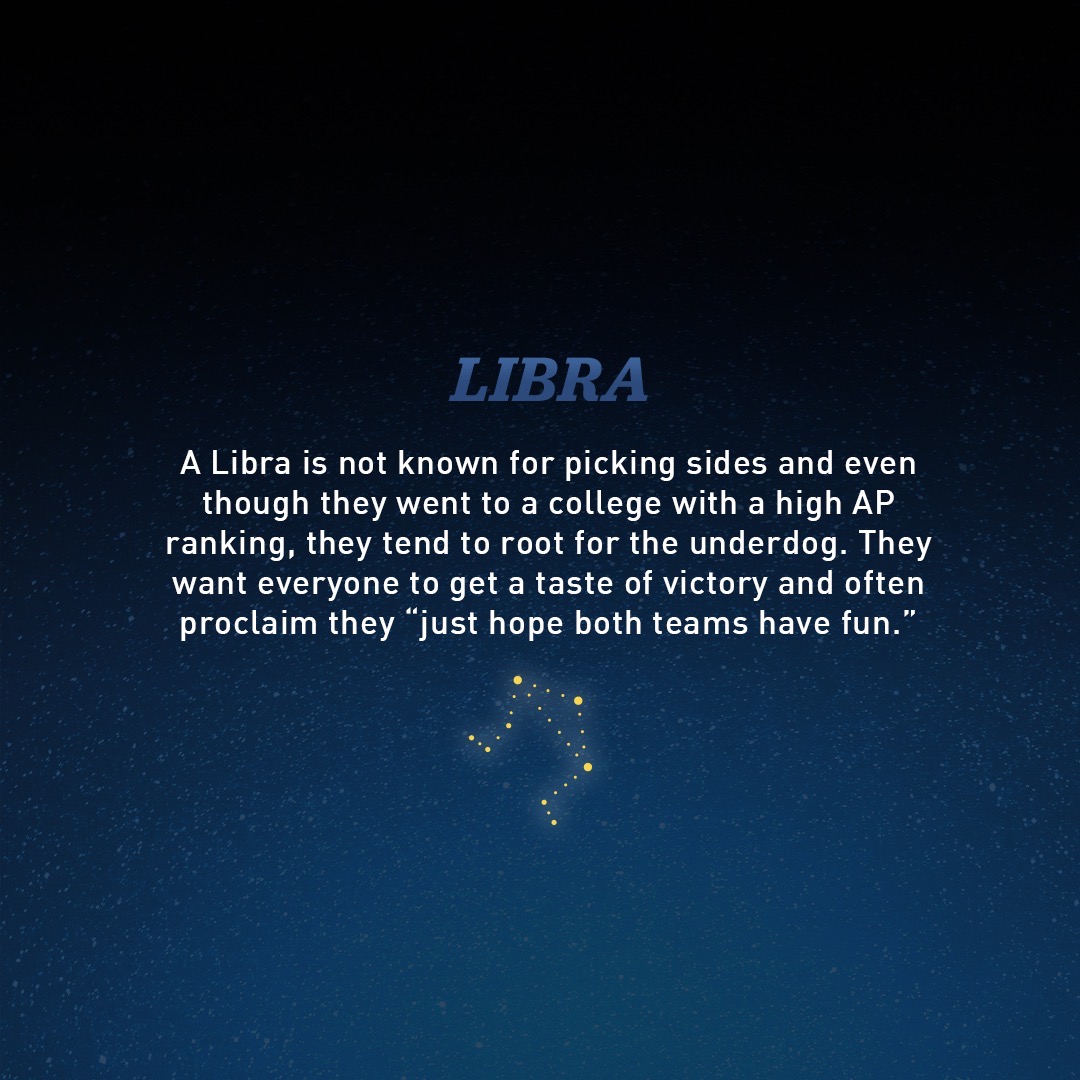 September 23 – October 23
Motto: "I just hope both teams have fun."
College football team to follow: Nebraska Cornhuskers, Texas Longhorns and Michigan Wolverines
Libra roots for the underdog, not because of logic, but because their hopeful spirit just wants everyone to have that sweet taste of victory.
Scorpio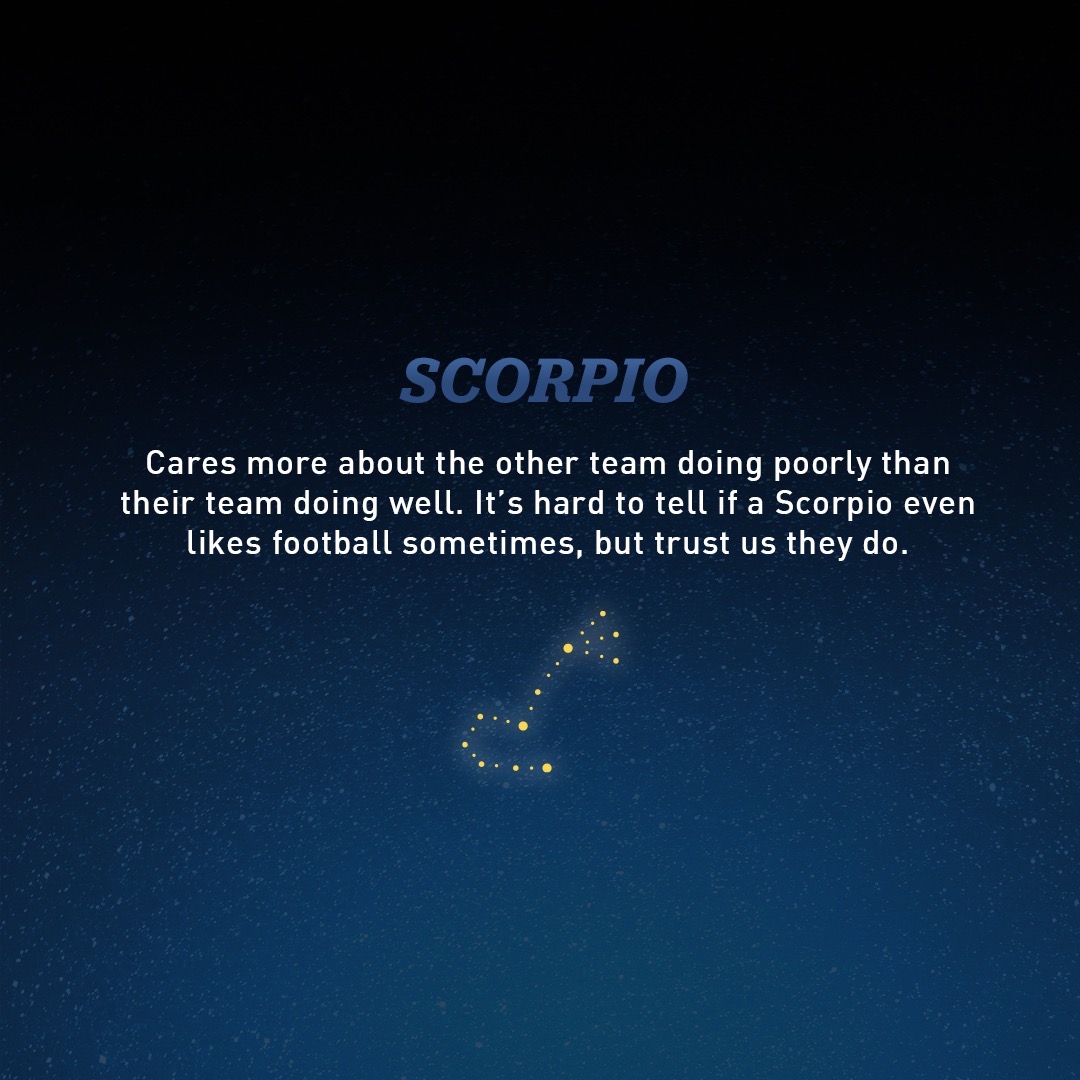 October 24–November 21
Motto: "Fumble. Fumble. Fumble."
College football team to follow: Tennessee Volunteers, UCLA Bruins and Texas A&M Aggies
Scorpio may root for the opposing team's demise more than cheering for their own team's success, but that kind of negativity can really make a watch party interesting.
Sagittarius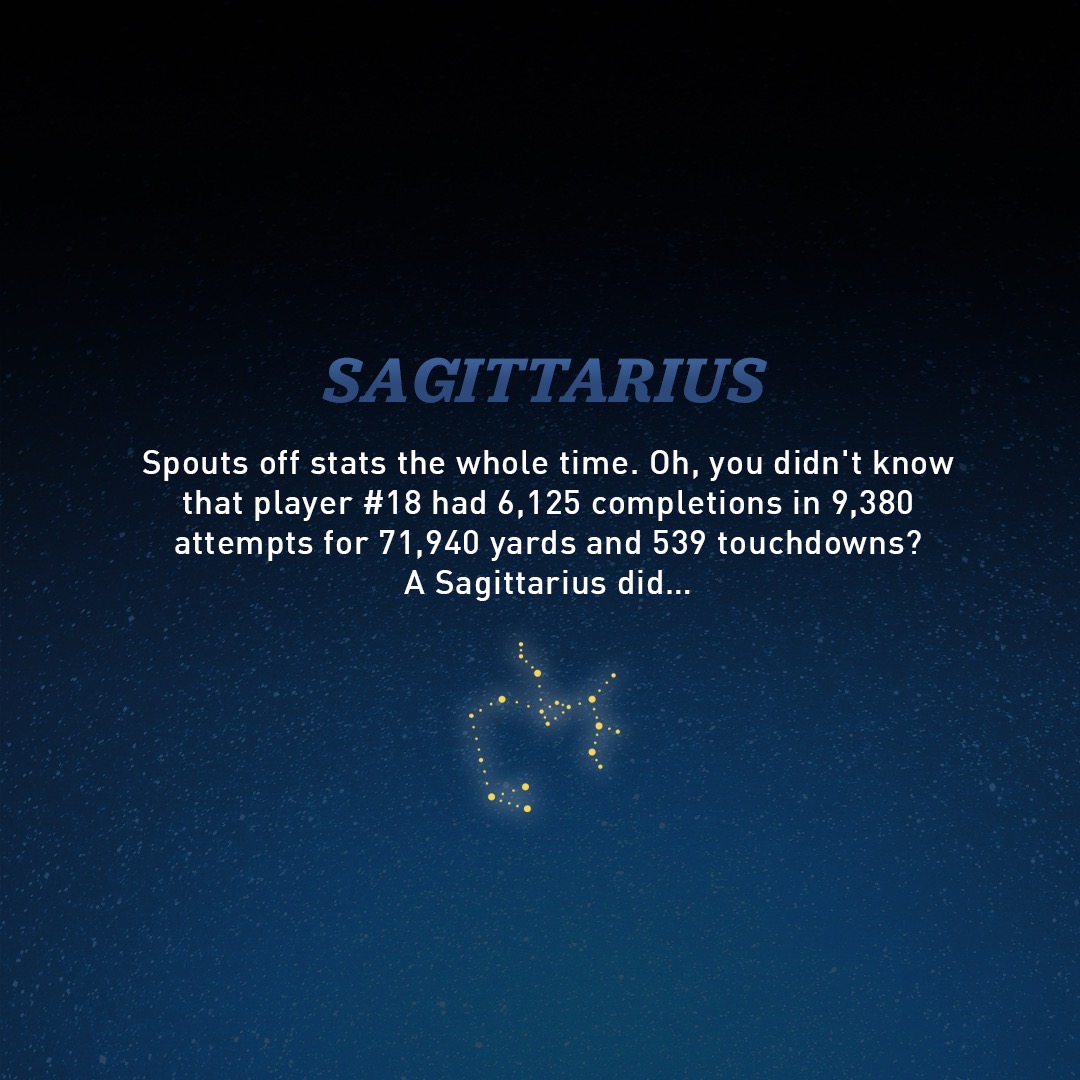 November 22–December 21
Motto: "There's strength in numbers."
College football team to follow: Ohio State Buckeyes
Looking for college football stats? Sagittarius has you covered and will keep you more informed than you've ever thought (or hoped) possible.
Capricorn
December 22 – January 19
Motto: "There's always the fourth quarter."
College football teams to follow: Ole Miss Rebels or USC Trojans
Eternally composed, Capricorn may be losing their cool on the inside, but come across totally chill on the outside. This internal struggle is what keeps their passion alive, so they love a game featuring explosive teams or exciting and unexpected outcomes.
Aquarius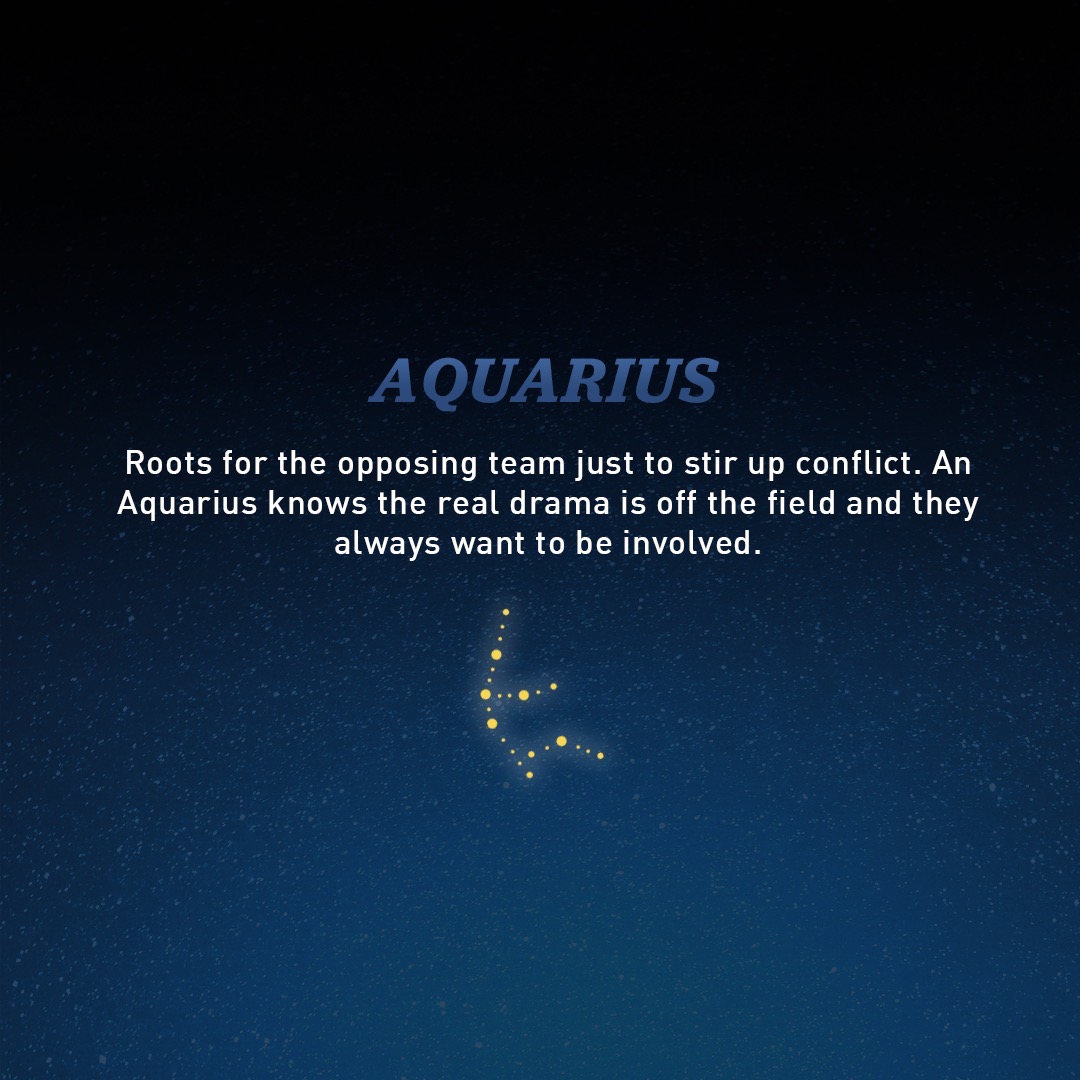 January 20–February 18
Motto: "Leave it all on the field."
College football team to follow: Alabama Crimson Tide
Just to elevate the drama levels a bit, the sport-loving Aquarius will go against popular opinion and root for the competition. Keeps thing spicy.
Pisces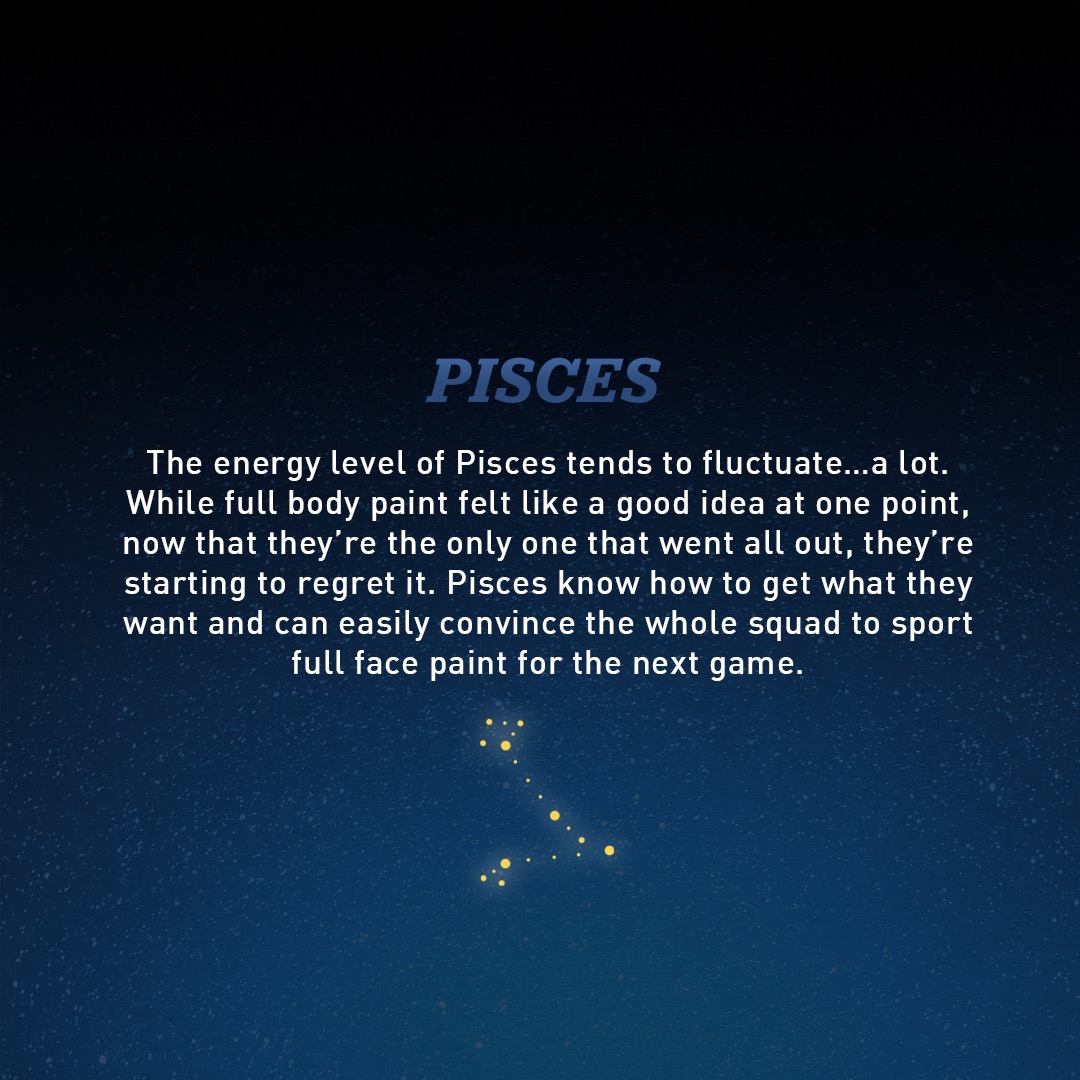 February 19–March 20
Motto: "Go hard, then go home."
College football team to follow: Wisconsin Badgers, Stanford Cardinal or LSU Tigers
For a Pisces, the body paint may have seemed like a good idea at the time, but now it just feels itchy and suffocating. Luckily, that energy will replenish when it's time to get ready for the next game. 
Get in the Game: Your Guide To College Football Schedules, Feature Matchups And More]