The yuletide season is a time for celebration, giving to others, family… and overused holiday cliches dominating the television landscape. How many different adaptations can we have of Charles Dickens' A Christmas Carol? The answer is infinite. Yes, apparently, we can have infinite reboots, remakes, and reimaginings of the famous Christmas novel, since they happen every holiday season like clockwork.
And it isn't just good ol' Ebenezer Scrooge who gets trotted out every year like a Rudolph lawn ornament. Here's a handy guide to all the best Christmas cliches you can look forward to this (and every) holiday season.
Classic Story Retreads
The aforementioned Christmas Carol is definitely the go-to story. Who doesn't love a grouchy old miser figuring out it's better to be a nice person than to die alone? Also, be on the lookout for The Gift of the Magi, It's a Wonderful Life, and Miracle on 34th Street.
Two of the weirder classic story reimaginings were definitely Aqua Teen Hunger Force's "Cybernetic Ghost of Christmas Past from the Future" and Married… With Children's "It's a Bundyful Life," but they are hardly the only ones.
Other offenders include: Ally McBeal, Beverly Hills, 90210, The Big Bang Theory, Blossom, Boy Meets World, A Different World, Doctor Who, The Facts of Life, Family Ties, Moonlighting, Night Court, The O.C., Party of Five, Perfect Strangers, Quantum Leap, Raising Hope, Who's the Boss, WKRP in Cincinnati, and Xena: Warrior Princess… to name just a few.
Birth
The birth of Jesus is the reason for the season for a lot of folks, so TV likes to lean into it with lots of symbolic births to tug at the emotional heartstrings. Touched by an Angel did one that involved actual angels reuniting a family as a woman gave birth on Christmas Eve.
Other offenders: ER, Newhart, Scrubs, The Suite Life of Zack and Cody, Walker, Texas Ranger, The X-Files.
Death
You might not think death and the holidays go together like mistletoe and holly, but losing a loved one is a popular storyline to wring the most tears out of TV drama viewers. Downton Abbey might take the cake, since its season three Christmas special killed off a beloved character right after he became a father. RIP, Matthew (Dan Stevens).
Other offenders: Castle, Doctor Who, Hannibal, M*A*S*H, Monk, Six Feet Under, Veronica Mars, The West Wing, The X-Files.
Dysfunctional Families
Just because it's a cliche doesn't mean it can't be fun. This is one of the fun ones. As long as dysfunctional families don't veer off into abusive behavior, who doesn't love to watch loved ones fight it out over the roast beast? Veronica Mars does this particularly well with "An Echolls Family Christmas," which sees Aaron Echolls's (Harry Hamlin) mistress pose as a waitress for his wife's annual holiday gala and then stab him just as the carolers begin singing "Here We Come A-wassailing." Happy holidays!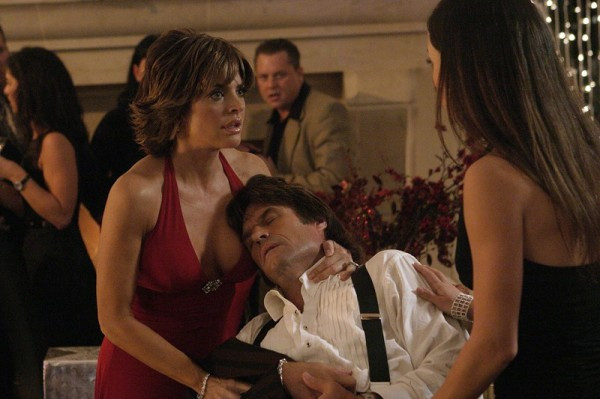 Other offenders: 30 Rock, Arrested Development, Family Guy, Frasier, Gossip Girl, The O.C., Shameless, The Simpsons, The Sopranos.
Homelessness
Obviously, homelessness is a serious problem, especially during the winter months. But TV writers just love to have their characters learn a valuable lesson from a homeless person during the holidays, which is usually done with all the subtlety of an anvil. The best one absolutely has to be Juliana Hatfield as the magical Christmas angel/street corner busker on My So-Called Life because it was just so ridiculous.
Other offenders: The Cleveland Show, The Fresh Prince of Bel-Air, Glee, Home Improvement, Saved by the Bell, The West Wing.
Other holidays
It is wonderful to recognize other holidays that take place in and around Christmas, like Diwali, Hanukkah, Kwanzaa, Las Posadas or the Winter Solstice. But it has become all the rage in the past 20 or so years either to make a big joke out of holiday hybrids or act like everyone celebrates Christmas and that's that. The O.C., in particular, gave us the way-too-cutesy "Chrismukkah" portmanteau—and let's not forget Friends' infamous Holiday Armadillo.
Other Offenders: The Goldbergs, The Office, Seinfeld, Warehouse 13.
Overcompensating
Men (it's usually men) and their Christmas decorations are great fodder for sitcoms, though obviously, the one to beat all others was National Lampoon's Christmas Vacation. Still, Home Improvement's Tim "The Toolman" Taylor (Tim Allen) did his best to carry on Clark Griswold's (Chevy Chase) tradition.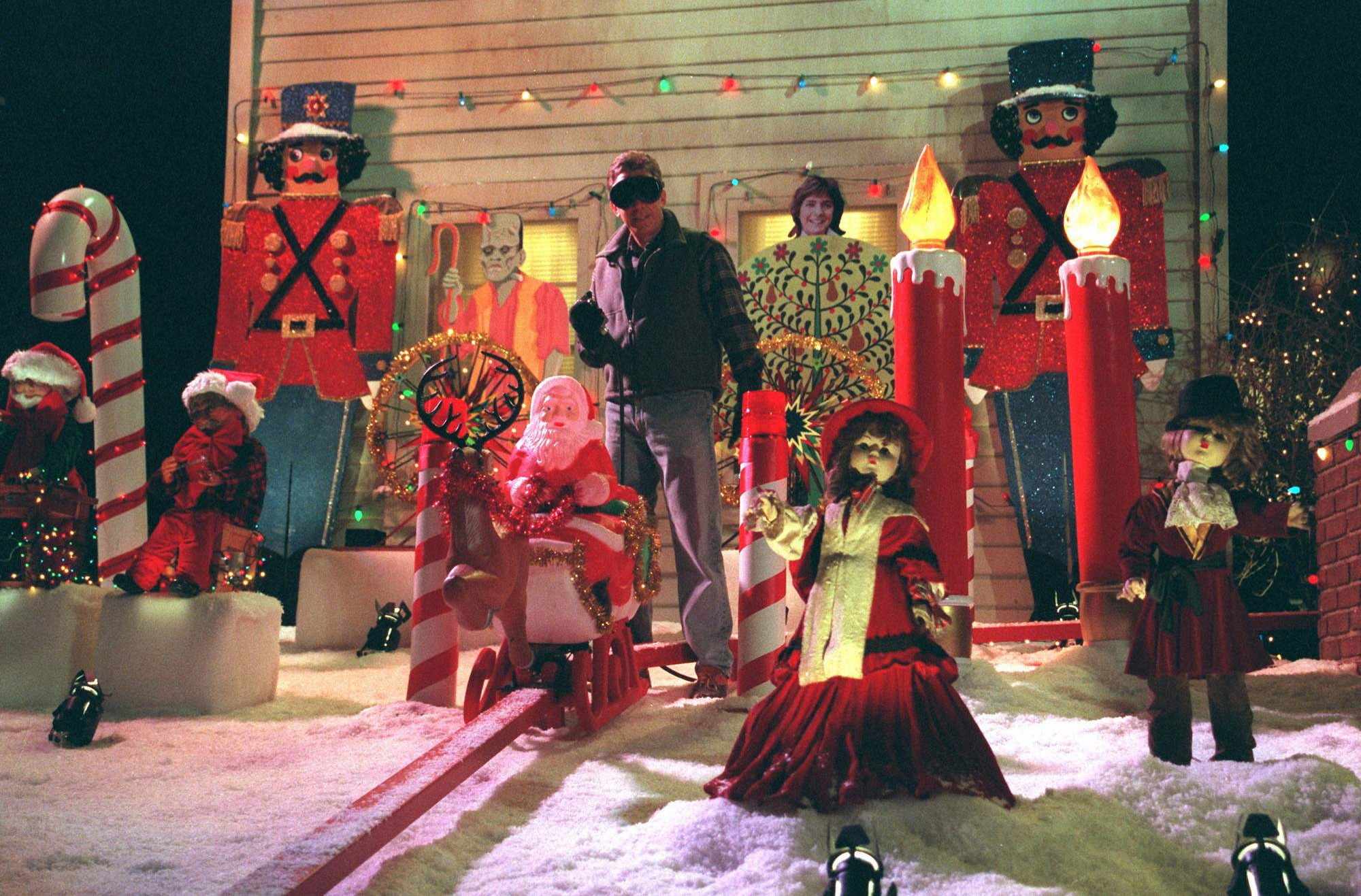 Other offenders: The Fresh Prince of Bel-Air, How I Met Your Mother, Grimm, Roseanne.
Presents
There are so many great cliches about presents—competitions for the best one, crazy riots at malls emulating the 1980s Cabbage Patch Kids craze, last-minute procrastinators, giving presents the recipient actually hates, people snooping to find their presents. We particularly enjoy the Friends episode where Joey (Matt LeBlanc) and Chandler (Matthew Perry) have to buy their Christmas presents at a gas station because they forgot to get anyone anything.
Other offenders: Doctor Who, Family Ties, Frasier, Friends (again), Monk, My Name is Earl, Schitt's Creek, Supernatural.
Santa Claus
In most children's programming, Santa is a jolly old man who brings everyone toys. On TV, he's more often a drunk, a thief, or even a dead body — thanks, Bones. In one memorable episode, the Smithsonian crew had to deal with the "The Santa in the Slush," i.e. a dead body in a Santa suit found in a sewer near a mall. Ho ho ho!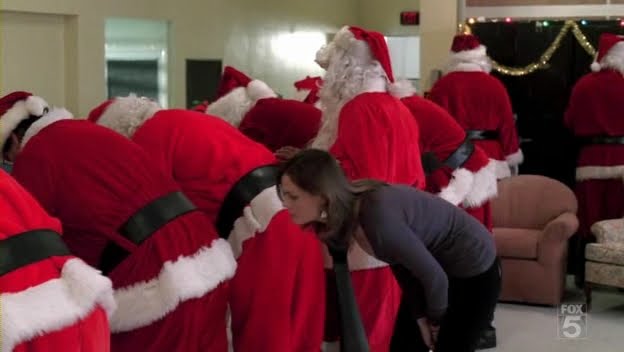 Other offenders: Amen, American Horror Story: Asylum, Brooklyn Nine-Nine, Chilling Adventures of Sabrina, Designing Women, Growing Pains, Happy!, It's Always Sunny in Philadelphia, The Librarians, Married… with Children, That '70s Show.
Snow
A very clever way to avoid any religious cliches is to just have your characters affected by snow, which usually manifests itself in one of two ways—either they're snowbound together somewhere or there's wondrous snow that no one thought was possible. Probably the most famous heavenly snow is on Buffy the Vampire Slayer, where Angel the vampire's (David Boreanaz) life is saved because of a freak snowstorm. It's a Christmas miracle!
Other offenders: 227, Elementary, Full House, The Golden Girls, Grey's Anatomy, Little House on the Prairie, The Nanny, The West Wing.