The Gilded Age's glittering debut season​​ has come to an end. The final episode of the HBO series aired Monday, March 21. It wrapped up some key season 1 storylines while also hinting at what fans can expect in the show's second season. 
[Warning: This article contains spoilers for The Gilded Age Season 1 finale, "Let the Tournament Begin."]
Bertha Russell triumphs in 'The Gilded Age' Season 1 finale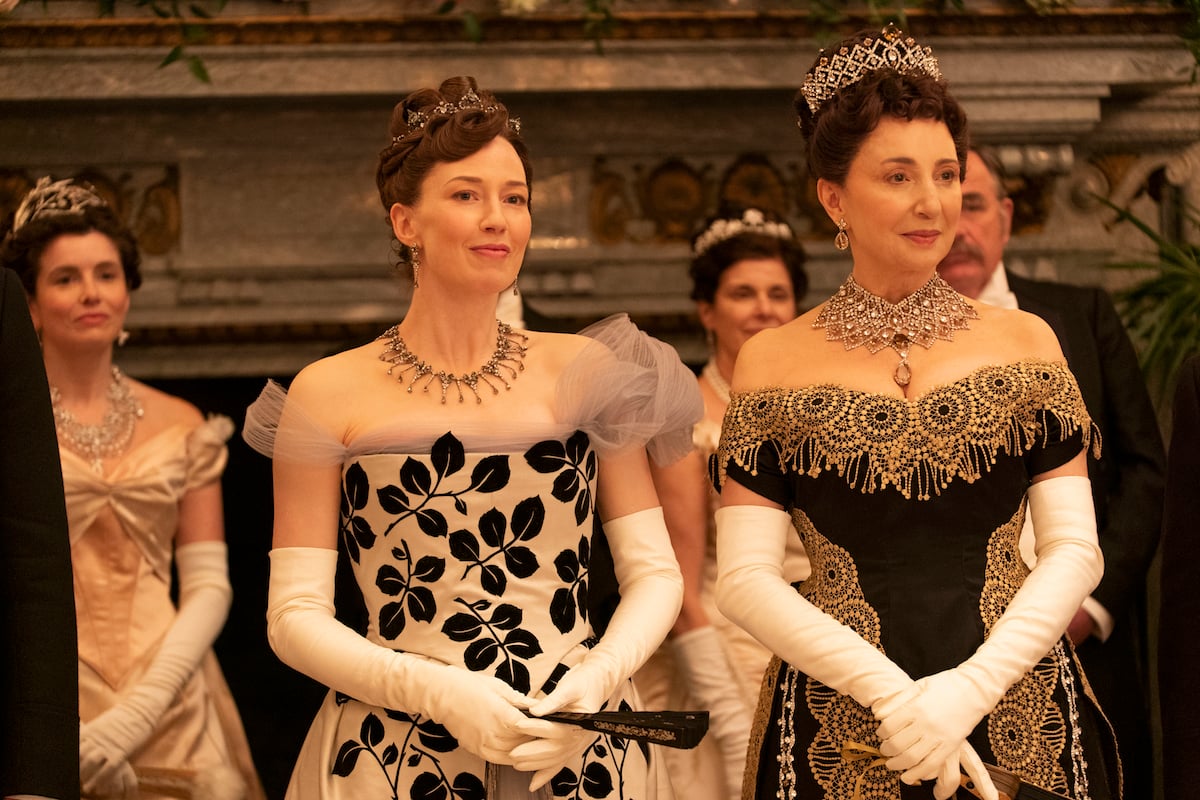 'The Gilded Age' | Alison Cohen Rosa/HBO
Bertha Russell (Carrie Coon) was a woman on a mission in The Gilded Age Season 1. The nouveau riche wife of railroad baron George Russell (Morgan Spector) had a lot of money but little social clout when the show began. By the finale, she'd jammed her foot into the door of New York City's high society. She'd even managed to force the hand of the discerning Mrs. Astor (Donna Murphy), who agreed to attend the arriviste's ball for the sake of her daughter Carrie (Amy Forsyth). That was a major coup for Mrs. Russell, given that wherever Mrs. Astor goes, the rest of society reliably follows.
Bertha's triumph was the centerpiece of "Let the Tournament Begin." But it was far from the only big moment in the finale. Marian Brook's (Louisa Jacobson) plans to elope with Tom Raikes (Thomas Cocquerel) hit a snag when she realized he'd fallen for another young woman with a much larger fortune. A wounded, heartbroken Marian broke it off with her social-climbing fiancé and then had to endure the indignity of seeing him waltz around Mrs. Russell's ballroom with her romantic rival. 
Peggy learns the truth about her baby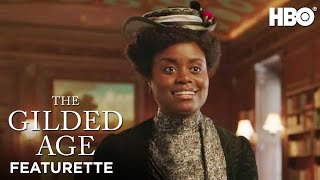 The Gilded Age | The Black Elite | HBO
Meanwhile, Peggy Scott (Denée Benton) received some shocking news about her son, whom she thought had died shortly after birth. In reality, her father Arthur (John Douglas Thompson) had given the child up for adoption with Peggy or her mother Dorothy's (Audra McDonald) knowledge. Peggy was already at odds with her father, who disapproves of her life choices. This new betrayal only deepens the rift. 
The Gilded Age's finale featured somewhat less drama with the servants below-stairs, though there was a major revelation about the Russells' French chef Monsieur Baudin (Douglas Sills). It turns out, he's not French at all, but rather a man named Borden from Wichita. (The horror!) Bertha promptly fired him, but the real French chef she hired to replace him got drunk on the night of the ball. Fortunately, Borden swept in to save the day and got his job back in the process.   
If you're TV watching fanatics like us, you simply can't get enough of Carrie Coon, Denée Benton and Morgan Spector. Luckily, there's more on the horizon as the show already has the green light for season 2.   
The episode teases potential storylines for 'The Gilded Age' Season 2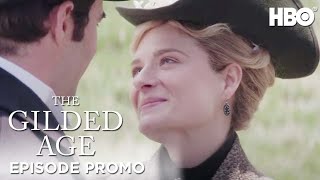 The Gilded Age: Season 1 | Episode 9 Promo | HBO
HBO has already renewed The Gilded Age for season 2. The season 1 finale sets up a number of potential storylines for future episodes. 
Season 2 will undoubtedly feature more scheming from Mrs. Russell as she attempts to cement her place in the city's social order. Though she outplayed Mrs. Astor in the finale, it remains to be seen whether the two will end up as friends, as Mrs. Russell predicts. 
Now that George and Bertha's daughter Gladys (Taissa Farmiga) is officially out in society, there will be plenty of suitors fighting for her hand. Oscar van Rhijn (Blake Ritson) hopes to make her his wife, but based on her comments at the ball about no longer having to do what people tell her, she might not be eager to settle down. Plus, he'll have to deal with his unhappy partner John Adams (Claybourne Elder), who isn't pleased that Oscar has plans to marry.
Marian ended season 1 with a broken heart. But there is a friendship blossoming between her and Larry Russell (Harry Richardson) that seems like it could turn into something more. That — along with Oscar's interest in Gladys — is sure to upset Agnes van Rhijn (Christine Baranski). Despite her appearance at Mrs. Russell's ball, she is still firmly opposed to welcoming them into society. 
Meanwhile, when fans last saw Peggy and her mother, they were packing their bags for Philadelphia, where they hope to track down Peggy's son. But will that quest interfere with Peggy's burgeoning career as a newspaper reporter? The Gilded Age finale also left open the mystery of Mr. Russell's valet Watson's (Michael Cerveris) past and his relationship with Mrs. McNeil (Rebecca Haden). She was a guest at Mrs. Russell's ball, and he made an obvious effort to avoid being seen by her when she arrived.
For now, fans will have to speculate about what's in store for Marian, Peggy, and the rest of The Gilded Age's characters. They should have plenty of time to come up with theories. Though the show will return for another season, no premiere date has been announced. 
All episodes of The Gilded Age Season 1 are currently streaming on HBO Max. 
Although The Gilded Age may not have new episodes on TV tonight, that doesn't mean you can't keep up with the HBO schedule and catch up on season 1.
This article was written by Megan Elliott from The Cheat Sheet and was legally licensed through the Industry Dive Content Marketplace. Please direct all licensing questions to legal@industrydive.com.