Welcome back to our "Some Like It" series! It's way too easy to be overwhelmed by the sheer volume of TV available to us these days – but we're here to help! If you know how you're feeling, we know some shows that are right up your alley. Check back every Friday for a new set of recommendations.
Without further ado:
Antihero – the protagonist of a story who lacks traditional heroic qualities
Antiheroes have existed in literature for centuries, in some form or another. Whether in the literary romanticism of the 19th Century, or the existentialism of the early 20th century, we've been fascinated by protagonists that exist in that grey area between good and bad. Maybe we're drawn to their authenticity, as their inner turmoil reflects what many of us go through on a daily basis. But instead of debating whether or not to tell that white lie, or keep that extra change you were mistakenly given, the antiheroes of today's television landscape are wrestling with much larger, bloodier debates.
With the rise of "Prestige Television" the antihero has taken on a new wave of popularity. We're sure you've seen analyses of Walter White and Don Draper as the alliterative-ly named men who sparked the resurgence of this type of character, but there's a much more diverse group out there who also deserve some love (or anti-love, I guess). So grab your leather coat and combat boots, because we're sharing some of our favorite a** kickers!
Luther – Netflix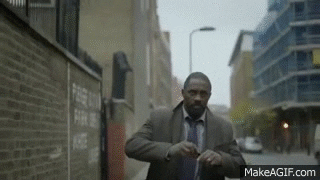 As DCI John Luther, sexiest man alive Idris Elba has been enforcing his own brand of justice since 2010. With London as the backdrop of some of the most horrific crimes imaginable, Luther has sacrificed his body, his heart, and so much more to take down some seriously demented killers. While hunting murderers seems pretty heroic, Luther proves the antihero can be up to the task too. The darkness of his cases has always weighed heavily on him, and he's prone to violence to get justice for victims. He also collaborates with some unsavory characters to get what he wants. But his priority is always solving the case and getting justice for the victims. His intentions are pure, even when his actions often get him into a lot of trouble with his boss and the bureaucrats he ladders up to. As we ramp up for Season 5 (!!!) we can't wait to see how far Luther will go to protect Londoners from the baddies who seek to destroy them.
Jessica Jones – Netflix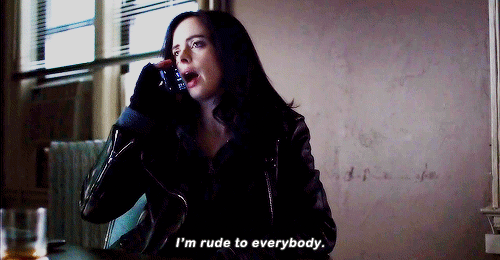 Jones is rude, sardonic, and doesn't take anyone's crap. Her penchant for foul language, drinking, and generally punching first and asking questions later, makes her the perfect antihero. All of these characteristics exist in stark opposition of what we expect to find in a female superhero. A major source of the show's power comes from a masterful performance by Krysten Ritter who captures Jone's vulnerability and her strength (physical and otherwise). Sure, Jones is a willowy, pretty, white woman, but her attitude and approach to her work is anything but typical. There's something so deeply punk rock about her aesthetic and her attitude—she'll curse you out and take you down at the same time! Her behavior is often questionable, especially when it comes to working on cases that trigger issues from her past, but her commitment to defeating evil never wavers. Add in an amazing storyline about recovering from an abusive relationship and you've got the compelling female antihero we need and deserve.
Dexter – Showtime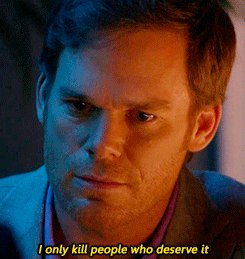 You can't get more antihero than a serial killer whose serial is killing killers. Out of our three picks, Dexter Morgan is the only one that truly embraces his darkness—often welcoming it. We learn more and more about his past as the seasons unfold, but it's evident early on that he's a killer through and through. It's his conscience, and the vigilante manifesto that dictates his kills that make his actions bearable. It's such a strange feeling to root for a killer, but the more we get to know Dexter, the more we understand how his mind works. Some of the most incredible faceoffs between "good" and "evil" happen in this series (I mean hellooo Trinity Killer!), and we realize just how important Dexter's work is, even if it's flawed at its core. Watching him try to present himself as a normal person is both heartbreaking and terrifying—having your adrenaline kick in when you see him put on his signature green Henley is exhilarating. Who hasn't wanted to take down a serial rapist, a pedophile, or a domestic abuser? Dexter brings our darkest fantasies to light, and quite frankly, I miss him.
We hope you enjoyed Some Like It: Antihero. Check back next week for a brand new run down for a whole new feeling.