DIRECTV is on the ground reporting from the most exciting SDCC 2018 panels, trailer drops, and breaking news. For more Comic-Con coverage, click here.
---
The Simpsons panel at Comic-Con took a look back at 30 (THIRTY!!!) years of the first family of Springfield while celebrating fans and giving them a preview of this year's "Treehouse of Horror" special.
Moderated by Lethal Weapon co-star and professed Simpsons fanatic Johnathan Fernandez, the dryly hilarious panel brought together creator Matt Groening, showrunner Al Jean, long-time series director David Silverman, and Tress MacNeille, voice of Skinner's mother, the Crazy Cat Lady, and about a million other characters on the show (she also plays Mom on my favorite show of all time, Futurama, but that's beside the point).
When Groening wasn't slipping in intentionally hamfisted plugs for his new Netflix show, Disenchantment (debuting August 17, he repeatedly told the crowd, getting a laugh every time), he took a look back on the enduring legacy of The Simpsons.
"I remember when we had our 100th table read however many years ago, one of the writers quipped 'well, fellas, we're halfway home,'" Groening said. "Now, as of this season, we're up to 669. It's hard to believe."
The group delved into what they've seen change over the years, particularly in regard to the technology they use to animate the show.
"We can do all sorts of things we couldn't do 30 years ago," Silverman said. "We used to have to chop down whole forests' worth of trees to animate on paper, but now we have so many tools that allow us to move faster and spend more time actually animating. We have a whole Couch Gag file sequence, and we can just drop in new jokes that way."
"We don't have to do any new animation anymore," Groening joked. "We just use the same images over and over and add new dialogue."
The panel also took time to recall some standout visual jokes from throughout the show's run.
"My favorite was a sign on the marquee of the First Church of Springfield that said 'No Synagogue Parking,'" Groening said.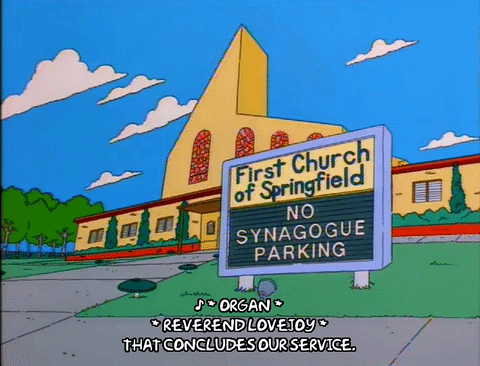 "I love the gun shop called 'Bloodbath and Beyond,'" followed Silverman.
Looking to the future of the show, fans were given a sneak-peek of an entire segment of the upcoming "Treehouse of Horror XXIX," an Invasion of the Body Snatchers parody titled "Intrusion of the Pod-Y Switchers." (Maybe you could've figured out what that was a parody of on your own).
The story is a fast-paced, jokes-dense send-up of both the film and modern culture's reliance on smartphones, and it received roars of laughter from fans in attendance. It was a solid reminder tha, even 30 years in, The Simpsons can still deliver.
My favorite line came from Comic Book Guy as he's swallowed alive by one of the invading plant pods:
"Oh great, an homage to Body Snatchers, which in itself was a rip-off of The Thing. This will be the last word I ever say!"
Groening also gave away some prizes to fans who asked questions, including a rare, gigantic Blinky the Three-Eyed Fish plush that made me so jealous I almost abandoned my press seat to get a question in.
"The worst job I've ever had is watching other people get to take home all this cool stuff," sighed Fernandez.
I'm right there with ya, pal.
The Simpsons returns to FOX on September 30. Watch it on DIRECTV.

Advertisement