After several friendly interactions with non-playable characters followed by a few strange fetch quests, I finally managed to find my way inside ESL One's New York event at the Barclays Center in Brooklyn.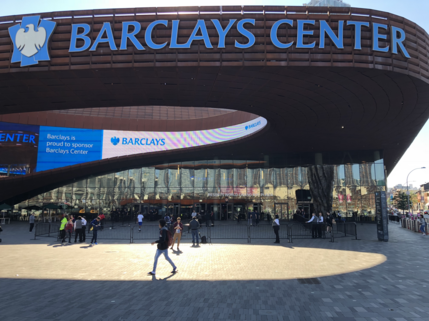 I think it's cool when people pronounce it "bar-klees"
Upon entry, I realized I had a little bit of time before the first matchup started, so I decided to get the lay of the land. To really soak in this world I've heard so much about, but have very little XP in. Not for lack of interest, but as any casual gamer whose free time is fastly becoming an endangered species can attest, my back catalog grows more and more out of control with every major release.
I also tend to gravitate towards a very eclectic mixture of games. For every Halo, Destiny or Wolfenstein I've played, there's a Ruiner, Overcooked or This War of Mine: The Little Ones. In fact, scrolling through the last few months of my "most recent" games puts games like Monopoly, The Division and Little Nightmares in the same sentence. As weird as all those titles look grouped together, I imagine that's actually pretty par for the course.
When it comes to competitive gaming, especially on the world stage, I've known a few professional gamers who've dabbled in Esports — mostly in fighting or sports games — but have yet to have an in-depth conversation with a Counter-Strike player.
But much like today, there's a first time for everything.
After a roar of cheers from around the corner got my attention, I decided my first stop of the day belonged there. Turns out, those cheers were coming from the MSI True Gaming booth.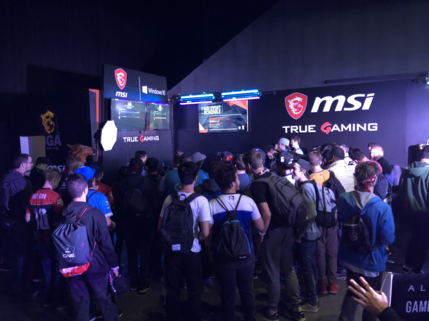 Of course, there was a horse there. Of course, OF COURSE!
There's something infectious about a crowd gathered 'round someone performing a seemingly super-human feat. In New York, this marks the turning of winter into spring. When it's just warm enough that the dance troupes, the bands, the singers and performers of all kinds emerge well-practiced, and show the world what they've been up to since Jack Frost came back to town.
There's something inherently admirable about someone whose craft is easy to learn, but difficult to master. Sure, anyone can play Counter-Strike. But only a few can be said to be the best in the world.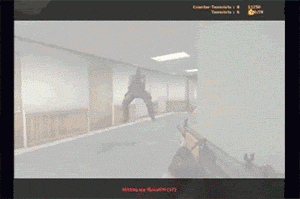 When you look back on your Counter-Strike days with rose colored glasses.
My next stop was the Alienware booth.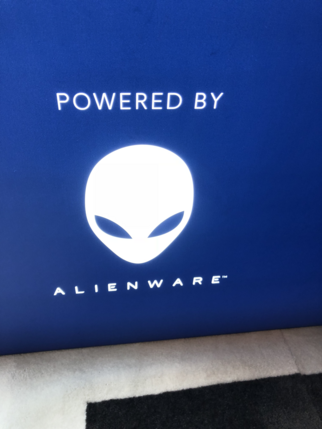 Stand down, Galaga! These are friendlies!
Sidebar: My niece really likes Fornite. Yeah, THAT Fortnite. Loves it really. And she hates losing at it, but it's one of the few things that when she takes the L, she likes learning from it. And trying everything she can until that issue is no longer an issue. But now there's a whole new issue Uncle Brandan!
I bring this up because, like many, she's become enthralled in the world of streamers. People who play video games in front of a captive digital audience. I know there are people out there that are utterly confused by the idea of someone watching someone else play a video game. I imagine it's because we came from an era where watching Player 1 flawlessly succeed meant that Player 2 could do nothing but sit there and wait their turn.
I personally remember my cousin beating Super Mario Bros in front of me in one sitting (ONE SITTING) before I ever even got to play. But fast forward to today, and it's just one more way to connect. Gathering around to watch someone perfect their craft is primal somehow.
My niece loves watching Ninja because it teaches her how to be a better Fornite player. It pushes her to think of things she claims she'd have never thought of.
I shared this story with the Alienware worker after asking him a simple question: what's your favorite part about all this?
I love that it brings people from all over the world together. The only thing we need to talk about — worry about — is the game we're in.
Heavy, but true. Isn't earth the game we're in?
Moving on, I had a chance to catch up with a woman from the American Express activation.
She dropped some knowledge about the perks of being a card member, and how I could hack this whole event by relaxing in the AMEX lounge upstairs. I told her I might actually take her up on that because I'd most likely need to charge my phone. It was at this point she pointed me towards the AT&T charge stations conveniently located at this lovely event.
Shameless plug.
After chopping it up with a few more vendors, it was time to head inside the arena.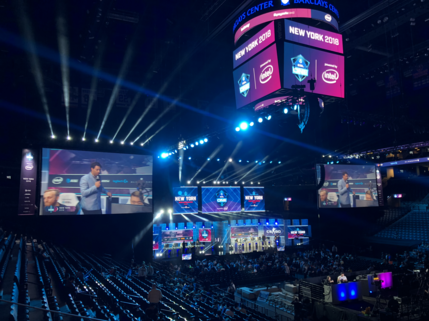 The commentators had jokes. Come back tomorrow for my roundup.
After a series of humblebrags by the players, the semi-finals began.
Now, for those of you looking for a serious account of the day's events, it's choose-your-own-adventure time:
Click here for a legit recap.
Or read on for "easy mode" with some gifs to paint the picture.
Still here? Great. A few observations from the uninitiated (me).
I've actually played Counter-Strike before. It's been a long, long time, but I've played it. Which means I generally know what's going on, what the objective is, and overall have a sense of whether or not this match is against two of the greatest to ever do it, or one team holding on for dear life.
That being said, the level of sophistication on display today at the pro level was insane.
We were only privy to the team comms for a few minutes, where a whimper of "help" came from one of the players (his teammates and the announcers may never let him live that down) but the fluid coordination and movement of 5v5 gameplay is perhaps as complicated but as beautiful as a ballet.
Gravity-defying shots were made frequently.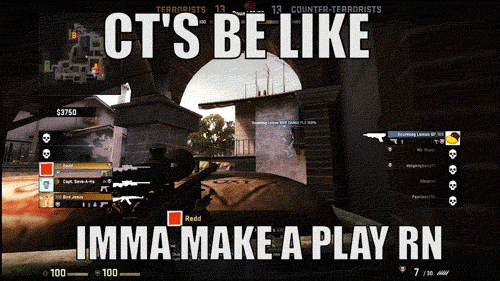 The crowd yelped "OOOooooh" in unison every time.
John Wick tryouts were executed every few rounds.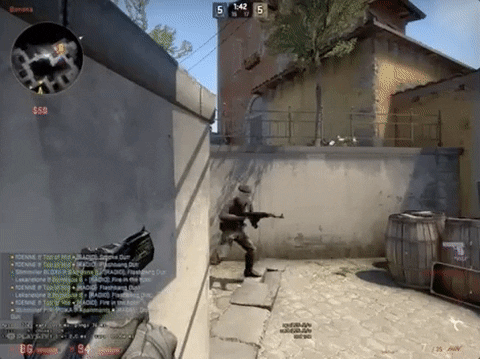 The crowd could barely handle moments like these.
And lastly, the mistakes made by complacency were always rewarded in kind.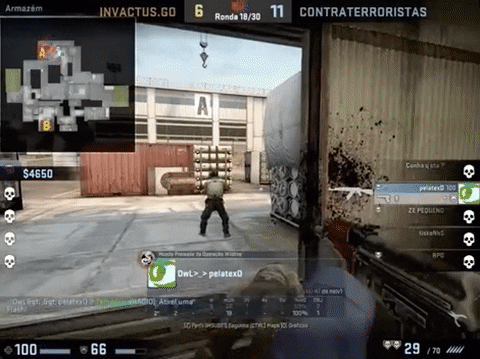 Nothing as silly as this happened, but when a mistake was made, it really was felt by the whole arena.
So where does this leave a casual fan after day one? Honestly, I want to be a better gamer. Not for the money or the lifestyle these athletes live, but for the love of the craft. I love gaming because of storytelling both on and off screen. I love exchanging strategies with my niece. I love the cackle of midnight laughter with friends from different states or countries in sleep-deprived delirium. And I love that there's a sport dedicated to fighting pixel for pixel for world wide bragging rights.
So from one casual gamer to another, if you're on the fence about Esports, take a second look. Because if today and games like Counter-Strike are any indication, you might blink and miss the moment you fell in love with video games all over again.