When you're a die-hard baseball fan, you're loyal to your team win or lose – even when the latter happens more often than you'd like. But maybe it's not just your hometown, your favorite player or your familial legacy that determines who you cheer for…maybe your zodiac sign has something to do with your choices.
As we enter MLB playoff season, explore our MLB horoscope to see if your favorite team aligns with the stars.
Cancer – St. Louis Cardinals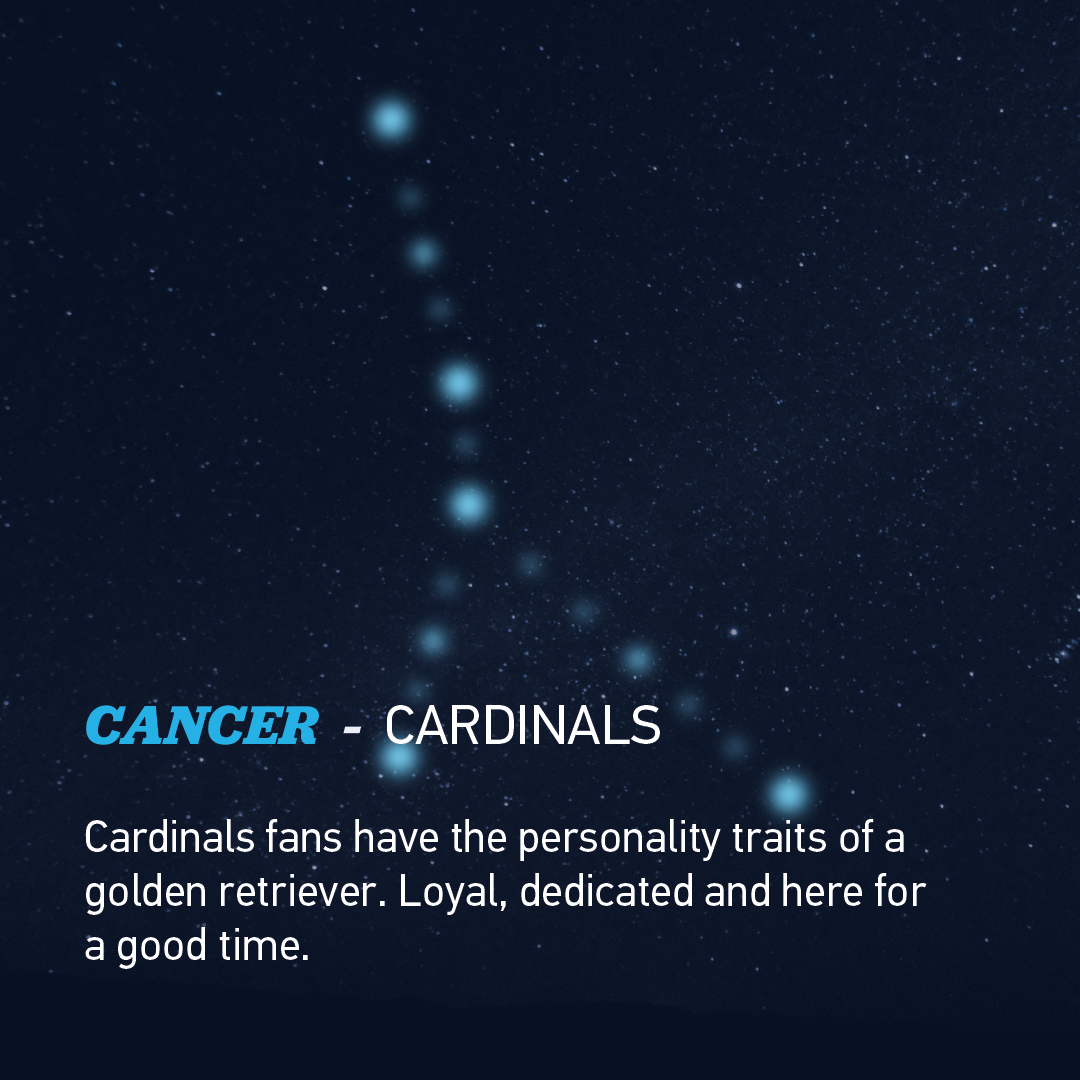 June 22 – July 22
The happy-go-lucky Cardinals fan (and Cancer) is a good sport, a solid teammate and always ready to lead a cheerful rendition of "take me out to the ball game."
Scorpio – San Francisco Giants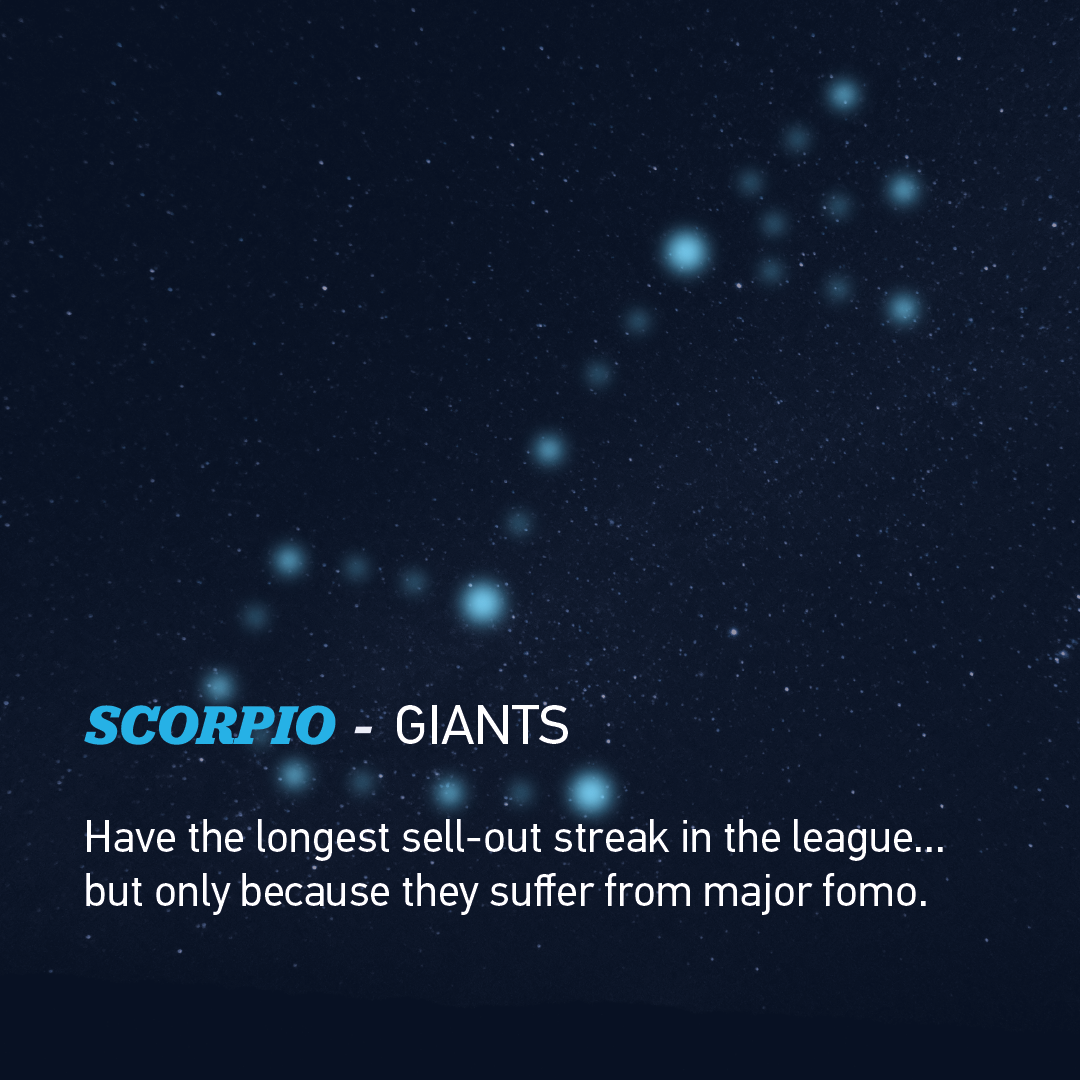 October 24–November 21
Is it the love for the game or the fear that they won't be part of something big that keeps Giants fans coming back for more? Who knows? One thing is for sure, that Scorpio spirit that aligns this water sign with this Bayside team.
Pisces – Toronto Blue Jays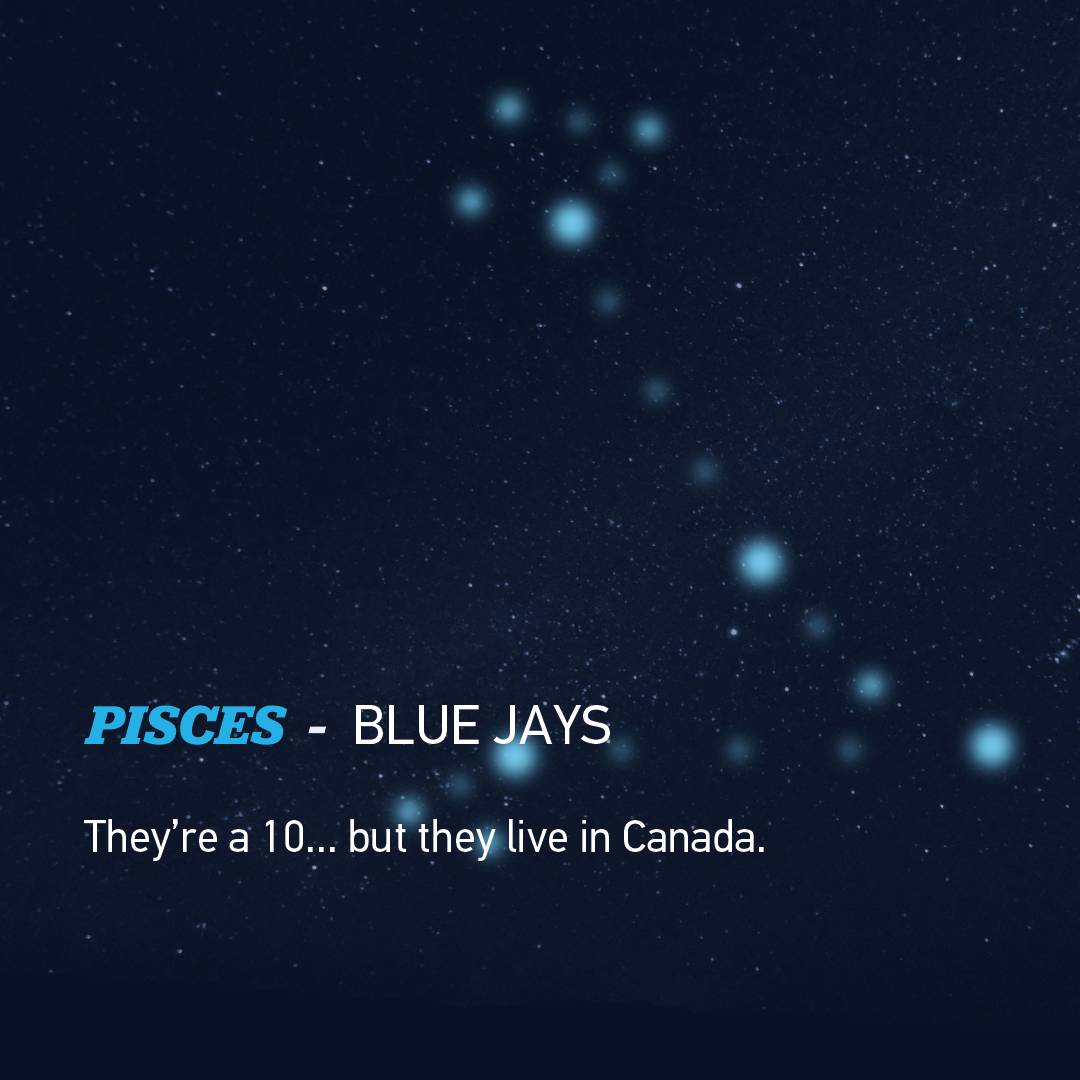 February 19–March 20
Much like the Pisces, they're practically perfect in every way, with one small caveat. In the case of the Blue Jays, it's their north of the border affiliation.
Aries – Philadelphia Phillies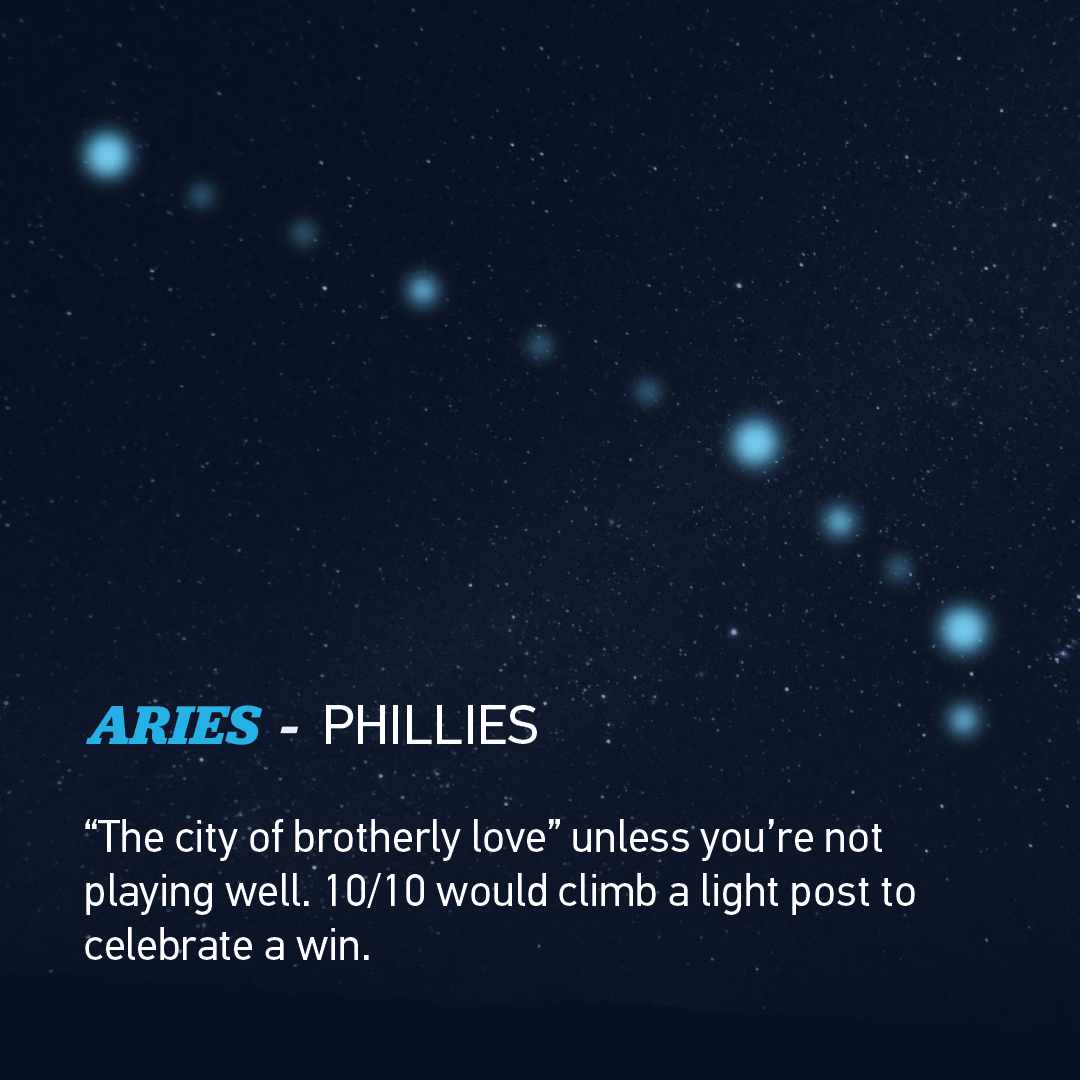 March 21 – April 19
Aries are the kind of fan that will support win or lose, and the Phillies need that kind of following. Whether that means donning face paint or summitting a light pole, they're down for whatever.
Leo – Chicago Cubs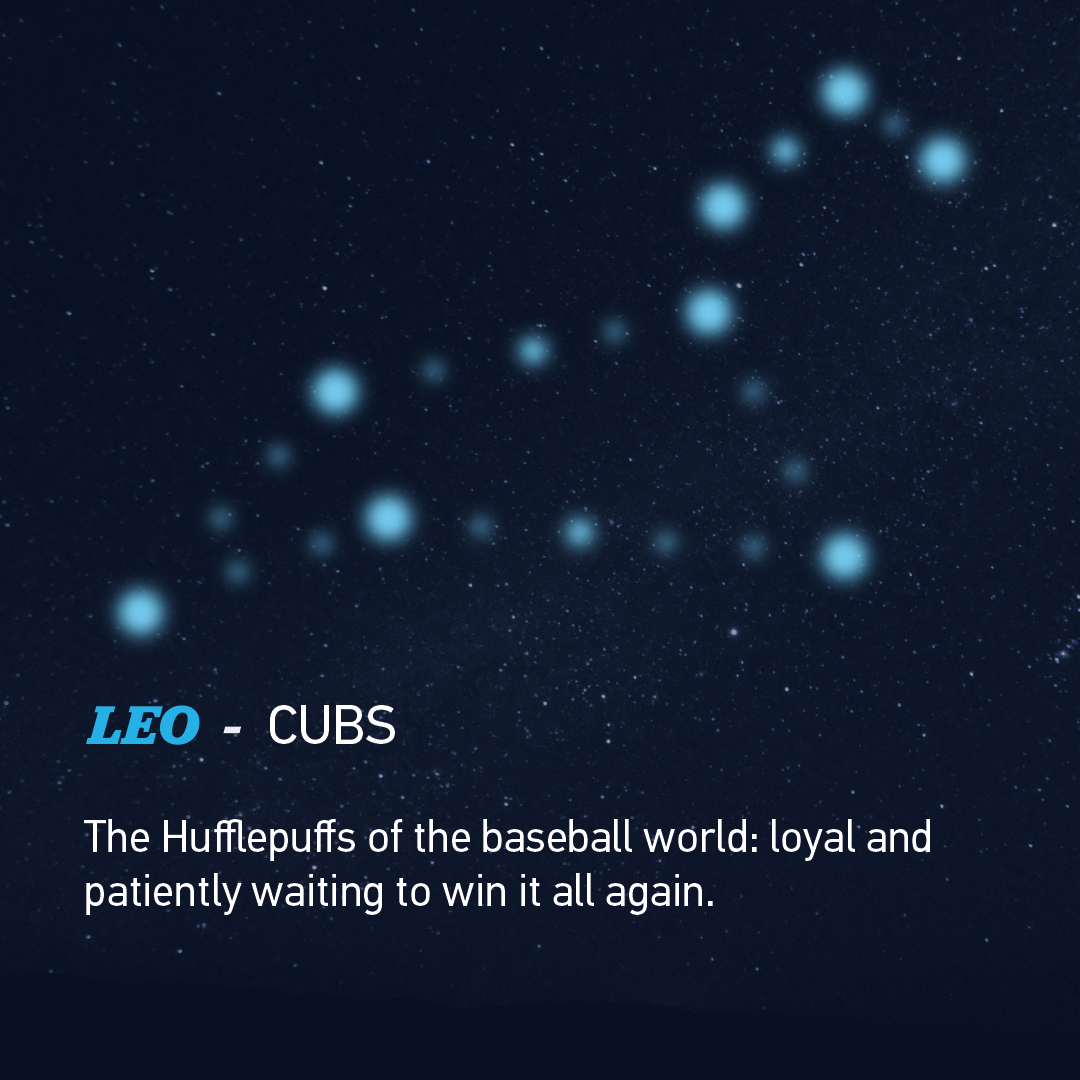 July 23 – August 22
Loyal and showy, Leo's are the ideal baseball fan. Add in a touch (read: ton) of patience and you have the perfect Cubs cheerleader.
Sagittarius – Chicago White Sox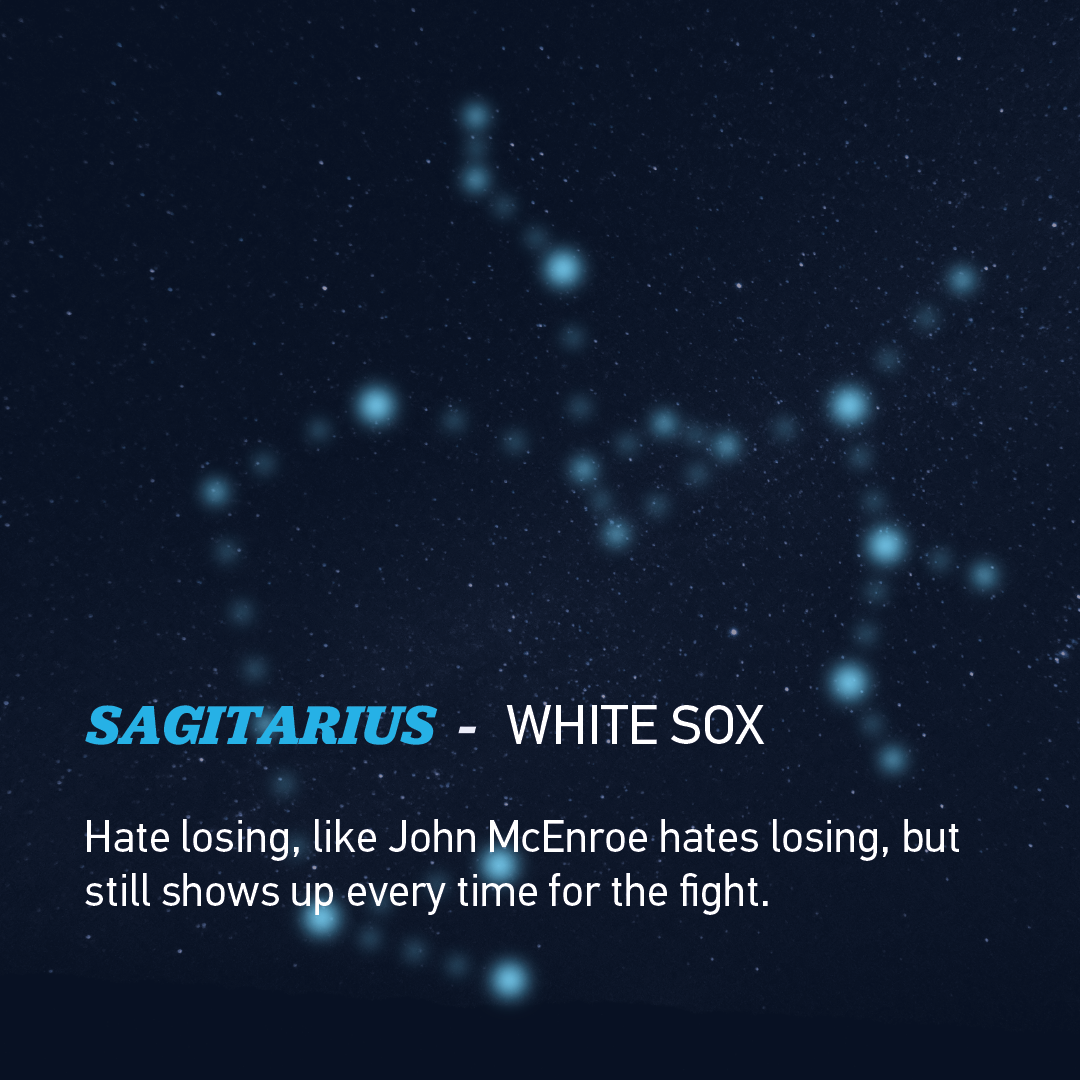 November 22–December 21
The Sagittarius is tough, argumentative and hates losing – much like Chicago's Southside representatives, the White Sox.
Taurus – New York Yankees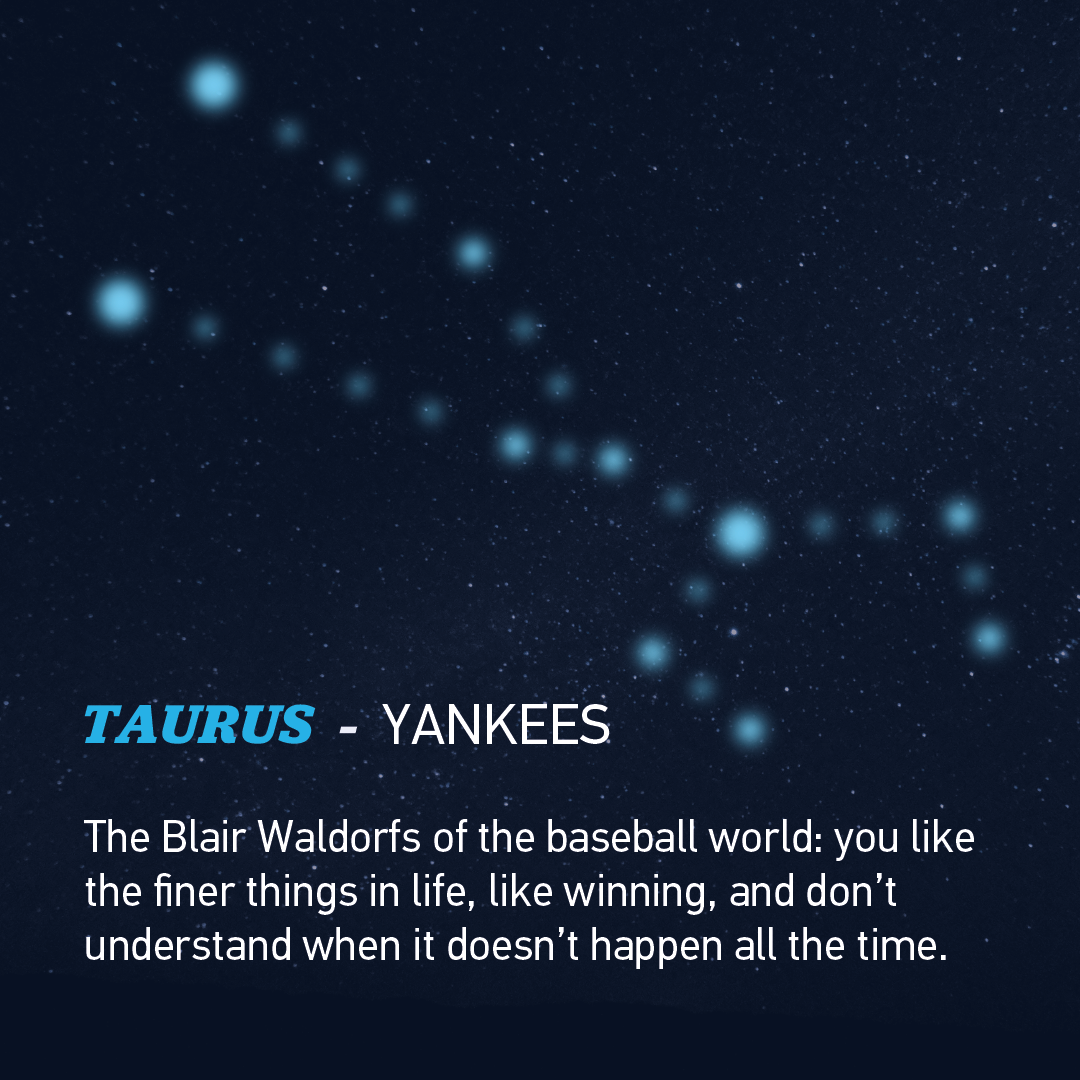 April 20–May 20
Taurus like to be on the winning side of all aspects of life, no matter the cost. Yankees are an easy team to like because they also do what it takes to win.
Virgo – Atlanta Braves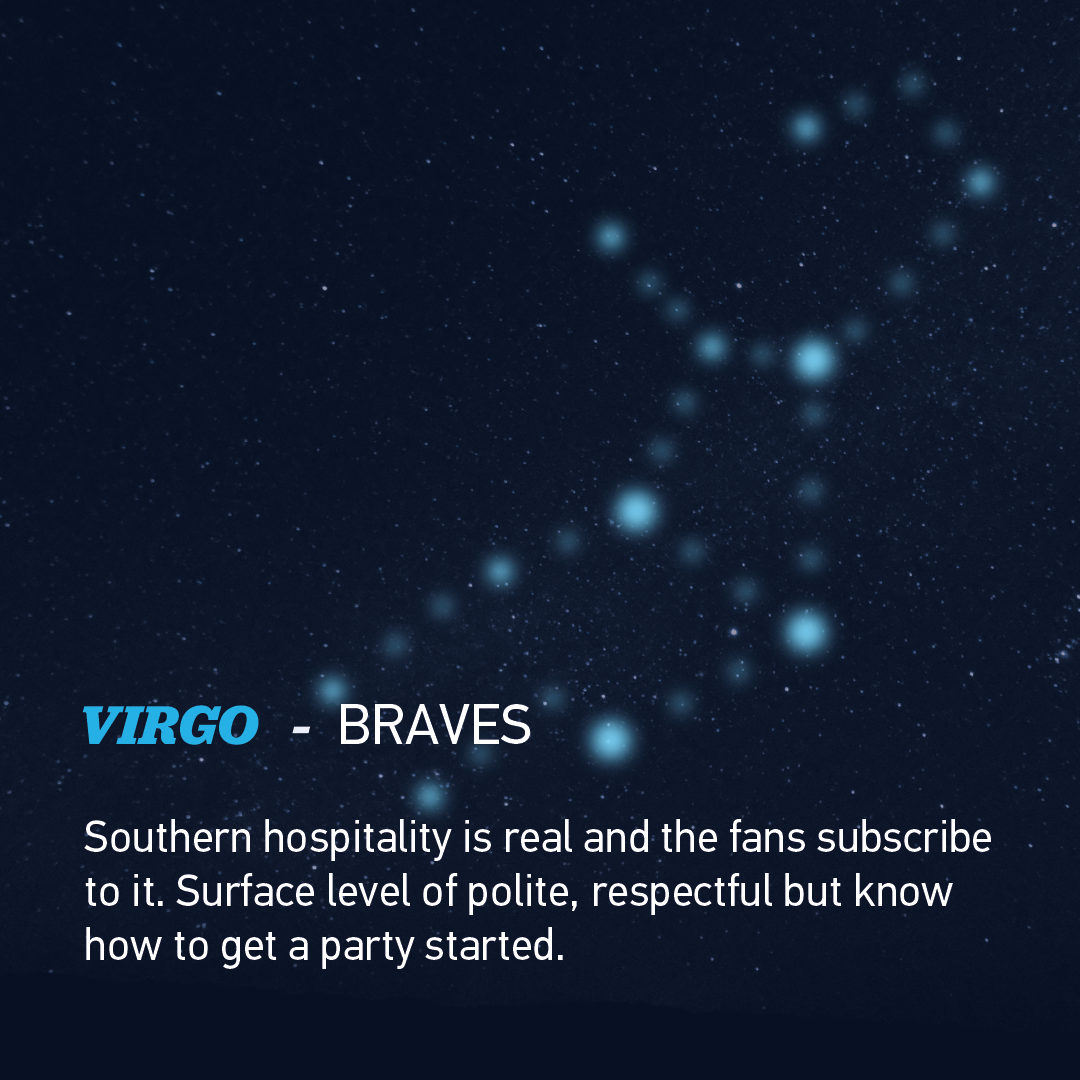 August 23–September 22
Polite and full of southern charm, sure. But like the Braves, Virgo's also know how to deliver a hard hit when it's needed. "Bless your heart."
Capricorn – New York Mets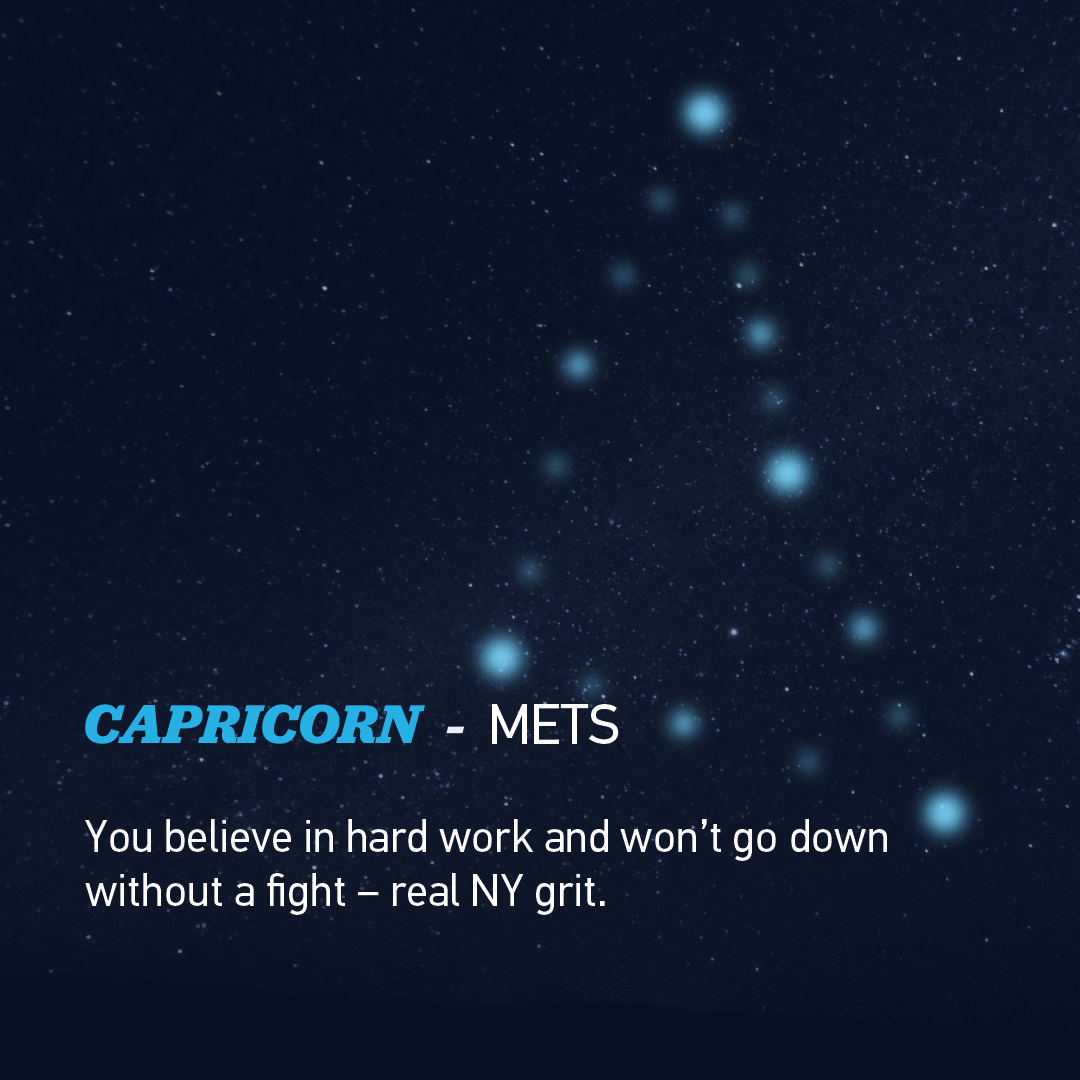 December 22 – January 19
Hard-headed Capricorns never balk at a fight, and the gritty Mets have that same mentality. Maybe it's a New York Mets thing.
Gemini – Houston Astros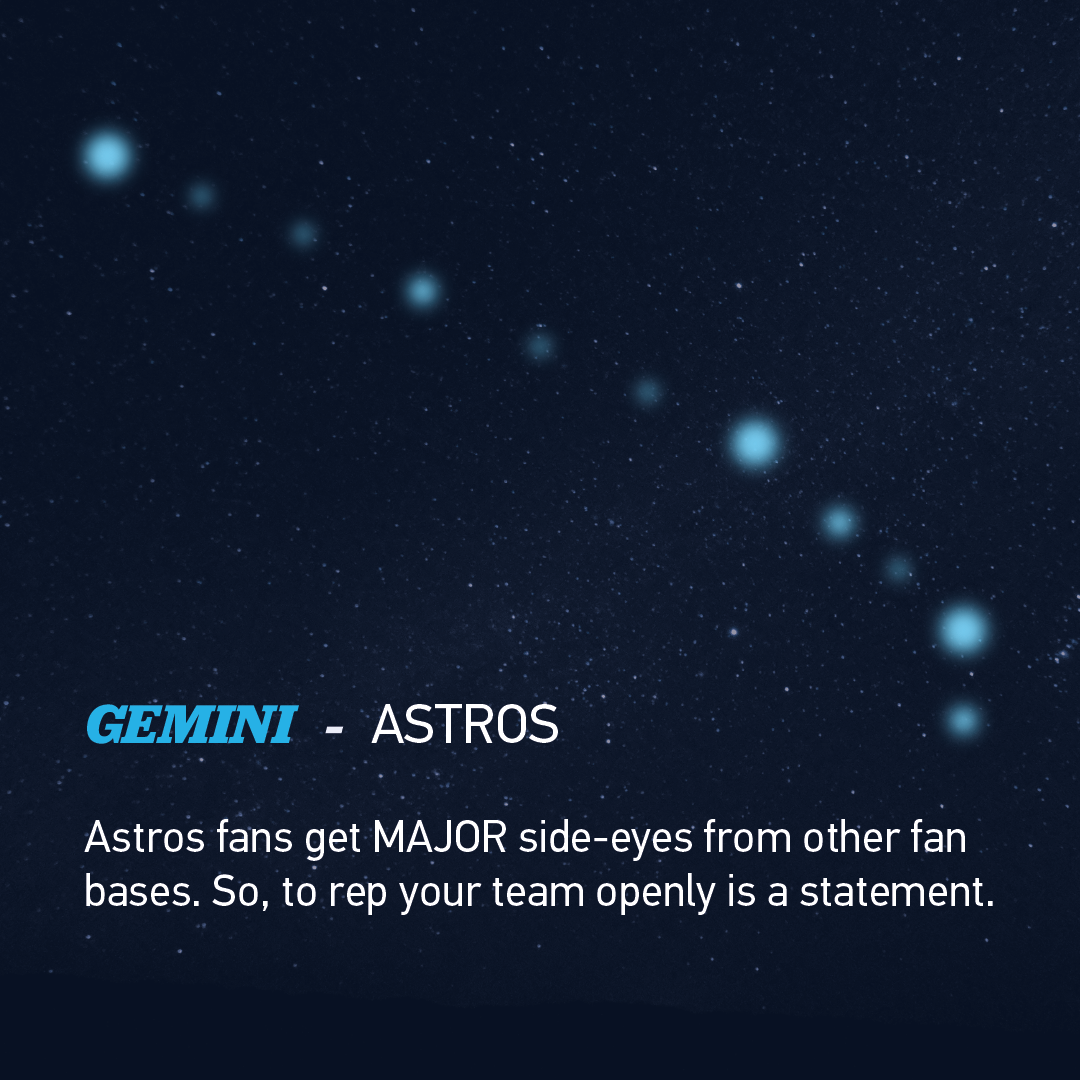 May 21–June 21
The Astros know how to make a statement, which is something a Gemini will never shy away from.
Libra – Los Angeles Dodgers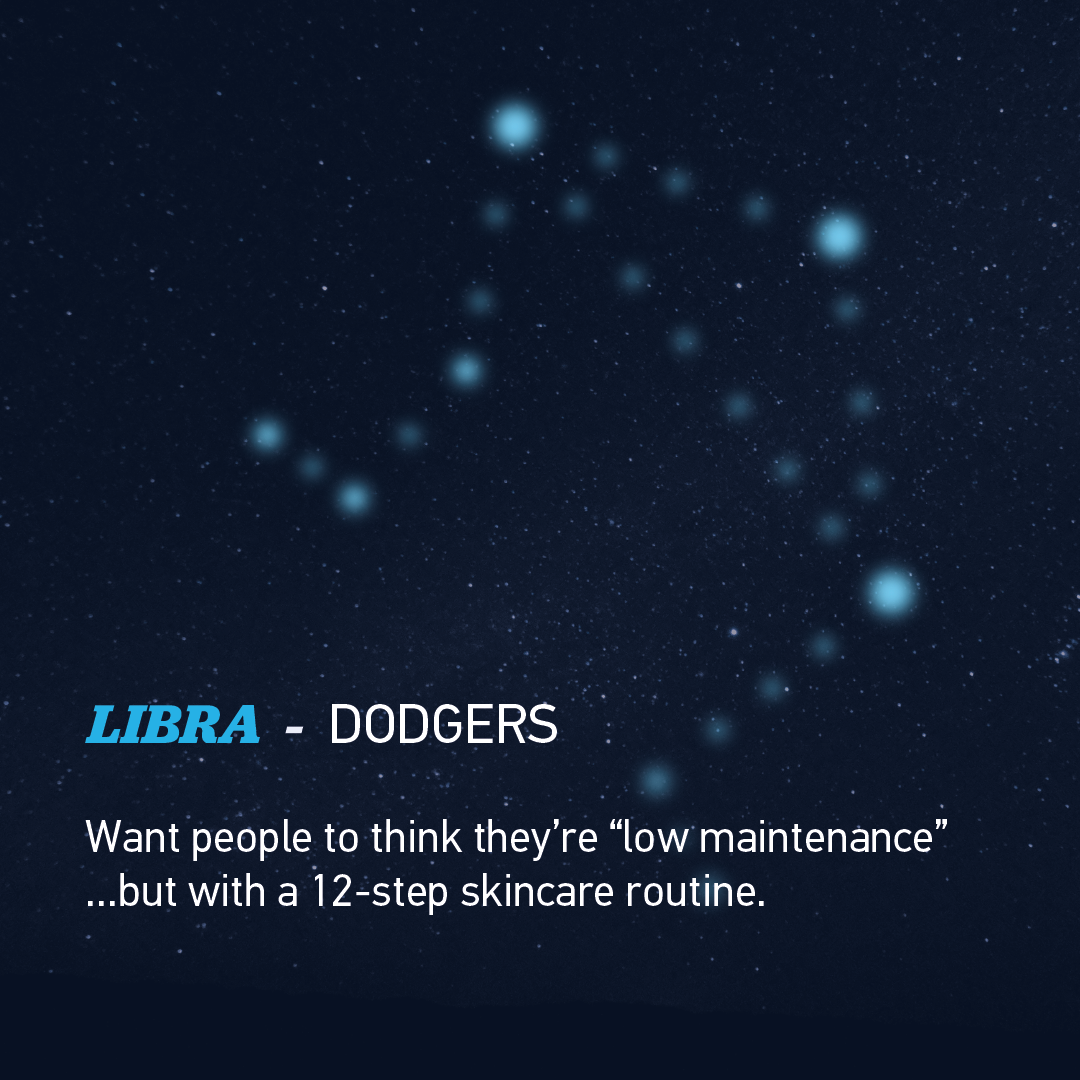 September 23 – October 23
A Libra has the air of an effortless style that takes a lot of work behind the scenes. The easy-to-love Dodgers are equipped with that same kind LA high maintenance.
Aquarius – Boston Red Sox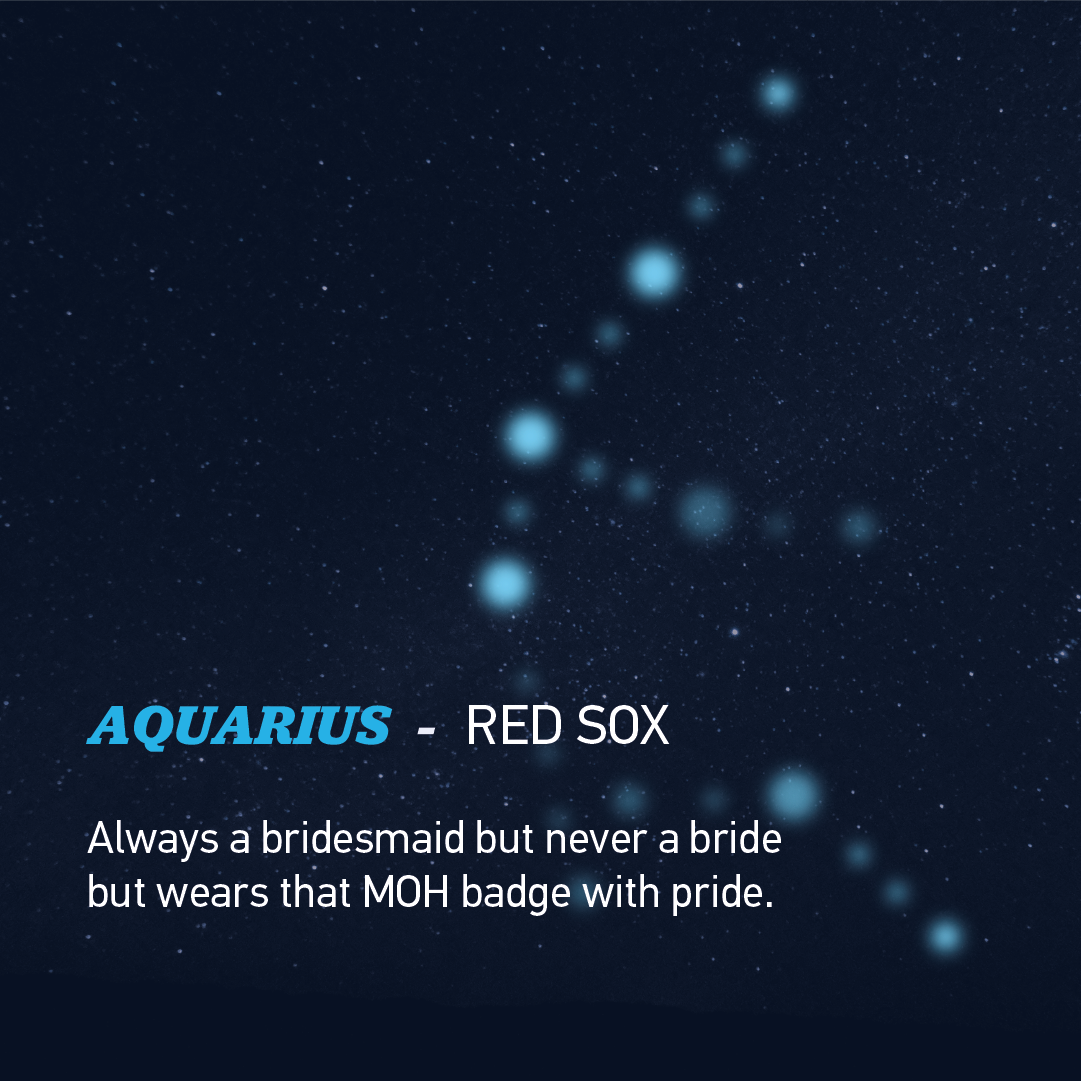 January 20–February 18
They may rarely (super rarely) get their due, but the Aquarius isn't concerned with the trophies, they just want to play the game. They just wish their Red Sox would get some of shine every now and then.  
Keep the good times rolling. Check your college football horoscope to find your team.