The ten-week training camps are over. The press conferences are done and gone. The thousand and one interviews have been patiently granted. All that remains between the fighter and the ring is the not inconsiderable question of weight. If a fighter does not 'make weight' he can jeopardize the fight itself, and will be forced to quickly renegotiate the bout with his opponent, who will no doubt be chafed that his own payday has been jeopardized by a lapse in dietary discipline. This could lead to shift in the percentage of the purse. Suffice it to say, nobody wants the scale to betray them at such a late hour.
For Mikey Garcia and Robert Easter, Jr., weight hasn't been an issue. Both fighters are remarkably lean, particularly Easter, who has during media day, and at the final weigh in, pointed out the quality of his abs, seemingly suggesting to Garcia that his cast-iron stomach can't be hurt.
It was on this final day before the bout that Robert Easter seemed finally to let his guard down. As the fighters climbed off the scales, reclothed, and approached one another for a last stare down, Easter approached his foe talking. He spoke aggressively to Garcia, who maintained his placid demeanor. Easter told his foe that the time for talking was over. His handsome smile now turned into a half snarl, evoking for the first time the physical threat that Mikey Garcia would face come Saturday.
All images courtesy of Joe Scarnici, Getty Images
Friday, July 27, 2018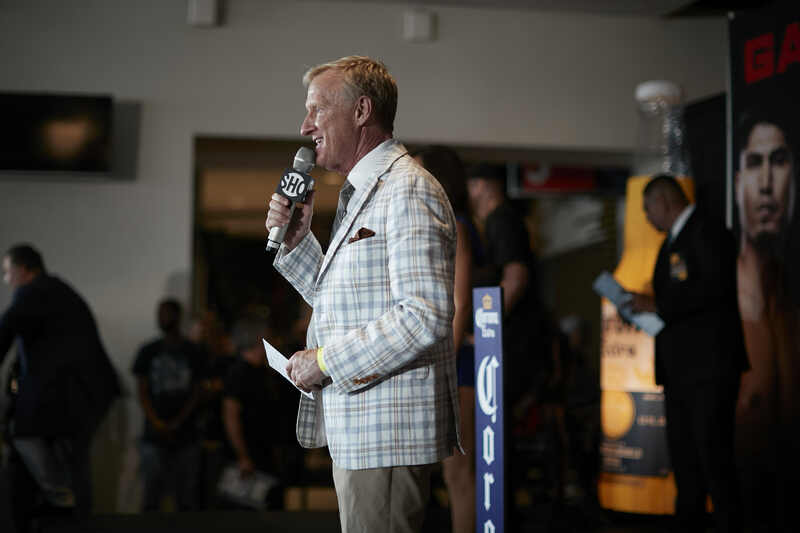 The impeccably attired MC, Jimmy Lennon Jr., introduces each boxer to the crowd with his booming voice. Lennon Jr. is the ring announcer who's patented call for each fight is, "It's Showtime," a clever reference to the network he works for.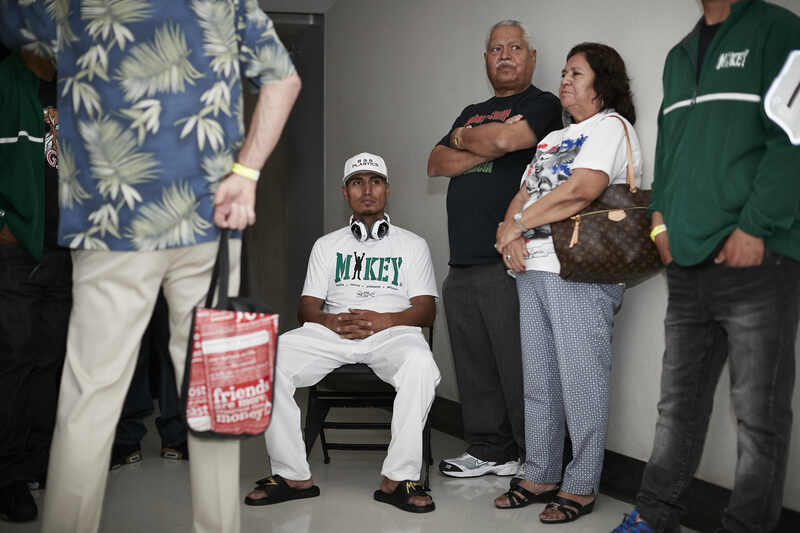 Mikey Garcia sits calmly behind a large curtain separating him from the crowd of seated media and the small throng of his supporters, gathered behind steel barriers. A permanent presence in his camp, Garcia's mother and father stand alongside him.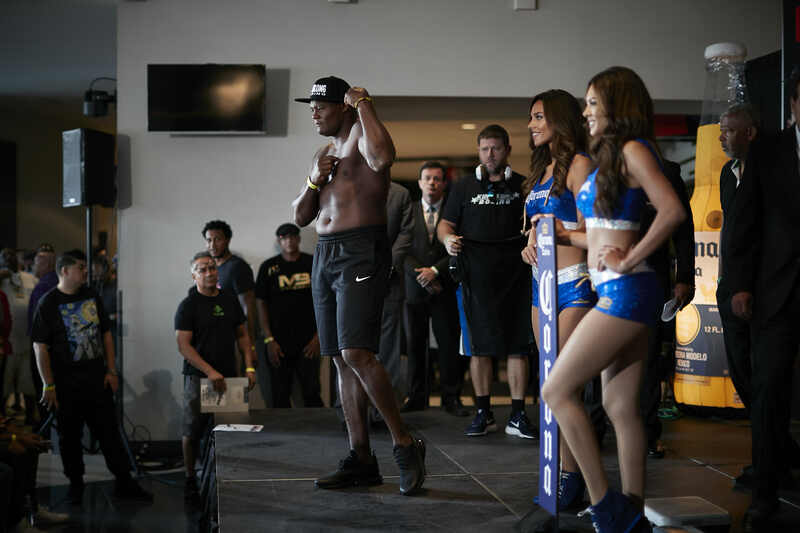 Luis "King Kong" Ortiz finishes off a bout of chest thumping with a flexed bicep. The WBC's fourth-ranked contender seemed calm and relaxed during the weigh-in.

Advertisement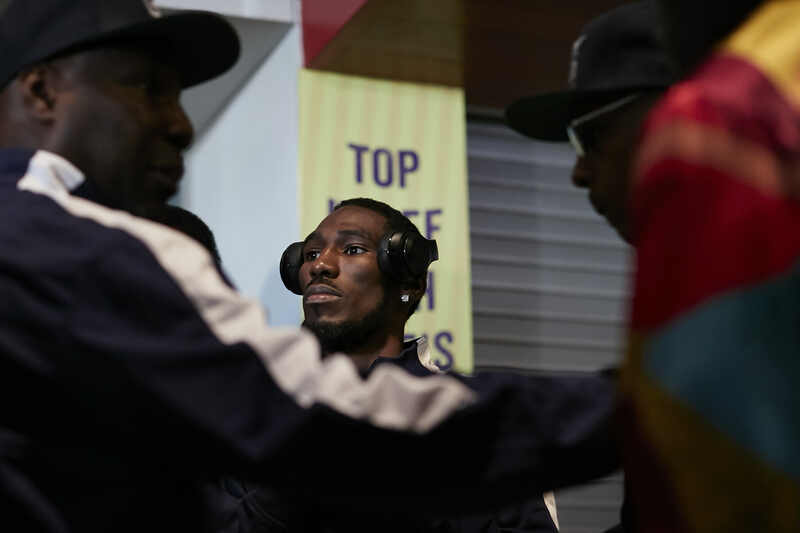 Robert Easter, headphones just above his ears, peers onstage from behind the curtain where the boxers wait in limbo. On the other side, his fight night nemesis awaits.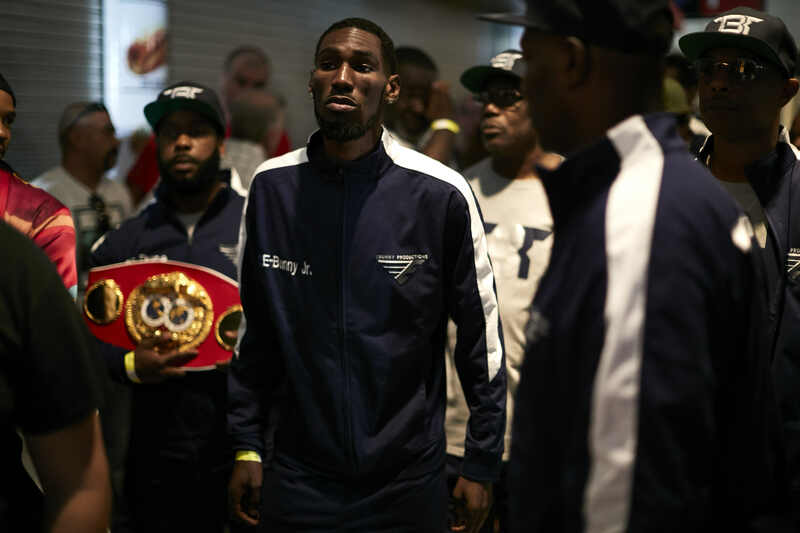 Surrounded by his team, all clad in their E-Bunny Productions track suits, named for the champ's nickname. Behind him a team member displays the IBF Lightweight belt, its two globes logo amid the glinting gold.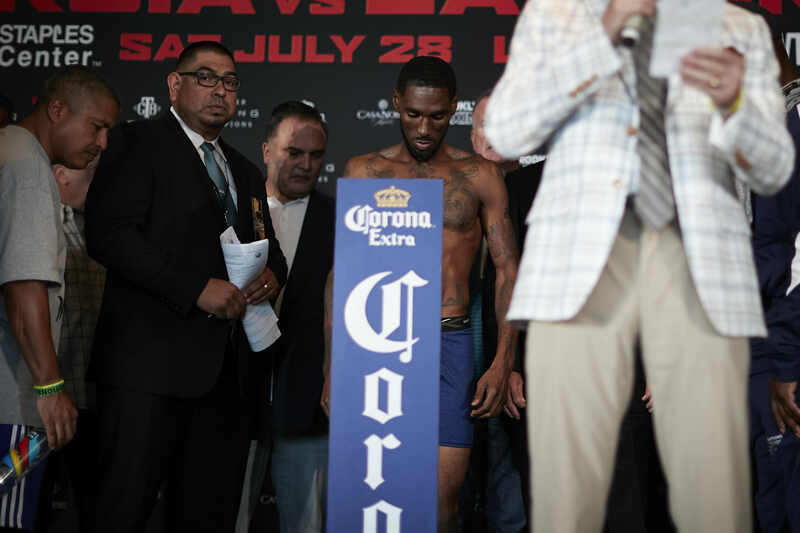 Behind Jimmy Lennon Jr.'s booming voice, Robert Easter peers down at the scale. Robert Garcia, trainer and brother of Mikey Garcia, leans in to verify that Easter has made weight. The fighter weighed 134.5 pounds.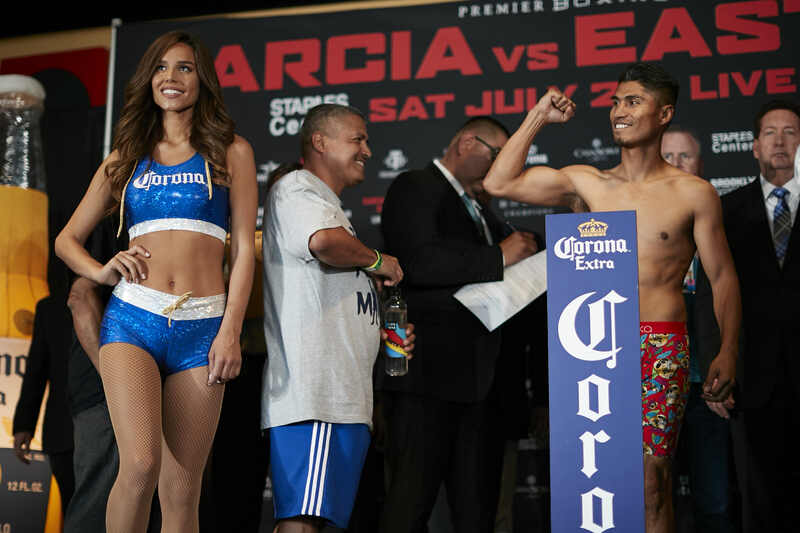 Weighing in at exactly 135 pounds, Garcia smiles in relief while his brother and trainer laughs and an official dutifully records the fighter's weight.
The weigh-in face off was the first in which the fighters seem to show a real animus for one another. Easter has promised to "scratch [Garcia's] name off the list" of pound-for-pound champions. Garcia glowered at his opponent with a new intensity.
Robert Easter jabs a thumb at Mikey Garcia as the pair of boxers pose for the media after making weight. Garcia weighed in at 135 pounds even, Easter at 134.5. Both will now replenish themselves with plenty of fluids and carbohydrates before the bout on Saturday night.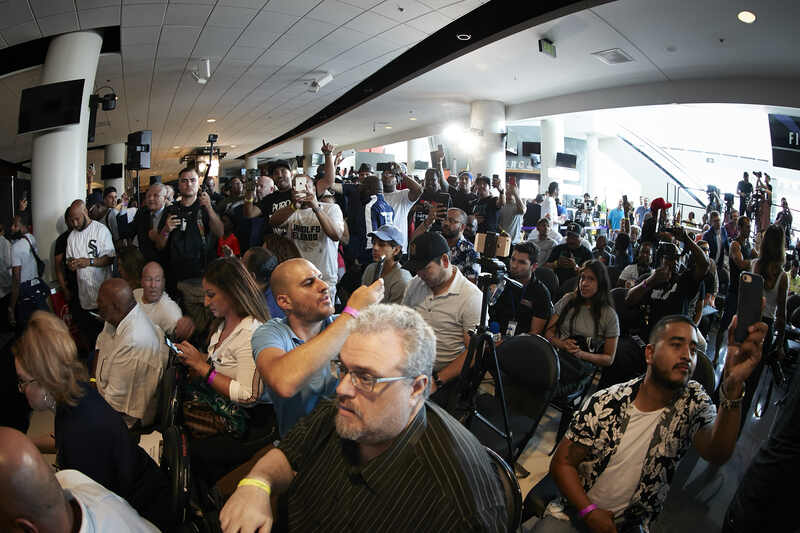 The crowd of media personnel clamor for one last image as the boxers flex and pose. Long-time boxing writer Dan Rafael sits in the front row. For the two star attractions, their moment of truth is less than 36 hours away.
Don't miss this epic clash of undefeated champions, July 28th at 10PM ET/7PM PT on SHOWTIME CHAMPIONSHIP BOXING and DIRECTV.
Don't have SHOWTIME? Upgrade today and catch all the action on Saturday night.

Advertisement