Based on the 2014 movie of the same name from Taika Waititi and Jemaine Clement, What We Do in the Shadows on FX began airing in 2019 and follows the comically bawdy misadventures of four vampires living in Staten Island with their hapless, yet industrious, familiar.
Check out an exclusive interview with Matt Berry (Laszlo) and Natasia Demetriou (Nadja) along with character guides, trailers and when and how to watch Season 4 below!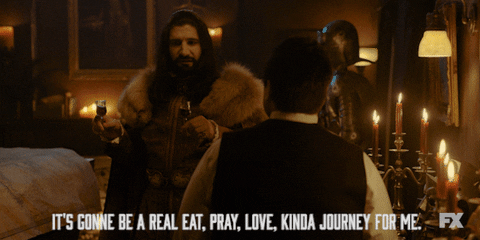 GET FX WITH ANY DIRECTV OR DIRECTV STREAM PACKAGE AND CATCH UP ON WHAT WE DO IN THE SHADOWS
WHAT IS WHAT WE DO IN THE SHADOWS ABOUT?
Based on the feature film of the same name from Jemaine Clement (who also reprises his character from the movie, Vladislav, in the FX series) and Taika Waititi, What We Do in the Shadows is a documentary-style look into the daily (or rather, nightly) lives of four vampires who've "lived" together for hundreds of years in Staten Island.The self-appointed leader of the group is Nandor the Relentless, a great warrior and conqueror from the Ottoman Empire. Then there's the British vampire Laszlo — a bit of a rogue and a dandy and a fop, he might say. He's a lover of mischief and a great soirée, but not as much as he loves seeing Nandor fail miserably in every attempt. And then there's Nadja: the seductress, the temptress, the vampiric Bonnie to Laszlo's Clyde. Also cohabiting in the vampire household is Guillermo, Nandor's familiar; and Colin Robinson, an energy vampire and day-walker of sorts — he feasts on humans, but not on their blood.
WHO IS IN WHAT WE DO IN THE SHADOWS SEASON 4?: CAST AND CHARACTER GUIDE
Laszlo Cravensworth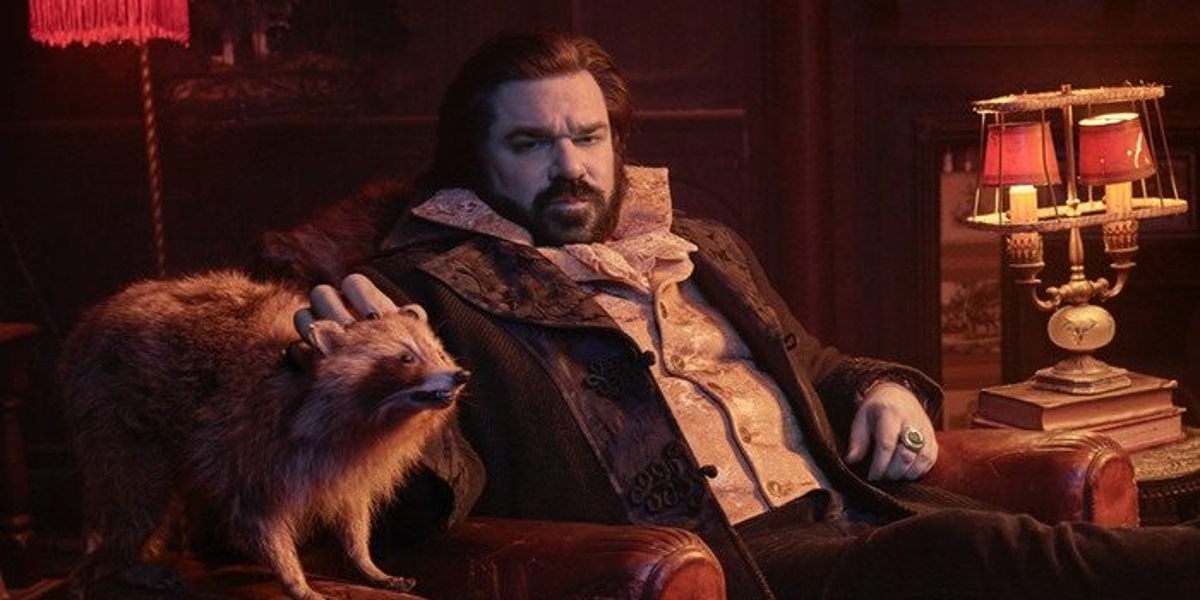 A bit of a fancy lad, Laszlo is originally from England and is over 300 years old. Once the "handsomest man" in his village, which was beset with plague and leprosy, he became the living dead one fateful night when Nadja flew into his bedroom one fateful night, seducing him. The pair became inseparable and eventually married (though they both have had numerous affairs over the centuries), unleashing a reign of terror, and many a kinky pleasure, across the world until eventually settling in Staten Island with their vampire roommates. 
Laszlo has many abilities including hypnosis, animal communication and turning into a bat, usually exclaiming "BAT!" when he does so, even though it's completely unnecessary. He is also an accomplished sailor (he captained the Titanic for "two seconds"), musician (he and Nadja claim to have written the original versions of such hits "Kokomo", "Come on Eileen", and "For He's a Jolly Good Fellow" hundreds of years ago) and once found success as a "regular human bartender".
More fond of Colin Robinson than he lets on, Laszlo takes on raising the new baby Colin Robinson (born Alien-style from the corpse of the original Colin Robinson) in Season 4.
Laszlo is played Matt Berry (The IT Crowd, The SpongeBob Movie: Sponge Out of Water)
Nadja of Antipaxos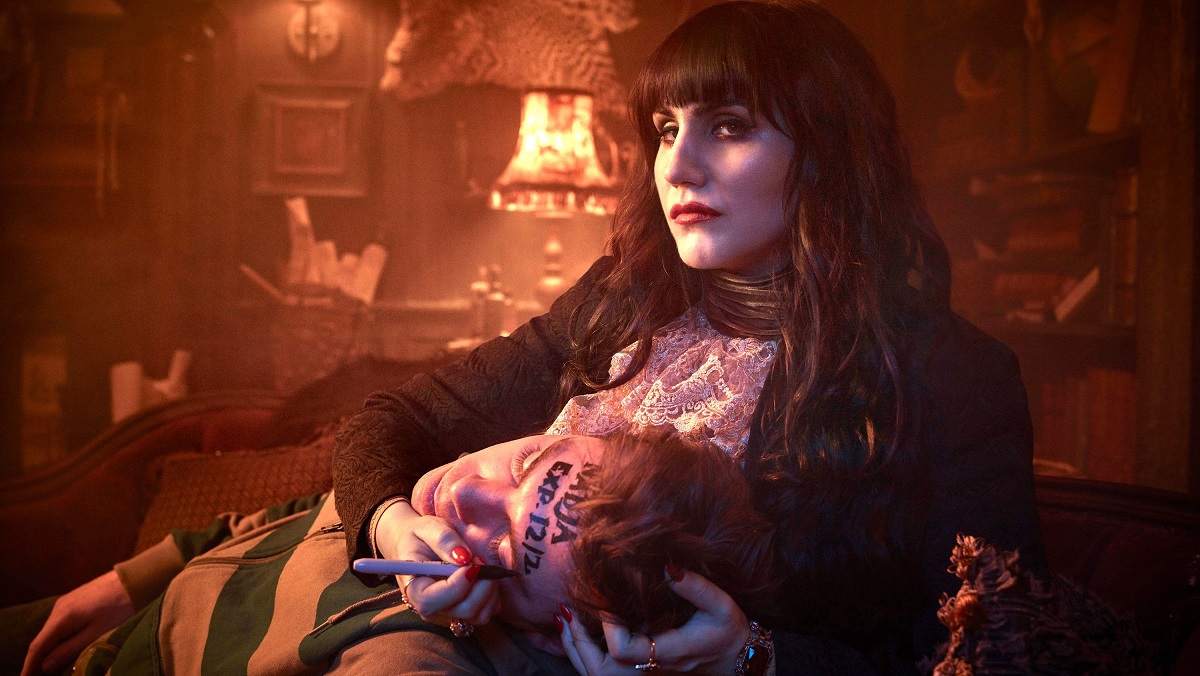 Nadja is over 500 years old and is originally from an island in Greece called Antipaxos, which was once ravaged by an "unknown warrior" (Spoiler alert: It was her roommate Nandor) 200 years before her birth rendering the island impoverished and full of only the stupidest people that Nandor didn't kill. 
Nadja fancies herself a great singer (she isn't) and claims Frank Sinatra once told her she had a great voice (she doesn't) while she was running with the Rat Pack. She believes she was turned into a vampire by a snake she was singing to on her island, though Laszlo believes it to be the dread Baron Afanas, an ancient member of vampire royalty who she later had an affair with.
Nadja has had affairs with many people and vampires over the years, but always manages to find her way back to one man – Gregor, a once proud warrior, who is continuously reincarnated in often not-so-proud forms. However, every incarnation of Gregor finds himself beheaded at the hands of Laszlo. 
Nadja also keeps a doll of herself, which is possessed by her own ghost (she is dead after all), so that in a house full of "dumb boys" she actually has someone smart and charming to talk to: Herself.
At the end of Season 3, Nadja was preparing to ship off to the UK after a promotion from Vampiric Council. However, in Season 4 she returns with aspirations of opening a vampire nightclub, as one does.  
Nadja is played by Natasia Demetriou (Eurovision Song Contest: The Story of Fire Saga, This Time with Alan Partridge) 
Nandor the Relentless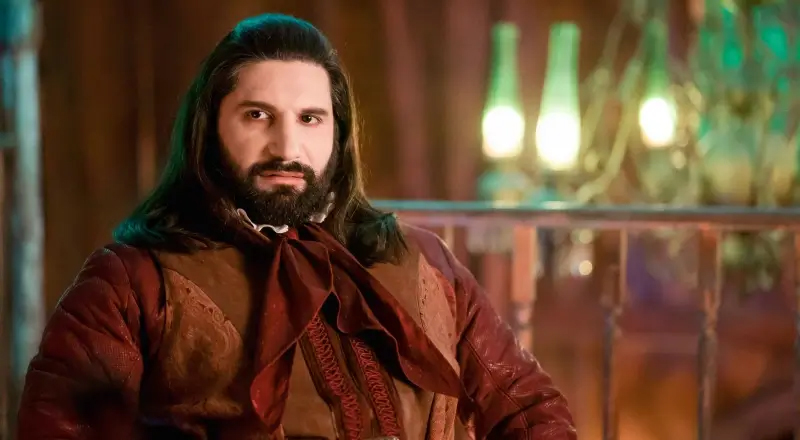 Over 750 years old, Nandor was once a great warrior and leader of the Ottoman Empire. Atop his horse Jahan (aka John), Nandor conquered and pillaged the entire Eurasian region, including Nadja's village in Greece, in the name of his home country Al Quolindar (supposedly present day Iraq), eventually taking 37 wives, 35 of which he actually loved.
It's unclear when Nandor became a vampire, but after he did, his wives couldn't tolerate his moodiness and day sleeping, not to mention all the blood drinking, so they left him and he was eventually driven out of Al Quolindar by the locals. 
Nandor travelled the world until finally settling down in Staten Island with his current roommates and familiar, Guillermo.
Seeking real companionship, Nandor spends a great deal of his time unsuccessfully trying to date. Depressed by his lack of intimate relationships at the end of Season 3, Nandor decides to return to his ancestral homeland with Guillermo, promising to turn him into a vampire once there. However, Laszlo has other plans for Guillermo. 
Nandor is played by Kayvan Novak (Cruella, Men in Black: International)
Colin Robinson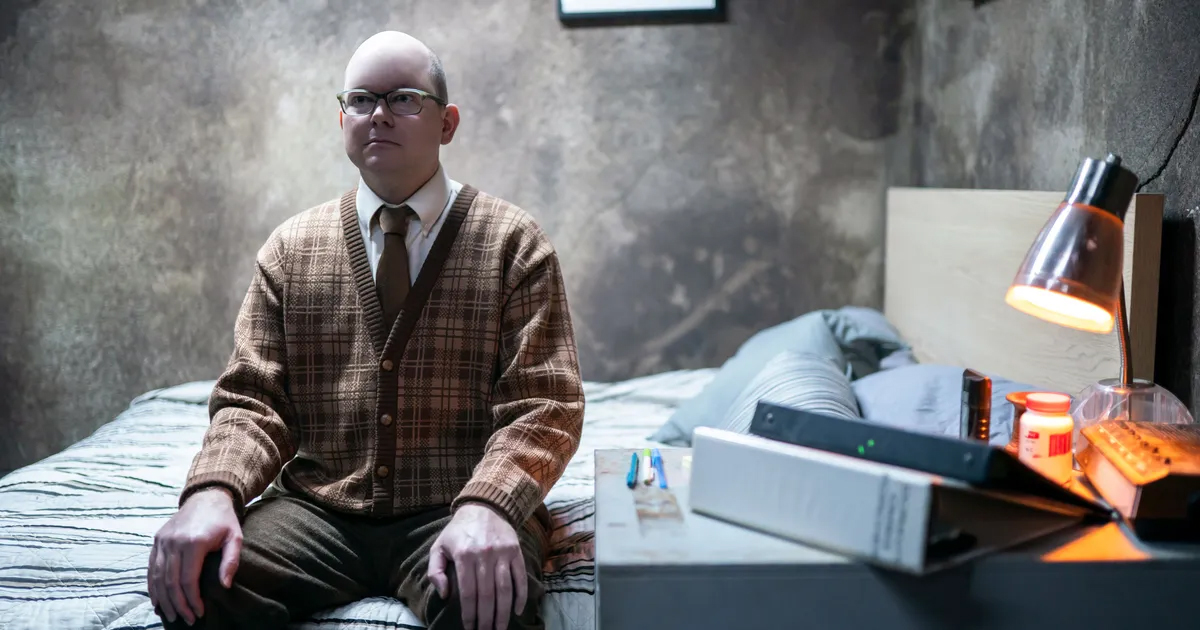 Not a traditional vampire, but rather an "energy vampire", Colin Robinson apparently just "came with the house" when the other vampires moved into the Staten Island residence sometime in the 1970s. As an energy vampire, Robinson seeks to merely bore, pester, and otherwise annoy those around him to sap their power. He also is not affected by sunlight and has a day job at an office, which proves a fertile hunting ground for all things exhausting and inane. 
One the cusp of his 100th birthday celebration, Robinson complains of a stomach ache and goes to lie down, where he soon dies. Laszlo, who had recently discovered the secret of energy vampires and knew Robinson was dying, goes to his room to pay his respects. However, he discovers Robinson's corpse has a giant hole in it with a trail of blood leading out into the hallway where he finds a newborn infant with Robinson's very adult head on it. Laszlo decides then and there that he must care for baby Colin.  
Colin Robinson is played by Mark Proksch (The Office, Better Call Saul)
Guillermo de la Cruz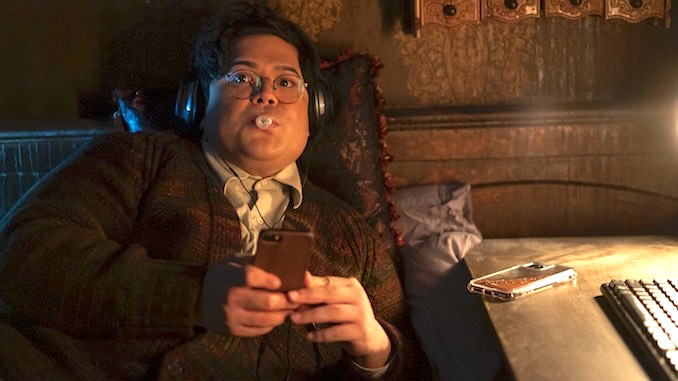 Raised in the Bronx, Guillermo became obsessed with Antonio Banderas as Armand in Interview with the Vampire, often cosplaying as him.
While working at Panera Bread in 2009, Guillermo meets Nandor and agrees to become his familiar with the promise of soon being turned a vampire himself. Ten-plus years of servitude later, Guillermo is still just a familiar whose duties include cleaning the house, doing the laundry, and seeking out fresh meat for his vampire hosts, later disposing of the bodies. 
Growing frustrated with Nandor's refusal to turn him, Guillermo mulls quitting and or killing his masters. He begins seeking out other friends and activities, which much to his surprise, soon lead him to discover that he himself is a descendant of famed vampire hunter, Van Helsing.
He quickly learns that he has a natural talent for killing vampires, which comes in handy when his masters find themselves in Vampire Court for killing Baron Afanas, which Guillermo did himself accidentally (or was it?) when he pulled back a curtain to allow sunlight into the attic where Afanas slumbered.
When the members of Vampire Court move to execute Laszlo, Nadja, Nandor and Colin Robinson for the murder of Afanas, Guillermo comes to the rescue, unleashing a barrage of stakes, crucifixes and holy water on the undead accusers. 
At the end of Season 3, Guillermo plans on accompanying Nandor to Al Quolindar to finally be turned into a vampire. Unfortunately for them both, Laszlo instead nails Guillermo into a box to be shipped off to England with Nadja in order to watch over her while he stays behind to care for Baby Colin.
Guillermo is played by Harvey Guillén (Werewolves Within, Mickey Mouse Funhouse, Puss in Boots: The Last Wish)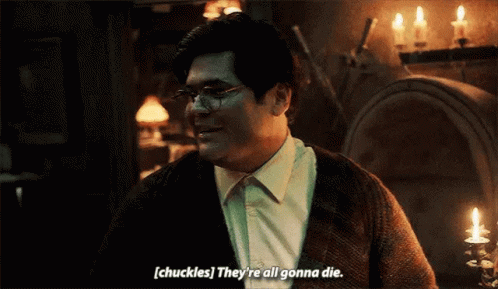 Find out what other shows are worth binging with in our latest watch guide. 
WHAT WE DO IN THE SHADOWS EXCLUSIVE CAST INTERVIEW: NATASIA DEMETRIOU and MATT BERRY
WHEN AND HOW TO WATCH WHAT WE DO IN THE SHADOWS
When: What We Do In the Shadows Season 4 will begin airing on FX Tuesday, July 12, 2022 at 10 p.m. ET. 
How to Watch: DIRECTV  and DIRECTV STREAM customers watch via the below:
WATCH LIVE
Watch What We Do In the Shadows Season 4 live on DIRECTV  and DIRECTV STREAM based on your region:
WATCH ON DEMAND:
DIRECTV Satellite
Go to Ch. 1000, Ch. 1100 or press MENU on your remote to access On Demand. 
Customers with a Voice Remote can use it to navigate directly to What We Do In the Shadows.
DIRECTV STREAM 
From your DIRECTV STREAM home screen, navigate to "On Demand". Search for What We Do In the Shadows or select Networks > FX > What We Do In the Shadows.
Customers with DIRECTV via Internet can download to their Gemini device and can also use the Google Voice Remote commands to navigate directly to What We Do In the Shadows.
WATCH ON APPS
Download and access DIRECTV on you computer, mobile device or tablet. Search for What We Do In the Shadowsand start watching on demand
Get the DIRECTV app on IOS and ANDROID.
Have a Hulu Account? Episodes of What We Do in the Shadows are available the next day on Hulu, which you can download directly to your Gemini device from the Google Play Store.
The content is featured on https://www.directv.com/insider/ is editorial content brought to you by DIRECTV. While some of the programming discussed may now or in the future be available affiliates distribution services, the companies and persons discussed and depicted, and the authors and publishers of licensed content, are not necessarily associated with and do not necessarily endorse DIRECTV. When you click on ads on this site you may be taken to DIRECTV marketing pages that display advertising content. Content sponsored or co-created by programmers is identified as "Sponsored Content" or "Promoted Content."