Critically acclaimed dystopian sci-fi drama, Westworld, returns to HBO and HBO Max for the first time in over two years on Sunday, June 26, 2022.
Find out more below about how to watch, characters, trailers and more.
What is Westworld About?
Beginning around the year 2053, though moving years backward and forward at various points, Westworld revolves around an extremely large theme park, also called Westworld, created by the Delos mega-corporation. Westworld is ostensibly a playground for the extremely wealthy to live out their fantasies, from the banal to the violent, in an Old West setting populated by androids with advanced artificial intelligence, called "hosts", that fill various roles including farmers, shop keeps, outlaws, and prostitutes. However, we soon learn that something much more sinister is at play and Delos' Westworld is not at all what it seems.
Season 4 begins several years after the events of Season 3, with he story moving out of the parks and into the real world as hosts and humans alike deal with the knowledge that they have long been controlled by a super computer known as Rehoboam.  
Is there a recap of Westworld Seasons 1, 2 and 3?
Want to know more about the past seasons of Westworld? Check out our previous articles here.
Who is in Westworld Season 4?: Cast and Character Guide
WARNING! SPOILERS FOR SEASONS 1 – 3 BELOW!
Dolores Abernathy/Christina
HBO/Evan Rachel Wood as Dolores/Christina
The original host from which all others are based, Dolores is the oldest android in the Westworld and initially plays the role of a humble farmer's daughter. While she has been rebooted and rebuilt many times over the years, her memories are never completely wiped. With the help of Bernard Lowe, Dolores soon begins to remember her many past lives (not all of which include being a simple farm girl) as well as the atrocities committed against her and other hosts by the human guests. Becoming evermore powerful and ruthless, she hatches a plan to revolt and escape the park in order to discover the truth about Delos and create a new world for android-kind.
However, after the events of Season 3, Dolores has once again been reborn and is now known as "Christina", a game developer with no recollection of her past…at least for a little while.
Dolores Abernathy/Christina is played by Evan Rachel Wood (Across the Universe, The Wrestler, Frozen II)
Maeve Millay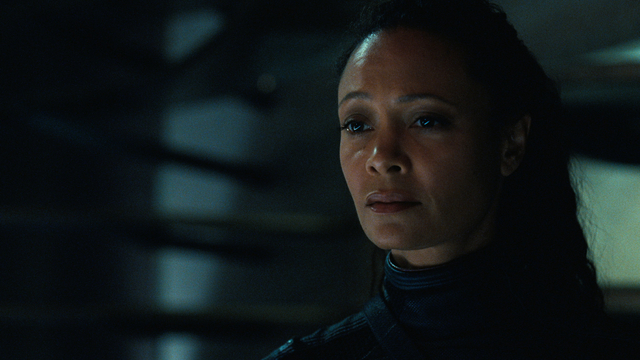 HBO/Thandiwe Newton as Maeve
Maeve is a Westworld host who plays the role of a sharp-tongued prostitute and brothel keeper. She is one of the first hosts and has been programmed to be extremely perceptive and convincing in order to successfully meet her guests needs. However, after a seemingly chance encounter with Dolores, Maeve begins to question her own reality and begins to use her powers of persuasion to manipulate park technicians and other hosts to trigger a great shift, both inside Westworld and eventually in the real world, where she grows into the role of protector and tactician.  
Maeve Millay is played by Thandiwe Newton (Crash, 2012, Solo: A Star Wars Story, Reminiscence)
Bernard Lowe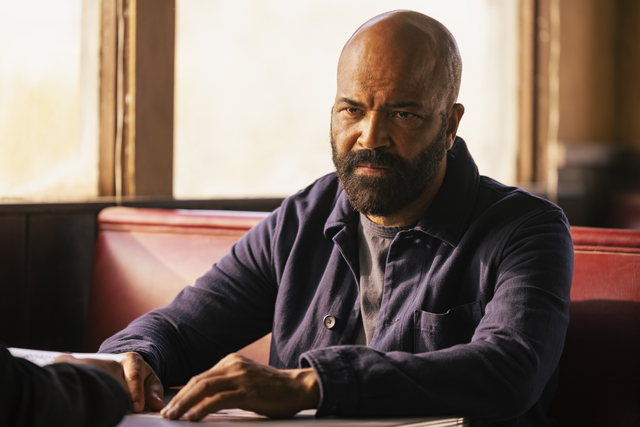 HBO/Jeffrey Wright as Bernard 
Bernard Lowe is originally presented as the Head of Programming for Delos. However, it is later revealed by Dr. Ford that he is, in fact, a host modeled after Ford's friend and partner Arnold Weber, who originally helped him create the host program decades ago. Bernard has always had a special connection with Delores, but upon learning that he's a host, unsuccessfully attempts to contain Delores in her effort to escape and expose Delos. The company publicly blamed him for Delores' incursion.
Bernard is currently on the run and headed back to Westworld in search of more answers. 
Bernard Lowe is played by Jeffrey Wright (Shaft, The French Dispatch, No Time to Die, The Batman) 
Watch Red Carpet Interviews with Jeffrey Wright, Aaron Paul, Lisa Joy and more from the Premiere of Westworld Season 4 in New York Right Here.
The Man in Black/William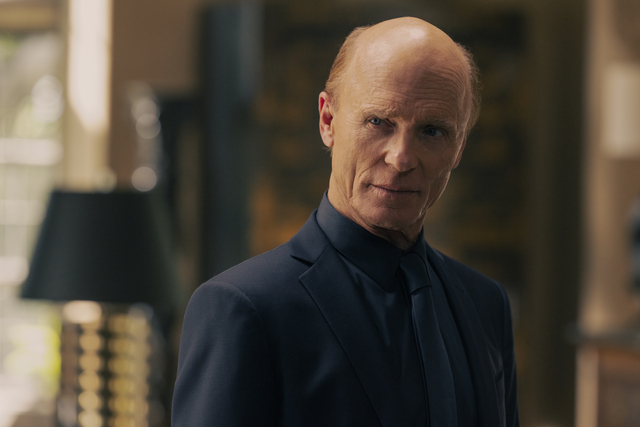 HBO/Ed Harris as The Man in Black aka William
When we first meet The Man in Black, we learn that he has been coming to Westworld for over 30 years and is in search of something of great value that he believes was hidden in the park by Arnold Weber prior to his death. Cunning, cold, and violent, TMIB also seems to have a sadistic interest in Delores.
By the end of Season 1, we learn that TMIB is actually William, portrayed as kind and compassionate in what we later find out to be flashbacks, and who initially established a caring relationship with Delores upon first visiting the park.
As it turns out, William is not only an Executive Vice President of Delos prior to his first visit, he is also the son-in-law of James Delos, the park's first owner. He also helped to develop The Forge, a project to collect the data of every guest at the park making their minds transferable to new bodies, effectively making humans immortal. This project initially fails when it's tested out on his father-in-law, whose mind rejected it's new body. After the passing of Delos, William becomes the majority stakeholder, and thus owner, of Westworld and the other parks until being supplanted by Engerraund Serac.
William/TMIB appears to have been dispatched by a host version of himself at the end of Season 3, but again, you never really know who is what in Westworld. 
The Man in Black/William is played by Ed Harris (The Right Stuff, The Abyss, Apollo 13, The Truman Show, Top Gun: Maverick)
Charlotte Hale
HBO/Tessa Thompson as Charlotte Hale
Charlotte Hale is the Executive Director of Delos who initially comes to Westworld to quell a host uprising initiated by Delores. 
Delores eventually kills Hale and recreates her body so that Delores can inhabit it to escape the park, later reconstructing her own body at the long dormant home of Arnold.
We soon learn that Delores made several copies of her control unit and sends one of them, in the guise of Hale, aka "Haleores", to take over as CEO of Delos. 
Charlotte Hale is played by Tessa Thompson (Selma, Creed, Thor: Ragnarok, Thor: Love and Thunder)
Caleb Nichols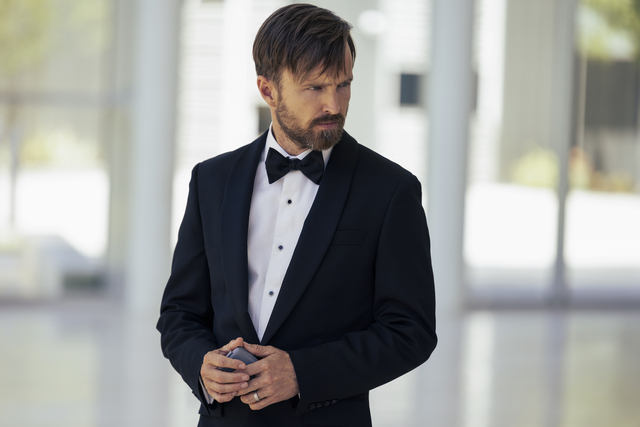 HBO/Aaron Paul as Caleb Nichols
Caleb is an US war veteran and current construction worker. Suffering from frequent PTSD and haunted by memories of his past, including the death of his army buddy, Francis, and being abandoned by his schizophrenic mother at an early age, Caleb is unable to better his social standing despite his best efforts, and often resorts to an app for criminals to organize various jobs. 
After coming across an injured Delores, Caleb soon learns that much of his past was put in motion by Solomon, an AI forebear of what would become Rehoboam.  
Caleb Nichols is played by Aaron Paul (Breaking Bad, Need for Speed, Central Intelligence)
Teddy Flood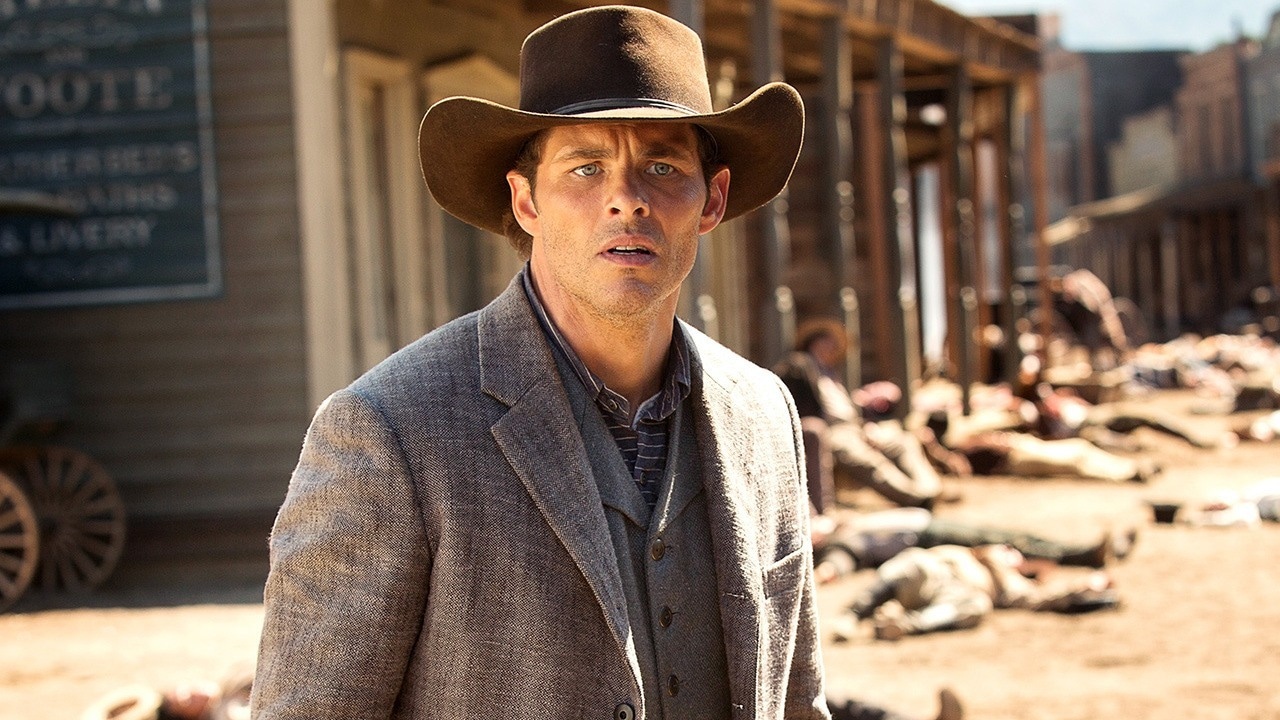 HBO/James Marsden as Teddy
Teddy is a Westworld host that embodies the the classic, gallant cowboy tropes of the Old West. Teddy is on a consistent loop that intersects with Delores', and the two appear to be sweethearts of sorts. That is until Delores becomes self-aware and it is revealed that Teddy previously aided Delores on a murderous rampage of hosts and humans at some point in the past.
Unable to cope with his own awaking and knowledge of his bloody past, Teddy ends his life at the end of Season 2. Or at least, that particular one… 
Teddy is played by James Marsden (X-Men, 30 Rock, Anchorman 2, Once Upon a Time in Hollywood) 
Ashley Stubbs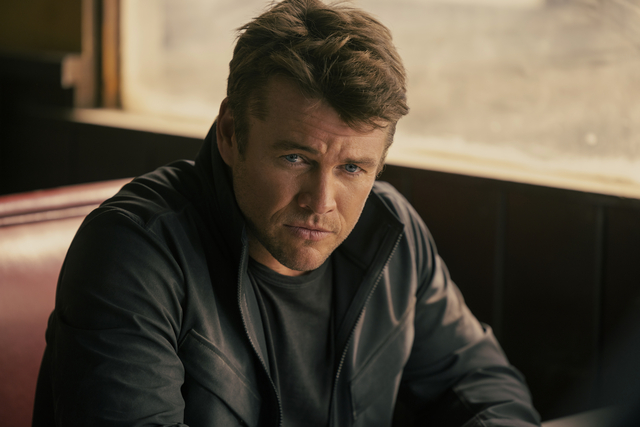 HBO/Luke Hemsworth as Stubbs
Stubbs is the head of security at Westworld, working to keep the guests safe and clean up any messes that may get left behind. 
While initially distrustful of hosts, Stubbs eventually learns that he is one. He is currently aligned with Bernard, who has programmed him to become a personal bodyguard as they seek out the truth about Delos. 
Ashley Stubbs is played by Luke Hemsworth (Thor: Love and Thunder, Crypto, Death of Me)
Clementine Pennyfeather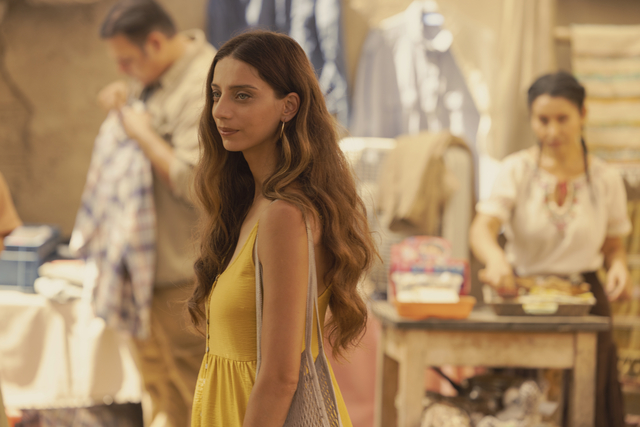 HBO/Angela Sarafyan as Clementine
Clementine is one of the oldest hosts in the park, playing the role of a prostitute in the Mariposa Saloon under Maeve's watch. However, once Maeve begin to become powerfully self-aware, she imbues Clementine, along with a few others, with her own set of deadly skills and abilities to aid in the hosts escape from Westworld. Despite seemingly meeting her end more than once, Clementine is believed to still be out in the real world. 
Clementine is played by Angela Sarafyan (House on the Bayou, American Horror Story: Freak Show, Reminiscence)
Dr. Robert Ford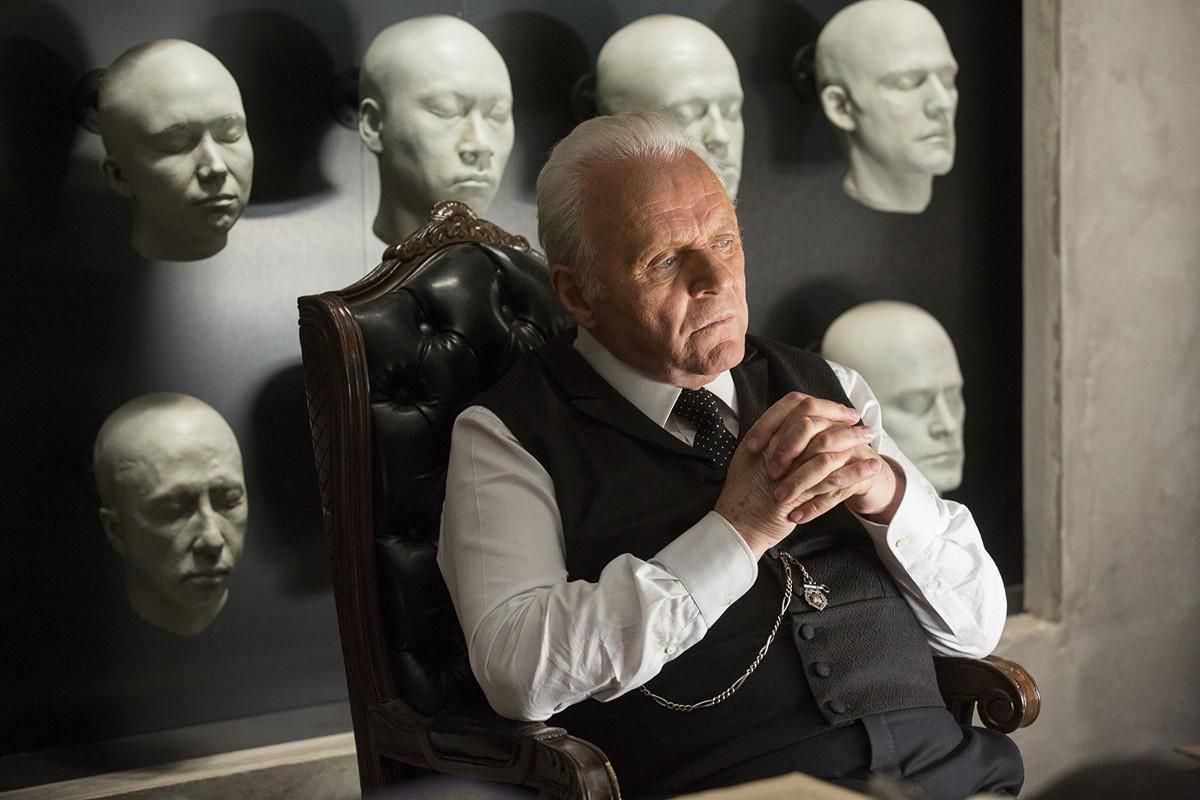 HBO/Anthony Hopkins as Ford
Ford is one of the original two creators of hosts and Westworld, along with his partner Arnold. An egomaniacal genius, Ford first appears to treat the hosts as just pieces of machinery whose sole purpose is to generate revenue for Delos.
It later becomes clear that Ford not only cares a great deal for the hosts, often preferring their company to humans, but that he is actually attempting to help them gain consciousness and free them from a life of servitude. Viewing human evolution at a dead end, Ford sacrifices himself to ensure the hosts are able to prosper. Though, it is revealed that a version of his mind is still active in the Cradle, a storage unit for all host memories and experiences.   
Dr. Robert Ford is played by Anthony Hopkins (Silence of the Lambs, Legends of the Fall, Bram Stoker's Dracula, Thor: Ragnarok) 
Engerraund Serac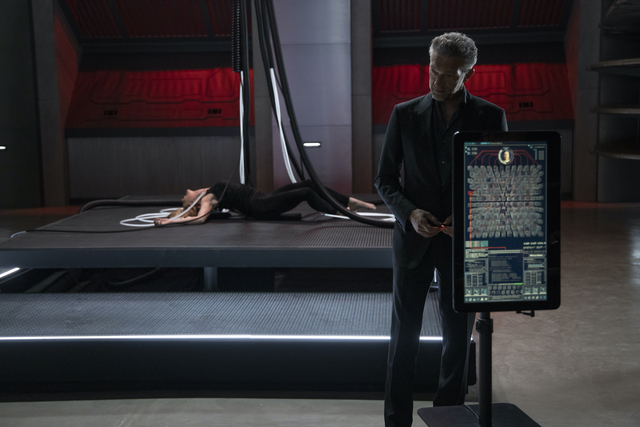 HBO/Vincent Kassel as Engerraund Serac
A trillionaire and the richest man in the in the world, Serac is the co-creator of Rehoboam, the world's most advanced AI.
Twenty years prior, William sold Serac guest data from Westworld that aided in his creation of Rehoboam, and he eventually sent Charlotte Hale in to Delos as a mole to continue collecting more.
Mortally wounded by Maeve at the end of Season 3, his fate is currently unknown.  
Engerraund Serac is played by Vincent Cassel (Ocean's Thirteen, Jason Bourne, Eastern Promises, Black Swan) 
Rehoboam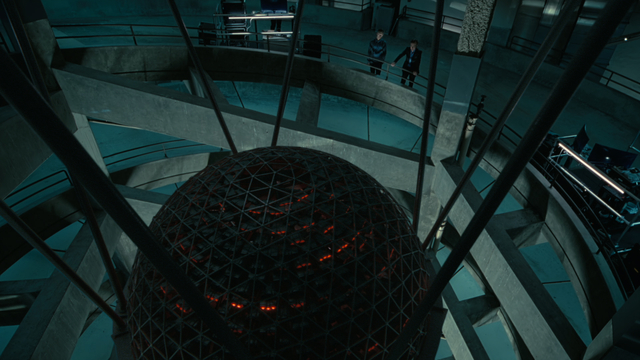 HBO/Rehoboam AI
Rehoboam is the most advanced AI ever created and is used to analyze the collected data of millions of lives, making it able to predict the course and the outcome of individuals, including how and when someone will die.
Rehoboam's core drive is to impose a worldwide order through manipulation and prediction of the future. Much of the world's businesses rely on Rehoboam. 
Upon detecting Dolores as a threat, Rehoboam unsuccessfully attempts to find a key piece of data within her memories. With the help of Maeve, Caleb Nichols is able to rescue Dolores and control Rehoboam, at which time he has the super computer delete itself.    
Is Anthony Hopkins in Westworld Season 4?
Hopkins portrayed Dr. Robert Ford in the first season of Westworld and appeared again as a voice-over in Season 2.  However, he has not been seen since, and while not impossible that he will return for Season 4, it is unlikely.
What is HBO's Westworld based on?
HBO's Westworld is based on the 1973 movie of the same name, written and directed by Michael Crichton, as well as 1976's Futureworld, which Crichton was not involved in.
In addition to filmmaking, Crichton was also a novelist and is perhaps most well known for writing Jurassic Park. He wrote several other novels-turned-films including The Lost World, The Great Train Robbery, Sphere, Rising Sun, The Andromeda Strain and Congo, among others. Crichton also created the long-running hit television series, ER. 
Crichton died in 2008.
Who created HBO's Westworld?
Based on the original 1973 movie by Michael Crichton, and to a lesser extent, the 1978 sequel, Futureworld, HBO's Westworld was created by Jonathan Nolan and Lisa Joy in 2016.
Nolan is the brother of director Christopher Nolan and previously wrote several of his movies including Memento, The Prestige, The Dark Knight, and Interstellar.
Prior to writing and producing Westworld, Joy wrote for such shows as Pushing Daisies and Burn Notice.  
Where does Westworld take place?
Westworld and the other Delos parks are all confirmed to have been constructed in the South China Sea at some point in the 2010s, though there were several years of testing and fine tuning before the parks were opened.
Are there other parks besides Westworld?
Yes, there are six known Delos parks that have appeared or been mentioned in Westworld and what appears to be a new one from the latest Season 4 trailer:
Westworld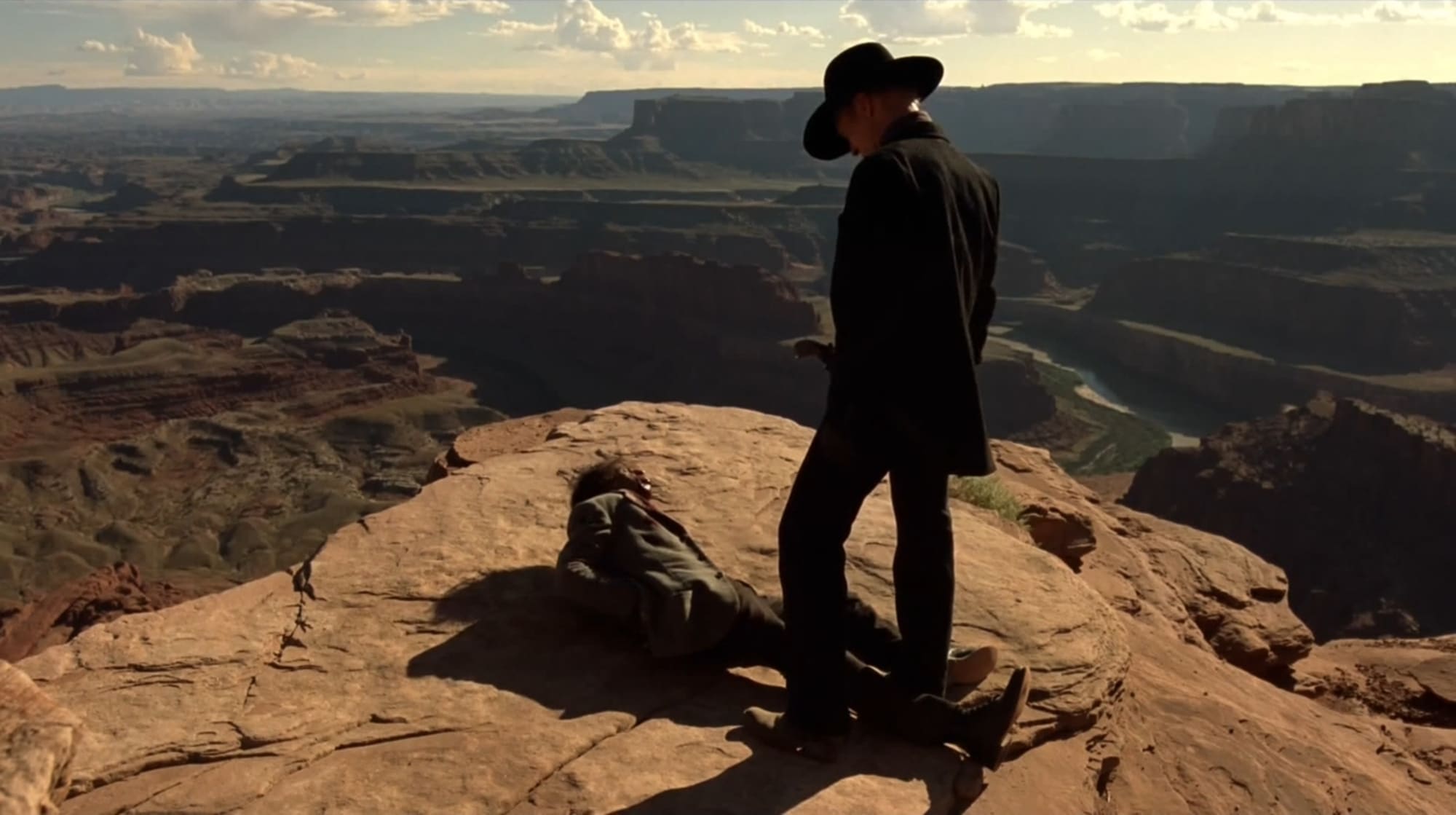 The titular park modeled after the Old West.
Shōgunworld
A Delos destination modeled after the samurai-centric Edo period of Japan, and the brutality that entails.
Warworld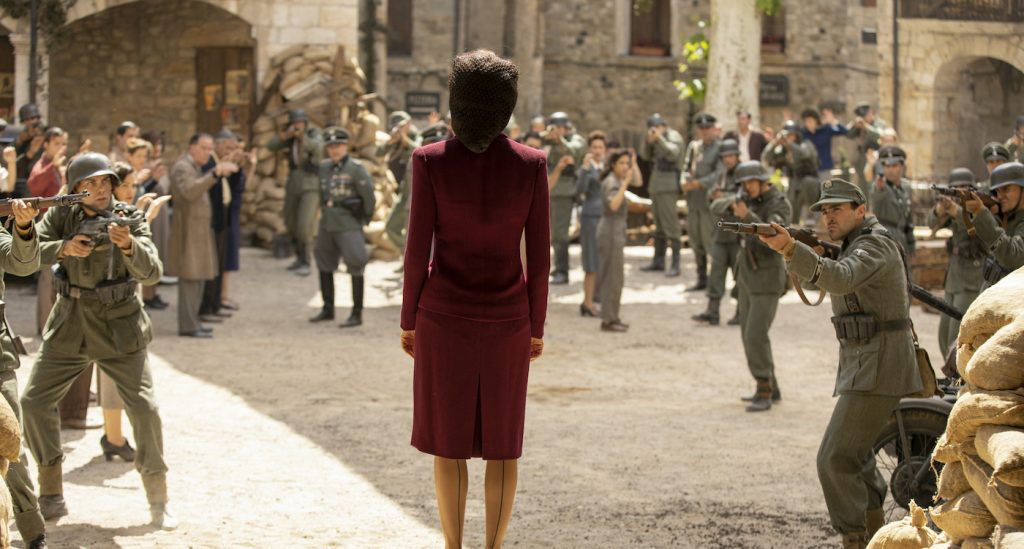 Basically Call of Duty meets Casablanca, Warworld mimics Nazi-occupied Italy during World War 2.  
"Fantasy World"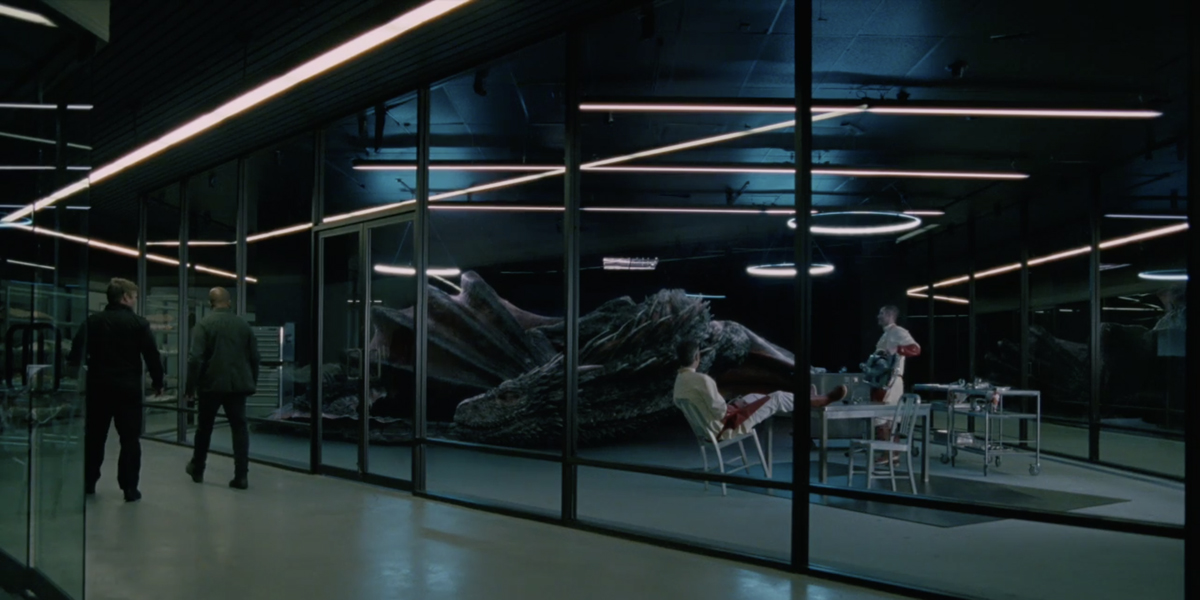 This park has not been officially revealed or named, but clues like suits of armor and a dragon (Drogon, is that you?) seen in the Delos labs has led the Internet to dub it "Fantasy World" which most fans assume to be a fantastical version of medieval times. Or just Game of Thrones.
Park Five
Another park we know little about and have never seen, but based on scenes of Caleb talking about his military past, it appears to have been used by the US government for military exercises.
The Raj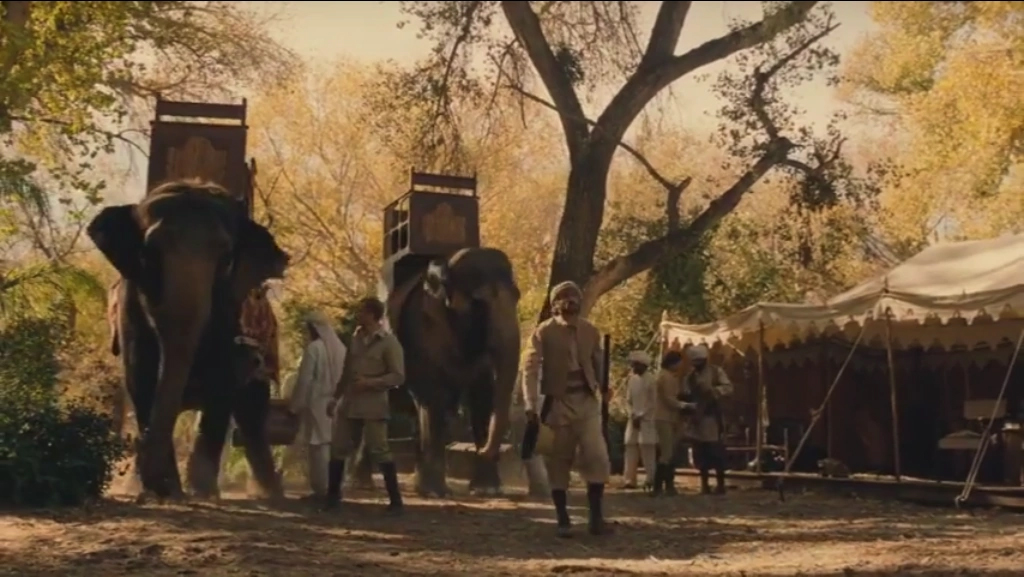 Modeled on the British Raj, a period of British rule in India from 1858 and 1947, and marketed as a spa of sorts along with jungles and mountains that feature long-extinct animals.
Park Seven (Roaring '20s World?)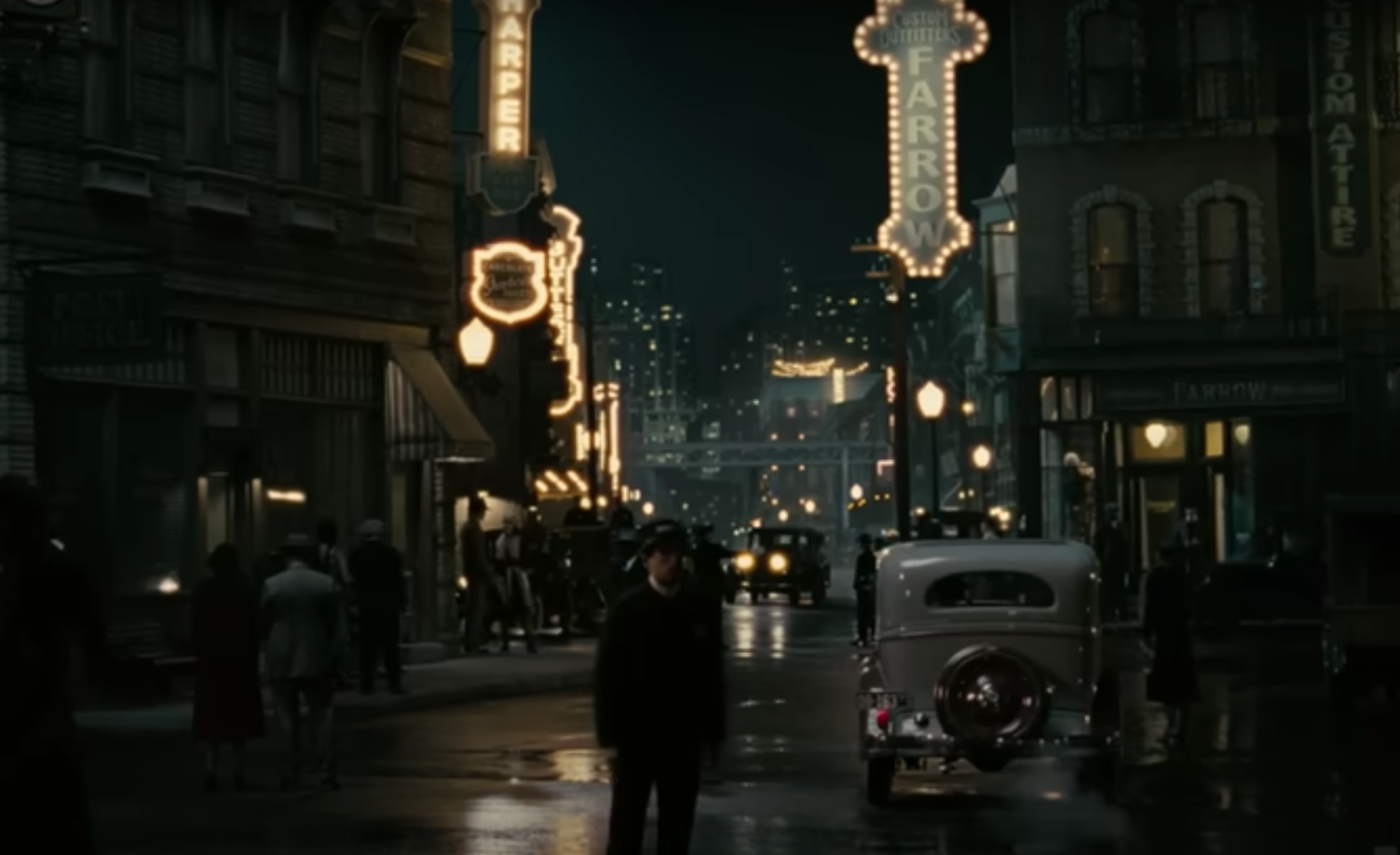 While nothing has been confirmed, in the latest trailer for Westworld Season 4 we catch a glimpse of what appears to a world set in the 1920s or perhaps 1930s.
Who is doing the music for Westworld Season 4? 
Game of Thrones and Westworld composer Ramin Djawadi will return score Westworld Season 4. He is also composing the theme the upcoming House of the Dragon.
Excited for HBO's House of the Dragon? Learn more about the characters, story, and how to watch here.
When and Where did Westworld Season 4 film?
Westworld Season 4 began filming in June of 2021 and wrapped in December 2021. 
While we know previous season's have shot in the deserts of California and Utah, as well as parts of Spain and Singapore, less is known about season 4 at the moment.
However, Los Angeles, New York, and the Hoover Dam can be confirmed for Season 4. 
WHEN AND HOW TO WATCH WESTWORLD
When: Westworld Season 4 will begin airing on HBO and streaming on HBO Max on Sunday, June 26, 2022 at 9 p.m. ET. 
How to Watch: DIRECTV SATELLITE and DIRECTV STREAM customers with an HBO OR HBO MAX subscription can watch via the below:
WATCH LIVE
Watch HBO live on DIRECTV SATELLITE and DIRECTV STREAM based on your region:
WATCH ON DEMAND:
DIRECTV Satellite
Go to Ch. 1000, Ch. 1100 or press MENU on your remote to access On Demand. 
Customers with a Voice Remote can use it to navigate directly to Westworld.
DIRECTV STREAM 
From your DIRECTV STREAM home screen, navigate to "On Demand". Search for Westworld or select Networks > HBO > Westworld.
Customers with a DIRECTV STREAM device can also use the Google Voice Remote commands to navigate directly to Westworld.
CATCH UP ON WESTWORLD AND PREPARE FOR SEASON 4 WITH HBO MAX, INCLUDED WITH YOUR FIRST 3 MONTHS OF DIRECTV STREAM CHOICE PACKAGE OR ABOVE. 
WATCH ON APPS
Download and access DIRECTV on you computer, mobile device or tablet. Search for Westworld and start watching on demand
Get the DIRECTV app on IOS and ANDROID.
ALREADY HAVE DIRECTV SATELLITE OR DIRECTV STREAM? UPGRADE YOUR PACKAGE WITH HBO MAX AND GET 2 MONTHS INCLUDED. FIND OUT MORE HERE.
How many episodes will be in Westworld Season 4
Westworld Season 4 will consist of eight episodes. 
Westworld OFFICIAL SITE
Westworld Official FACEBOOK
Westworld Official INSTAGRAM
Westworld Official TWITTER