HBO Originals Game of Thrones, and its prequel, House of the Dragon aren't simply TV shows, they're full, all-encompassing experiences –  universes where fans can be fully immersed in the lore. To stoke that feeling, DIRECTV launched the Return to Westeros set-top box app. Available to DIRECTV customers that are connected to broadband* on channel 512, this exclusive app features fun interactive features including trivia, games, Game of Thrones episodes featuring the Targaryen family and more.
Which House Are You?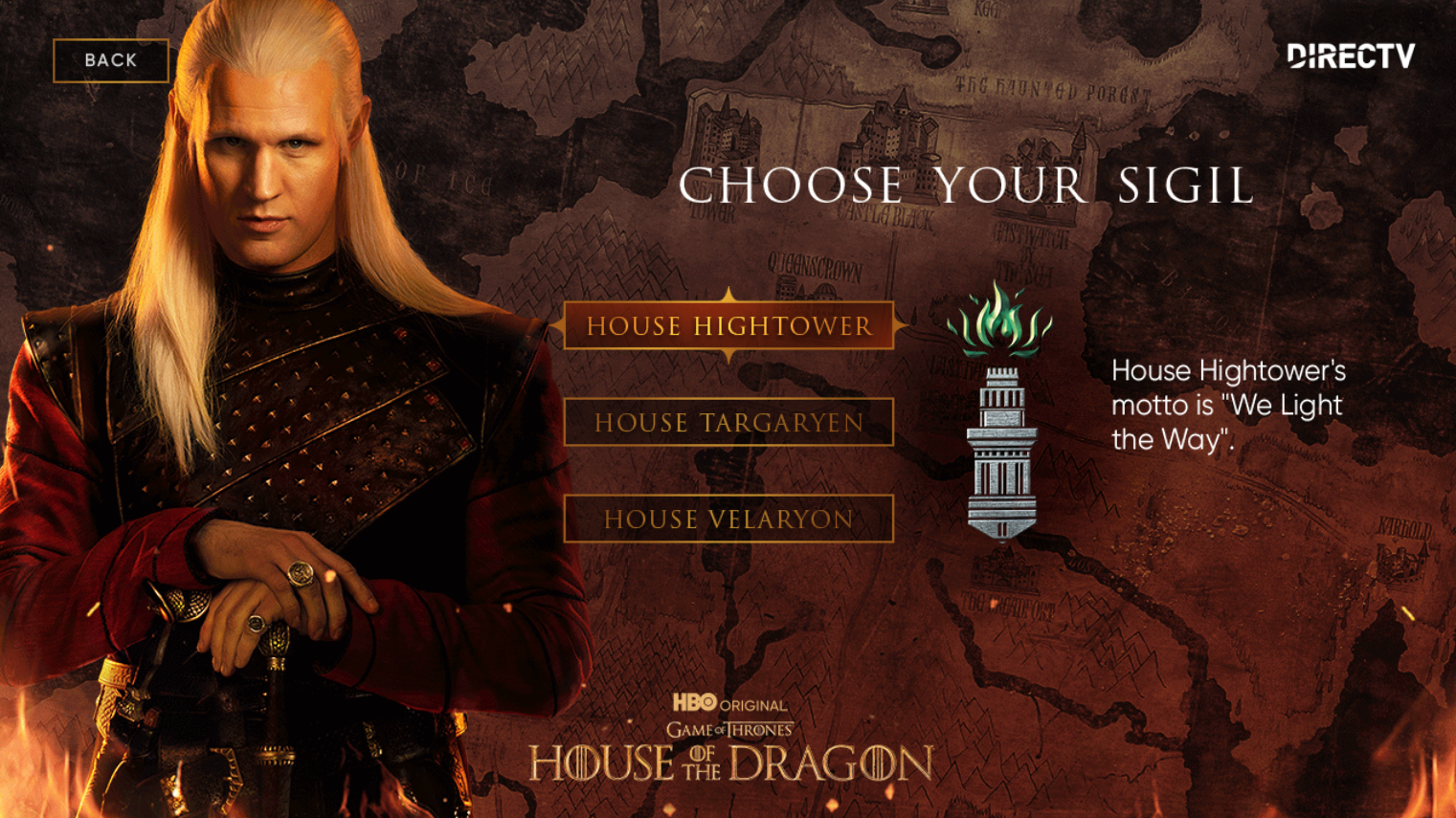 Once you Return to Westeros you'll be prompted to choose your sigil (magical symbol). Are you House Velaryan, "The Old, the True, the Brave"? Or House Targaryen, "Fire and Blood"? Or does House Hightower, "We Light the Way" sound more your speed? Once you make your selection, you'll be ushered into a new menu where you can enjoy select episodes of Game of Thrones, preview behind the scenes of House of the Dragon, as well as see other videos trailers and more.
Dig down a little further to explore character guides to familiarize yourself with the family roots, then play fun games and Game of Thrones Trivia. No HBO subscription is required to access the Return to Westeros app on Ch. 512.
Even More 'House of the Dragon'
If that's not enough House of the Dragon for you, stay close for episode recaps, exclusive interviews and a full character guide that will make you feel like you're really a part of the houses. And of course, don't miss new episodes each Sunday, on HBO.
Extra Features All Around
Beyond the Game of Thrones extras, there are lots of bonus features available to DIRECTV subscribers outside Return to Westeros. For example, sports fans can get a dynamic view of sporting events with mix channels, enhanced features, 4K coverage and more, as seen for Wimbledon and the US Open. Also, DIRECTV subscribers with Max includes HBO channels 501-511, on demand and the Max app.  Not a subscriber? No better time to change that.
Only DIRECTV connected customers* can access the Return to Westeros app, so what are you waiting for? Get DIRECTV now. Winter is coming.
* Set top box app is available to all satellite subscribers with a broadband connected HR44 box or higher.
The content is featured on https://www.directv.com/insider/ is editorial content brought to you by DIRECTV. While some of the programming discussed may now or in the future be available affiliates distribution services, the companies and persons discussed and depicted, and the authors and publishers of licensed content, are not necessarily associated with and do not necessarily endorse DIRECTV. When you click on ads on this site you may be taken to DIRECTV marketing pages that display advertising content. Content sponsored or co-created by programmers is identified as "Sponsored Content" or "Promoted Content."