UFC Heavyweight and Light Heavyweight Champion Daniel Cormier will face off against knockout artist Derrick Lewis at UFC 230 this Saturday, November 3rd, at Madison Square Garden. It's the UFC's annual trek to the mecca of sports. Don't miss Cormier vs. Lewis and a great overall card, and be sure to catch all the action on DIRECTV PPV. DIRECTV Sports caught up with the champ during a break in training.
DIRECTV: Daniel, you're known for your wrestling ability, even though you ended Stipe Miocic's night with a devastating right hand in UFC 226. Given that Derrick Lewis is a one-punch knockout artist, will you look to keep this fight on the ground, like your stablemate Khabib did against Conor?
Daniel Cormier: I think I'm going to fight everywhere. I feel comfortable that even if this is a fight that's contested for 25 minutes on my feet, I feel like I can win it. I'm not afraid of him in any way. So even though he possesses such tremendous power, I'm more than qualified to fight him on my feet.
DIRECTV: Derrick told us last week that he actually hopes the majority of the fight will be on the ground. Are you surprised he said that?
DC: I think sometimes you say things and you hope for the opposite. Don't believe everything these guys tell you. They're fighters. He wants to fight me standing. That's his only chance.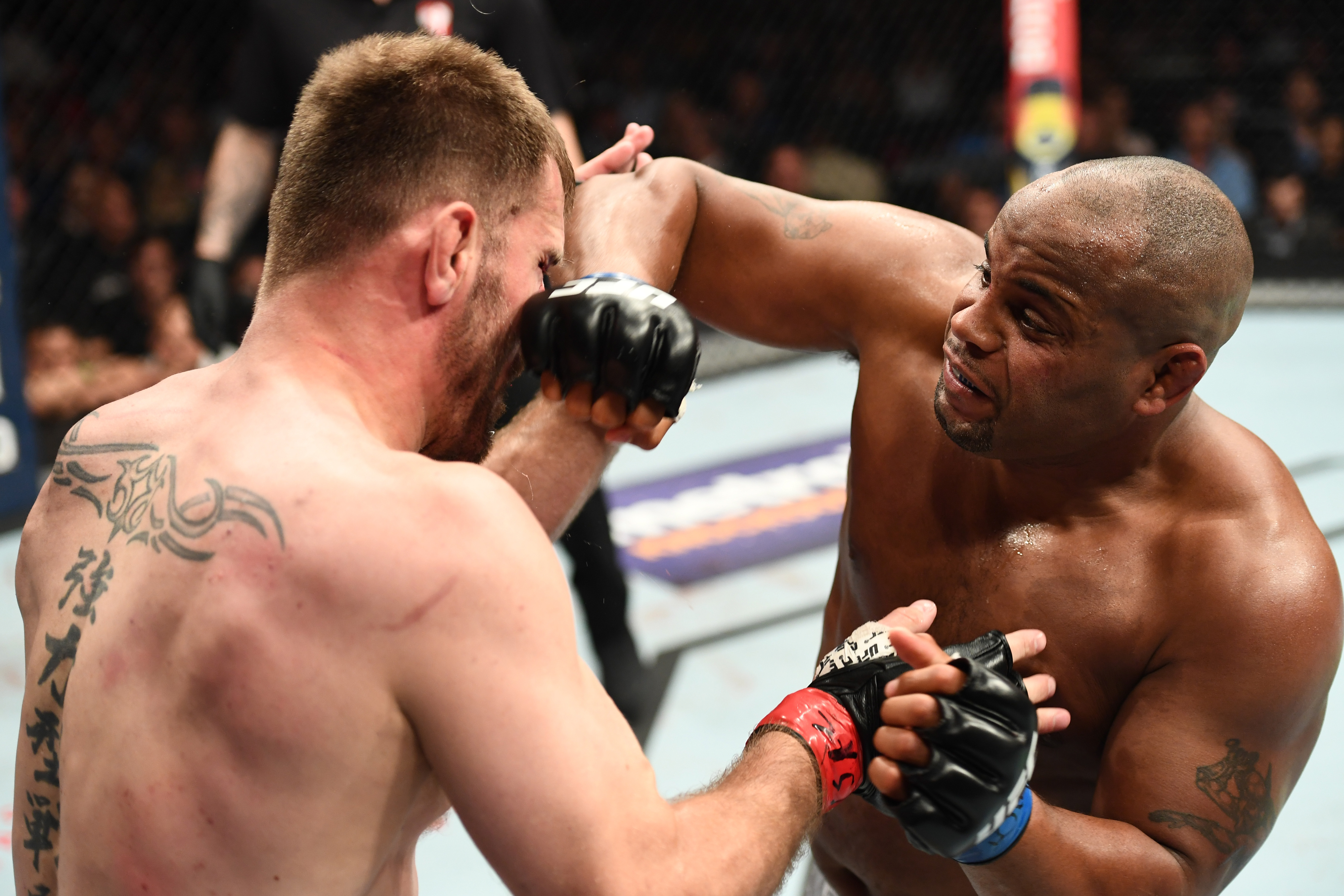 DIRECTV: You've had about a month to prepare for this fight, which you accepted on short notice. How has the short training camp been for you? How has it affected your fitness?
DC: It's actually been good. I feel more healthy because I'm not running myself down in the training camp. I feel pretty good though, honestly. I'm very confident in my cardio. We've worked real hard and covered all the areas we need to cover it and we feel like we're ready to go. It's a small miracle, but I feel good about it.
DIRECTV: You've talked before in interviews about fighters who have a letdown after the biggest wins or their career. You had a career-defining win against Stipe Miocic to claim the heavyweight title. How have you maintained your motivation and how will you avoid a letdown at 230?
DC: I've had a career full of those moments. That wasn't a one-time thing for me, you know. When I won the belt from Anthony Johnson the first time, I had to come back a few months later and defend it against Alexander Gustafsson. I beat Anderson Silva, then defended again against Rumble Johnson. Then after I lost the fight last July, I came back again and won the belt from Volkan Oezdemir. How'd I do in the next fight? I beat Stipe Miocic. So my career has been built on these moments. I think I've shown time and time again that motivation and preparation for what's next hasn't really been a problem for me.
DIRECTV: You said you're thinking about walking away in March when you turned 40. Yet we've seen a lot of MMA fighters, and even a lot of boxers—like Bernard Hopkins, Floyd Mayweather, and now Chuck Liddell and Tito Ortiz—fighting into their forties and fighting well. So why stop now?
DC: I just want to do other things, man. I've got some opportunities outside of fighting that I'm looking forward to. I want to be able to spend more time with my children, with my wife and my family. I like normal. I want to go coach a high school wrestling team and just kick back. That's the life that I yearn for, and when I step away from fighting, I won't have to do as much media, I won't have to leave and travel as much. So I just look forward to normal.
DIRECTV: Is there a big difference in your approach to training for fights at light heavyweight and fights at heavyweight?
DC: Oh, there's a massive difference. I kill myself to get down to 205. When I'm not fighting, I just kind of live normally. I diet because it's better for me and helps me to train and prepare better. But [at heavyweight] I don't lose weight, I don't have to cut weight, I don't have to do a lot of those things. I feel like I get so much more preparation than I do at 205 because I have more energy and I'm just more able when I'm fighting in my more natural weight class.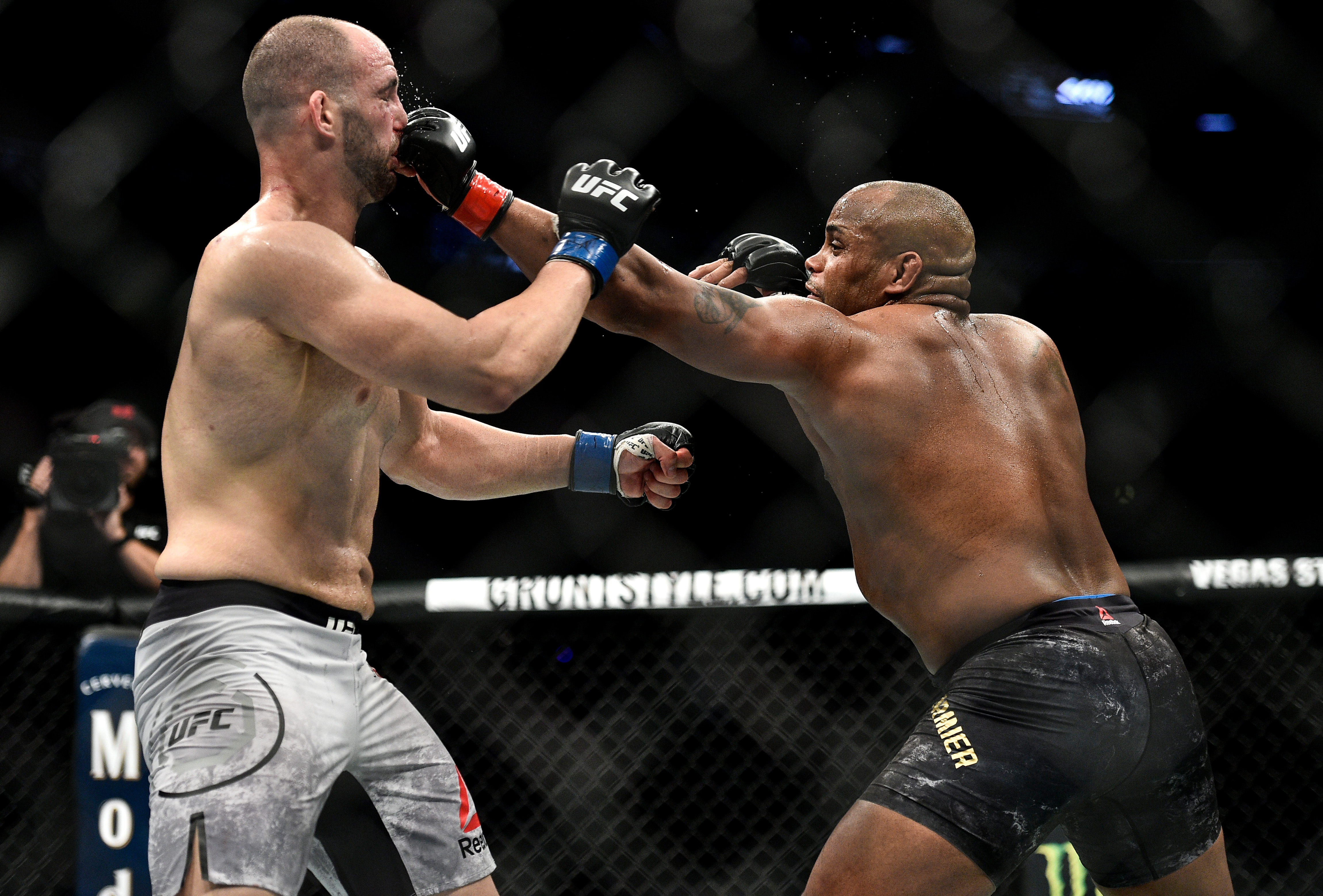 DIRECTV: Does your ground game have to change since you're in there with heavier guys?
DC: No, it doesn't. I actually think it's better because I usually move better on the ground than those big dudes. I'm a little bit more fluid in my grappling. I've been grappling with smaller guys so I've gotten better at maintaining hip pressure and controlling guys. The bigger guys don't move as well as the smaller guys.
DIRECTV: We know you're a big fan of Madison Square Garden. Do you have any favorite historical moments from MSG that you're going to be thinking about when you enter the Octagon on Saturday night?
DC: One thing I remember is being at the Garden in 2003, when I wrestled for the US Wrestling team in the World Wrestling Championship. I remember being a part of that team and walking out to the mat almost two years to the day after 9/11. The whole place erupted every time a guy or girl in a red, white, and blue singlet walked out. Your sense of pride, the ability to represent your country. I'll never forget it, and I will recall those memories when I walk into the Garden on Saturday.