Derrick Lewis needed a knockout. With 60 seconds left on the clock, he lay against the fence of the Octagon, winded, slick with sweat, blinking slowly beneath the harsh spotlights of the ring. His opponent, 6'7 Russian Alexander Volkov had nailed the American with hard right hands throughout the bout and was ahead on all judges' cards going into the fifth and final round. Now he was coming forward again, hoping to finish off the winded Texan. Instead, Lewis lifted himself from the fencing and, summoning his remaining reservoirs of strength, began throwing haymakers. One landed. Then another. Volkov fell to the canvas. Lewis leaped on top of him and began landing thunderous blows to Volkov's head as the Russian's hands sagged to his sides. The referee jumped between the fighters and declared the bout over. Derrick Lewis had won at 4:49 of the fifth round, eleven seconds from a sure defeat.
The win elevated Lewis to the number two slot in the UFC Heavyweight division and secured him a November 3rd showdown with Heavyweight Champion Daniel Cormier at UFC 230. DIRECTV Sports caught up with Lewis during a break in training for the Cormier fight.
DIRECTV: After your thrilling, come-from-behind victory over Alexander Volkov in UFC 229, you're returning to the Octagon for the 230 main event. Considering the quick turnaround from one major fight to the next, are you training differently this time around?
Derrick Lewis: Yes, I'm training a lot more now than I did before. My body is up to the test and I'm really beating it up more than I have before since I know how much this fight means to my family, my coaches, and everyone who's been supportive. I've been the underdog all my life, my whole career, and this is a great moment to prove everyone wrong.
DIRECTV: In your 229 post-fight interview in the ring with Joe Rogan, you mentioned that you were going to ramp up the cardio for this upcoming fight. Have you been doing that?
Derrick Lewis: Yeah, for sure that's all we've been doing! Just cardio, cardio, cardio. You know, I could hit pads for five rounds—that's easy. But doing wrestling for five rounds, that takes more out of you. So that's [cardio] what I've been doing differently.
DIRECTV: In the minutes immediately following that interview, social media completely lit up with fans praising your humor and your honesty. Did all the attention kind of catch you off guard? (Lewis received 500,000 new Instagram followers and likes in the 24-hour period following his win against Volkov—Ed.)
Derrick Lewis: Oh, sure. I didn't expect it to get that crazy. I didn't expect it to get crazy at all. Look, I say whatever I want. I'm tired of answering all the same questions over and over. "What do you think about this punch…?" "What's going through your head…?" It's just the same stuff over and over. It's boring to me. So I just spice it up a little bit and say whatever I want.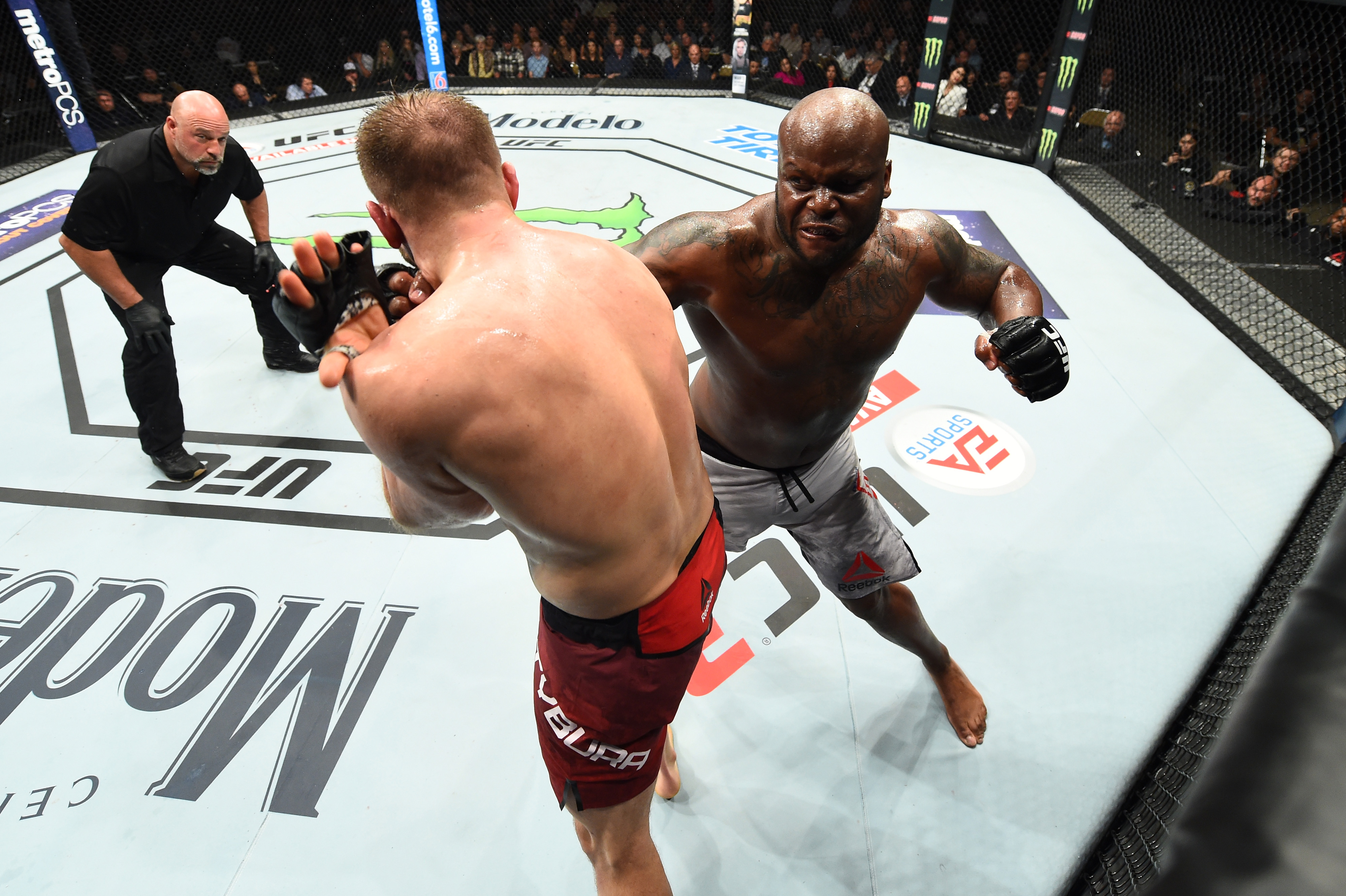 DIRECTV: You've referred to yourself as a brawler, not a technical martial artist. Did any athletes in MMA, or even in boxing, inspire your no-nonsense style in the Octagon?
Derrick Lewis: Mike Tyson. That's the only guy I really looked up to fighting-wise.
DIRECTV: Daniel Cormier said he expects you to try to knock him out early. What did you learn from your fight with Volkov that might come into play if this match with DC goes into the third, fourth, or fifth round?
Derrick Lewis: Even if it goes to a fifth round, I believe I'll still have the knockout power then. I really don't necessarily have to knock him out in the first. It would be good if I do, I'll for sure knock him out. I don't know when. I don't know how. But I'll for sure knock him out.
DIRECTV: Do you expect much of the fight to be on the ground?
Derrick Lewis: Oh, for sure. I think most of the fight will be on the ground. I know that he's going to try to get me tired by doing a lot of wrestling, stuff like that. Pushing me down, closing the distance. But I prefer the fight to be on the ground anyway. So that'll be playing right into my strong point. I can rest, get up when I'm ready, and knock him out.
DIRECTV: When you're training for the ground work, are you working on more defensive postures? Or more aggressive grappling postures?
Derrick Lewis: We're working on everything! Takedowns, defense, getting up, getting off, stuff like that. We're working on everything—everything that we believe that DC will do to try to get me tired.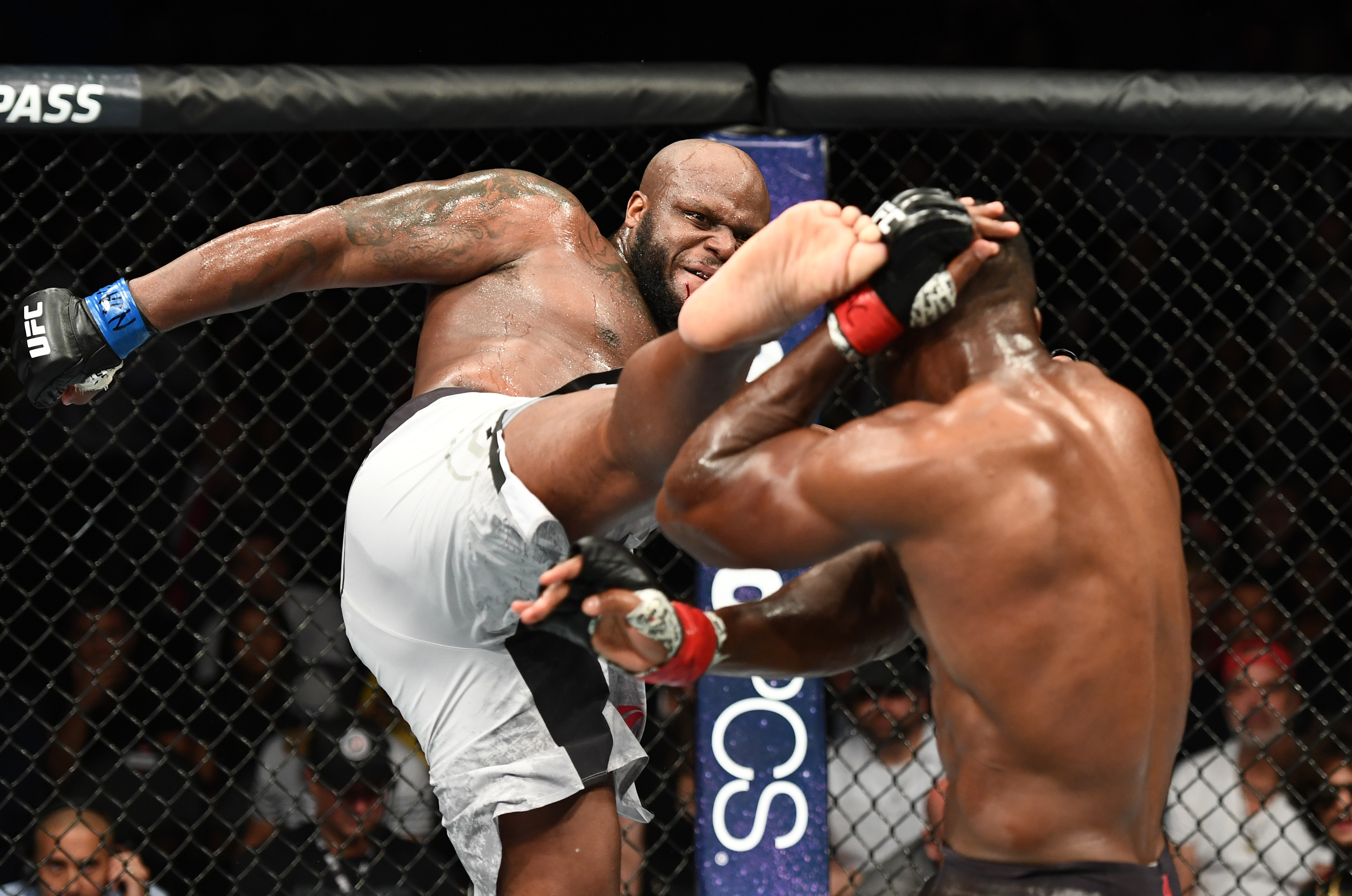 DIRECTV: We know you've been a heavyweight champion before in Legacy FC. But here you'll be fighting for the UFC heavyweight title in "The World's Most Famous Arena," Madison Square Garden, in front of what could be a million or more pay-per-view fans. Have you allowed yourself to enjoy the magnitude of the moment, or are you approaching this fight like any other fight?
Derrick Lewis: I'm approaching it like any other fight. Every fight to me—especially being in the UFC and the background that I have—it's just really a big moment for myself anyway, because I really shouldn't be here. I'm not as skilled or technical as the guys that I'm fighting. So I try not to think about it.
DIRECTV: We were talking earlier about the Khabib vs. Conor matchup in UFC 229 and how there's always this debate: can a great puncher beat a great wrestler and vice versa? The wrestler won that fight, but if you knock out Cormier that whole debate will be will be reignited because you're the puncher. If you win, that will counterbalance what Khabib did against Conor.
Derrick Lewis: Yeah, but DC has knockout power as well. And this is a heavyweight fight – we're different than those little guys.
---
Don't miss UFC 230: Cormier vs. Lewis, Saturday November 3rd at 10/9c
Live on pay-per-view!
DIRECTV Exclusive: Daniel Cormier Talks UFC 230
The content is featured on https://www.directv.com/insider/ is editorial content brought to you by DIRECTV. While some of the programming discussed may now or in the future be available affiliates distribution services, the companies and persons discussed and depicted, and the authors and publishers of licensed content, are not necessarily associated with and do not necessarily endorse DIRECTV. When you click on ads on this site you may be taken to DIRECTV marketing pages that display advertising content. Content sponsored or co-created by programmers is identified as "Sponsored Content" or "Promoted Content."