If you're anything like us, 2020 was a year of catching up on all the movies, shows and video games we missed. And although brushing up on the classics is always a fun ride, it's even more fun in on the conversation on day one.
So while we wait on the fate of the world's movie theaters where we can collectively laugh, cry and scream together mere inches apart like yesteryear, we've compiled a list of movies that are coming soon to a couch near you.
Too many to choose from? We've also got a few highlights, just for you.
January 2021 PPV Highlights
Tenet
Christopher Nolan's thematic fascination with time comes full circle as John David Washington stars alongside Robert Pattinson and Elizabeth Debicki in this mind-bending sci-fi thriller that will have you guessing from start to finish — and back again.
When the movie's lit, but you don't know what's going on.
Fatman
When we went looking off the beaten path for a holiday movie a few weeks ago, we never imagined we'd end up at the north pole with Mel Gibson nonchalantly playing a John Wick version of Ol' St. Nick, and Walton Goggins playing an assassin who resents said Santa because he didn't get what he wanted as a kid — and never quite got over it. But, you know, we learned a lot about ourselves in 2020. We learned a lot.
You can't unsee this, can you? You're welcome. 
The Tax Collector 
David Ayer reteams with Shia Labeouf to return to the visceral street-level storytelling that Ayer does best. What starts out as a classic story of greed set against the backdrop of LA, quickly turns into a kill or be killed story anchored by Lebeuf's bone-chilling performance.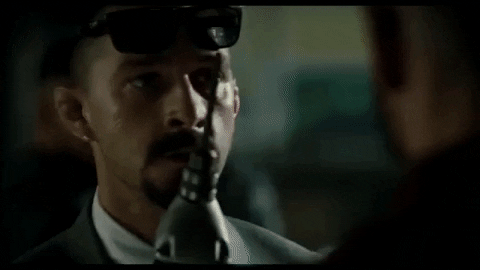 He said this is not a drill. We laughed. No one else did. But we did.
Coming Soon | *Release dates subject to change*