After a wild one-night stand, Derrick (
Michael Ealy
), a successful sports agent, watches his perfect life slowly disappear when he discovers that the sexy and mysterious woman he risked everything for is a determined police detective (
Hilary Swank
) who entangles him in her latest investigation. As he tries desperately to put the pieces together, he falls deeper into her trap, risking his family, his career, and even his life.
FATALE
is a suspenseful and provocative psychological thriller and an unpredictable game of cat and mouse where one mistake can change your life.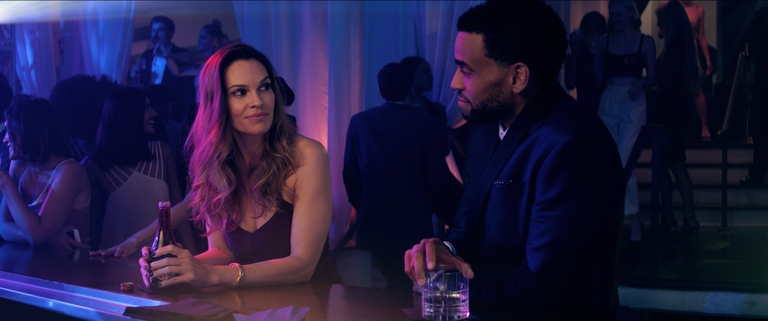 ONE MISTAKE CAN CHANGE YOUR LIFE
FATALE offered Hilary Swank a new kind of role, one she quickly embraced. "The character of Val fascinated me as it tapped into playing with what drives us as human beings and the lengths to which we'll go for family," she explains, hinting at the character's motives. "It was a world I was excited to explore."
"FATALE is a cat-and-mouse thriller that has many twists and turns and an unusual sexual energy weaved in, but it's unexpected in Val's motivations," Swank elaborates. "In early screenings of the film, I loved watching the audience freak out when things got turned around for both Val and Derrick."
Michael Ealy says he was drawn to the project by the question it poses: "What happens to a person after he begins to lose everything he cares about?" he asks. "Derrick seems to have it all, but what he has materially versus what he possesses emotionally is a fascinating dynamic. After he makes a single mistake, Derrick starts to lose everything, and you begin to see what he's made of."
Both Ealy and Swank were also drawn to FATALE by the opportunity to work with director Deon Taylor. "I'm always excited to work with directors I've never worked with before, and in genres new to me," says Swank. "When Deon approached me to play Val, his energy, passion, and kindness first sold me on the project. And it didn't hurt that it's a great edge-of-your-seat story."
Ealy, on the other hand, was already familiar with Taylor's signature brand of thrills, having collaborated with the filmmaker a year earlier, on The Intruder. "I was happy to join forces with Deon again, as well as have the opportunity to work with Hilary," says the actor. "The character and script spoke to me, and I knew the role of Derrick would really challenge me."
"I truly believe Hilary and Michael's on-screen chemistry and presence together is award-worthy," says Deon. "Fatale is electric – and when you add the Academy Award®-nominated director of photography Dante Spinotti, you have a piece of art that will stand the test of time."
MAKING A CLASSIC CONTEMPORARY AND FRESH
One of the most exciting filmmakers in the industry, whose credits include the recent hit thrillers The Intruder and Black and Blue, Deon Taylor points back to the high-powered thrillers from the 1980s and '90s as an inspiration. "I'd go to the theater, grab the popcorn, and escape for two hours," he remembers. "Those films, like Fatal Attraction and Body Heat, are so cool and clever that you can't help but think about them long after leaving the theater."
That love and appreciation of the genre led Taylor to come up with his contemporary spin on it. "I wanted to create a film for today's audiences that evoked that same feeling I had when I was younger – to make something intense, scary, and sexual, and have the audience yell at the screen, 'Don't do that!'" he laughs. "I really love making movies that will have audiences interacting with what's happening onscreen. I like to convey some messages, but at the same time provide a release and fun. I wanted FATALE to embody all those things that you love going to the movies for."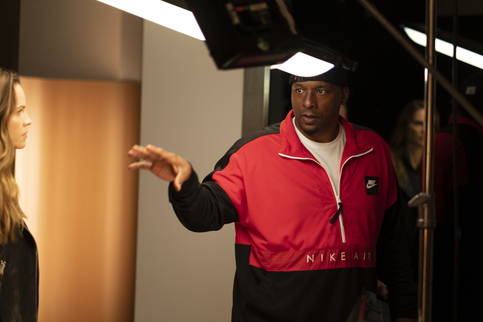 For Michael Ealy, the choice to work in the contemporary noir genre was an exciting challenge. "What I enjoy about the genre is that you don't have any gimmicks," he says. "You can't distract the audience, like in horror with jump scares. It's not about scares, it's about getting into the heads of the audience."
Taylor presented his idea to his wife and business partner in the independent production company Hidden Empire Film Group, Roxanne Avent Taylor. "I loved Deon's idea for the film, because I love movies where you're on the edge of your seat, have a lot of drama and suspense, and where you think you've figured out the story and ending – but you really haven't at all," says Roxanne.
Deon moved quickly, re-teaming screenwriter David Loughery as a follow-up to their 2019 success The Intruder, which took in over $40 million on an $8 million budget. Fleshing out Deon's idea and then writing the script, Loughery appreciated how Deon's idea was in the classic tradition of film noir but with a contemporary viewpoint. "It really excited me to go back to those kinds of films while making it relevant for today, exploring the element of fate in which the protagonist makes a mistake and is plunged into a nightmare," he notes.
The content is featured on https://www.directv.com/insider/ is editorial content brought to you by DIRECTV. While some of the programming discussed may now or in the future be available affiliates distribution services, the companies and persons discussed and depicted, and the authors and publishers of licensed content, are not necessarily associated with and do not necessarily endorse DIRECTV. When you click on ads on this site you may be taken to DIRECTV marketing pages that display advertising content. Content sponsored or co-created by programmers is identified as "Sponsored Content" or "Promoted Content."