Ba-dump. Ba-dump. Ba-dump. Just when you thought it was safe to go back in the water… it's time for Discovery's Shark Week. To celebrate this annual Ode to Sharks, we've compiled a list of the Top 10 sharks from across pop culture, ranked by ferocity. 
Shark Week is just around the corner, explore the great content and more with our handy Shark Week Watch Guide. 
Jabberjaw
Ferocity: 0 dorsal fins
What this Hanna-Barbera character lacks in ferocity, he more than makes up for with humor and musical talent. Jabberjaw (Frank Welker) was a great white shark who played drums for The Neptunes and lived in an underwater settlement in the year 2076. He was also a shapeshifter, turning into any manner of stationary objects to evade bad guys. So multi-faceted!
Bruce from '
Finding Nemo'
Ferocity: 1 dorsal fin
The only reason this big softie has even one dorsal fin is that he seems quite ferocious and dangerous… at first. But it turns out Bruce (Barry Humphries) is a vegetarian and wants to stop eating innocent fish. As he sings in his scene-stealing musical number in Finding Nemo. "Though we have long sharp teeth/ We're nice sharks underneath/ We know that fish are friends, not food."
The Shark Gang from 'Spongebob Squarepants'
Ferocity: 2 dorsal fins
At first, this gang of sharks on Spongebob Squarepants — Sharkface (Henry Winkler), Lonnie (Michael McKean), Ronnie (Clancy Brown), and Donnie (David Lander) — are a rival to Squidward's (Rodger Bumpass) gang and at first, they seem very scary. But it turns out they just want to DANCE!
Left Shark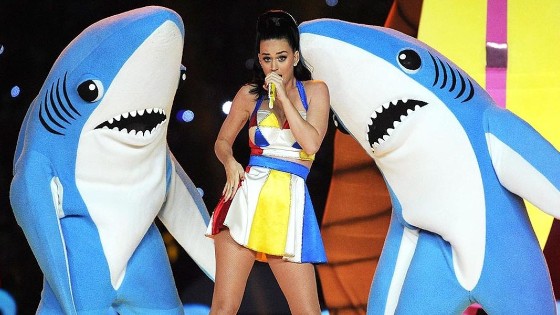 Ferocity: 0 dorsal fins for ferocity, but 10 dorsal fins for fierceness
In February 2015, Katy Perry was the halftime show for Super Bowl XLIX. But amidst all of her fireworks, a star emerged in the form of Left Shark. It started during the performance mash-up of "Teenage Dream" and "California Gurls" when Left Shark — aka, the shark to Katy's left as you looked at the TV — became an internet sensation because of his out-of-sync dance moves. It was funny and super fierce.
Austin Powers' Laser-beam Sharks 
Ferocity: 4 dorsal fins
In the first Austin Powers movie, all they had the budget for were some ill-tempered sea bass. But by "Goldmember," Dr. Evil (Mike Myers) finally got the sharks with laser beams on their heads that he always wanted. If those were real, they would be quite ferocious — they are sharks with frickin' laser beams, after all.
'Sharknados'
Ferocity: 5 dorsal fins
The idea of a tornado full of sharks is indeed quite scary and somehow these sharks managed to wreak a lot of havoc in the Syfy movies, but really, if you just stay inside and wait for Ian Ziering and Tara Reid to rescue you, you'll probably be safe. Sharknados… we still can't believe that happened.
The 'Shark Tank' sharks
Ferocity: 6 dorsal fins
"Shark Tank" sharks Barbara Corcoran, Mark Cuban, Lori Greiner, Robert Herjavec, Daymond John, and Kevin O'Leary are definitely the scariest non-sharks on the list. Presenting a business idea to these millionaire entrepreneurs certainly sounds as terrifying as going up against a real-life shark. 
Bruce from 'Jaws'
Ferocity: 8 dorsal fins
It may have come out 45 years ago, but Jawsstill holds up. It is an incredibly well-made thriller starring Roy Scheider, Richard Dreyfuss, and Robert Shaw, and its shark continues to be a frightening menace chowing down on the residents of the fictional Amity Island.
'Deep Blue Sea' sharks
Ferocity: 9 dorsal fins
If there weren't a shark the size of a school bus on this list, the sharks from Deep Blue Sea would be the scariest entry. They've been genetically engineered to be brainiac sharks! That's just what sharks are missing — the ability to plan and scheme. They're super smart, they can swim backward, and they are able to leap out of the water and swallow Samuel L. Jackson whole. Terrifying.
The Meg
Ferocity: 10 dorsal fins
The 2018 movie The Meg is incredibly fun. It has all the humor and ridiculousness of something like "Mega Shark versus Giant Octopus," but it is high-budget enough to also be very intense. It is also horrifying to think about a creature in the depths of the ocean that makes a regular great white shark look like a goldfish.
Honorable Mention – Mr. Shark
One of the most enigmatic creatures of The Bad Guys is Mr. Shark. Maybe not ferocious, but this master of disguise is known for his comic relief and is a solid partner in crime. 
From Shark Week and beyond, keep up with the latest shark content. 
Make sure you can watch all this great shark content and so much more with DIRECTV. Get your subscription now. 
The content is featured on https://www.directv.com/insider/ is editorial content brought to you by DIRECTV. While some of the programming discussed may now or in the future be available affiliates distribution services, the companies and persons discussed and depicted, and the authors and publishers of licensed content, are not necessarily associated with and do not necessarily endorse DIRECTV. When you click on ads on this site you may be taken to DIRECTV marketing pages that display advertising content. Content sponsored or co-created by programmers is identified as "Sponsored Content" or "Promoted Content."