Updated: 10/30/2023
No. 12 Ryan Blaney was the third Round of 8 driver to snag a victory in the 2023 Cup Series Playoffs after hitting victory road at the Xfinity 500 at Martinsville Speedway this past weekend. Along with Blaney, previous Round of 8 winners Christopher Bell and Kyle Larson will move onto the last race of the 2023 NASCAR season. 
William Byron, one of the top drivers in the playoffs, will round out the Final 4 for next weekend's Championship 4 race at Phoenix. 
Unfortunately for the other 4 drivers in the Round of 8, Denny Hamlin, Chris Buescher, Tyler Reddick and Martin Truex Jr., the Xfinity 500 was their final playoff run this season. 
---
This weekend's NASCAR race is the 9th playoff race of the 2023 Cup Series competition, and the final race before the Championship in Phoenix. Find out how to watch the Xfinity 500 at Martinsville Speedway this weekend on DIRECTV.
Plus, get the information you need to stay up to speed with the final 8 racers.
XFINITY 500 RACE INFORMATION
Race: Xfinity 500
Date: Sunday, October 29, 2023
Time: 2:00pm ET
Track: Martinsville Speedway
Where to Watch: NBC (channel 12)
WHAT TO EXPECT FOR THE XFINITY 500?
As the final race before the Cup Series Championship, there is a lot riding on the Xfinity 500 for these drivers. For five of the drivers in the Round of 8, reaching the Top 4 Championship race would be a career first.
The battle for a spot in the Final 4 combined with the sheer excitement this track brings will make for an unmissable race at Martinsville Speedway.
Make sure to tune into NBC Sunday, October 29 at 2:00pm ET so you don't miss the action.
MARTINSVILLE SPEEDWAY SPECS
Martinsville Speedway is the shortest track on the current NASCAR circuit, coming in at just over half a mile. Short certainly doesn't mean easy, however. In fact, Martinsville is one of the most difficult tracks to compete on. Check out the track's specifications below.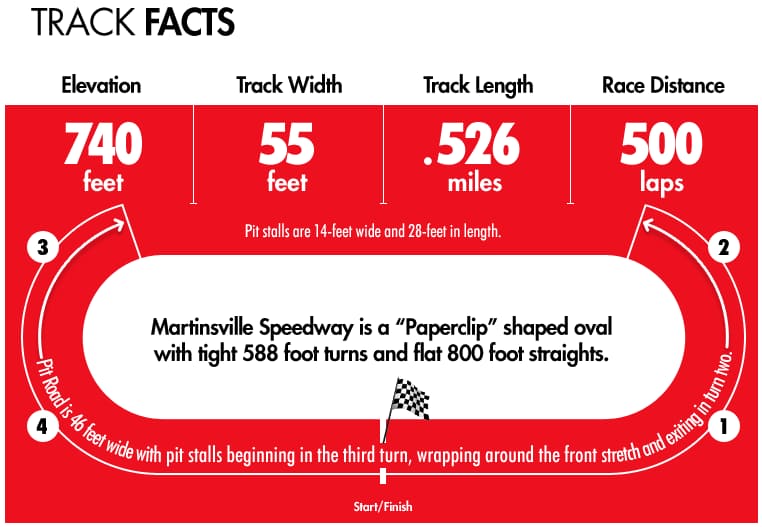 Image Source: Martinsville Speedway
SHORT TRACK INFORMATION
Track Type: 0.526 miles
Surface: Paved
Banking: 12-degrees on turns; 0-degrees on back and frontstretch
Caution Speed: 35 MPH
36 Cup Series drivers will race 500 laps around this track for a total of 263 miles. With the track's quick turns and lack of banking on the straightaways, drivers will have to adjust their strategy to stay in the game.
At Martinsville, hard breaking around the tight corners followed by smooth acceleration on the 800-foot-long straightaways is necessary to stay ahead of the competition.
CURRENT NASCAR CUP SERIES PLAYOFF STANDINGS
Speaking of competition, while there are 36 racers on the Xfinity 500 entry list, playoff points only count for the final 8 racers. And it's this race that will mark the bottom 4 competitors' last run in the 2023 Cup Series playoffs.
Take a look at the final 8 and their current stats right here. Statistics listed include current point totals as well as the number of previous playoff appearances and their finishing place. Drivers with * have already qualified for the Final 4.
No. 20 Christopher Bell – 4,110 points (3rd playoff appearance; 12th in 2021)*
No. 5 Kyle Larson – 4,105 points (7th appearance; 1st in 2021)*
No. 24 William Byron – 4,126 points (5th appearance; 10th 2021)
No. 12 Ryan Blaney – 4,106 points (7th appearance; 7th in 2021)
No. 45 Tyler Reddick – 4,096 points (3rd appearance; 13th in 2021)
No. 19 Martin Truex Jr. – 4,089 points (8th appearance; 1st in 2017)
No. 11 Denny Hamlin – 4,089 points (10th appearance; 3rd in 2021)
No. 17 Chris Buescher – 4,063 points (2nd playoff appearance; 16th in 2016)
Last year's victor at the Xfinity 500 was Christopher Bell, who is currently in first place with a guaranteed spot in the Championship race after winning the 4EVER 400 last weekend. If he can win it again this year, the final two racers in the finals (apart from Bell and Larson) will be determined by point totals. The same will be the case if a non-playoff driver takes home the win this weekend.
But if one of the other racers in the Round of 8 can clinch the win, they will also move on to the final race. Fans will have to wait to see what happens at the Xfinity 500 this Sunday on NBC.
XFINITY 500 SCHEDULE
The Cup Series schedule for the upcoming NASCAR Weekend at Martinsville Speedway is as follows:
Cup Series Practice: Saturday, Oct. 28 @ 12:35 PM
Cup Series Qualifying Round: Saturday, Oct. 28 @ 1:20 PM
Cup Series Race: Sunday, Oct. 29 @ 2:00 PM
You can check out the full weekend schedule for the Xfinity Series race here and can watch those racers compete live on USA Network with DIRECTV.
HOW TO WATCH NASCAR ON DIRECTV
Get the best NASCAR coverage with leading sports provider, DIRECTV. Fans can catch every Cup Series race live on NBC or USA Network, as well as keep up with the Xfinity Series and the Craftsman Truck Series, too.
To learn more about the differences between each NASCAR series, check out this guide to NASCAR's three national series.
In addition to live TV coverage of NASCAR races all season long, DIRECTV also offers even more content around the sport, from post-race highlights to commentary from the best in racing. You can check out all the NASCAR content DIRECTV has to offer right here.
Whether you want to watch live TV coverage of races or stream NASCAR highlights after the race, DIRECTV has you covered. Find out which package is right for you and get started today, so you can get the best entertainment experience for the upcoming 2024 NASCAR season.
And remember to watch the final Cup Series race before the Championship race, the Xfinity 500, Sunday, October 19, 2023, at 2:00pm ET on NBC with DIRECTV.
Frequently Asked Questions
When is the Xfinity 500?
The Xfinity 500 Cup Series race takes place on Sunday, October 29, 2023, at 2:00pm EST.
How can I watch the Xfinity 500?
Watch the Xfinity 500 live on NBC, channel 12 on DIRECTV.
What networks are NASCAR races on?
Fans can catch NASCAR races all season on either NBC or USA Network.
The content is featured on https://www.directv.com/insider/ is editorial content brought to you by DIRECTV. While some of the programming discussed may now or in the future be available affiliates distribution services, the companies and persons discussed and depicted, and the authors and publishers of licensed content, are not necessarily associated with and do not necessarily endorse DIRECTV. When you click on ads on this site you may be taken to DIRECTV marketing pages that display advertising content. Content sponsored or co-created by programmers is identified as "Sponsored Content" or "Promoted Content."