We would be hard-pressed to find a more successful TV franchise than The Walking Dead (TWD). Since the original TWD series premiered more than a decade ago, fans have been engrossed in the post-apocalyptic world of "walkers" and gore, and they can't get enough! And more is coming, with the premiere of The Walking Dead: Daryl Dixon airing on September 10, 2023.
Find out more about The Walking Dead franchise's fifth spin-off in this post, including the cast, what to expect and how to watch the new series on AMC with DIRECTV.
WHAT IS 'THE WALKING DEAD' FRANCHISE?
The Walking Dead has been infecting fans since the original TV series premiered back in 2010. The show and its spin-offs are based on a comic book series written by Robert Kirkman, Tony Moore and Charlie Adlard. Both the comics and the AMC adaptation follow a group of people attempting to survive in a post-apocalyptic, zombie infested world.
Over 11 seasons, the group of strangers become family, and viewers follow their journey around the country trying to build a life in a basically unlivable world. And while a fair amount of time is spent fighting walkers, the show also focuses on morals, ethics and the sacrifices we make for those we love.
Fortunately, the series finale of The Walking Dead in 2021 didn't mean the end of TWD Universe; by then there were two spin-offs for fans to get into. In 2015, AMC released the first spin-off, Fear the Walking Dead, which follows a different set of survivors living in the western United States. FTWD aired until the season 8 finale in early 2023. And season 8 part B (the true final chapter to this series) starts on October 22.
In 2019, AMC expanded the universe even wider when The Walking Dead: World Beyond was released, which focused on the first generation of children born into the zombie apocalypse.
Another exciting addition came in 2022, when Tales of the Walking Dead premiered. Produced as an anthology series, the producers used this format to give fans more of the world they love in a fresh and innovative way.
After that came The Walking Dead: Dead City, which takes place in Manhattan and premiered in June of 2023.
'THE WALKING DEAD: DARYL DIXON'
There's one more to add to this growing list of spin-offs, which is The Walking Dead: Daryl Dixon. The first season of the spin-off premieres on September 10, 2023, on AMC and will consist of six episodes. And the best part is, the show has already been renewed for a second season.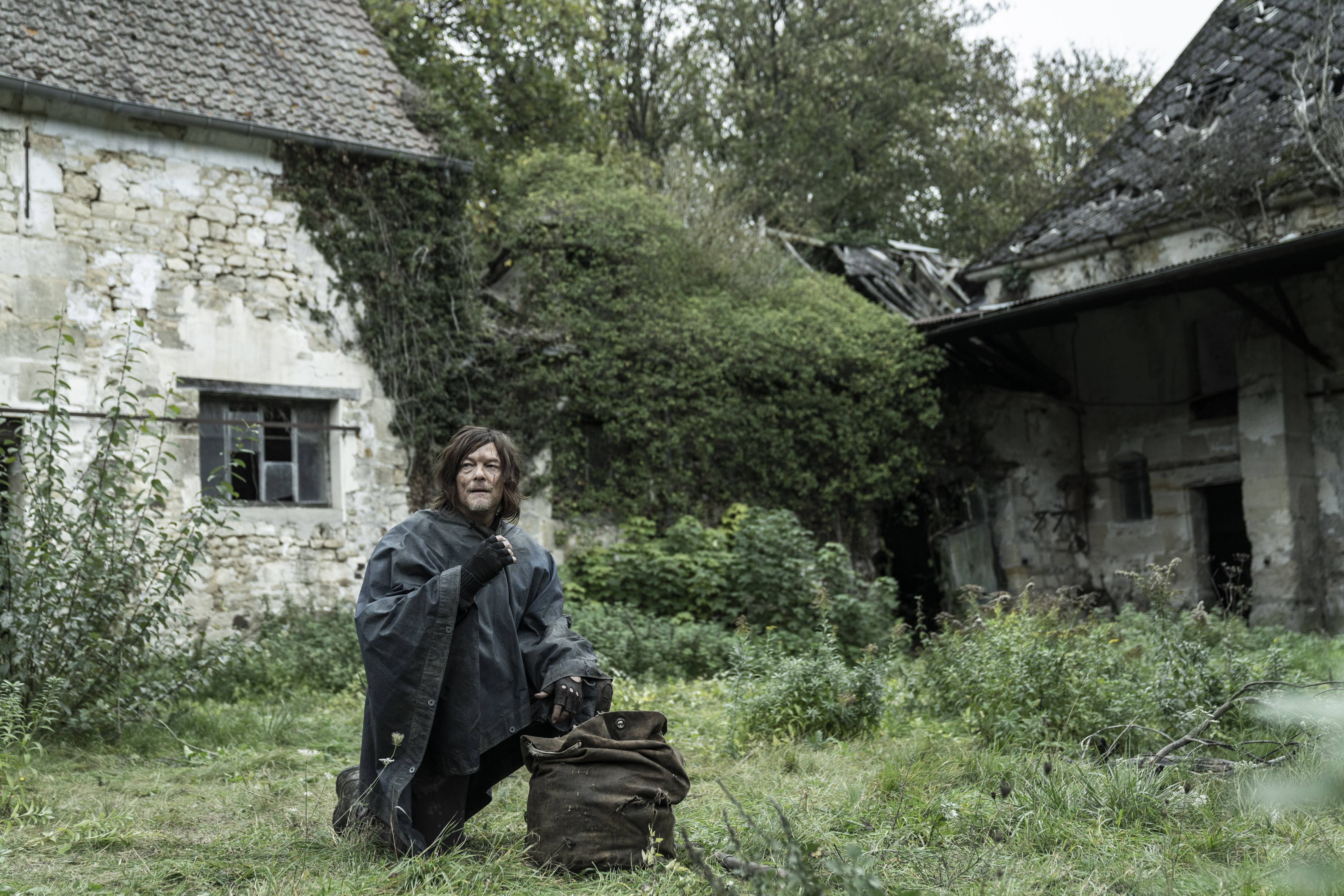 WHO IS DARYL DIXON?
The first season of Daryl Dixon might only have six episodes, but we will take all the Norman Reedus as Daryl as we can.
And for being one of the most important, long-standing characters in the entire Walking Dead Universe, it's interesting to find out that Reedus's character actually didn't exist in the comics. The role was created specifically for him after he originally auditioned for Merle Dixon, who ended up being played by Michael Rooker.
So, now that one of TWD fandom's favorite characters has finally landed a show of his own, what can viewers expect from it?
Explore everything Norman Reedus including more about Daryl Dixon and his other show, Ride with Norman Reedus in our "New Norm" feature. 
'DARYL DIXON' SEASON 1 PREVIEW
One of the best parts about TWD Universe is that fans never get the same show twice. Each spin-off has a unique perspective into the post-apocalyptic world, from location and generation to threats and personal conflicts. And the expansion of the universe continues with TWD Daryl Dixon.
AMC put out a statement regarding the new show's plot, explaining the show will:
"Follow Daryl as he wakes up and finds himself somewhere on the European continent and tries to piece together what happened. How did he get here? How's he going to get home?"
All signs point to Daryl waking up in France, based on an end credits scene from the World Beyond finale.
A bit of backstory: neither the comics the shows are based on nor the showrunners themselves have ever tried to explain the origin of the zombifying virus that caused the end of the world. Until now.
The end credits show a scientist getting shot in abandoned lab in France after watching experiment videos from Dr. Edwin Jenner. If the name sounds familiar, it's because Dr. Jenner was a character from season 1 of the original show who worked for the CDC.
So, it seems like France had something to do with the whole virus thing. What Daryl discovers once he ends up there, though, is anyone's guess.
CAST OF 'TWD DARYL DIXON'
Apart from the talented Norman Reedus reprising his role as skillful hunter, Daryl Dixon, who else is part of the show's cast? Fans can expect a mostly new cast with some potential returning characters, including:
Clemence Poesy as Isabelle, a member of a progressive religious group
Adam Nagaitis as Quinn, the owner of an underground nightclub
Anne Charrier as Genet
Eriq Ebouaney as Fallou
Laika Blanc Francard as Sylvie
Romain Levi as Codron
Louis Puech Scigliuzzi as Laurent
Paloma as Coco
Melissa McBride as Carol Peletier
This spin-off was initially said to be about Daryl and Carol and their relationship but has since been rebranded to Daryl Dixon. For fans who were rooting for Daryl and Carol to finally move from platonic soulmates to romantic partners, many hoped this spin-off might have been the chance to see it happen.
Unfortunately, this won't be the case, as this series does appear to be the Daryl series, above all else. But, based on photos taken during the show's filming last year, it does look like we will get at least some screen time from McBride as Carol.
Well well. We're sorry Norman… fer talking oodles of shit to you when we thought melissa wasn't doing show! Golly… this must of been in the works for ages! (Twas from start) Goddamn it's great seeing these two together! Can't wait! Xojd pic.twitter.com/yYwyTq5hAG

— Jeffrey Dean Morgan (@JDMorgan) June 22, 2023
However the screentime plays out, Norman Reedus still has high hopes for the upcoming show. About the series, Reedus said:
"I feel like we're not cranking it out for numbers on a Sunday night. We're making art, and there's moving dialogue… It's a different animal and it's beautiful, it's touching, and it's sort of amazing to look at and listen to and watch and feel."
That sounds pretty good to us!
FIRST LOOK AT 'DARYL DIXON' TRAILER
The trailer's first footage shows Daryl sprawled out on a small boat off what we find out is the coast of France. He soon finds himself in a monastery, which makes sense, as one of the main characters is said to be part of a religious group.
Somehow, Dixon gets connected with a young child, Laurant, who is apparently going to "lead the revival of humanity." While that sounds somewhat like the plot of The Last of Us, there are many ways this storyline could go, and we are looking forward to following it to the end.
From the looks of the trailer, the season will have its fair share of both human vs. human violence and human vs. walker violence. But as Reedus explained, there is a different vibe to the show than what fans may be used to, and it's evident in the trailer. Check it out here:
HOW TO WATCH 'THE WALKING DEAD: DARYL DIXON'
The Walking Dead: Daryl Dixon will premiere on AMC (Ch 254) on Sunday, September 10, 2023.
New episodes will be released weekly. Fans can watch the six episodes live when they air on AMC at 9:00 pm ET, which you can find on channel 254 on DIRECTV.
For DIRECTV customers, you can also set the season to record on your DVR, so you can watch Daryl take on whatever challenges he faces in France whenever you're ready. The episodes will also be available for streaming on AMC+, a premium add-on for DIRECTV subscribers.
If you aren't a DIRECTV customer yet, now is the time to switch! Customers can choose from four unique packages depending on your needs, so you get more of the content you want, and less of the stuff you don't.
If you aren't sure which package is right for you, take this quiz!
And make sure to sign up before the premiere of the new series, The Walking Dead: Daryl Dixon, happening on Sunday, September 10.
Frequently Asked Questions
When is The Walking Dead: Daryl Dixon coming out?
The new Walking Dead spin-off, Daryl Dixon, premieres on Sunday, September 10, 2023 at 9 PM ET.
Where can I watch The Walking Dead: Daryl Dixon?
New episodes of TWD Daryl Dixon premiere on AMC, and can be streamed on AMC+.
The content is featured on https://www.directv.com/insider/ is editorial content brought to you by DIRECTV. While some of the programming discussed may now or in the future be available affiliates distribution services, the companies and persons discussed and depicted, and the authors and publishers of licensed content, are not necessarily associated with and do not necessarily endorse DIRECTV. When you click on ads on this site you may be taken to DIRECTV marketing pages that display advertising content. Content sponsored or co-created by programmers is identified as "Sponsored Content" or "Promoted Content."