With the holiday season comes an undeniable feeling of warm and fuzzy familiarity and a lot of nostalgia: the soft twinkle of the Christmas tree, the lively crackling of potato latkes in hot oil, the comforting smell of turkey and brisket coaxing you to the dinner table. Whether you celebrate Christmas or Hanukkah, the festivities that make these days so special are bathed in traditions that vary from country to country, city to city, and family to family.
This holiday season, we wanted to know which classic films Americans planned to pop into their dusted-off DVD players, which foods graced their piled-high dinner plates, and what quirky celebrations would be unfolding in different corners of the country. And so, we surveyed just over 1,000 people who celebrate either Christmas or Hanukkah (or both!) to get to the bottom of the season's most – and least – popular holiday pillars.
Once you've got a mug of hot chocolate in hand and the sweet sounds of "A Christmas Story" filling the air, read on to see how people across the country are getting in the holiday spirit.
Signs of the Season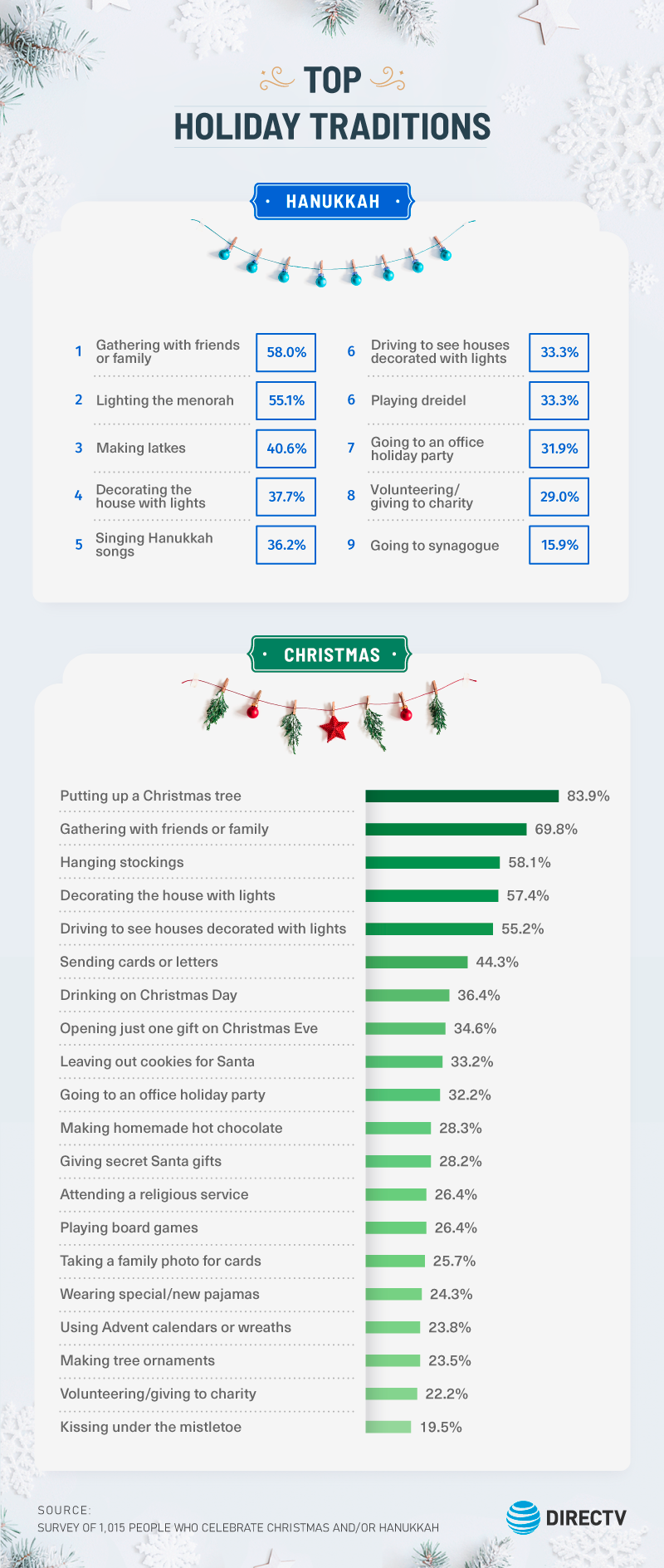 "O Christmas tree, O Christmas tree, how lovely are thy branches!"
No, really, how lovely are they? According to our respondents, nothing beats them: 84 percent of people who celebrated Christmas said they planned on putting up a tree this holiday season. In 2017, 48.5 million Christmas trees were purchased nationwide, 27.4 million of which were the real deal (the other 21.1 million were artificial).
Nearly 70 percent of respondents also planned to spend time with family and friends as a part of their Christmas celebrations, and 58 percent looked forward to hanging a few stockings – making mantles and fireplaces everywhere just a little more festive.
On the Hanukkah side of things, lighting the menorah – a practice commemorating one of the most important miracles of the Jewish faith – was one of the most commonly held traditions. Playing dreidel and making latkes (also known as potato pancakes) were similarly popular Hanukkah activities, along with gathering with loved ones and decorating the house with lights.
The Great Tree Debate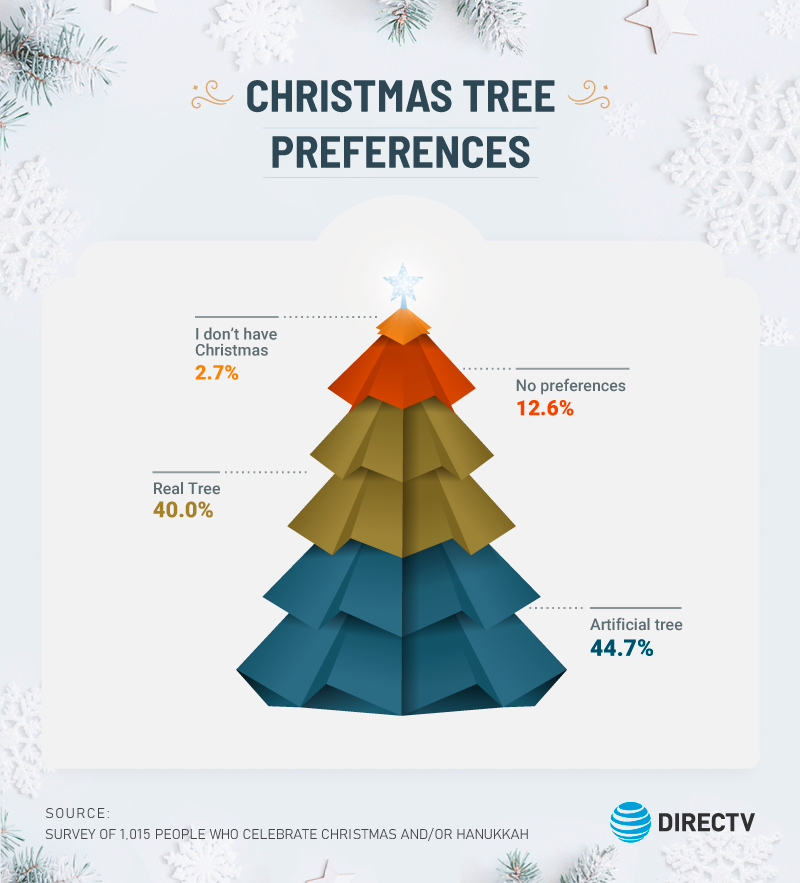 With so many Christmas tree options at our fingertips, the rivalry between real and fake trees has never been stronger. Our respondents were nearly split down the middle, with 40 percent favoring real trees and nearly 45 percent going artificial. While many have made environmental cases for both live and fake trees, one type is not necessarily more eco-friendly than the other: As with most things, it depends on the specific situation.
For example, real trees that still have roots are great for the environment: They can be potted, enjoyed during Christmas, then re-planted outside to grow and thrive. And while plastic trees have raised certain red flags regarding sustainability, buyers who reuse their fake trees long term have a similar environmental impact to those who purchase real trees.
Holiday Traditions From Coast to Coast

Nothing highlights America's diverse tapestry of regional traditions like the holidays. While each corner of the U.S. has certain customs, some holiday habits can vary state by state as well: from California's surfing Santa competition to munching on Nordic lutefisk in Minnesota, Christmas in America is often a wild ride
Revelers in the Midwest were nearly 61 percent more likely to enjoy a round of board games (Monopoly, anyone?) than the national average (if you're looking for some inspiration, here's a list of board games that suit audiences of all kinds). They were also far more inclined to sleep beneath the Christmas tree – to the tune of almost 42 percent more than the average American.
Up in the Northeast, cookie exchanges were particularly popular (48 percent higher than the national average), followed closely by the beloved tradition of The Elf on the Shelf. Residents of the Northeast were also more likely to be chopping down their own Christmas trees.
Down South, attending "The Nutcracker" was far and away the most popular regional tradition – close to 58 percent higher than the national average. However, Southerners aren't the only ones who get a hankering for "The Nutcracker" around the holidays: Each year, theaters across the globe put on one of many versions of this classic production.
Finally, residents of the West were all about wearing paper crowns, a tradition that is actually most often associated with British culture. Forever festive, West Coasters also enjoyed using a very disproportionate amount of Christmas crackers and poppers!
'Tis the Season for Movies
From Esquire to Good Housekeeping, everyone's got a take on which Christmas movies are the greatest of all time. The films near and dear to people's heart can even differ along state lines, and many families carve out their very own traditions to be revisited year after year.
For our respondents, the most popular Christmas movie overall was "A Christmas Story" (41.1 percent said they watched it during the holidays), the ubiquitous belly laugh-inducing flick that showcases the snowy trials and tribulations of Ralphie Parker. Will Ferrell's "Elf" (40.9 percent) – another rollicking comedy about a North Pole-raised boy facing the head-spinning realities of New York City as an adult – was a very close runner-up.
When it came down to generational divides, though, there were many differences to be observed. Baby boomers, Gen Xers, and Millennials all had different preferences for their No. 1 Christmas movie: "It's a Wonderful Life," "A Christmas Story," and "Elf," respectively. For the two older generations, "Rudolph the Red-Nosed Reindeer" and "A Charlie Brown Christmas" were also widely watched. Our youngest respondents were also uniquely partial to "Home Alone" and its sequel.
Tastes of the Holidays

Nothing says "happy holidays" like testing the load-bearing capacity of your dinner table (not to mention the waistband of your pants). Brisket, fruitcake, latkes, and gingerbread … some Christmas and Hanukkah feasts are so bountiful you can barely see the tablecloth through the plethora of plates. But which dishes are licked clean the fastest, and which are cast aside in favor of tastier bites?
The food that topped our respondents' favorites list was the humble rugelach pastry; its name derives from the Yiddish word meaning "little twist." Chocolate and cinnamon are the most typical varieties of this croissant-style pastry, and apparently, its fans simply cannot get enough. Prime rib snagged second place among respondents' top foods, followed by its cousin brisket, then potato pancakes – aka latkes.
Of course, for every beloved holiday food, there's an equal and opposite scorned specialty. Our respondents weren't crazy about candy canes, crowning these crunchy mint hooks as their least favorite food. However, there are signs of this relationship being a love-hate situation: Each year, more than 1.76 billion candy canes are made in the U.S., 90 percent of which are purchased in the short time between Thanksgiving and Christmas. That's a lot of "disappoint-mint" for the candy cane haters out there.
When it came to holiday beverages, our respondents were all about warm, wholesome sips: Hot chocolate took the top spot, followed by coffee. Apple cider, tea, and Champagne (or sparkling wine) all tied for third, with holiday punch just behind.
Seasonal Specials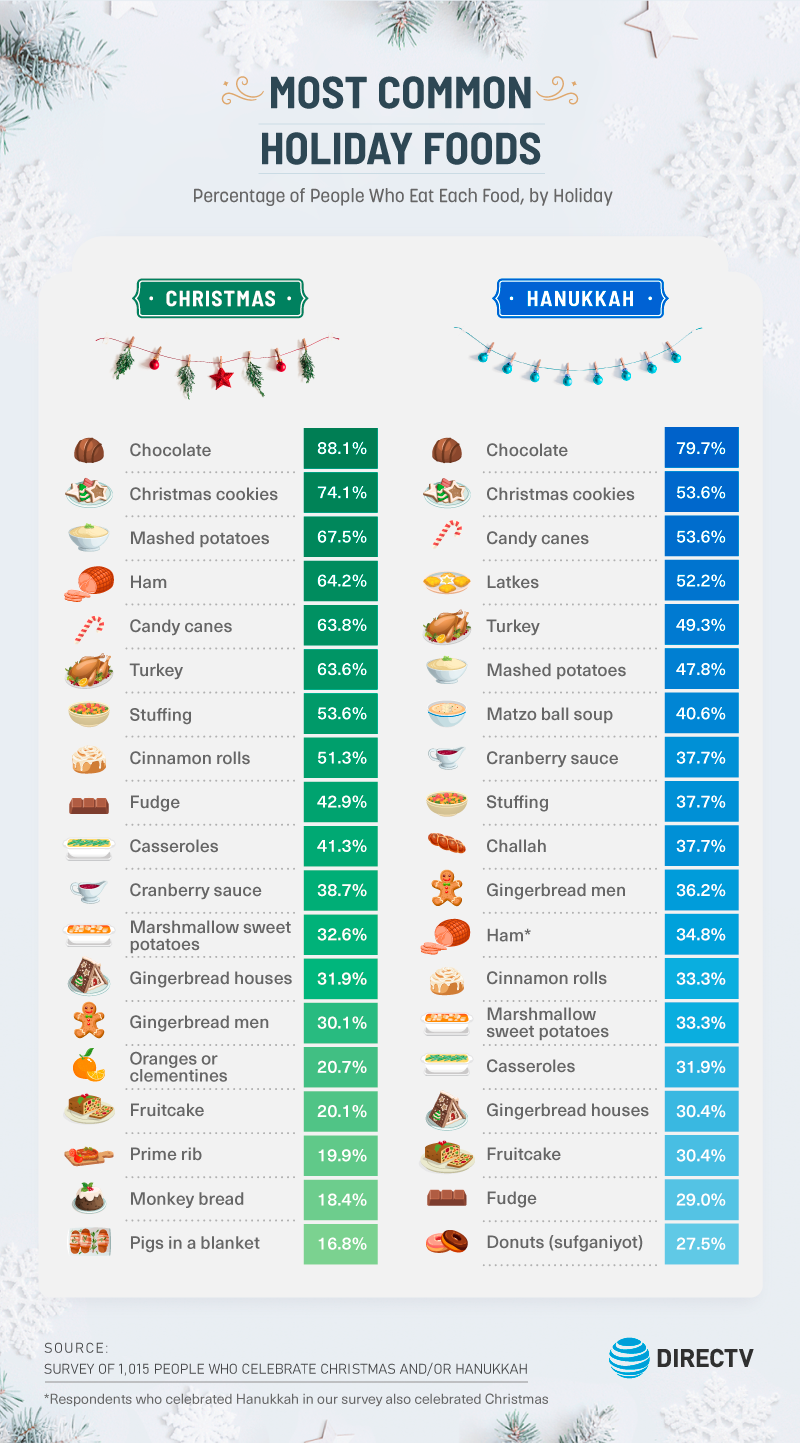 Some foods were just made for the holiday season. One such delicacy is chocolate, our respondents' most commonly eaten holiday food for both Christmas and Hanukkah alike: Just over 88 percent of Christmas merrymakers enjoyed chocolate as a part of their celebrations, while nearly 80 percent of Hanukkah celebrants did the same.
Americans are no stranger to enjoying a little chocolate, consuming 9.5 pounds of the good stuff per capita each year – and while that's a lot of finger-licking goodness, nothing compares to the average Swiss who munches an average of 19.8 pounds of heavenly chocolate per year!
Interestingly enough, Christmas cookies were the second-most popular snack of choice in both camps, although the number of respondents who indulged in these wintry treats was larger among Christmas revelers than Hanukkah partiers (around 74 and 54 percent, respectively). In fact, the former seemed to have a larger appetite in general, with more members of this demographic indulging in their preferred holiday treats than their Hanukkah-observing counterparts.
Conclusion
So which holiday movies, foods, and traditions reigned supreme, and which ones were left in the dust? Putting up a Christmas tree and lighting the menorah were among the most popular traditional activities, followed closely by gathering with loved ones. On the Christmas side of things, the battle between real and artificial trees was neck and neck, and rugelach reigned victorious as the most loved holiday food overall.
While the population at large shared a preference for "A Christmas Story" more than any other holiday movie, millennials, in particular, were partial to "Elf," and baby boomers were all about "It's a Wonderful Life." Gen Xers stood by "A Christmas Story" as their overall favorite.
No matter which camp you're in, DIRECTV has you covered this holiday season. From feel-good flicks to side-splitting comedies, the season's classics are all right here. So put the finishing touches on the Christmas tree, light the final candle on your menorah, and gather 'round the TV in your printed pajamas for a merry DIRECTV holiday movie marathon.
Methodology
For this project, we surveyed 1,015 people who celebrated Christmas, Hanukkah, or both. 946 participants celebrated only Christmas, 15 solely celebrated Hanukkah, and 54 participants celebrated both holidays. To conduct the survey, we used Amazon's Mechanical Turk platform.
Participants were between the ages of 19 and 75, and the average was 36.8. The standard deviation was 11.5.
To determine the most widely watched holiday movies, we first did a preliminary survey to discover the top 50 most watched movies around the Christmas and Hanukkah holidays. The responses included both Christmas and Hanukkah celebrants.
Limitations
Our analysis is not comprehensive of all possible traditions, foods, and movies that are a part of holiday traditions. We crowdsourced the most popular holiday traditions using forums, internet research, and preliminary surveys.
The information presented has inherent issues because it relies solely on people's perceptions of their experiences and their memories. Issues may include poor recollection or incorrect memory, exaggerated information, and attribution.
We did not statistically test our findings, so this content is purely exploratory.
Sources
● https://www.newsweek.com/10-weird-holiday-traditions-celebrated-around-world-757732
● https://www.refinery29.com/en-us/2018/11/218195/what-is-hanukkah-traditions-story-meaning
● https://www.cnn.com/2016/12/09/world/christmas-tree-fake-real/index.html
● https://www.theguardian.com/lifeandstyle/2018/dec/08/are-real-or-fake-christmas-trees-better-for-the-planet
● https://www.msn.com/en-us/lifestyle/smart-living/the-most-unusual-christmas-tradition-in-every-state/ss-BBH09kV
● https://www.vulture.com/2016/12/best-family-adult-board-games-holidays-christmas.html
● https://www.nytimes.com/2017/11/21/arts/dance/what-makes-a-traditional-nutcracker-ballet.html
● https://www.countryliving.com/life/a46116/christmas-crowns/
● https://www.esquire.com/entertainment/movies/a50565/best-christmas-movies-of-all-time/
● https://www.goodhousekeeping.com/holidays/christmas-ideas/g1315/best-christmas-movies/
● https://www.thrillist.com/news/nation/most-popular-christmas-movie-in-every-state-google-map
● https://www.newyorker.com/culture/annals-of-gastronomy/a-search-for-superior-rugelach-and-the-harlem-baker-whos-making-the-best-in-town
● http://time.com/5069554/candy-cane-story/
● https://www.forbes.com/sites/niallmccarthy/2015/07/22/the-worlds-biggest-chocolate-consumers-infographic/#d6d587644847
Fair Use Statement
If you love the holidays as much as we do, feel free to share this article with your friends and family – as long as it's for non-commercial use! We just ask that you show some holiday spirit and link back to this page to give proper credit to its creators.