This promotion may have concluded, but it's not too late. Get SHOWTIME half off for 3 months now. 
WHAT'S INCLUDED?
Starting on April 14, you can get hooked on SHOWTIME® hit original series, live combat sports and star-studded Hollywood movies with a four-day free preview on us.
Catch the premiere episode of new anthology series The First Lady on April 17 at 9 p.m. and get hooked on the high powered and high stakes antics of Billions® and Super Pumped: The Battle for Uber. Gather the family or your crew, pop the popcorn and prepare for laughs with The War With Grandpa and Queenpins. Get your BELLATOR MMA™ fix on April 15 when A.J. McKee and Pitbull rematch for the featherweight title. And that's just the beginning.
Tune in April 14 through April 17 to find your next favorite series, enjoy a movie pick, or watch live sports on SHOWTIME®, free of cost.
HOW TO WATCH
DIRECTV
SHOWTIME® Channels 545-556.
Enjoy the free preview live or live streaming on the DIRECTV app and on directv.com.  VOD is not available.
DIRECTV STREAM
SHOWTIME® channels starting at channel 545.
Enjoy the free preview live or on-demand.
HIGHLIGHTS FROM SHO
THE FIRST LADY
Airing April 17 at 9 p.m., 10 p.m. and 11 p.m.
Get a glimpse into the intimate, unexplored stories of three women who changed the world from the East Wing of the White House. Academy Award® winner Viola Davis, Golden Globe® winner Michelle Pfeiffer and Emmy® winner Gillian Anderson star as Michelle Obama, Betty Ford and Eleanor Roosevelt. Be one of the first to watch The First Lady.
SUPER PUMPED: THE BATTLE FOR UBER
Airing April 14 at 10 p.m.
April 16 at 3:30 a.m. and 5 p.m.
April 17 at 12 a.m. and 6 p.m.
Buckle up for a wild ride through Silicon Valley with Joseph Gordon-Levitt as Uber founder, Travis Kalanick. Super Pumped: The Battle for Uber follows the spiraling journey of the budding entrepreneur with the support of Kyle Chandler and Uma Thurman as venture capitalist Bill Gurley and board member Arianna Huffington respectively.
BILLIONS®
Billions® – S6, Ep.12 airing April 14 at 11:30 p.m.
April 16 at 5 a.m and 6 p.m.
April 17 at 1 a.m. and 7 p.m.
Get hooked on Billions®!  Mike Prince (Corey Stoll) takes his place on the Axe Capital throne and Chuck Rhoades (Paul Giamatti) is convinced no one should have that much wealth or that much power in this high-stakes drama.
BELLATOR MMA™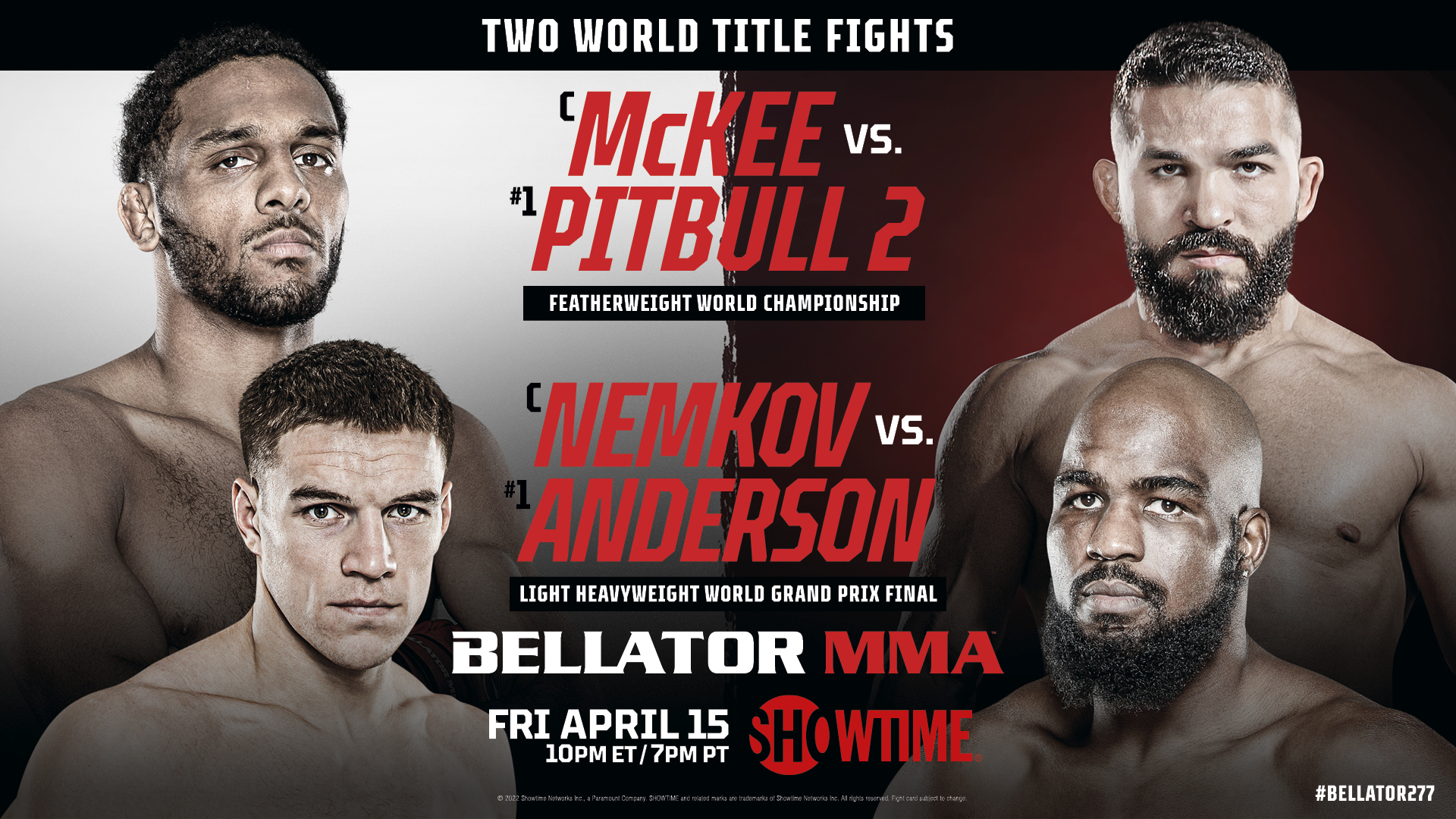 Airing April 15 at 10:00 p.m. and April 16 at 9 a.m.
The highly anticipated rematch between featherweight fighters A.J. McKee and Patricio Pitbull will come to a head on Friday, April 15. Plus, champion Vadim Nemkov vs. Corey Anderson in the BELLATOR MMA™ Light Heavyweight World Grand Prix final.
THE WAR WITH GRANDPA
Airing April 14 at 6:55 a.m.
Recently widowed grandfather Ed (Robert De Niro) moves in with his daughter (Uma Thurman) and takes over his grandson Peter's bedroom. However, sixth grader Peter doesn't take lightly to the new arrangement and, in an attempt to win back his coveted private space ignites a fierce intergenerational prank war.
QUEENPINS
Airing April 14 at 1 p.m.
Feverish couponers Connie (Kristen Bell) and JoJo (Kirby Howell-Baptiste) hatch an illegal coupon club scheme that scams millions from mega-corporations and delivers deals to legions of fellow coupon clippers. But their lucrative bubble is about to be popped by a loss prevention officer and U.S. postal inspector.
Whether you watch tv on your phone, big screen, or computer, you won't want to miss this free preview of the critically acclaimed entertainment on SHOWTIME®.
SHOWTIME and related marks are trademarks of Showtime Networks Inc., a Paramount Company. Individual programs, devices and marks are the property of their respective owners. All Rights Reserved.