Sharp Objects premiered on HBO July 8 and it's about to be your newest TV obsession: it's a character drama, but also a murder mystery. Each week, DIRECTV is going to break down the latest episode. We'll examine what we know so far and what new questions arise as the story unfolds.
Disclaimer: I'm writing these as I watch each individual episode. I also haven't read the Gillian Flynn book on which the show is based. As a result, these weekly posts are spoiler-free except for the episode they pertain to (and ones that came before).
In the second episode ("Dirt,") everybody who's anybody attends Natalie Keene's memorial service. Camille (Amy Adams) continues to focus on Natalie's brother, John (Taylor John Smith), and Ann's dad, Bob (Will Chase), as her primary suspects, as do the police. But there is a local legend that pops up from an eyewitness to Natalie's disappearance that gives Camille pause.
Meanwhile, back at the Preaker mansion, Adora (Patricia Clarkson) continues to harangue Camille for basically everything, seemingly blaming her eldest daughter for all the family's problems, even as her younger daughter, Amma (Eliza Scanlen), leads a double life and struggles with the aftermath of the girls' murders.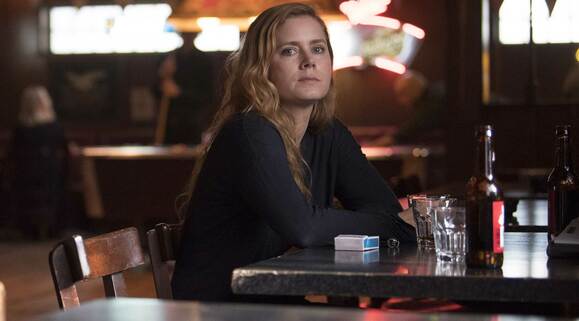 Five Things We Learned
Chief Vickery (Matt Craven) seems very put out by big city Det. Willis (Chris Messina) being a part of the investigation, even though Vickery asked for help after Natalie went missing. Vickery has also been very standoffish with Camille, warning her in episode one that he doesn't want any of this to "get out." He may just be a smalltown policeman who doesn't like outsiders, but I'd think he would want the killer brought to justice regardless of who solves the crime.
Speaking of Det. Willis, he seems to have decided that Bob Nash is the primary suspect. Camille catches him getting tread marks off Bob's car during Natalie's funeral — and Bob is clearly persona non grata around Wind Gap because he gets thrown out of the luncheon at Natalie's house following the service.
The non-sexual nature of the crimes did make me wonder after the premiere episode if the killer could be female, but as Det. Willis finds out in episode two, it would have taken considerable strength to pull out the girls' teeth. The clues are pointing hard that the killer is male. However…
Natalie was playing in a park when she disappeared. A kid who was there claims he saw "the woman in white" take Natalie. The chief chalks this up to a poor kid with an overactive imagination, but Camille reminds him that the woman in white is a bit of local folklore about a woman who kills children. If this boy did see what he claims he saw, maybe there are two people working together to commit these murders?
John Keene has a girlfriend, Ashley (Madison Davenport), who looks to be one of the popular kids. But even she thinks the Keene family is weird and isolated from the rest of the town. It seems like we're going to find out a lot more about the Keenes before this is all said and done.
Five Unanswered Questions
In the first episode, Camille had a few flashes of a time in her life that clearly aren't when she was a teenager, but there wasn't enough to go on to really even speculate. But in episode two, she has visions of a girl who is definitely not her sister, Marian (Lulu Wilson), and who appears to have blood on her face. What's going on there? Was there another murdered girl that somehow ties into this?
In the premiere, Camille had a flashback to being chased through the woods by a group of boys while she was wearing her cheerleading outfit. In episode two, we find out that Camille quit cheerleading at some point and that the "mean girls" of her generation were always very jealous of Camille — "Watch the liquor, watch the men." One of the men, Kirk (Jackson Hurst), seems particularly interested in Camille, and his wife is the worst "viper" in the group. What can it all mean? Knowing this show, only something very dark.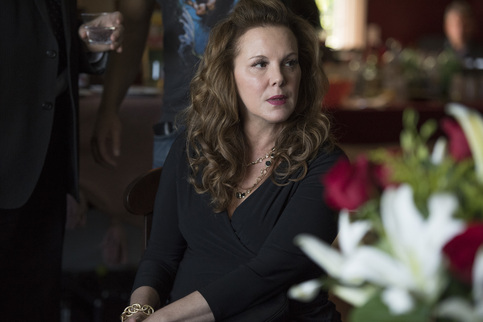 What is up with Jackie O'Neele (Elizabeth Perkins)? At first, she just seemed like an old friend of Camille and her mother. But her affection for Camille went to a whole other level in this episode. The way she can't stop talking about how pretty Camille is is bordering on creepy. It makes me wonder if Perkins and Adams were cast because they share a resemblance? The premiere episode left me wondering who Camille's father is (and if that's even important), but this episode has maybe given us some other things to chew on regarding Camille's family.
At the end of the episode, Amma has a fit of some kind and it pinged my radar for a couple of reasons. Was it faked, like a bid for attention or a cry for help? Was it real and Amma is suffering from some kind of mental issue? What did Marian die from, and how does that tie into Amma?
We've now heard from both girls' families that Ann and Natalie had a falling out before Ann died. That feels significant because it has been mentioned multiple times (and also Natalie crossed Ann out of her "like" list on her mirror and moved her to the "hate" list). But why did they stop being friends?
Telling Quotes
Camille: "It's dangerous out there for you. People are killin' little girls."
Kelsey: "Not the cool ones."
Whoa. Not only is this a horrible thing to say, but maybe Kelsey (Violet Brinson) has a point. Is there something to the fact that the victims have both been rough-and-tumble outsiders?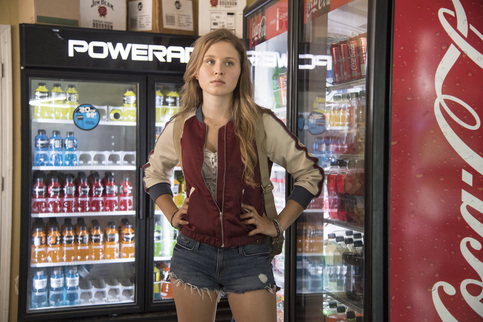 Camille: "My demons are not remotely tackled, they're just mildly concussed."
Well, at least Camille has the self-awareness to know that she has serious problems.
Who do you like for the killer? Sharp Objects airs Sundays at 9 p.m. ET/PT on HBO. Watch it on DIRECTV.
TV critic by way of law school, Andrea Reiher enjoys everything from highbrow drama to clever comedy to the best reality TV has to offer. Her work can be found at The A.V. Club, Entertainment Weekly, PopSugar, Variety and more. Her TV heroes include CJ Cregg, Spencer Hastings, Diane Lockhart, Juliet O'Hara and Buffy Summers. TV words to live by: "I'm a slayer, ask me how."