Of all the fish in the sea, sharks are arguably the ocean's most intimidating inhabitants. But should they be? Forget their toothy-and-terrifying rep for a second, and ask yourself how much you really know about our finned friends – friends you hope you'll never meet in person.
For instance, we bet you didn't know there are more than 370 shark species, distinguished by a range of lovable evolutionary quirks. Take the great hammerhead shark's curious cranium or the ultra-rare frilled shark, whose serpent-like appearance has earned it a comparison to Nessie, the Loch Ness Monster. When it comes to eating habits, sharks are just as varied. While many sharks are aggressive hunters, the basking shark lives up to its laid-back name, taking it easy and slurping up plankton.
Here's the point: while sharks are scary movie mainstays, their pop culture impression is only part of the story. With Shark Week on the horizon, we've set out to share real facts about some of our favorite sharks, so you can see just how tough these beasts of the sea truly are.
But here's where you come in. Once you read up on our shark statistics, we'll ask you to weigh in on a bunch of hypothetical match-ups from the animal kingdom, pitting sharks against tough competitors. Don't forget to share your #sharkshowdown picks on social media, and bring the battle to your friends and family!
Using our interactive voting system below, you can make your picks and see how your answers stack up to those of other readers. Who sinks or swims? You decide.
SIZING UP SHARKS
In the graphic below, meet some of the baddest shark species in our seas. From an estimated 6-inch tooth (courtesy of a megalodon) to 35 mph swim speeds, these majestic predators are a force to be reckoned with.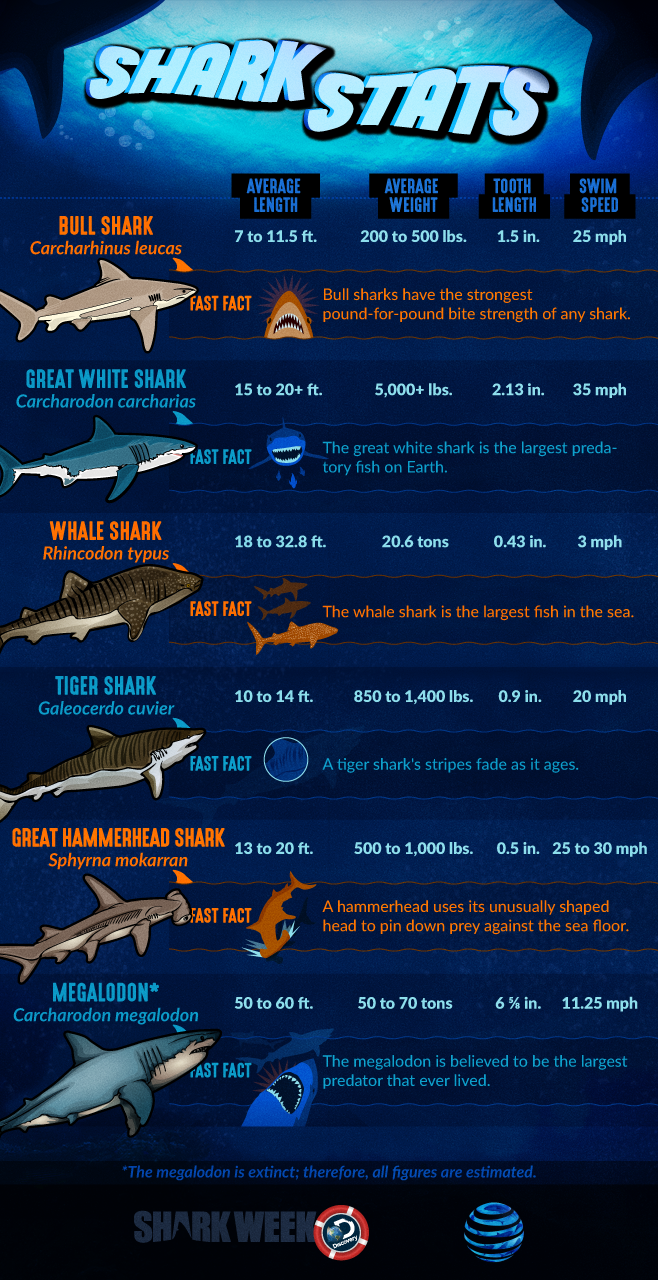 CHOMPING THE COMPETITION
Now that you know just how tough these sharks really are, it's time to make your picks in our Shark Showdown. For each match-up, select who you think would come out on top in a fight. Once you vote, you'll see how your opinion compares to the crowd. Bring the fight to social media, using #sharkshowdown when sharing who you picked! Who would you bet on if a grizzly bear and a great white shark faced off? How about Batman matching up with a megalodon? Let us know by casting a vote for the shark or its foe!
Thanks for voting in our Shark Showdown! If you want more shark facts and fearsome encounters, don't forget to check out Shark Week 2018 on Discovery. It's a great way to catch up with all your finned friends… from a safe distance.
SOURCES FOR SHARK STATS:
OTHER SOURCES: