Got plans for Halloween night? Let's be honest, you probably already dressed up and went to two Halloween parties this past weekend. You could make it a Halloween celebration trifecta, but the spooky holiday unfortunately falls on a Wednesday this year. Even if you have kids and are on trick-or-treating duties, you'll be back home by 7pm before the ghosts, ghouls and rowdy teenagers start wreaking havoc on mailboxes and front lawns.
So, how do you celebrate? The NBA. That's how. Grab a whole bunch of candy, plop yourself down on the couch, ignore the excited trick-or-treaters that are ringing your doorbell and immerse yourself in the Halloween slate of NBA matchups all night long. Here's the rundown of games, each rated from 1-10 pumpkins, with 1 pumpkin being a likely boring game and 10 pumpkins being a must-watch game. Why pumpkins? Because it's Halloween and they look like basketballs. Duhhhhh.
Before we get started, here's a fun gif to get you in the NBA Halloween spirit.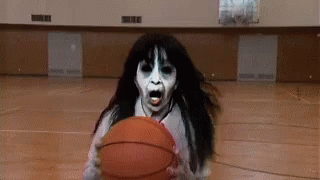 Detroit Pistons at Brooklyn Nets
The Nets have been surprisingly competitive so far this season, almost stealing wins from both the Pelicans and Warriors, but expect Blake Griffin and Andre Drummond to dunk all over Barclays Center in a close Pistons win.
Pumpkin Rating: ??????
Tip: 7:30pm ET
Indiana Pacers at New York Knicks
The Pacers have a very deep roster and Victor Oladipo has picked up right where he left off last year. The young Knicks back court can really put some points up when they get hot, but consistency is an issue. This will be a back-and-forth battle over the first 24 minutes, but the Pacers should wear down David Fizdale's squad in the second half and win by double digits.
Pumpkin Rating: ????
Tip: 8:00pm ET
Advertisement
Denver Nuggets at Chicago Bulls
Nikola Jokic is a legitimate MVP candidate this year, with a solid supporting cast behind him in Denver. Other than Zach LaVine's almost 30ppg so far this season, the Bulls have been struggling to score. That's not a good recipe against the Nuggets' #2 ranked defense in the Western Conference so far this season.
Pumpkin Rating: ??????
Tip: 8:00pm ET
Utah Jazz at Minnesota Timberwolves
Donovan Mitchell and crew are maybe the most exciting team to watch in the league right now. They are having fun. The Timberwolves, on the other hand, are not having fun. They are currently a mess, with Jimmy Butler trade talk hanging over their heads. If Minnesota can match Utah's energy, this will be an awesome game. That's a big "if" though.
Pumpkin Rating: ???????
Tip: 8:00pm ET
New Orleans Pelicans at Golden State Warriors
Steph Curry. Kevin Durant. Klay Thompson. Draymond Green. Anthony Davis. Nikola Mirotic. Julius Randle. Jrue Holiday. A potential Western Conference Finals preview. You shouldn't need any other reason to watch. Stay up for this one!
Pumpkin Rating: ??????????
Tip: 10:30pm ET
Dallas Mavericks at Los Angeles Lakers
Both teams rank in the lower-third of the league in team defense, so this will be an up-and down, fast paced game with a lot of scoring, especially around the rim. LeBron will probably put up ridiculous numbers because he always tends to do something big on holidays, and Halloween night in Los Angeles will be a spectacle.
Pumpkin Rating: ???????
Tip: 10:30pm ET
San Antonio Spurs at Phoenix Suns
The Suns are once again really young and this will be another growing year for the team. Unless Devin Booker can go off for 70 points again, the new-look Spurs will most likely cruise to an easy win, with DeRozan continuing to establish himself as a leader and weapon in San Antonio.
Pumpkin Rating: ????
Tip: 10:30pm ET

HAPPY HALLOWEEN!