In the moments before the Los Angeles Sparks were due to take on the New York Liberty, Nneka and Chiney Ogwumike employed a pregame routine perhaps only two sisters could've developed.
Nneka, 29, and Chiney, 27, shot according to a pattern: Nneka would pick a shooting spot on the floor, and Chiney would follow, big sister setting the pace for little sister.
This after-school blacktop special represents both the opportunity and the challenge the Sparks and first-year head coach Derek Fisher have faced in the 2019 season: How best to utilize a pair of bigs, whose skills overlap with one another to a significant degree, without overloading the team's frontcourt—which, by the way, also features talents like former MVP Candace Parker and the team's first round picks in each of the past two drafts, Kalani Brown and Maria Vadeeva.
And yet, for all the concerns about whether the court's big enough for two Ogwumikes, the numbers reflect how effective they've been since the team acquired Chiney from the Connecticut Sun this past offseason in exchange for a 2020 first round pick.
Overall, the Sparks have largely been a break-even team so far. Their offensive rating is 97.6. Their defensive rating is 98.0, according to Positive Residual's calculations. That's a net rating good for eighth of 12 in the WNBA, at the periphery of playoff contention in a league where only eight teams make the playoffs.
But during the minutes when both Chiney and Nneka are on the floor? The offensive rating jumps to 100.7, the defensive rating dips to 93.2, good for a 7.5 net rating, which would be better than any team other than the Washington Mystics so far this season, on par with what the Seattle Storm put up last year en route to a WNBA title.
In other words: with both Ogwumikes, the Sparks are a force.
But what's the magic behind the numbers? Fisher has a few theories.
"First of all, who they are as women is what makes it work, because they're willing to sacrifice for whatever's best for the team," Fisher said following the Liberty game last week. "I think when you approach things from that perspective, the game is easier. You play with more fluidity because you're not trying to force things to make yourself look good, you're just playing basketball to help the Sparks win. So the fact that they're both cut from that cloth, in terms of their family, who they are, I think that's the first reason why it works.
"The second reason is the interchangeable nature of both Chiney and Nneka… having them at the elbows, having them at the perimeter, being able to use a lot of actions to create spacing […] They both are so well-rounded as players that they just kind of make it work, and we're thankful to have them."
Similarities to their game aside, the Ogwumikes mirror each other in other ways. Both were the number 1 overall WNBA pick—the only siblings besides Eli and Peyton Manning with that accomplishment in professional sports—and both are former rookies of the year. (Nneka was the league's MVP in 2016. Your turn, sis.)
But the sisters aren't identical twins on the court. Nneka is 6'2″, but plays as big as the 6'4″ Chiney. They've both played primarily the four and five their entire careers. So not only are there questions about how it works in practice, there's a simpler question on every possession: who does what?
Take this play in a recent Sparks-Wings game. Much of the time Nneka sets the screen on pick-and-roll action for point guard Chelsea Gray to get to the hoop. This time, it's Chiney, with Gray then kicking the ball out to Nneka, who rumbles to the basket.
Other times, the pair uses their collective size to create an inevitable score around the rim.
So how do they decide who does what each time? Fisher concedes it's not always his coaching, but simply the result of a lifetime as sisters.
"They don't always have to say a lot to be on the same page," Fisher said. "They can just kind of give each other a look."
To hear Chiney tell it, much of the time it doesn't even take that much.
"We both consider ourselves capable shooters, and when one person is spacing, the other person has ownership of the paint, and vice versa," Chiney said. "So we try to play inside and out, but then also try to read each other's minds, so… She's attacking and solid, I know—oh, I can go and get her and set a screen…It's just feeling the game out, but like we tend to try to tag team it, one person's outside, one person's inside."
Inside-outside basketball. It sounds simple, but if it were that easy, there might be more sister acts in the WNBA. Take a recent win against the Dallas Wings, when the Ogwumike sisters combined for 41 points. Nneka is capable of finding Chiney on the block, whether in the halfcourt…
…or in transition.
In each case, Nneka's defender can't leave to double Chiney—Nneka is an elite shooter from distance. During her MVP season in 2016, she shot an absurd 61.5% from three. That number is down to 39% so far this season, still elite, but also reflects dramatically more attempts from beyond the arc. She took 26 threes in 2016. Her career-high in attempts came a season later, with 53. Through 18 games this season, Nneka has attempted 48 threes, including this no-hesitation pull-up trailing the play:
But Chiney, too, has become increasingly comfortable on the perimeter, hitting her first career three in 2018. Her shot distribution chart from last season in Connecticut to this season bears this out. Here's 2018: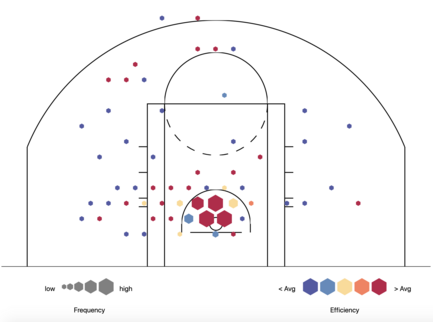 And here's 2019: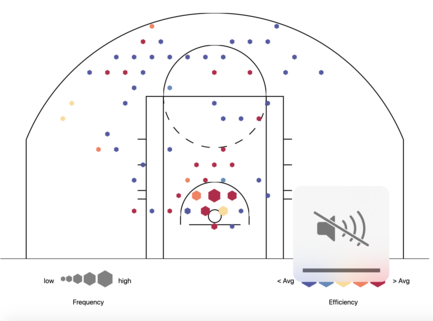 From Chiney's perspective, the evolution of her game simply reflects evolution of the game.
"That's how basketball is being played," Chiney said. "So now we're just trying to work on our skills individually. Okay, for round one, Nneka can knock down the three, I can slice the paint…I'm on the perimeter, I can knock down the long-distance shot, then Nneka can attack the paint."
Again, a relatively straightforward strategy that's easier said than done. The sisters' success at executing it cannot be attributed to tactics alone. Nor is it just their previous time as teammates; when their Stanford careers overlapped, neither of had a varied, perimeter-heavy offensive game.
"We have a chemistry that we developed over our lives, and most especially at Stanford," Nneka said. "It's been a transition into developing a new chemistry. We're now currently both deep into our professional careers, and so we've changed as players."
So what's the explanation? How is it that at tipoff against the Liberty, Nneka flicked the jump ball to the precise spot where Chiney was headed?
Nneka smiled. Like any "instant" success, it's been a long time in the making.
"I mean, I know how she moves," Nneka said. "And so I can anticipate how a play is going to play out that's involving her, and she knows me in that same way…We have an instinct that you can't really develop overnight."