When it comes to video games that celebrate Christmas, the titles are few and far between. Sure, you can put a Santa outfit or a tree clad in tinsel into the game for a seasonal event, but that doesn't qualify your title as a holiday game. It makes sense; not everyone is going to get excited over a game during a time of year that we don't celebrate in the same way, if at all.
But there's a certain market for holiday content, of course, and it's the same market that greedily gobbles up every new Netflix Christmas special and listens to Mariah Carey's "All I Want for Christmas is You" over and over again as soon as December rolls around. As of yet, there haven't been many opportunities for video games to explore the most wonderful time of year, leaving the hilarious (and gory) Dead Rising 4 to fill that gap on its lonesome.
The result is over-the-top, chaotic…and extremely fun to play. Though it may be totally inappropriate for young players, for everyone else, Dead Rising 4 is a seasonal must-play. Like how Die Hard is generally accepted today as a holiday movie, this game deserves a similar classification, as it's rife with the same festive action and irony we love in the Bruce Willis film. Perhaps it's time to start a new Christmas tradition.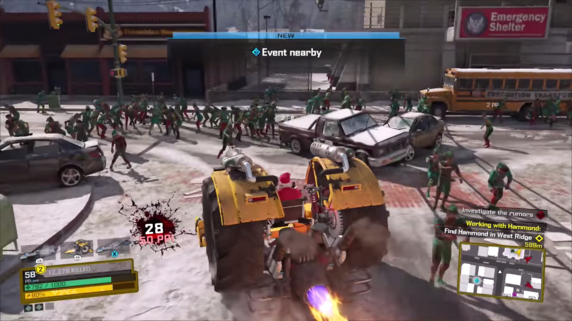 It's also totally different from the first game, which, in this case, is a good thing. Dead Rising 4 took a considerable risk when it decided to bring series protagonist Frank West back where the deadly zombie outbreak of the original Dead Rising first began in 2006. For one thing, the original game had nothing to do with the holiday season. It was a straight-up homage to Dawn of the Dead, through and through.
The game had players controlling photojournalist West, who found himself trapped in a shopping mall in the sleepy town of Willamette, Colorado, right in the middle of your stereotypical zombie outbreak. As thousands of zombies close in on West's location, he arms himself with items found throughout the mall, such as lawnmowers and chairs, to stave off the shambling hordes attempting to snack on his brains. Nearly everything can be used as a weapon, and it's especially hilarious when you accidentally put an elf hat on a wayward zombie that gets too close to you. There's just something so jolly about a zombie creeping around like some sort of decaying Santa's helper.
Dead Rising 4 is something of a reprisal of the original game's story, bringing West back to the very same mall where he found himself years before, this time at Christmas. We all know how violent and strange Black Friday can get, and that's without throwing zombies into the mix.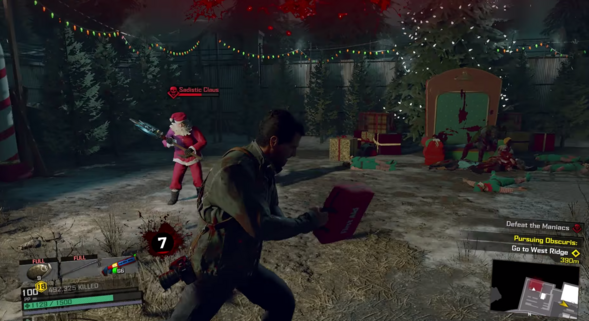 This time, however, the outside of the mall—and, indeed, the entire town—is covered with colorful Christmas decorations. Everywhere you go, the game is decked out with multicolored lights, tinsel, snowmen, and gingerbread men dancing around like sugarplum fairies. It's charming and quaint, and gives this particular entry its own unique charm.
The game begins with a rousing rendition of "O Christmas Tree," which devolves into madness as the zombies begin causing mayhem at the mall. It isn't long before organs and limbs are flying through the air, just like a poor teddy bear's arms and legs. It sets the stage for the game perfectly, right down to the very real horror that this would cause if such an event happened in the real world.
Of course, none of us would be clever enough to go put on a Santa suit and immediately start chopping down zombies. The fantasy of being so "cool" that the idea of a zombie apocalypse doesn't faze you, even on Christmas, really does sell the game, even beyond its massive amount of gore.