DIRECTV had the pleasure of chatting with WWE's Irish Lasskicker, Becky Lynch, as she prepares for the fight of her life at SummerSlam in Brooklyn on Sunday, August 19th where she'll be facing current SmackDown Live! Women's Champion, Carmella, as well her best friend, Charlotte Flair, for the title.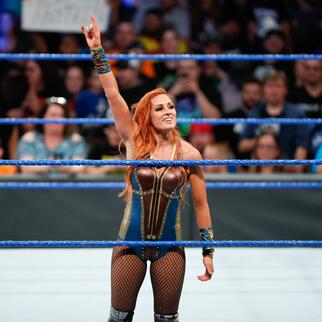 Becky Lynch at SmackDown Live!
We talk with Bex about how she got her start in the squared circle, becoming the first ever SmackDown Live! Women's Champion, her thoughts on her SummerSlam opponents, how important Dusty Rhodes was to her during the NXT days, and her academic love of clowns. All this and more below!

Advertisement
DIRECTV: How did you get your start in wrestling? Were you a fan or athlete growing up?
Becky Lynch: I was a fan, but I wasn't an athlete and I wanted to get fit. I found out they were opening a wrestling school near me and it was run by Finn Balor, of course he was Fergal Devitt at the time, and I went and I just fell in love with it. And that was it. I was never passionate about anything growing up as a kid. I liked music and things, but I wasn't good at anything. I wasn't good at ANYTHING. I had no real natural talents. And again, I had no natural talent for wrestling. I was terrible! But it was something that I had found that I loved and that had spoken to me. It just gave me a will power and a determination that I'd never had before. I just wanted to be great. And I was the only girl, the only girl in Ireland wrestling, and I wanted to be as good as any of the guys. I wanted to be better.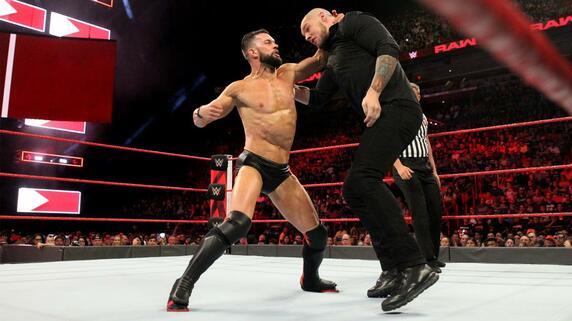 Finn Balor takes it to Constable Corbin. They will battle it out again at SummerSlam.
DTV: How was Finn Balor as an instructor?
BL: He was amazing. He never treated me any different. He'd never go easy on me. He would never let the guys go easy on me. So with everything, I got the exact same treatment, which I felt was perfect. The other thing I think about, being the only girl and training and locking up with guys, is that you kind of have to be a little bit stronger and a little bit tougher because they're just generally bigger so you have to be able to move them around. I think it was great training for me.
DTV: What led you to the WWE and NXT?
BL: At that point (2013) I had actually not wrestled in seven years. I had given up when I was 19 and I had done everything else that I possibly thought I might want to do. I was a flight attendant, and a personal trainer, and a bartender, and an actor, and a stuntwoman and all these things but nothing ever felt to me the way wrestling did and nothing ever gave me that drive. So I was working as a stuntwoman on Vikings and I had bragged my way onto the set. I thought "Hey if I'm good at wrestling and I can take the confidence I had when I wrestled and apply that to stunt work then maybe they'll buy it and I won't get found out." A little later, I went down to a wrestling school and there was a guy, Joe Cabray, who was teaching the class and he goes "well, you haven't lost a step," which I took that as a compliment. Then he goes "would you consider going for a (WWE) tryout?" At the time, I had a flight booked to New York because I was going to go off and be a Broadway actor. But as soon as he said that, I was like "No, this is it. This is what I need to do and this is the opportunity" and there wasn't a doubt in my mind that I wasn't going to get it.
DTV: What was your experience in NXT like and how would you compare it to the NXT of today?
BL: Oof. Well, my experience in NXT, it was rough. I loved it, but I really had to find myself again, find my confidence. I feel like it might have been a little more cutthroat back then. And I do always say that if it hadn't been for Dusty (Rhodes), I don't know that I'd still be here. I would come in with all these crazy ideas and crazy characters and Dusty would always love his "broken toys" as Cody Rhodes always put it, and I was definitely that. I was disheveled, I was trying to be a Diva, because that was the term (for WWE's female division) at the time and I had no idea how to do make up or look glamorous or any of that kind of stuff, but I would at least come in with these obscure characters and Dusty always loved it. But even in the ring I felt like I couldn't do anything. I would always second guess myself so much, so it was all about overcoming that and trying to find myself again. So as much as it was a journey to becoming a WWE Superstar, it was a real personal journey of finding myself and being ok with whatever it is that I have, whatever that thing is.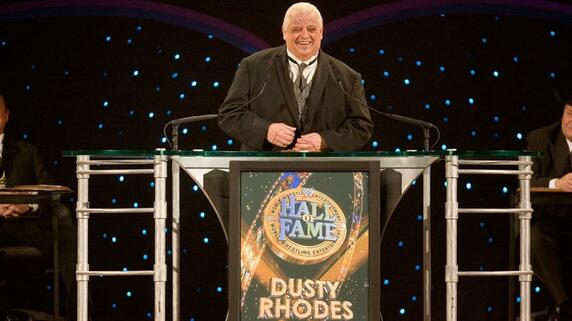 The late, great Dusty Rhodes
DTV: Anything you miss about NXT?
BL: Being in my own bed every night? (laughs) No, I love being on the road, I will say that. But what I do miss is – there's only a certain time in your life that you can have a schedule like that. I freakin' loved it. I would wake up in the morning, I would get to wrestle for like 3 hours, then I'd go to the gym, then I'd wrestle some more, then I'd come back and do promo classes with Dusty Rhodes. What's not to love about that? And then on the weekends we would tour around Florida. So I liked that schedule, but I also like being on the road and having that freedom too.
DTV: Tell us about becoming the first ever SmackDown Live! Women's Champion
BL: When I was drafted to SmackDown Live!, I was the only one of the Four Horsewomen brought over there, and to me, that was like a test and an opportunity to prove that I could hang on my own and I really wanted to make sure that was a women's division that people wanted to watch, and at the time, it really was, but we didn't have anything that we were fighting for. People were coming after me, but only because, I guess, I was drafted there? It didn't really make sense and we needed a title to have any sort of feuds and then once we got that, I needed to be the first women's SmackDown Champion. The crowd needed it too. What honored me was that, once there, they all chanted "Becky". That felt pretty special and I wanted to make them proud.
DTV: That leads us to SummerSlam – how do you think Carmella has been as champ?
BL: I think she has cheated, I think she has been underhanded, and I think she runs her mouth more than she runs in the ring. I plan to dethrone her and, of course, it's a huge obstacle with Charlotte (Flair) being in the match now, but look, I'm no stranger to an uphill battle, so I think it will make it a whole lot sweeter when I do win.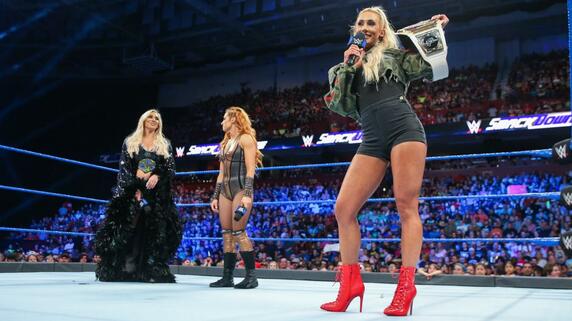 Charlotte Flair, Becky Lynch, and Carmella (c.) will be battling it out for the belt on Sunday
DTV: Regardless of the winner, are you concerned about your relationship with Charlotte now that she's been added to your championship match with Carmella?
BL: You hit your friends harder, I'll say that. But no, I'm only concerned how she'll take it if I win. But then if she wins…well, she's not going to win. I'm not losing this match. I have to win.
DTV: James Ellsworth stuck his nose in your business many times over the years on behalf of Carmella. He's recently been fired, but do you still have beef with him?
BL: I will ALWAYS have beef with James Ellsworth.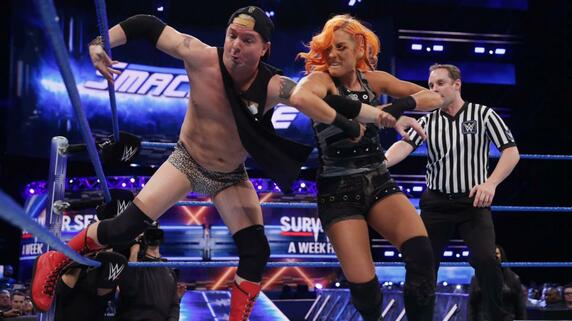 Becky attempts to disarm Ellsworth
DTV: Do you have any favorite SummerSlam moments from previous events?
BL: You know, there was a story I really loved. I really loved Stephanie McMahon v Brie (Bella). I remember that being such a well-built storyline. Do you remember that?
DTV: I do. When was that, like 2 years ago, right?
BL: Nooo, that was like 4 years ago!
DTV: Really? Jeez.
BL: When I think of SummerSlam, I think of those women and how good that storyline was leading up to it and how you just wanted to see Brie kick the bejeezus out of Stephanie McMahon. That's mine.

Advertisement
DTV: Other than your own SummerSlam match, any you're looking forward to this year?
BL: Oh yeah. AJ Styles, as always, versus Samoa Joe, and Daniel Bryan versus the Miz. That'll be a great one.
DTV: Were you excited to see Daniel Bryan return?
BL: So excited! What a great human. He's amazing. So down to Earth. I think our journeys were a bit similar, obviously I haven't had to deal with any sort of injury, but just how much he had to overcome and how popular he's gotten. He's so good and he deserves everything he's gotten. Absolutely everything. He's such an interesting person so it's great t see him back in the ring and working for that top spot again.
DTV: How do you think Ronda Rousey has done transitioning to WWE?
BL: I look at Ronda Rousey as a bit of a slot machine – the harder you kick her, the more money comes out. So yeah, I really hope to face her and I think she's transitioned wonderfully. Wrestling is so hard and there's a lot of athletes who come over, but it's not easy to do. It's not like any other sport or any other industry in the world and I think she's taken to it like a duck to water.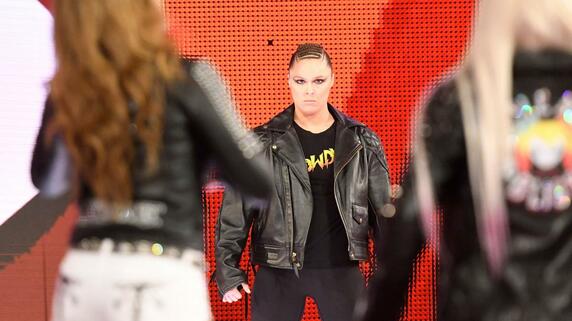 Ronda Rousey is prepared for battle
DTV: What did you think of Renee Young becoming the first woman to do commentary for an entire episode of RAW this past Monday?
BL: Oh I love it! I love me some Renee on commentary. She used to commentate for NXT. She's fantastic. She's fantastic at everything she does.
DTV: You mentioned Dusty Rhodes and Finn Balor, anyone else who's inspired you or helped you along the way?
BL: There's so many. Sean Michaels, of course, and getting to do the Marine 6 with him was pretty incredible. Mick Foley has become a really good friend. Same with Lita. Both of them, I feel, are the reasons I loved wrestling. There's Edge, of course, and AJ Styles, Seth Rollins, Cesaro, Sheamus, they're all people I look up to and I think are wonderful in the ring and I can come to them with any issue or any problem. The same goes for Big E. Yeah, theres a lot. I'm very lucky in that regard.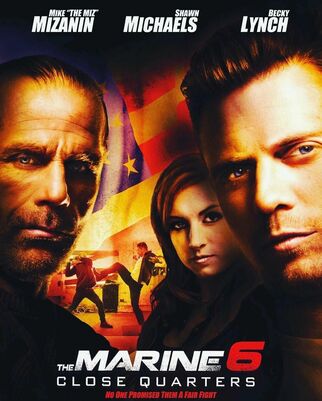 The Marine 6 starring Becky Lynch, the Miz, and Shawn Michaels
DTV: Anyone you'd like to face in the ring that you have not?
BL: I would like to say Lita. This women's revolution, or should I say Evolution…I feel like she was the one woman I watched when I was younger and said "I could be like her." She's always been so great to me and I'd love to be in the ring with her. I'd let her go for my SmackDown Live! Women's Championship. I wont let her win it, of course. But I'd let her try her hand at it.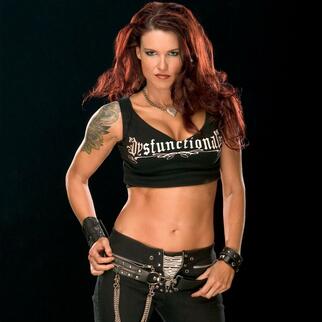 The one and only Lita
DTV: Anyone you're rooting for in the Mae Young Classic (WWE's annual women's invitational tournament) this year?
BL: Nicole Matthews. I was there on her first day of training and I'm so impressed with what she brings. And Toni Storm is one woman who stands out to me. I think she's great. A lot of charisma.
DTV: You've been all over the world. Where's your favorite place to wrestle?
BL: (in thick brogue) Dublin! Best crowd in the world.
DTV: Speaking of, you studied acting in Dublin?
BL: Yeah there and Chicago.
DTV: And you did a thesis on…clowns?!
BL: That's correct! I studied the "art of clown" while I was in college and I was fascinated by it. Going to acting college is an interesting thing, but as soon as I did clown, and it was just silliness, and playing, and make believe, I was like "Oh!" It just made more sense to me than anything in any other acting class ever did. So I wanted to know how the art of clown would translate into a more truthful acting performance. And that was my thesis.
DTV: I'd like to read that some day.
BL: It's sitting in the Dublin Institute of Technology Conservatory of Music and Drama so you can check it out! But you know what the weird thing is, I handed it in but I didn't spell check it. Afterwards, I opened it up and there's nothing but spelling errors and I said "Ah dang it, if I had only taken that extra 10 minutes."
DTV: What can we expect from Becky Lynch for the remainder of 2018 and into 2019?
BL: You can expect that I'm going to leave SummerSlam the Smackdown Live! Women's Champion. You can expect that I'm going to main event Evolution. And then I'm going to main event every other pay per view on the way to Wrestlemania. Then I'm going to main event that and then walk out of there STILL SmackDown Live! Women's Champion!
Can Becky reclaim her SmackDown Live! Women's Championship? Can her friendship with Charlotte survive? Will James Ellsworth rear his chinless head once more to thwart Becky's best efforts?
We'll find out this Sunday, August 19th at 7pm ET (pre-show 5pm ET) when WWE SummerSlam comes to us live from the Barclays Center in Brooklyn, NY!
You can also catch Becky Lynch on WWE SmackDown Live! on USA Network every Tuesday at 8pm ET
Catch WWE Monday Night RAW on USA Network every Monday at 8pm ET
[All images: WWE]

Advertisement