Onetime hot young thing who got dumped by his first love, but found happiness in a new city. Not asking for much (compared to the other guys, anyway), but not going to give up his shots.
For D'Angelo Russell, every made jumper in the 2018-19 season represented a redemption arc. He was finally healthy this season, but most importantly, he was finally playing well after being shipped out by the Los Angeles Lakers for spare change and cap relief.
It started with a big game in December, a 22-point, 13-assist win over LeBron James and his former Lakers squad. After the game, Russell admitted that it felt good to get a performance over the team that oddly chose to back Nick Young in an off-court controversy, rather than the guard they drafted #2 overall to be their franchise player in 2015. It also didn't help Russell that the Lakers had their sights set on Lonzo Ball, another point guard and #2 overall pick traded to make room for a superstar.
After Russell's big game against the Lakers, he started stringing together great performances for the Nets, helping push them into the playoff picture. Russell would put up big game after big game, leading comebacks and taking over for the Nets in the fourth quarter. He became the go-to guy in Brooklyn, leading them to the playoffs in what seemed like a storybook next chapter. But it appears another familiar arc is coming up for Russell: his current team is enamored with a different point guard.
So what will Russell do now that it appears Kyrie Irving is expected to take his place in Brooklyn? Thanks to our proprietary Fit Grade calculations, we have a suggestion. D'Angelo Russell, you should sign with…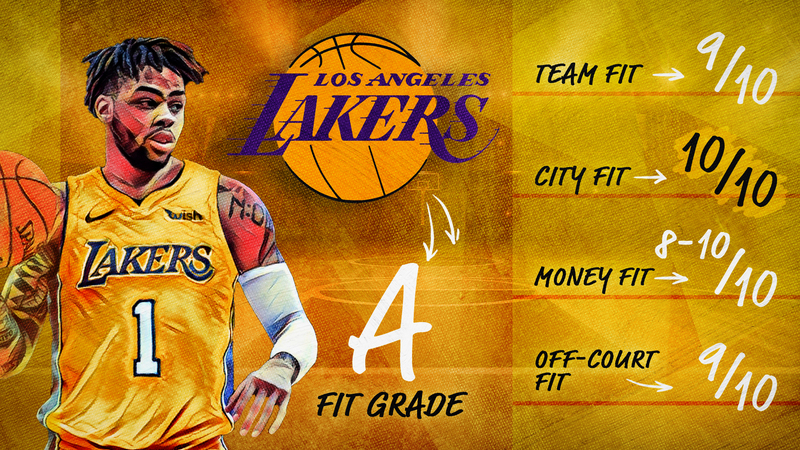 The Los Angeles Lakers (Fit Grade: A)
Other fits: Minnesota Timberwolves, Indiana Pacers
Okay, so it seems unlikely after their unceremonious breakup in 2017. But hear us out. Everyone expects Kyrie Irving to leave Boston, and Brooklyn is the most talked-about destination for the six-time All-Star and Northern New Jersey native. This would presumably mean that the Nets will give the keys to Irving, which would marginalize Russell's role with the team significantly. Russell had a breakout season operating as the lead guard for the Nets and taking a lion's share of the offense, something that will simply not happen for him next to Irving. It would also cause Russell to effectively change positions.
There's been a precedent of teams renouncing their rights to restricted free agents, such as the Milwaukee Bucks with Jabari Parker or the Golden State Warriors with Harrison Barnes. So the Nets could do this for Russell, making it easier for him to change teams. But Russell is not just a consolation prize. He will certainly have interest from a few teams, but those teams will also have to get creative in terms of opening up cap space.
Team Fit (9/10)
Meanwhile, the Lakers will have cap space, and a glaring need at lead guard. Up until recently, it seems that the team wouldn't have enough cap space to sign a player with the seniority of Kyrie Irving or Kawhi Leonard. But GM Rob Pelinka traded away everyone on the team not named LeBron James, Kyle Kuzma, or Anthony Davis – who agreed to waive his $4 million trade kicker. The team will now enter into free agency with $32 million in cap space. But rather than spending it all in one place, they could sign Russell to a contract in the range of $27.3 million in the first year of the deal, meaning that the Lakers would actually have room to sign one more starter and not have to play four-on-five!
Then there's the current de facto point guard on the Lakers, LeBron. Russell has called on James for advice over the years. Will LeBron tell Russell to head west the next time he picks up the phone?
City Fit (10/10)
He's only had two NBA homes: New York and Los Angeles. He'll have an easy time going back to L.A. if he so chooses. And after rebounding from what turned out to be a premature split with the Lakers, the fans who were rooting for him to succeed will welcome him back with open arms.
Money Fit (between 8-10/10)
The Minnesota Timberwolves, provided they can find a team to take point guard Jeff Teague or big man Gorgui Dieng's contracts off their hands, could open up space for a full max contract. Russell would fill a position of need at point guard and also give the Wolves a third star in the same age range as Andrew Wiggins and Karl-Anthony Towns. But the cap situation may be too complicated to pull off. Likewise for the Indiana Pacers, where a pairing with Victor Oladipo would be intriguing.
The Lakers, on the other hand, have a clear path to offer Russell a max contract. The only reason this isn't a solid 10/10 on dollars alone is that it could only be a four-year deal, as opposed to five should he stay in Brooklyn. But then, there's always extra earning potential with the right…
Off-Court Fit (9/10)
Magic Johnson and Nick Young are gone. LA's the best place in the world to be young and rich. The off-court fit for Russell will be just fine, pending his Snapchat decisions.
X-Factor
Kyrie to Brooklyn is far from a done deal. If something disastrous occurs between Irving and the Nets, the Nets could retain Russell's restricted free agent rights, matching any offer that comes his way as an insurance policy. So this whole conversation might be a rhetorical exercise. One thing's for sure: D'Angelo Russell making a triumphant return to LA might be as shocking as the Lakers signing LeBron and trading for AD.
Wondering where other top free agents should sign?
Kawhi Leonard should sign with…
Kevin Durant should sign with…
Kyrie Irving should sign with…
Jimmy Butler should sign with…