BOO! The "jump scare," a horror film technique that startles audiences with a sudden haunted image or ugly mug, has become synonymous with cheap thrills. And with good reason. Sure, jump scares work. But they work in the way that scaring someone with a bullhorn works. They lack the sophistication and skin-crawling stickiness that modern moviegoers crave.
More recently, though, psychological thrills and under-the-skin chills loom large. And as a result, some of the most frightening movies of recent memory are especially terrifying because they rely more on the power of suggestion than on the power of startles.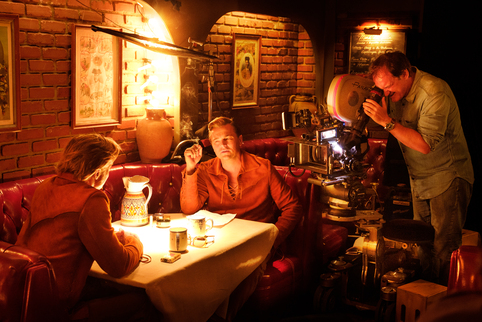 The spooky power of suggestion
Take "Once Upon a Time in Hollywood." Though definitely not a horror movie—unless you happen to be a member of the Manson family—one particular scene in it captures the zen of modern horror movie-making so well.
Cliff Booth, played by Brad Pitt, who recently won an Oscar for his part, finds himself at the hippie-overrun Spahn Movie Ranch. He immediately knows something is wrong. For one, George Spahn, the owner of the Western movie set is nowhere to be found. Plus, it's clear from Booth's growing skepticism that George isn't the 'free love' type. What transpires next is a masterful sequence of edge-of-your-seat terror. As Booth makes his way through rings of long-locked women and booby-trapped conversations, our imaginations run wild: Are we going to find a long-dead George? Will Cliff, our chiseled protagonist, meet a bloody end? I thought "Once Upon a Time in Hollywood" was supposed to be a funny buddy film—what gives!?
Nothing is scarier than the imagination
Take the iconic moment in the David Fincher film "Zodiac." Starring Jake Gyllenhaal, the sequence leads Robert Graysmith, Gyllenhaal's character, to a house that he eventually concludes is occupied by the Zodiac Killer. Graysmith finds himself in an increasingly precarious situation as more clues suggest the friendly, unassuming owner of the house might be an unrepentant psycho. But Graysmith, along with the audience, must weigh self-preservation against crippling fear and uncertainty. And it is precisely this hazy determination that creates such an unnerving moment, as a viewer's imagination begins to anticipate the absolute worst—whether that's going to transpire or not.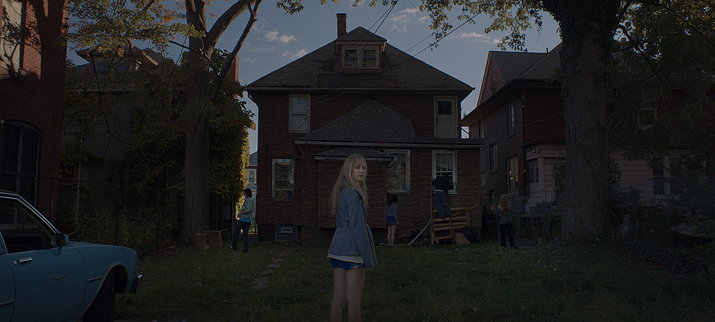 Invisible monsters
You also might remember the opening scene from "It Follows," the psychological horror-thriller that may or may not be about the morality of promiscuous sex. The segment sets up a film that plays on the anxiety that dwells inside your imagination's blind spots. During the sequence, viewers see a young, twenty-something girl fleeing a Detroit home in haste. She's visibly terrified. We wonder, what is she running from? A neighbor asks her if she needs help, and she waves off the aid. Yet, there seems to be something offscreen, something we can't quite see, chasing her. She flees in a car and ends up near a lake's shoreline, sharing her goodbyes with her parents over the phone. Through it all, we see no baddie, no ghoul, no creature. And yet, the opening sequence ends with a ghastly image of the poor girl, mangled like a bubble gum wrapper.
Blinded by fear
Venture back to 2007, and you get a film that doesn't just play on the secret sauce that is imagination and suggestion, it makes them its swan song. "Rec," the found-footage horror film shot in Barcelona, wraps up its story by placing two of its protagonists in a dark room with a possessed monstrosity. Armed with only a video camera and night vision, they must navigate the room without making a peep, while surrounded by an infinite darkness. The audience sees glimpses of the threat but remain mostly as blind as our heroes. Our minds start to fill in the gaps, much to our detriment, and our racing heartbeats then fill in the quiet. This isn't going to end well, is it?
"Signs." "A Quiet Place." "The Conjuring." "Get Out." "The Wailing." "Pulse." "Hereditary." "The Blair Witch Project." "Raw." Many of these modern classics are revered because they agitate our imagination so well. In certain moments, they settle for the cheap scares too, but not without prioritizing suggestion over scares, and it's one of the reasons why they're some of the most frightening movies in recent memory.