Welcome to our Westeros Revisited series! We will be rewatching a key episode from each of the seven kingdoms seasons of HBO's Game of Thrones. Knowing what we know now, what breadcrumbs and observations can we pick up along the way? And since we're drawing on all seven seasons for insights, SPOILERS AHEAD!
Title: Winter Is Coming
Season: 1
Episode:1 
Written by: David Benioff and D.B. Weiss
Directed by: 

Tim Van Patten
That Rare Thing: the Cold Open (literally)
We all know and love the Game of Thrones theme – more on that in a moment – and it usually follows the tuning-in static of the HBO logo. But not this time. In the first episode of the show, we are treated to a cold open: a scene or scenes before the opening theme. And given it's geographical location, it earns that name fully. As we head into the final season, it's more telling than we could have possibly known back in 2011 when the show premiered that the very first conflict we are introduced to is the threat of the White Walkers. As familial drama and intrigue revs up, we lost sight of it but, you guys, it was in front of us all along!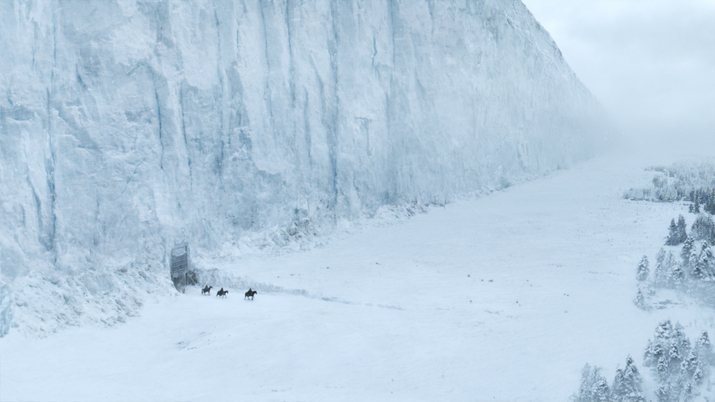 Other major themes we encounter following these rangers north of the Wall? Our first frame is full of fire (from torches) and ice (from snow); we see our first of many, MANY dead bodies at the three minute mark; we get our first onscreen death three minutes later; and we see a microcosm of the class issues the series deals with as our group of rangers argue about the best course of action. The leader of the group is clearly of a higher birth than his two followers, as evidenced by his accent and demeanor. He insists they push ahead despite the eerie reports of his Night's Watch brother. Meanwhile, the two rangers who are common born feel strongly that they should head back to the Wall and not probe further. The lead ranger's arrogance or ignorance or both leads all three to early deaths, showing in a small way that the squabbles of the upper classes (the game of thrones, if you will) tend to lead the lower classes to suffering.
One more note before we move on: What is this symbol? For real? It pops up a lot in connection to the White Walkers…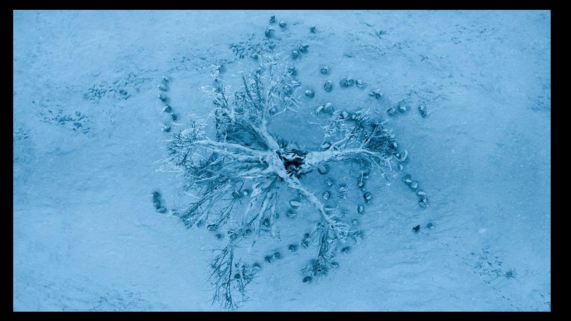 Meet the Opening Credits
Going to go out on a limb here and say this is the coolest damn theme song EVER. Seriously. I have a Pavlovian response to it at this point and it gets me hyped every time. It's fun to look back and see how many more names there were listed in these early episodes – before our favorite characters started dropping left and right. Enjoy – you know you want to!
Meet the Starks
Ah, the Starks. How beautifully pastoral you seem in this one. The first scenes are of the boys practicing their archery and getting schooled by Arya (Maisie Williams), Sansa (Sophie Turner) taking pride in embroidery well done, Ned (Sean Bean) and Cat (Michelle Fairley) looking on proudly. Yes, it's about as idyllic as this series can get. Even so, it's interesting to see that Ned Stark, our hero for all intents and purposes at this point in the story, is introduced executing the ranger that we feel so connected to from the cold open. Again, a major GoT theme is brought up pretty early on: there aren't good and evil people, only the honorable and the dishonorable.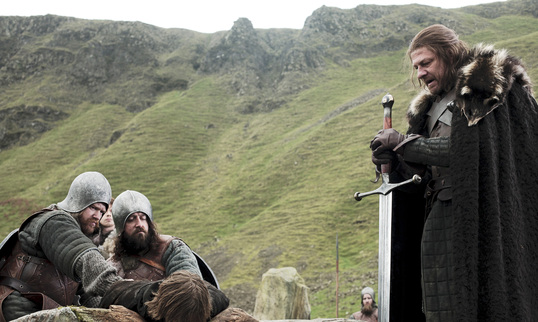 One other moment that is often pointed out is the heavy foreshadowing of the dead stag and direwolf, who managed to destroy each other. I won't get too into what this means for the Starks and Baratheons because it's been analyzed to death (pun intended) but one quick thing that stuck out to me this time is that Theon Greyjoy (Alfie Allen) begins by calling the direwolf "a freak" and has no qualms about killing the pups the moment Ned brings it up – a nice nod to his future backstabbing of the family that helped raise him.
Also, this can't be said enough: watching Bran (Isaac Hempstead-Wright) climb and jump and play is so damn heartbreaking now.
Meet the Lannisters (and the Baratheon)
Jon Arryn – the most important character we never really meet. As a corpse, he basically starts all the action that will lead to the show we know and love. John Standing must have the best cocktail party story ever!
But on to our main event: the introduction of the Lannisters, who, amazingly, are the only siblings that are all still alive seven seasons later. Fittingly, Cersei (Lena Headey) and Jaime (Nikolaj Coster-Waldau) share a scene when we first see them that does not include Tyrion (Peter Dinklage). They discuss how they are opposites that still seem to attract one another and lay a firm groundwork for their relationship through the rest of the series. Tyrion's reputation proceeds him as we hear Cat and Maester Luwin discuss the imp before we see him. They say he likes to read and to drink which…yeah, dead on! Tyrion's tryst with Ros also has the first nude scene.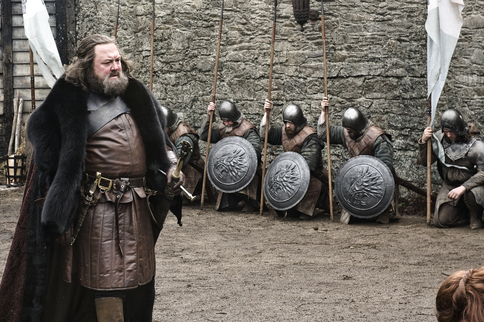 When the royal court arrives at Winterfell (scored by Ramin Djawadi's awesome march theme), we finally encounter the great king of Westeros – a man who needs a box to help him get down from his horse. It's a tiny moment that I definitely forgot but it tells you so much about Robert (Mark Addy) in that one instant. As Robert insists on visiting Lyanna's grave and molests servants at the feast, it's easy to feel for Cersei the long-suffering wife. My how times change!
Quick sidebar: for anyone who forgot why there would be a feather floating around under Winterfell in the Crypt teaser released for season 8, it's because Robert puts it on Lyanna's statue. Nice callback!
Meet the Targaryens
There's a sneaky transition that acts as foreshadowing once you've watched the series: Robert says that not all the Targaryens are gone and we cut to a shot of Daenerys (Emilia Clarke) standing alone. Viserys (Harry Lloyd) is nowhere to be seen at first. The foreshadowing is furthered when Dany steps into a bath that is too hot and doesn't even flinch. But by far my favorite subtle nod to the future of our Khaleesi is done with costuming. When Dany is presented to Khal Drogo (Jason Momoa), she wears an etherial lavender garment secured by dragon pins at both her shoulders. Viserys wears a cape secured by the same type of pin – but only one. Who's more of a dragon, eh?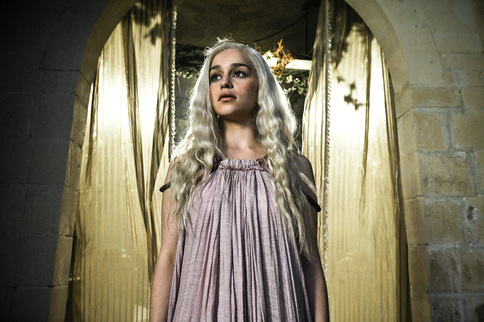 On the subject of Viserys: it's easy to forget how truly terrible he is 'til you rewatch season one…yikes! Abusive in every way possible. Kind of amazing that Dany loved him enough to name one of her dragon babies in his honor. Then again, Viserion is the one that is now Team White Walkers so maybe names are destiny?
Meet the Miscellaneous Observations
Here are some stray notes that seem worth discussing but didn't really fit my "Meet the Family" theme
Benjen says to Jon "The Wall isn't going anywhere" – haha, about that…
If Game of Thrones was a rom com, Tyrion and Jon Snow (Kit Harrington) would have such a perfect meet cute in the Winterfell courtyard discussing the nature of being a bastard
After getting the letter from Lysa that accuses the Lannisters of murdering Jon Arryn, Ned has to decide whether or not to accept the position of Hand of the King. The scene is framed in the classic style of a character with the devil on one shoulder and an angel on the other – Maester Luwin is in white telling him to go, and Cat is in dark clothing telling him to stay.
The concept of death at a wedding also introduced in the pilot (more about that to come in Westeros Revisited: The Rains of Castamere and Westeros Revisited: The Lion and the Rose)
PROPHECY WATCH: when Illyrio presents the dragon eggs, he tells Dany that "the ages have turned them to stone but they will always be beautiful." Part of the Azor Ahai/Prince that Was Promised prophecy is that he will wake dragons from stone…by, say, walking into a pyre with them and bringing them to life?
Khal Drogo – the ultimate strong and silent type.
It has to be said: people who ship Dany and Drogo really need to rewatch their wedding night scene…it's pretty upsetting
Jaime's redemption arc is probably the greatest trick this show has played. This episode ends with his attempt to murder a child. MURDER A CHILD.
Stay tuned as we return to season two with Westeros Revisited: Valar Morghulis and rewatch the entire series with us on HBO
Join the conversation about your favorite movies, sports, music, games and TV shows, here.