They say love can make you crazy. It may indeed be true, to a degree, especially when it comes to horror movies. The genre is more closely linked with romance than you might think. In fact, many horror classics either begin as love stories or develop into romances as the plot progresses.
There's a fine line between falling deeply in love with someone you would sacrifice anything for, and slipping into madness because you don't know how to live without them. In honor of the twisted romances that line the halls of horror movie history, let's examine some of the romantic overtones behind the genre's most quintessential tales.
When you fall in love with someone, it isn't unusual for you to feel addicted to them. When the butterflies take over, it's easy to become irrational and make choices you might not otherwise make. If you've ever been in love, you know what we're talking about.
Clive Barker's film adaptation of Hellraiser is a great example of how a loss of inhibition can take you to a dark place. The film follows a man named Frank Cotton (Sean Chapman), who immerses himself in a supernatural world to recover from heartbreak. In this alternate universe, his body is torn to pieces by flesh-eating creatures called cenobites. Ultimately, Frank is killed by way of chains that hook themselves into his body and tear him apart. Needless to say, this was not the kind of recovery he had been seeking.
Frank is resurrected by way of his brother Larry's wife Julia (Clare Higgins), whom he had an affair with after her marriage to Larry (Andrew Robinson). Though Frank is brought back to life as a skinless corpse, Julia is still very much obsessed with him. He needs blood from corpses to regain his body, and she agrees to help him achieve total resurrection.
Unfortunately, their plan involves Larry's teen daughter Kirsty (Ashley Laurence), opening up an entirely new can of worms. Had Frank and Julia been able to quell their savage desires, however, no one else would have gotten hurt – and perhaps Frank wouldn't have been killed in the first place.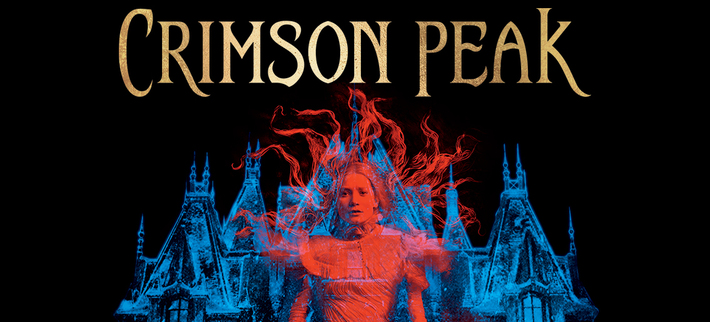 If Hellraiser didn't do it for you, Crimson Peak is another classic example of twisted, horrific love. The film follows a young heiress Edith (Mia Wasikowska) who marries the seductive womanizer Sir Thomas Sharpe. They head off to live together at Allerdale Hall, Sharpe's mansion, where he lives with his sister Lucille. Thomas is "in love" with Edith, but remains distant and cold with her, seeming to prefer Lucille instead.
Edith eventually finds herself plagued by vengeful ghosts throughout the mansion, who aren't trying to kill her but offer a warning. It appears that Thomas and Lucille are much more than siblings – they are part of an incestuous relationship, and will do anything to take Edith out of the picture so that they can take advantage of her inheritance. But Edith catches on… We won't say more.
For a final scare, try Takashi Miike's Audition – another grisly tale that begins as an innocent story of aspiration, but quickly develops into a terrifying spiral of torture and gore.
When a middle-aged man named Shigeharu Aoyama (Ryo Ishibashi) sets out to find true love, he stages an "audition" for women to try out for the role of partner. This is how he meets Asami Yamazaki, whom he falls for. But, it quickly becomes apparent that there is something unusual about Asami. When she discovers that Aoyama has a photo of his deceased wife in his home, she believes he's cheating on her. So, she decides to punish him by torturing him with needles and cutting off his left foot. She paralyzes him, all in the name of love – obsessive, manic, dark love. It's positively chilling.
While these are only three examples, the genre is rife with tales of crazy love. Sure, these stories are often supernatural and hyperbolic, but they are all rooted in human feelings – jealousy, obsession, and paranoia. It just goes to show you that your feelings for another person can inspire a beautiful, romantic story, or a creepy, disturbing tale that sends shivers down another's spine.