From Randy Marsh to Peter Griffin, cartoons have given us some pretty crappy dads. But there are also plenty of animated patriarchs who embody the very best in fatherhood, whether they're burger chefs, erstwhile superheroes, or tropical fish. Here are our picks for the top 10 greatest cartoon dads of all time.
Steven Universe may be half all-powerful shapeshifting alien, but he's also half-human — and his dad, Greg, teaches him about the profound and mundane stuff of life when Steven isn't busy saving the day. Greg (Tom Scharpling) may not be the role model for having it all together — he's a washed-up rock star who lives out of his van — but he's one of the most emotionally intelligent father figures on TV, patiently guiding his chosen one of a son into manhood and offering so-simple-it's-genius advice like: "If every porkchop were perfect, we wouldn't have hot dogs." We'll let you meditate on that one. 
Has there ever been a dad more devoted to his kid than Marlin? Voiced to salty-sweet perfection by Albert Brooks, the frazzled clownfish at the center of "Finding Nemo" embarks on an epic adventure when his only son, Nemo, gets kidnapped by scuba divers. The best dads are the ones who can learn and grow, and Marlin's journey from fretful helicopter parent to the kind of dad who can let his kid have his own escapades is a wonder to behold.
With his perma-stained sweatpants and tendency to screw up his best-laid plans, burger slinger Bob Belcher (H. Jon Benjamin) is the ultimate relatable everyman. But what makes him more lovable than, say, a Homer Simpson or a Peter Griffin is how devoted and patient he is with his three oddball kids, whether he's getting his legs waxed alongside his daughter Tina or supporting his son Gene's budding musical career. That, and he can cook a mean turkey.
With their mother sick in the hospital, the world could be bleak for Satsuki and Mei, the young girls at the center of "My Neighbor Totoro," the classic animated film from Japanese master Hayao Miyazaki. But the greatest dads make things fun for their kids even when life takes a hard left turn, and Tatsuo Kusakabe (Shigesato Itoi) does all he can to make sure his daughters never lose their sense of imagination. Sure, they befriend a giant, fluffy forest spirit and a cat who is also a bus, but it's Tatsuo who shoulders the heavy burdens and gives them space to have fun and just be kids.
Even though he meets his untimely end early in this Disney classic, the benevolent spirit of Mufasa looms large over "The Lion King" (and we don't just mean because his face appears in the clouds.) Lion cub Simba could've grown up to be a real jerk if not for the calm, centering influence of his father, who in his indelible "Circle of Life" speech teaches his son that being at the top of the food chain means giving equal respect to all living things. That Mufasa speaks in the booming, soothing voice of James Earl Jones only adds to his gravitas.
Hank Hill of "King of the Hill"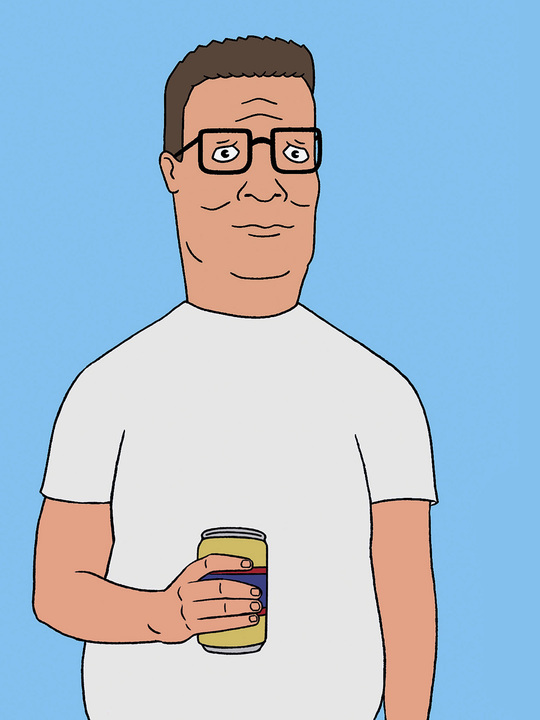 At first glance, Texan propane salesman Hank Hill (voiced by "King of the Hill" co-creator Mike Judge) might not be the obvious choice for father of the year. He's quick to anger, retrograde in his views, and maybe just a little too obsessed with lawn care. But he's a devoted dad to his sensitive son, Bobby, even if he doesn't always understand where he's coming from. Hank also gets extra points for being raised by one of the most toxic cartoon dads out there but nonetheless winding up a pretty great father himself. We're cracking open a can of Alamo for you, Hank. 
In "Spider-Man: Into the Spider-Verse," Spider-Man-in-training Miles Morales meets a lot of questionable authority figures from all over the multiverse. But even as his life — and his webbing — spins out of control, Miles has the rock of his father, Jefferson (Brian Tyree Henry), to lean on when the chips are down. Though Miles initially idolizes his loose cannon uncle, it's ultimately the dependable Jefferson who gives his son the push he needs to become the kind of hero that (alternate-reality) New York City was missing.
Stephen of "Hair Love"
Though "Hair Love" only clocks in at six minutes long, the Oscar-winning animated short makes quick work of portraying a true prince of a dad. Matthew A. Cherry's film portrays the story of a father who learns to help his young daughter style her untamed tresses despite having little to no prior experience with hair products. It sounds like a small thing, but the story of a dad stepping up and teaching himself a skill that's traditionally closed off to men is a great lesson for parents and kids alike.
General Iroh of "Avatar: The Last Airbender"
Sometimes, the best dads are the ones who step up to the plate when a kid's actual father has utterly failed them. That's the case with General Iroh (voiced by the late, great Mako), who takes it upon himself to look after his nephew, Prince Zuko, after he's exiled by his abusive father in "Avatar: The Last Airbender." Even though Zuko is initially the villain of the series, Iroh's gentle patience, and wisdom ultimately shape the embittered prince into a great leader. Plus, Iroh's tea-brewing skills are absolutely legendary.

It's hard to be a mild-mannered dad when you used to be a masked crimefighter. Bob Parr's (Craig T. Nelson) journey in Pixar classic The Incredibles is to reconcile the two sides of himself — the freewheeling superhero he once was and the world-weary father of three he has become. But even as Bob goes through an identity crisis, his devotion to his children never wavers; and he discovers that the best way to be a dad is to let his kids' own weird talents shine through. Of course, most parents don't have to contend with a baby who can turn into a human fireball and shoot eye lasers; but Mr. Incredible's up to the task.