Gaming is about to get a massive injection of straight science fiction glory this September. The Witcher developer CD Projekt RED is about to bring a sprawling new adventure to gamers this fall in the form of Cyberpunk 2077. The upcoming open-world RPG is a super-sized undertaking that has been years in the making, and it's finally scheduled to make its way to a console or PC near you.
When the game debuts, it has the potential to reshape the cyberpunk genre by pushing the boundaries of what's possible with respect to storytelling. Cyberpunk 2077 is a full-on production, bringing together established Hollywood talent like Keanu Reeves to perform character roles, and pop stars like Grimes to contribute music to its soundtrack. Based on the tabletop RPG created by Mike Pondsmith, the game will draw from years of established lore. So, while the world may have absolutely loved The Witcher, Cyberpunk 2077 is set to blow gamers away.
The game is set in the year 2077 (hence the name). Players will explore the massive sandbox area of Night City as they find themselves immersed in a world not unlike those seen in movies like Blade Runner or Akira. A futuristic destination meant to evoke visions of Los Angeles and San Francisco, Night City is a major, progressive metropolitan area with a seedy underbelly. As corporations wage war on each other, Night City residents are the ones who ultimately have to pay the price.
There isn't too much we know about the protagonists or their stories – even with the game's debut scheduled for September. Players will be able to craft their very own Night City-dwelling persona, down to looks, cybernetic enhancements, and even sexual orientation (yes, this matters considering there will be multiple opportunities to flirt and have sex with other NPCs throughout the game). The customizations to protagonist "V" will be virtually limitless, as will the possible interactions with the virtual world. In this respect, Cyberpunk 2077 will be one of the more interactive RPGs, allowing players to change paths as they see fit.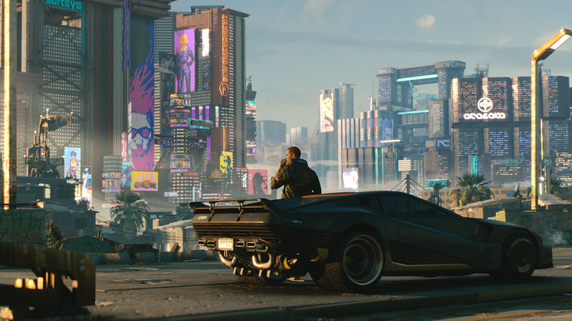 Keanu Reeves will be taking on the role of Johnny Silverhand, a ghost character only visible to players. Johnny is searching for his girlfriend Alt Cunningham, and he believes one particular faction of Night City, the Voodoo Boys, may have the answers he's searching for. But Johnny (and V) may have to square off against the Animals if they want to get down to business. This Haitian gang is all about body modification and conquering cyberspace. So, it's probably best not to get on their bad side, unless you absolutely have to.
There's no telling what the gang will get up to, but it's worth knowing that it is highly respected within the world of Cyberpunk 2077. Johnny will be an invaluable ally to players as they maneuver through the world. But either way, players should expect to come up against the Animals, not to mention all of the scoundrels and ne'er-do-wells lurking around the city looking to pick a fight. They'll all be going about their daily lives, following their own schedules and running their own errands, much like we've seen in games like Grand Theft Auto.
Luckily, there are ways to get around Night City without too many run-ins with its notorious gangs. Traveling on foot throughout Night City is an option, but one of the greatest draws seems to be hopping on a motorcycle and zipping around town in a seriously stylish ride. That's part of where Grimes comes in, as well as a plethora of industrial and electronic music artists who contributed to the making of Cyberpunk 2077. Using transportation will be key to gaining ground as you complete a variety of different quests, some of which are entirely optional.
Completing quests and interacting with other NPCs will be the key to success as you try to make a name for yourself in Night City, as well. Both a branching dialogue system and hacking mechanics will be in place. But perhaps one of the most intriguing parts of the game will be the cybernetic character enhancements. In fact, the main goal of Cyberpunk 2077 is to become the best version of your character, and with an awesome suite of tools at your disposal, that seems highly probable.
CD Projekt RED is hard at work on bringing this new vision of RPG to life, but the game has already seen one delay from April 2020 to September. It's clear that the team is trying to polish their latest opus before it hits the market. If it comes out of the oven even half as fantastic as The Witcher 3: Wild Hunt, we guarantee that players will be in for a ride unlike anything they've seen before.
Right now, Cyberpunk 2077 is poised to be one of the last major current-gen releases before the Xbox Series X and PlayStation 5 hit store shelves. As it stands, it's scheduled for release on Xbox One, PlayStation 4, and PC. You'll be able to pick it up when it debuts on September 17, 2020. Until then, you might want to start envisioning what kind of cybernetically-enhanced Night City resident you really want to be.
The content is featured on https://www.directv.com/insider/ is editorial content brought to you by DIRECTV. While some of the programming discussed may now or in the future be available affiliates distribution services, the companies and persons discussed and depicted, and the authors and publishers of licensed content, are not necessarily associated with and do not necessarily endorse DIRECTV. When you click on ads on this site you may be taken to DIRECTV marketing pages that display advertising content. Content sponsored or co-created by programmers is identified as "Sponsored Content" or "Promoted Content."