Everybody has a guilty pleasure. 
Whether it's ordering takeout instead of cooking, belting out our favorite songs in our cars or crawling back under the covers on a slow Sunday afternoon, indulging in a guilty pleasure is good for the soul. In moderation, of course.
No guilty pleasure-shaming here.
For entertainment enthusiasts like us, guilty pleasures often look like:
Binging an entire TV series in one day (who else would spend 13 hours rewatching Stranger Things season 4?).
Watching drama-filled reality TV shows (The Bachelor/The Bachelorette, MILF Manor, Jersey Shore — you get the idea).
Sitting through reruns of our favorite TV classics (calling all The Office diehards out there).
And it's good to know we aren't alone. 
TV fanatics in all 50 states have spoken: Watching guilty pleasure TV shows is a favorite pastime for many, and each state has its own go-to guilty pleasure show. 
DIRECTV surveyed TV connoisseurs across the country in early February, asking them a series of questions about their guilty pleasure TV shows and collecting more than 1,200 responses. 
Curious if your state's guilty pleasure show matches yours? Let's find out. 
Table of Contents
1. Guilty Pleasure Shows for All 50 States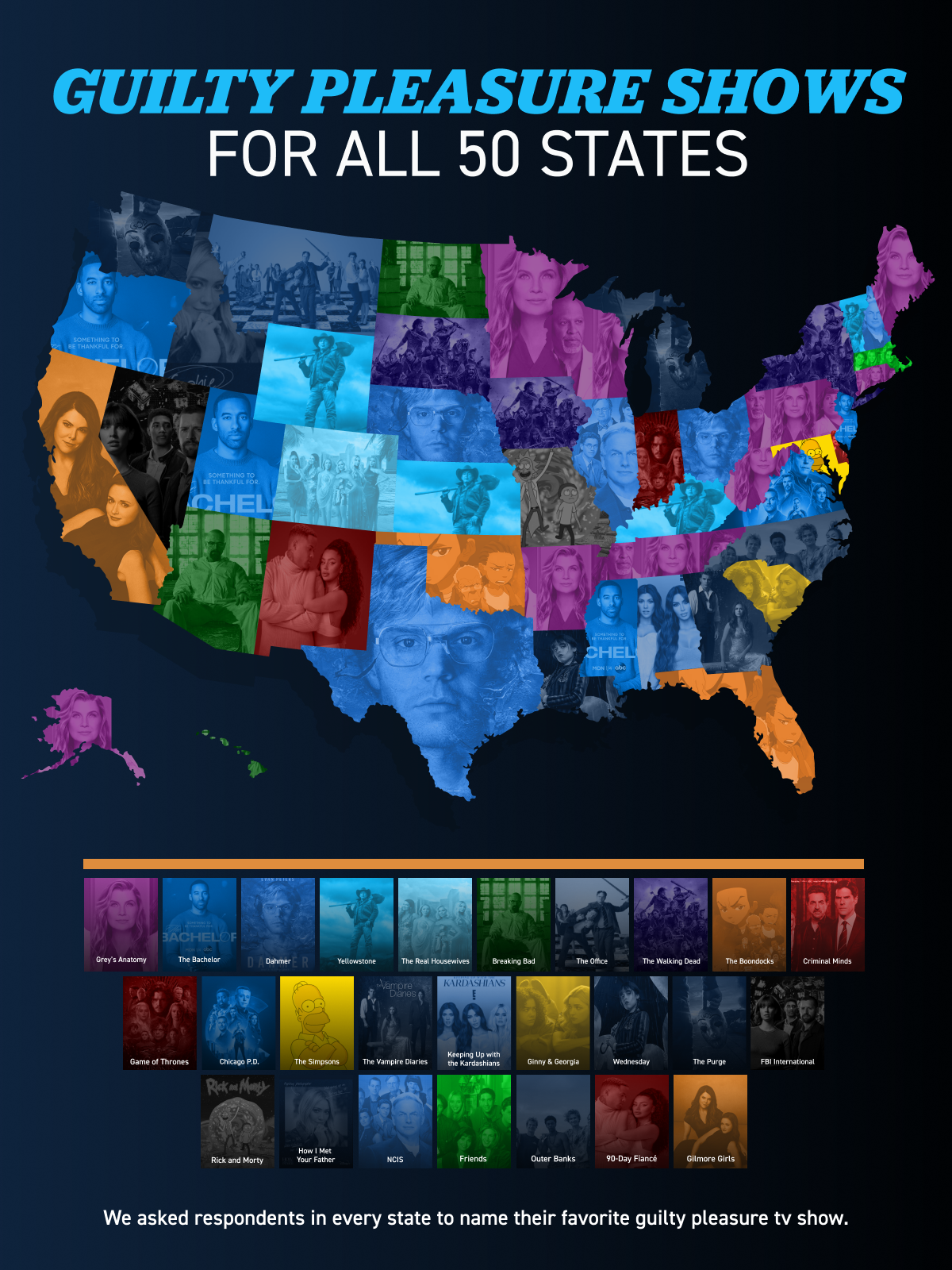 To make state-by-state comparisons, we surveyed an equal number of respondents in all 50 states. We determined the guilty pleasure show for each state by collecting and tallying up answers to the prompt, "Name your guilty pleasure show." 
Several respondents chose beloved TV series franchises like Grey's Anatomy, The Bachelor, Breaking Bad and The Walking Dead as their guilty pleasure shows, while some chose newer favorites such as Yellowstone and Wednesday. 
Get DIRECTV STREAM right here and never miss any of the most popular shows!
Alabama: Keeping Up With The Kardashians
Alaska: Grey's Anatomy
Arizona: Breaking Bad
Arkansas: Grey's Anatomy
California: Gilmore Girls
Colorado: Real Housewives (franchise)
Connecticut: Grey's Anatomy
Delaware: Criminal Minds
Florida: The Boondocks
Georgia: The Vampire Diaries
Hawaii: Breaking Bad
Idaho: How I Met Your Father
Illinois: NCIS
Indiana: Game of Thrones
Iowa: The Walking Dead
Kansas: Yellowstone
Kentucky: Yellowstone
Louisiana: Wednesday
Maine: Grey's Anatomy
Maryland: The Simpsons
Massachusetts: Friends
Michigan: The Purge
Minnesota: Grey's Anatomy
Mississippi: The Bachelor
Missouri: Rick and Morty
Montana: The Office
Nebraska: Dahmer
Nevada: FBI International
New Hampshire: NCIS
New Jersey: The Bachelor (franchise)
New Mexico: 90 Day Fiancé
New York: The Walking Dead
North Carolina: Outer Banks
North Dakota: Breaking Bad
Ohio: Dahmer
Oklahoma: The Boondocks
Oregon: The Bachelor
Pennsylvania: Grey's Anatomy
Rhode Island: Grey's Anatomy  
South Carolina: Ginny & Georgia
South Dakota: The Walking Dead
Tennessee: Grey's Anatomy  
Texas: Dahmer
Utah: The Bachelor
Vermont: Yellowstone
Virginia: Chicago P.D.
Washington: The Purge
West Virginia: Grey's Anatomy
Wisconsin: Grey's Anatomy
Wyoming: Yellowstone
Is reality TV your guilty pleasure too? Watch The Bachelor online. 
2. What Makes a TV Show a Guilty Pleasure?
A guilty pleasure TV show is a show that's enjoyable but can also induce a feeling of guilt — but why do we experience such a negative feeling when watching a show that makes us happy? 
Some of us are afraid that others will judge us based on the entertainment we like (even though we often watch our guilty pleasure shows from the comfort and safety of our homes). This fear of judgment could be because others consider a TV show cheesy, campy, outdated, overrated, low quality or problematic.
We asked our survey respondents to describe what they thought makes a TV show a guilty pleasure, and their answers affirmed our thoughts. Most respondents defined guilty pleasure TV shows as:
Shows they felt others dislike.
Shows they didn't want to associate themselves with.
Shows they consider low quality.

 
2.a. Shows We Think Others Dislike
50% of survey respondents chose "I enjoy it but think most people do not" when answering what they thought made their chosen TV show a guilty pleasure. 
This was the most popular answer to our prompt, which got us thinking about differences in taste and the importance of cherishing your uniqueness rather than trying to fit in. Imagine how boring life would be if everyone watched and talked about the same show? 
If you love a TV show even though others dislike it, don't be ashamed to binge like nobody's watching you (because more often than not, nobody else is).   
And remember: For every person who's outspoken about how terrible your favorite guilty pleasure TV show is, there's another who loves it just as much as you. 
So not only should you binge like nobody's watching, but you should binge with the knowledge that countless others are watching exactly what you're watching.
2.b. Shows We Don't Want to Associate With Ourselves
24% of survey respondents chose "It's out of character for me to watch" when answering what they thought made their chosen TV show a guilty pleasure, while 17% chose "I would be embarrassed if others knew I watched." 
Several respondents also provided more personal details to their answers, saying the following about their guilty pleasure TV shows:
"It's geared towards a younger demographic."
"It's a little taboo."
"It's a show I watch when I should be doing more important things at home."
"Compared to what my peers are watching, it's more historical."
So, say you keep marathoning episodes of Bluey more for your sake instead of your kids'. Or maybe you keep a little too up with the Kardashians or the Real Housewives and experience guilt over turning a blind eye to all those projects you should be working on. Would you hide your love for these guilty pleasure TV shows from others?
To get a sense for this, we asked respondents, "Do you hide your guilty pleasure show from others?" 62% said no, stating that they would feel comfortable talking about them with others. 
So, even if we worry that our guilty pleasure shows invite a negative perception of us, the majority of us nonetheless own our love for them. 
However, of the 217 respondents who said they'd be embarrassed if others knew about their guilty pleasure shows, the majority (67%) said they do hide their TV habits from others.
No judgement here when it comes to guilty pleasure shows. Watch The Vampire Diaries online now!
2.c. Shows We Consider "Low Quality" but Still Enjoy
20% of survey respondents chose "I consider it to be low quality, but I watch it anyway" when answering what they thought made their chosen TV show a guilty pleasure. 
As a follow-up to respondents who chose this statement, we asked, "What makes your guilty pleasure show low quality?" 
Predictable plotlines (52%) and dumb or cringey humor (48%) topped the list of characteristics that make for a "low-quality" show. Whether it's plotlines that absolutely everyone sees coming in shows like The Vampire Diaries and Chicago P.D. or the awkward humor of The Office, we love it. With a dose of guilt, of course. 
Subpar writing and poor execution ruled the day with the rest of the list, as other traits respondents associated with low-quality shows included unlikeable characters (27%), poor acting (24%), inconsistent plot (19%), poor writing (18%) and bad special effects (14%).
And that theme continued down to the bottom of the list. Of the 8% who identified other "low-quality" traits, a good chunk called out shows that seem to be staged or scripted (looking at you, Housewives).
Are predictable plotlines your jam too? Stream shows like Grey's Anatomy or Chicago P.D. online with DIRECTV.
3. Critically Hated but Beloved by Audiences
Speaking of low-quality shows, we listed 50 "rotten" shows from Rotten Tomatoes — series that critics loathe but audiences love — and asked survey respondents to select which ones they'd consider a guilty pleasure. We wanted to explore the relationship between what respondents consider guilty pleasure shows and what experts rate as "bad shows."
Here are the top 10 responses:
The Purge: 24%
Dahmer: 21%
How I Met Your Father: 18%
The Boondocks: 15%
Pitch Perfect: Bumper in Berlin: 12%
Californication: 10%
The Time Traveler's Wife: 10%
Quantum Leap: 10%
#blackAF: 9%
Marvel's Iron Fist: 9%
When also asked if they agreed with critics that these were "bad" shows, 75% of respondents disagreed. Critics aren't always right, you know? 
4. Guilty Pleasure Genres: Reality & Drama
We asked survey respondents what their favorite guilty pleasure TV show genre was. Nearly half of respondents favored reality and drama TV shows, while the other half's answers spanned multiple genres. Here's what we learned: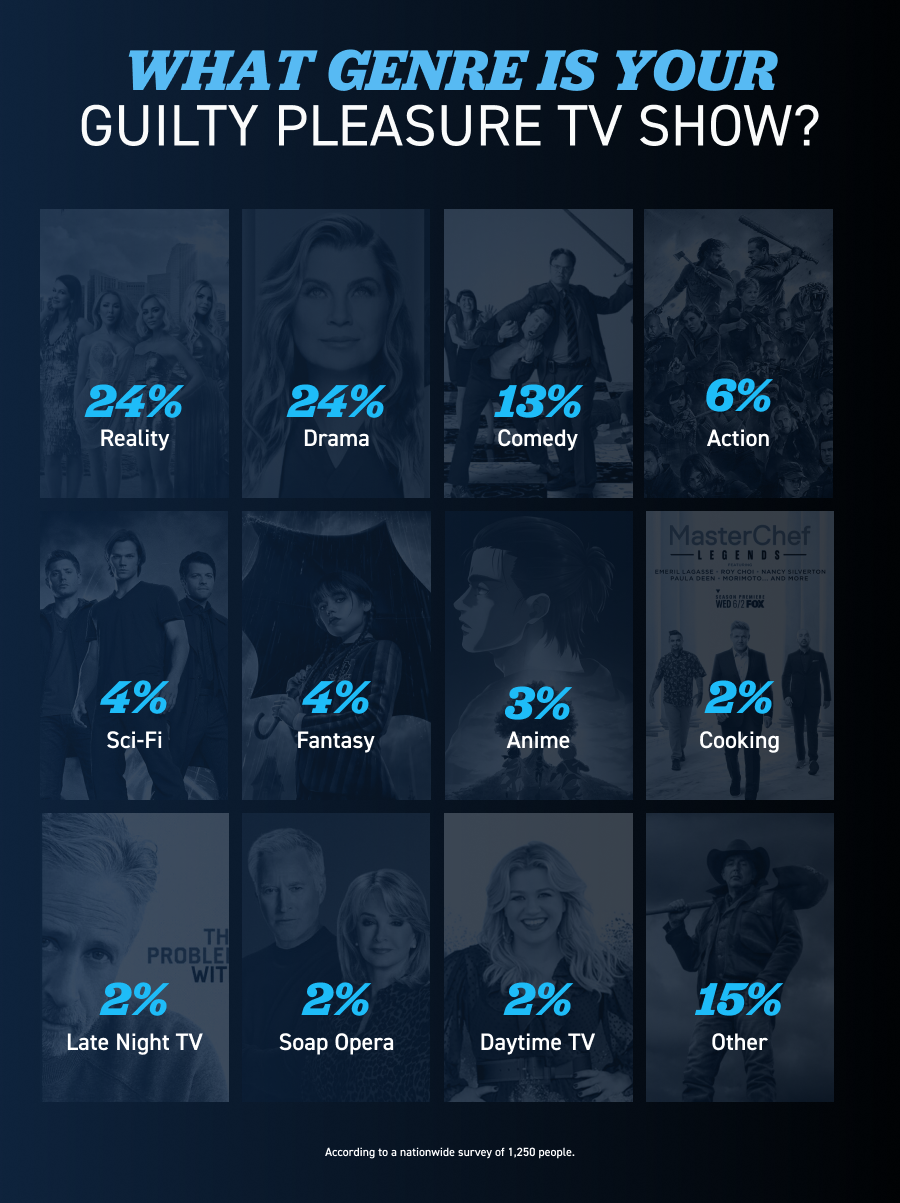 While reality TV certainly has no shortage of drama, its differentiator is that it's "unscripted" programming that follows the lives of ordinary people or celebrities (typically non-actors) in everyday or "real-life" situations. Drama TV consists of fictional shows or series characterized by serious or dramatic events. Medical, police procedural and courtroom shows are all examples of drama TV. 
But why do we love reality and drama TV so much, especially when we know a lot of it is scripted (oh, the irony of scripted reality!)? 
Feelings like empathy and compassion (we can get these feelings from both fictional and non-fictional stories) — as well as a voyeuristic desire to view others in their most private, intense and embarrassing moments — are all driving forces of our reality and drama TV love affairs. 
Whether we're intrigued by the romantic exploits of others (read: can't stop watching 90 Day Fiancé) or suckers for suspenseful dramas like Criminal Minds, reality and drama TV keep us hooked week after week. Let's recap some of the reality and drama shows our respondents listed as their guilty pleasures. 
Some of the most-mentioned, guilty pleasure reality TV shows include:
The Bachelor (and all its spinoffs)
The Real Housewives
90 Day Fiancé
Love Island
Keeping Up With The Kardashians
Love is Blind
RuPaul's Drag Race
Bad Girls Club
Big Brother
Sister Wives
And some of the most-mentioned, guilty pleasure dramas include:
Grey's Anatomy
Shameless
The Walking Dead
Law & Order (and all spinoffs)
Chicago Fire (and Chicago Med, Chicago P.D.)
NCIS (and all spinoffs)
Can't get enough family drama? Watch Shameless online with DIRECTV or DIRECTV STREAM.
5. Why We Watch Our "Guilty Pleasure" Shows
So, why do we watch our guilty pleasure shows? 
The simple answer is because we like them. 
Calling a TV show a "guilty pleasure" can be a way of saying we shamelessly enjoy it — and we're mindfully in on the joke that we're entertained by a show that might not be high-brow or loved by all. 
More than a third of our survey respondents (34%) consider most of their favorite shows to be guilty pleasures — and the majority (72%) watch their guilty pleasure shows weekly. This makes the case that, for many, using the term "guilty pleasure" is just a way to describe the TV shows they like the most. 
But it's important to remember that guilty pleasure shows are more than just simple forms of entertainment — they can also provide an escape from the pressures of everyday life. 
Guilty pleasure shows have a knack for giving us relief from our busy schedules and "always-on" mindsets. They also give us the opportunity to bond with others. 
Here's what our respondents chose when asked why they enjoy their guilty pleasure TV shows: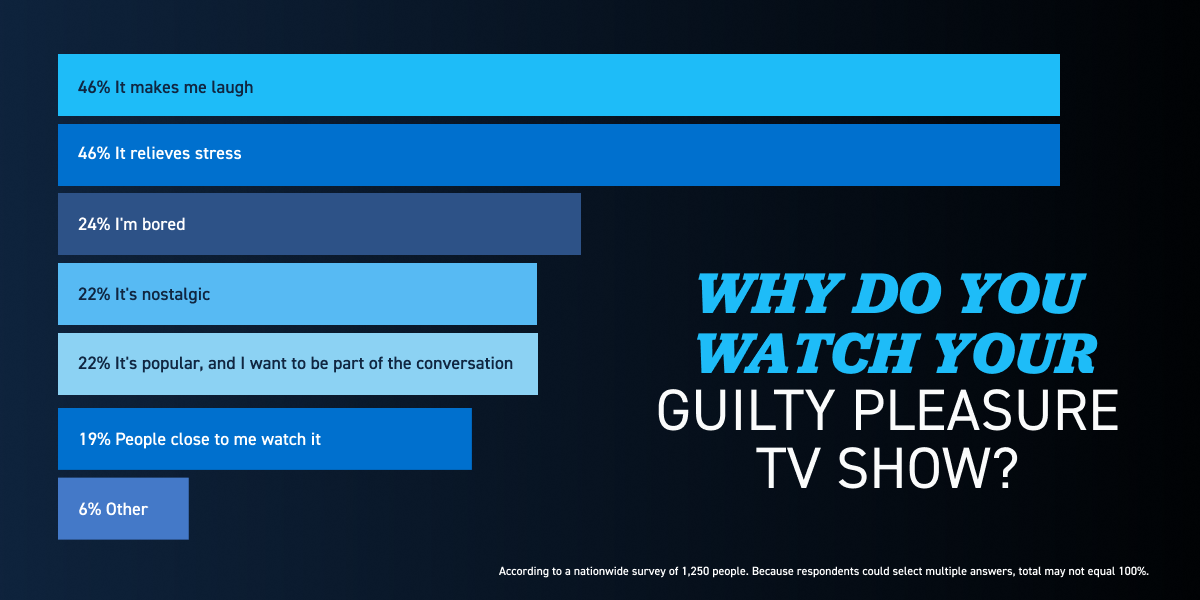 If guilty pleasure TV shows make us happy, help ease our minds and enable us to connect with others, what do we have to feel guilty for? 
By watching our favorite guilty pleasure shows in moderation (don't quit your day job to become a full-time TV watcher), we can get some much-needed enjoyment, relaxation and conversation fodder guilt-free.
More shows you love and more ways to watch. Keep tabs on all your guilty pleasure shows with DIRECTV STREAM!
6. Methodology
To make state-by-state comparisons, we surveyed an equal number of respondents in all 50 states. Our survey ran from February 2, 2023, to February 18, 2023, and collected 1,250 responses. 
We determined the guilty pleasure show for each state by tallying up consensus to a prompt to name your guilty pleasure show. In the event of a tie, we compared Google Trends data for each show to determine the tiebreaker. 
If there was no consensus in responses to the first prompt, guilty pleasure shows were determined by the most popular answer from a pre-determined list of 50 "Critically Hated but Beloved by Audiences" shows.
"Critically Hated but Beloved by Audiences" shows were generated from the most popular Rotten Tomatoes TV shows that met the following criteria:
Less than 60% of reviews from critics are positive.
At least 60% of audience reviews are positive.