Sharp Objects premiered on HBO July 8 and it's about to be your newest TV obsession: it's a character drama, but also a murder mystery. Each week, DIRECTV is going to break down the latest episode. We'll examine what we know so far and what new questions arise as the story unfolds.
Disclaimer: I'm writing these as I watch each individual episode. I also haven't read the Gillian Flynn book on which the show is based. As a result, these weekly posts are spoiler-free except for the episode they pertain to (and ones that came before).
Sharp Objects episode five ("Closer") is a roller coaster of emotions for both Camille (Amy Adams) and us viewers. It's the annual Calhoun Day celebration, which, it turns out, takes place at the Preaker estate — because of course, it does. Camille's latest article about the murders stirs up a lot of feelings, plus Adora's (Patricia Clarkson) dog and pony show lets her and Camille have some heartbreaking moments together.
Five Things We Learned
1. Amma (Eliza Scanlen) tells Camille that she wasn't friends with Ann and Natalie anymore when they died because they were still into little girl things. I think this is a large part of why Amma is acting out so much — she feels immensely guilty about not being friends with those girls anymore.
2. I also think Amma has some very complex feelings about Camille — love, dislike, jealousy, idolatry. It's interesting that she didn't know about Camille's cutting (and that Adora didn't know how bad it got). That scene in the clothing store was stomach-churningly uncomfortable and sad. But maybe now Amma will lay off her older sister a little bit.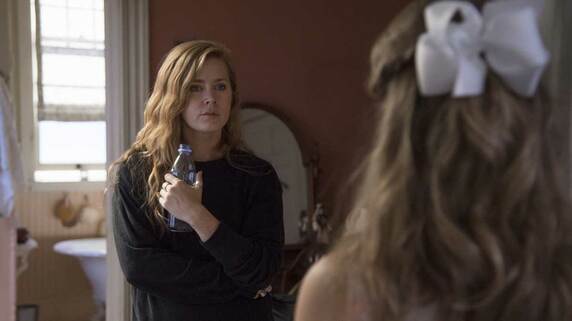 3. I've been dying to find out who Camille's father is — and it turns out Camille doesn't know either. That was unexpected. I hope this little thread is resolved by the end of the series, though I suspect it won't be. And maybe it's not important, but it's still something I'm very curious about.
4. Speaking of parents, Adora lays a hard truth on her eldest daughter when she tells Camille that she never really loved her. Holy shit. It's one thing to feel unloved, but it is another thing entirely to have it laid bare like that. As much as I want to solve the mystery, part of me also wants Camille to run for her life and never look back.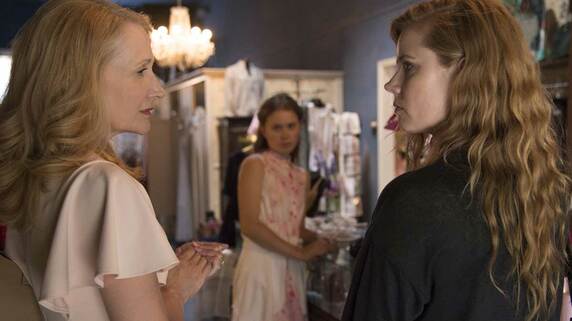 5. We more or less get confirmation in this episode that Adora and Chief Vickery (Matt Craven) were involved back in the day — but how long ago was it? Jackie O'Neele (Elizabeth Perkins) obviously knows about them, but does the chief's wife? Did their romance pre-date his marriage or not? It's hard to say.

Three Unanswered Questions
1. Kirk Lacey (Jackson Hurst) was definitely one of the boys in the end zone with Camille, and it would seem he's carrying around a lot of feelings about that. Was he in love with Camille? And he didn't want to look weak in front of the guys, so he participated, but that horrible event was the one and only time he got to be close to Camille? That is so sad. Everyone on this show is so sad.
2. The chief keeps acting like there are things Det. Willis (Chris Messina) doesn't know about Camille, yet he went to Jackie last episode to ask what Adora is hiding about Camille. What doesn't he know? I've been assuming he doesn't know about the cutting and the rehab stint, but then what's he taunting the detective with?
3. Ashley (Madison Davenport) is really peeved that Camille didn't use any of her quotes in the latest article. What kind of a thorn in Camille's side is Ashley about to become? What does she know that she's not telling? And what was she cleaning up last week? Was it blood? Something is going on with Ashley, and I am dying to find out what it is.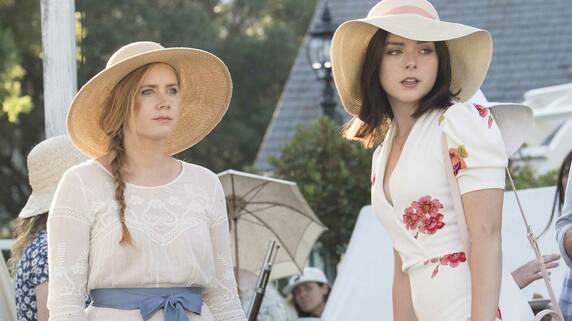 Telling Quotes
Chief Vickery: "Your Preaker girl? Good tree, bad apple. There's things about her you don't know. Watch yourself."
Ooooh, Vickery. I'm still not convinced that he's innocent in all this in regards to the girls' murders.
Jackie: "My, my, those Crellin girls sure do like their boys with badges."
I could listen to Jackie O'Neele spill the tea all day long. She should have a spinoff series where we just listen to her gossip about Wind Gap for 15 minutes.
Dig into the drama with us; Sharp Objects airs Sundays at 9pm on HBO. Watch it on DIRECTV.
TV critic by way of law school, Andrea Reiher enjoys everything from highbrow drama to clever comedy to the best reality TV has to offer. Her work can be found at The A.V. Club, Entertainment Weekly, PopSugar, Variety and more. Her TV heroes include CJ Cregg, Spencer Hastings, Diane Lockhart, Juliet O'Hara and Buffy Summers. TV words to live by: "I'm a slayer, ask me how."