September is Suicide Prevention Month, bringing awareness to a tragically widespread issue. But no data is more daunting than that of veteran suicide. And the most recent data shows it's trending in the wrong direction.
According to StopSoldierSuicide.org, veteran suicide rates are two times higher than their peers who have not served. According to the Department of Veteran Affairs Annual Report, every 65 minutes, a veteran takes their own life.  Since 2001, more than 120,000 veterans have died by suicide, with an 86% increase in the suicide rate among 18–34-year-old male veterans. It's forecasted by 2030, the total number of veteran suicides will be 23 times higher than the number of post-9/11 combat deaths.
Despite these discouraging numbers, there are many people, both civilians and servicemembers that want to help.
S.A.V.E.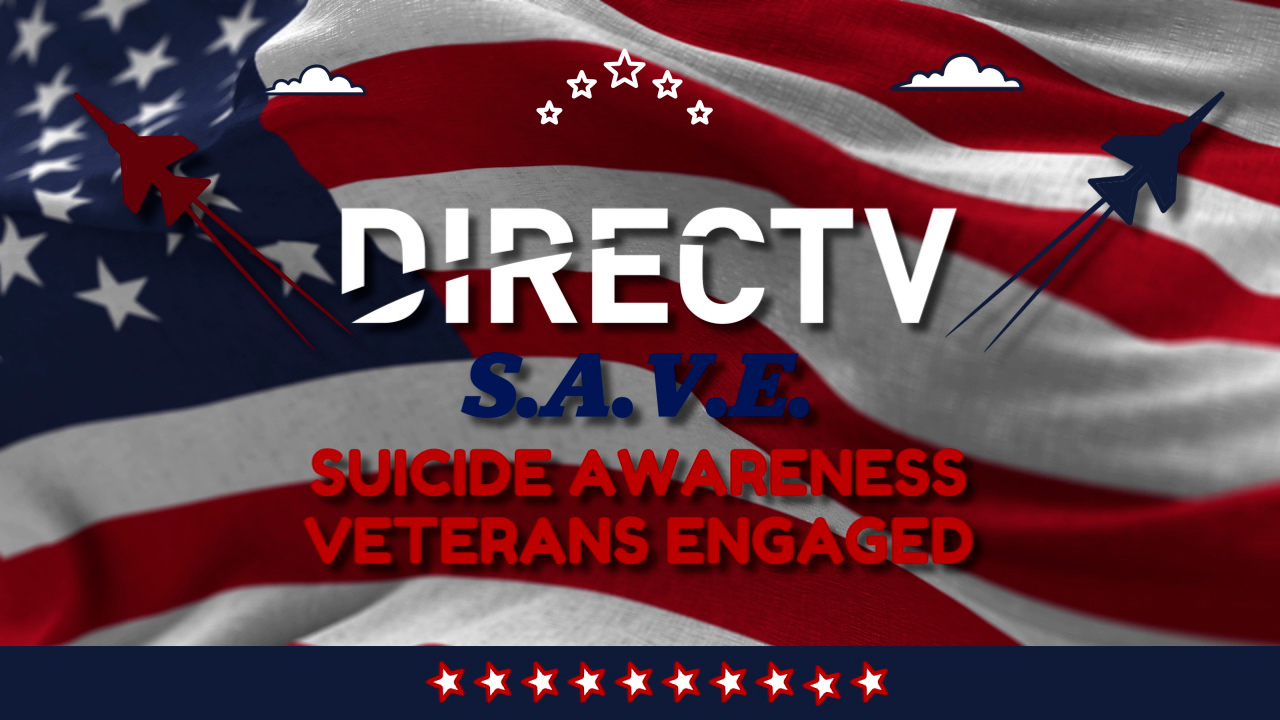 Suicide Awareness Veterans Engaged (S.A.V.E.) is a DIRECTV initiative that is comprised of Chief Sales & Service Officer, Mike Wittrock, engaged veterans and veteran experts. The group meets to raise awareness and discuss tools and resources to prevent this alarming crisis for the future.
S.A.V.E.'s Purpose
Provide a safe, inclusive environment for all veterans
Raise awareness of at-risk factors that affect veterans
Support solutions for veterans in areas of need
Improve the lives of all veterans, at all times
Returning for Suicide Prevention Month, S.A.V.E. gathered an esteemed panel of veteran experts to discuss this crisis in an hour-long video special.
DIRECTV S.A.V.E. Panel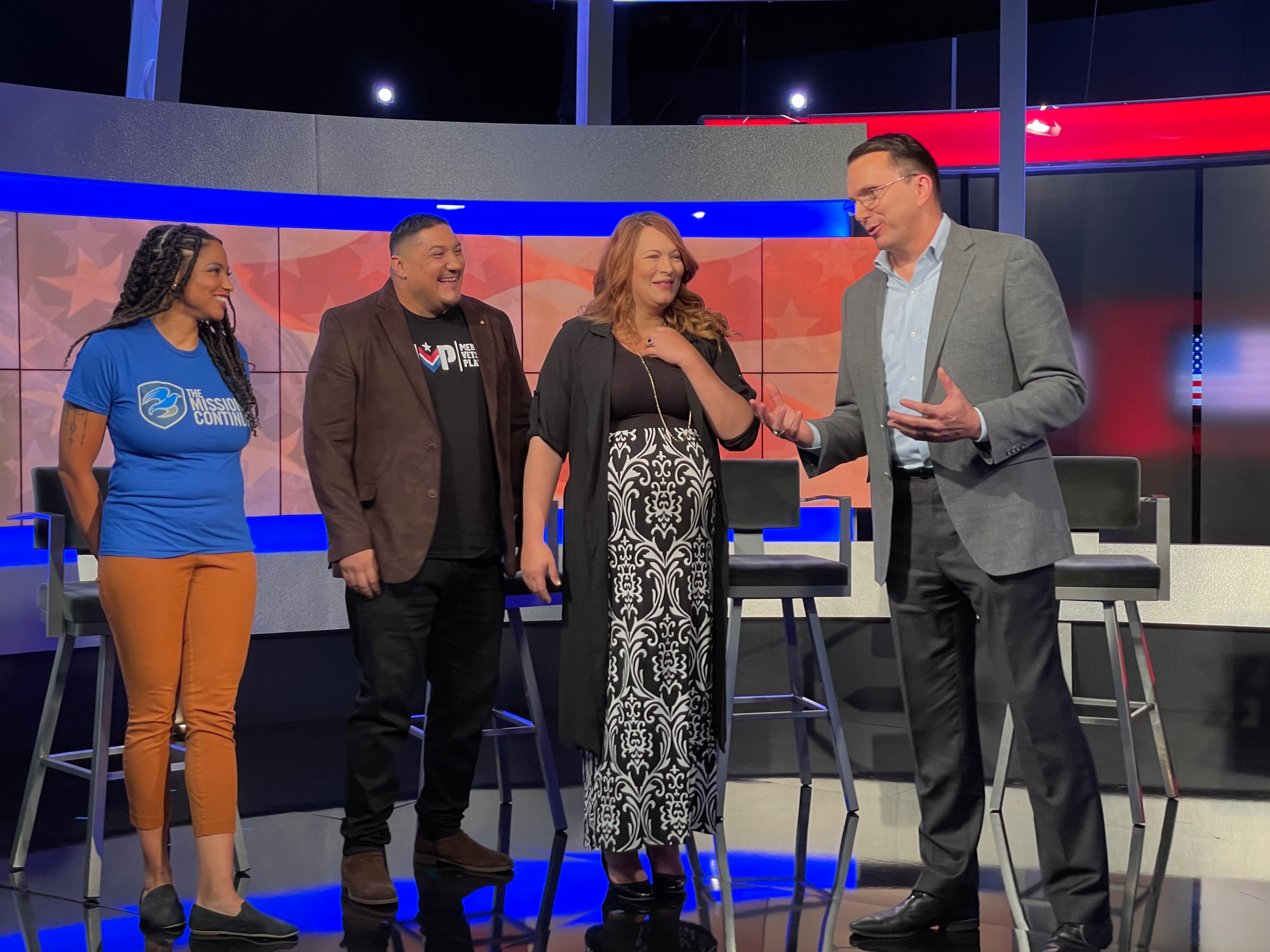 On September 15, 2022, four accomplished veterans, each representing engaged non-profit organizations and agencies, met at the DIRECTV LA Broadcast Center – Red Zone Studio (12800 Culver Blvd, Los Angeles) to discuss veteran suicide, share their personal stories, and ideate on ways to help veterans.
The panel discussed serious topics including the causes of veteran suicide, early indicators and potential intervention opportunities and support systems. Beyond sharing their expertise on the topic, the panels also  reflected on their time in service, adding a personal touch to the event.
"As a US Marine Corps veteran and DIRECTV employee, I am proud to support the fight against veteran suicide. This effort would not be possible without the help of our video technology resources and employee support at DIRECTV that allows us to drive awareness to this serious problem that affects the most precious gift of life for the bravest and most honorable population which is our veterans," says Mike Wittrock. "Veteran suicide is a societal problem, that will take all of us to solve, and we are leaning in and launching the DIRECTV S.A.V.E. initiative as a community."
Meet the Panelists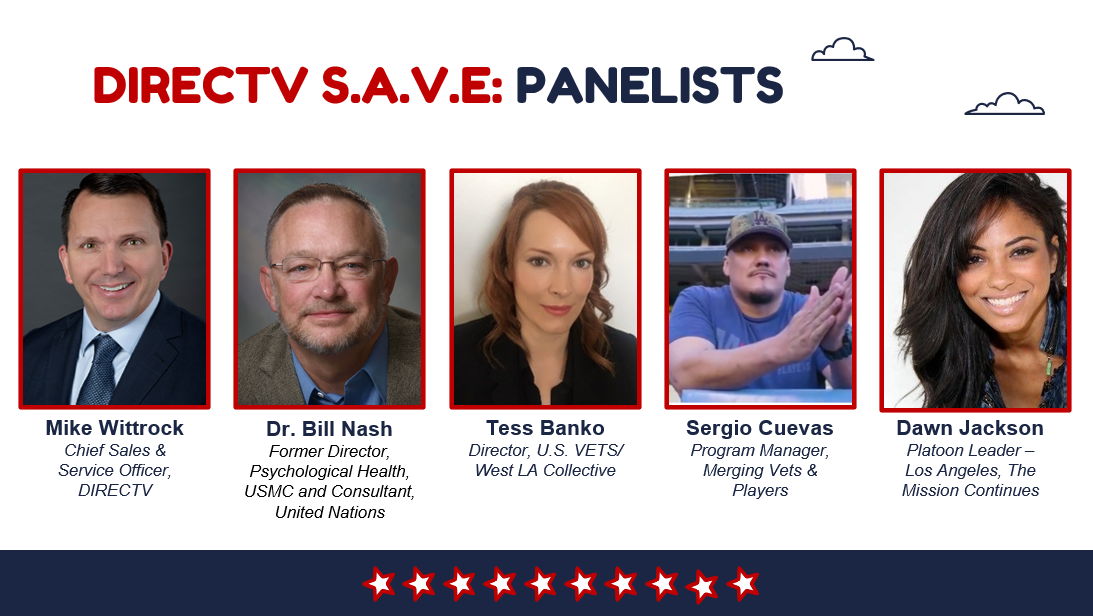 Mike Wittrock
Chief Sales & Service Officer, DIRECTV (Moderator) – Marine Corps Veteran
As Chief Sales & Service Officer, Mike is responsible for all sales & service touchpoints— residential and commercial—including Sales Operations, Contact Center Operations, & Field Services for all customer interactions. Mike also has responsibility for Research & Customer Experience strategy for the enterprise. Currently, Mike leads more than 7,000 employees, over 2,400 dealers, and just under 12K vendors.
Prior to this role, Mike managed customer acquisition execution of AT&T's broadband & video, overseeing indirect channels, while also responsible for AT&T's connected communities' portfolio, delivering fiber to multi-dwelling unit properties and driving penetration via new technologies. He was previously president of the AT&T Southeast Region, overseeing sales & distribution in 12 states, Puerto Rico, and the U.S. Virgin Islands, and has served as Senior Vice President of Customer Care for AT&T Entertainment Group, responsible for leading the Tier 1 and 2 Technical Care functions for consumer video, IP broadband and wireless services.
Mike joined AT&T in 2015 as part of the DIRECTV acquisition, where he previously served as a Senior Vice President of Sales & Distribution.
From 1989 to 2005, Mike served in United States Marine Corps Reserve and earned multiple awards and decorations, including one Navy and Marine Corps Commendation medal, four Navy and Marine Corps Achievement medals and two Combat Action ribbons. He is actively involved in community efforts and volunteers with multiple non-profit organizations.
Mike and his wife, Jennifer, reside in Rockwall, TX.
Dr. Bill Nash
Psychological Health Consultant, United Nations – United States Navy Veteran
Previously, Bill Nash was a clinical and research psychiatrist at the VA Greater Los Angeles Healthcare System, and a Health Sciences Associate Clinical Professor at the David Geffen School of Medicine at UCLA, where he led an emerging program of research, treatment, and prevention of moral distress and moral injury in veterans and human service workers. As a consultant for the United Nations, he is also leading the development of a comprehensive program to prevent and manage PTSD in peace operations. Previously, he served as the Director of Psychological Health for the U.S. Marine Corps, and while on active duty in the Navy, as combat-stress-control psychiatrist embedded with the 1st Marine Division in Iraq. The doctrine for maintaining psychological health in military operations written by CAPT Nash in 2008 still informs leadership training throughout the US Navy and Marine Corps. His research with Marine infantrymen was the first to document
PTSD in service members as a direct result of violations of moral expectations. Dr. Nash has coauthored two books, Combat Stress Injury: Theory, Research, and Management (2007), and Adaptive Disclosure: A New Treatment for Military Trauma, Loss, and Moral Injury (2017).
Teresa (Tess) Banko
Director, U.S. VETS/West LA Collective – Marine Corps Veteran
Teresa (Tess) Banko, MSW/MPA, is Project Director with U.S. VETS for the West Los Angeles VA housing redevelopment as  part of The Veterans Collective team. The efforts will build a  thriving community including 1,200 units of permanent housing  and supportive programming for homeless Veterans and their  families aboard 288 acres of historic land in partnership with the  VA Greater Los Angeles Healthcare System. Previously she was the Director of the innovative UCLA/VA Veteran Family Wellness Center (VFWC), the first center of its kind in the nation serving Veterans and their families via resilience-based wellness programming alongside the VA. Tess identifies with fellow Veterans and families on their paths to wellness and empowerment, as a devastating spinal injury in the Marine Corps at age 22 led to a tumultuous return to civilian life and the passionate pursuit of continued public service through social work and organizational leadership. Tess lost her husband, an active-duty Marine, to suicide while he was deployed overseas in 2004. In 2013, her own PTS surfaced in part due to sexual trauma experienced during military service. Through developing skills and knowledge in the arenas of social work, stress management, trauma, resilience and post-traumatic growth both personally and professionally, Tess believes that resilience, wellness and growth are possible under even the most challenging of circumstances.
Tess is honored to continue to serve the community beside and on behalf of her military and veteran sisters, brothers and their families via assisting with information, connectivity, resources, and programming. She is an LA County Mental Health Commissioner for 3rd District County Supervisor Sheila Kuehl, a member of the Los Angeles Mayor's Veteran Suicide Prevention Challenge for Military and Veteran Families, and the 2nd Vice Chair of the Palisades American Legion Post 283.
Sergio Cuevas
Program Manager, Merging Vets & Players – Marine Corps Veteran
Originally from the San Fernando Valley in California, Sergio was raised by a single mom and two older sisters. After several years of civilian work, in 2007, at the age of 23, he followed his dream and decided to enlist in the Marine Corps, Infantry. Sergio's first duty station was in Twentynine Palms with the 2nd Battalion 7th Marines, followed by 12th Marine Corps Recruiting Command in Sacramento from 2011-2014; and finally with 1st Tank Battalion back in 29 Palms until 2016.
During Sergio's time in the Marines, he received numerous awards, including the Combat Action Ribbon, Presidential Unit Citation, Naval Unit Citation, three Good Conduct awards, five certificates of accommodations, two Meritorious Mast, Recruiting Ribbon, California's Governor's Recognition as a hometown hero in 2013. After his time as a Marine, in 2016, he attended community college, where he became the Vice President, then President of the Veteran's club. Because of this work, he received a City of Los Angeles Certificate of appreciation for Veteran service in 2017. In 2018, he worked alongside social workers at the Los Angeles County Department of Children and Family Services, where he received the 2020 Directors Employee Recognition Award. As Sergio transitioned out of the service, he joined Merging Vets and Players (MVP). MVP's peer-to-peer support helped him navigate his most challenging times and enabled him to work through what was next in life. He continued to grow due to the support he received as a member, and now as the Program Manager for the LA Chapter of MVP. While going through his transition, he was honored as the Los Angeles Dodgers Hero of the Game in May 2018 and attended the Fan Appreciation Recognition event. Sergio has three wonderful boys, ages 10, 12, and 14.
Dawn Jackson
Platoon Leader – Los Angeles, The Mission Continues – Air Force Veteran
Although Dawn Jackson served honorably as an officer in the Air Force after graduating from Columbia University, she did not identify as a veteran for many years. She felt like an imposter. The mixed emotions about her role in the Global War on Terrorism and a struggle to find a sense of purpose led her to a deep disillusionment of her service and avoid her PTSD. Dawn would go on to find her purpose working directly with the clients where she now works as a Mental Health Advocate at Los Angeles County Department of Mental Health. "Serving in the military was a transformative experience so that's why I chose to work in veteran mental health because I knew that it was a common language that we can all share," said Dawn who is an Associate Marriage and Family Therapist in the process of accumulating hours towards licensure. "I found purpose in the patients and purpose working with colleagues." Dawn struggled to find a definitive purpose in her life and set out to join the Air Force Reserves but learned that they don't accept candidates that are actively taking psychotropic medication. Instead, she learned about The Mission Continues and was recruited into the Fourth Cohort of the Service Leadership Corps, the first all virtual cohort because of the COVID 19 pandemic. Considering that more women are choosing to serve in the military, the challenges of meeting the demand for mental health resources are being confronted by the Veterans Affairs Administration, while Veteran Service Organizations like The Veterans Wellness Alliance provide volunteer and civic engagement opportunities that mitigate risk factors associated with negative mental health outcomes.
"So much of mental health is setting boundaries, that's my go-to wellness activity. Even though I still struggle, I can be proactive in making sure that I don't over promise and under-deliver, that I don't beat myself up about it, that I am able to not reject myself as a human being. "The Mission Continues provides Dawn with a nontraditional form of mental health activity related to socialization and engagement. Now, Dawn serves as the Los Angeles Platoon Leader and has led her fellow veterans on Service Projects that target food insecurity and sustainability in one of the most diverse communities in America. "I'm really proud of this generation of veterans. They're so much more open and connected to their feelings in ways that I feel won't create many barriers for people who are willing to go forward. Obviously, stigma still exists but now it's just part of the common conversation, which I think will help everybody.
Additional Resources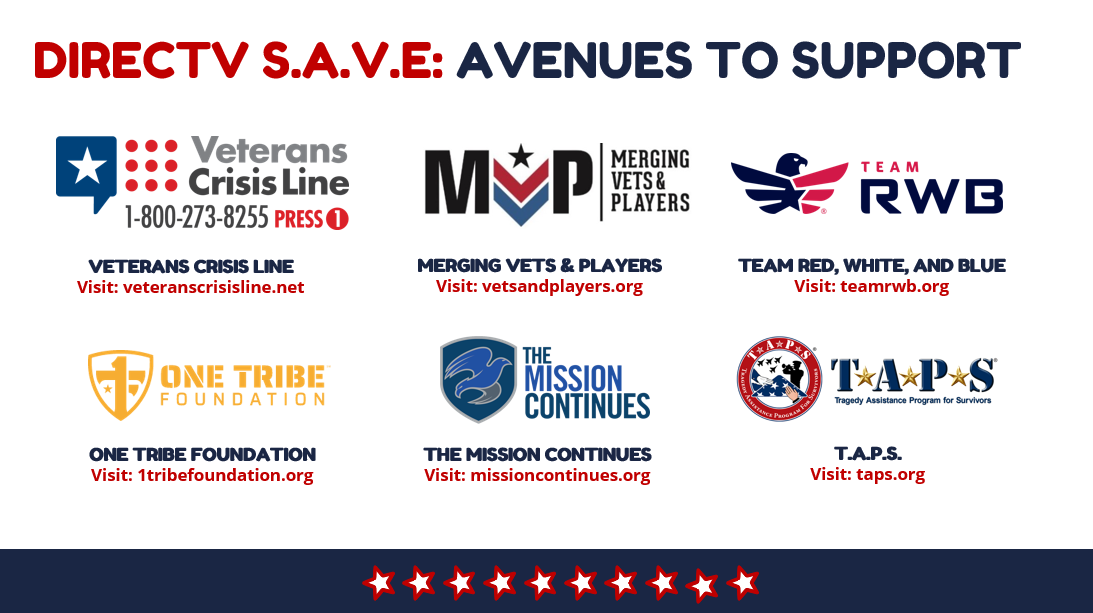 There are many organizations who are on a mission to stop veteran suicide and save lives. If you, or anyone you know and love needs help, lean on these valuable resources.
OneTribe Foundation
Mission: To create a community that raises awareness and combats suicide by empowering veterans, first responders, and their families through traditional and non-traditional therapies. Visit the OneTribe website.
Merging Vets and Players
Mission: MVP empowers combat veterans and former professional athletes by connecting them after the uniform comes off; providing them with a new team to assist with transition, promote personal development, and show them they are never alone. Visit the MVP website.
The Mission Continues
Mission: Connect veterans with under-resourced communities. The Mission Continues' vision is for all veterans with a desire to continue their service to be part of a nationwide movement to transform communities. Veterans are at the center of everything we do. Visit The Mission Continues website.
Team Red White & Blue
Mission: Enriching Veterans' Lives. Team Red, White & Blue (Team RWB) exists to guide them through that journey with real-life and virtual opportunities focused on building a healthier lifestyle because a strong focus on mental and physical health is critical to ensuring veterans' best days are ahead. Visit the Team RWB website.  
Tragedy Assistance Program for Survivors (TAPS)
Mission: TAPS is the national nonprofit organization providing compassionate care and comprehensive resources for all those grieving the death of a military or veteran loved one.  Visit TAPS website.